Today's guest post is jointly authored by members of the 2016 cohort of the History Museum Fellows Program—a partnership between the University of Minnesota and the Minnesota Historical Society (MNHS) that engages students in studying the challenges related to the underrepresentation of communities of color, American Indian Nations and other marginalized groups in historical organizations, museums, and public history graduate programs. Diversity and inclusivity is a strategic priority for the Minnesota Historical Society, and through this program MNHS hopes to train potential future museum workers and leaders and provide an opportunity for these students to effect change from inside the museum.
As the population in the United States continues to grow in size and become even more diverse, and as people push for visibility and validation of issues such as the reality of police violence against marginalized communities, Indigenous Treaty rights, the right to clean water and transgender acceptance and protection under the law continue to, museums must grow their depth of understanding of and response to segments of

the public that have traditionally been excluded. The future of museums in the United States depends on the institutional embrace of a diversity and inclusivity that is socially responsible and socially responsive.
The Department of Inclusion and Community Engagement at the Minnesota Historical Society (MNHS) is modeling this behavior with their History Museum Fellows Program (HMFP), which is a partnership between the University of Minnesota Twin Cities and the Minnesota Historical Society. The program consists of a semester-long course, which introduces Fellows to general museum concepts and critical thought around museums in relation to diversity and inclusion; a paid, summer-long internship or externship; and a work trip to Washington D.C. during which Fellows visit national museums and meet with museum professionals from various backgrounds and departments. The hope is to inspire these students to be interested in the museum field and to build allies for museums amongst diverse and underrepresented communities. Our cohort—the seventh since HMFP began—recently wrapped up the program on August 29, 2016.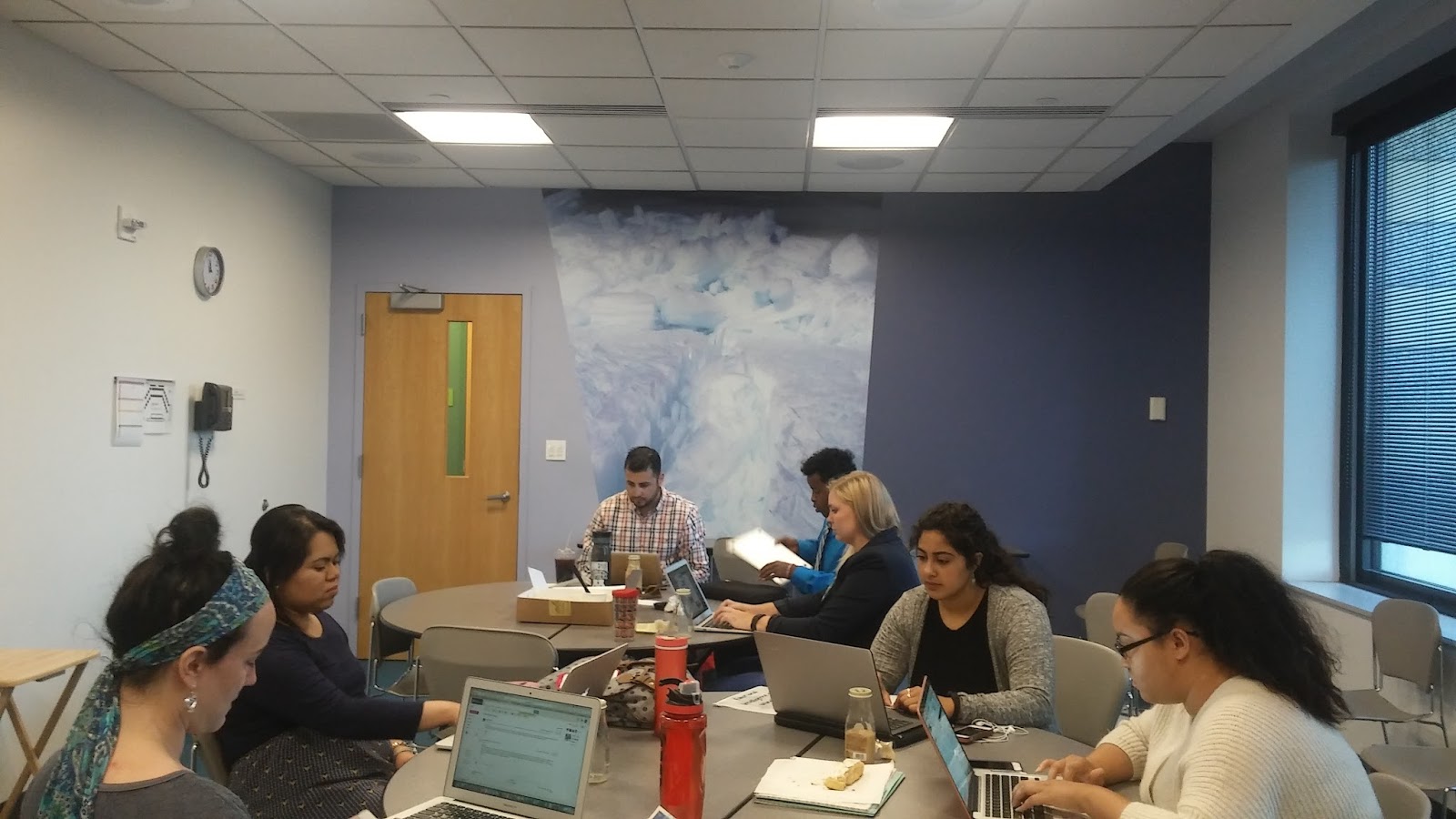 HMFP 2016 Fellows Collaborating
Throughout the summer Fellows led seven projects that centered on diversity and inclusion. One project researched the development of Learning and Development modules designed to teach MNHS staff skill sets needed to execute the institution's diversity and inclusion initiative. This training included recognizing the difference between cultural appropriation and appreciation, transgender language and policy sensitivity, and emotional intelligence. Fellows also researched, designed and prepared the launch of a pilot program for TEACH (Traveling Exhibits to Amplify Community History), an initiative to share stories from marginalized communities in more accessible ways. This project was based on oral interviews and community relationship-building amongst a local African American community, a population that has been previously underserved by MNHS. Fellows also led the development and execution of Waryaa, a cultural exchange program between Minnesota's Hmong community and Sweden, and Summertech, a multiweek long program for Latino students in the Twin Cities in which they learn skills such as library research and website development while researching

a topic of their choosing (this year's topic was the Brown Berets).
Rachael Goins, 2016 HMFP Fellow recounts her experience with yet another project, the Black Liberation Movement (BLM):
"The project that had the biggest impact on my experience was a collections project focused on Black Lives Matter initiated by the 3D collections department. Four fellows were brought on to assist the collections department in finding objects that belonged to community members and activists within the BLM movement in MN. I was excited to be a part of the project but also felt that after learning about the lack of connection the Minnesota Historical Society has with the black community I, along with the other fellows, became more and more skeptical that MNHS was in fact ready to take on this collections project."
Members of the 2016 Cohort
Fellows involved in BLM pushed to change the goals of the project from a traditional collections approach to focusing more deeply on genuine community relationship-building. Concurrently in the institution there was a discussion about the possibilities of digital archives in the vein of Documenting Ferguson—a free resource created by Washington University in St. Louis that preserves and makes accessible the digital media captured by community members following the shooting death of Michael Brown in Ferguson, Missouri, on August 9, 2014. As a result of both these conversations, Fellows were brought in to act as consultants and co-creators in refining of this new idea and determining community outreach plans. MNHS now has a cross-departmental project development team, one that has support from top leadership at the institution, devoted to creating what could become a digital archive documenting aspects of Black life in Minnesota. Digital archives as a form of nontraditional collecting is a new endeavor whose success could bolster Minnesota Historical Society's relevance and name recognition in communities that were previously underserved by the institution.
Museums must pursue endeavors that may at first be uncomfortable for the dominant majority if they wish to retain social and cultural relevancy. This includes responding to the social factors that are influencing the publics that the museum serves. Museums can practice responsiveness by keeping informed by their diverse publics and by welcoming marginalized/oppressed peoples to the conversation
Through the History Museum Fellows Program, MNHS is practicing social responsibility and responsiveness by providing an avenue for those who traditionally fall outside of the engaged museum audience to get inside and push the internal culture of museum in new and critical ways.
Submitted by the members of the History Museum Fellows 2016 cohort:

Credit: Minnesota Historical Society
Skip over related stories to continue reading article