In 2015 Dr. Nicole Ivy joined the

Alliance as our first CFM Fellow, supported by a
Public Fellowship from the Mellon Foundation and the American Council of Learned Societies
.

Training with CFM director Elizabeth Merritt, Dr. Ivy chose museum labor as the focus of her work. In the past two years, she has led the Alliance on a fruitful exploration of issues related to the future of museum work, including the use of internships and emerging practices in unbiased hiring. Today, Dr. Ivy sums up her fellowship experience, and tells readers about her next challenge: joining the Alliance as our first Director of Inclusion.
Change as a Constant

"All that you touch you change. All that you change changes you. The only lasting truth is Change."–Octavia Butler
Strategic foresight is a bit like the organizational development principle of change management blown up on a bigger time scale; it offers us a means for shifting our thinking and actions toward the futures we might create. Futurists don't predict the future. We work to map it and encourage others to think about how to shape it. We examine the plausible, possible, and preferred futures that we can potentially inhabit and help organizations and individuals create stories (or scenarios) about each of these. A constant in all of this work is change. It is happening all the time, all around us. Some researchers even argue that the pace of change is accelerating in our time.
Of the many, many things I've learned during my two years as a Mellon/ACLS Public Fellow at the American Alliance of Museum's Center for the Future of Museums, perhaps the most transformative lesson I've received has been the importance of intentionally tracking this constant change, of scanning multiple sources for its traces and potential directions.

As a historical thinker, I tend to consider change over time as a way of understanding the impact of past actions and movements. Historians are trained to ask questions like: What were the motivations of historical actors at a given moment? How did these motivations change? What were the political, social, and economic drivers of change across a specific historical moment and how do we know? My work at CFM has taught me that engaging the future requires similar lines of inquiry: What are the signs or weak signals of people's adaptations to current drivers of change? What push- or pull-factors seem to be shaping the direction of a given domain? How do we know? Scanning helps us get at these questions.
My time as a fellow has also taught me to embrace change in all its messiness, to seek out experimentation and to resist being afraid of failure. The value of failing forward–of not letting the perfect be the enemy of the good–is central to the work of creating new paths toward equitable futures. On the first day of this January's Future of Education Road Trip, my fellow fellow Sage Morgan-Hubbard and I encountered a Southern blizzard. It grounded us and made it impossible to connect with some of the museums and creatives who'd agreed to welcome us to their cities. Nevertheless, we steered our rented Jeep, Octavia, on down the line. I learned that museums across the Southeast are adapting to changing demographics, climate change, and economic

constraints with a grace and resiliency that we can all learn from. The failing—and, frankly, falling—at the trip's outset shifted my perspective and prepared me to be open to seeing the innovations

all around me, from the collaborative economics of the group Cooperation Jackson in Mississippi, to the museum professionals in New Orleans who advocated for equity in the future of their museum workforces.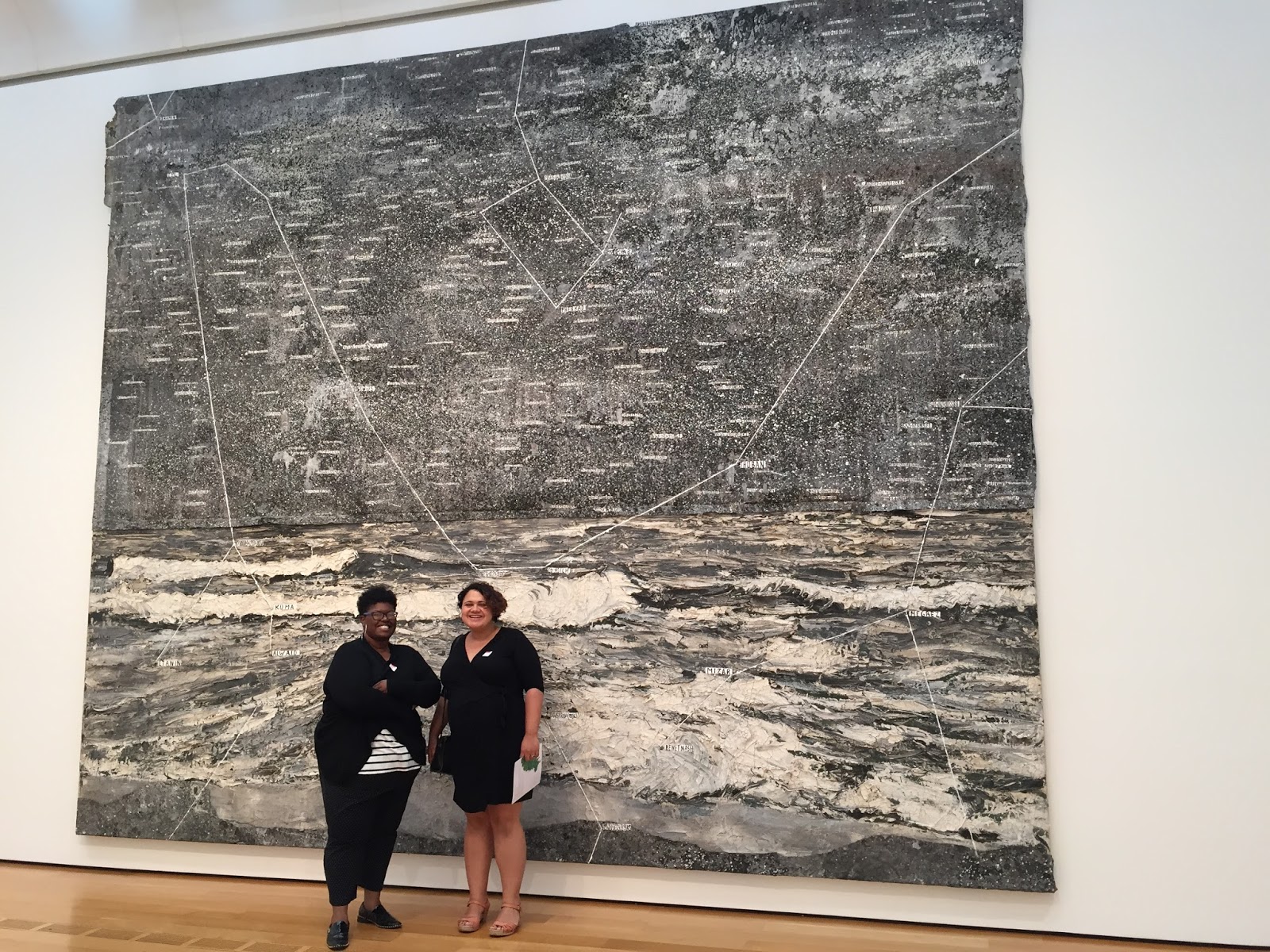 Nicole (l) and Sage (r) at the High Museum of Art
Innovative Thinking Can Lead Technology
I've also discovered that the technology of the future is less important than the problems we will solve—or create—with it. People who have known me for a long time are, today, surprised by how much I know about technological innovations after two years on the job. A self-proclaimed "analog girl in a digital world," I grew up on the wrong side of the digital divide. Even now, my mother's neighborhood in my home community of Jacksonville, Florida lacks the infrastructure for high-speed internet. Although she pays for wireless service, that service remains spotty and unreliable. Streaming a binge-able show or videoconferencing with colleauges is nearly impossible. I have remained somewhat skittish about early adoption of new tech tools (Alexa, I'm looking at you).
Part of the joy of technological innovation involves breaking things down into their component parts and building them up again. For people who cannot afford to purchase tech tools in the first place, the power of creative destruction can remain out-of-reach. I have come to understand, in my time as a Museum Futurist, that innovative thinking can lead technological innovation and envisioning the future doesn't just require a fetishization of the tools that can help create it. With these ideas in the front of my mind, I dug into blockchain technology. I learned more about artificial intelligence and how it is currently being used to predict and automate repetitive processes. As a forever "museum person," I have grown to understand more about how the profession can benefit from open data resources and other innovations to improve visitor experiences. Technological change needn't exclude those who have less access to wealth.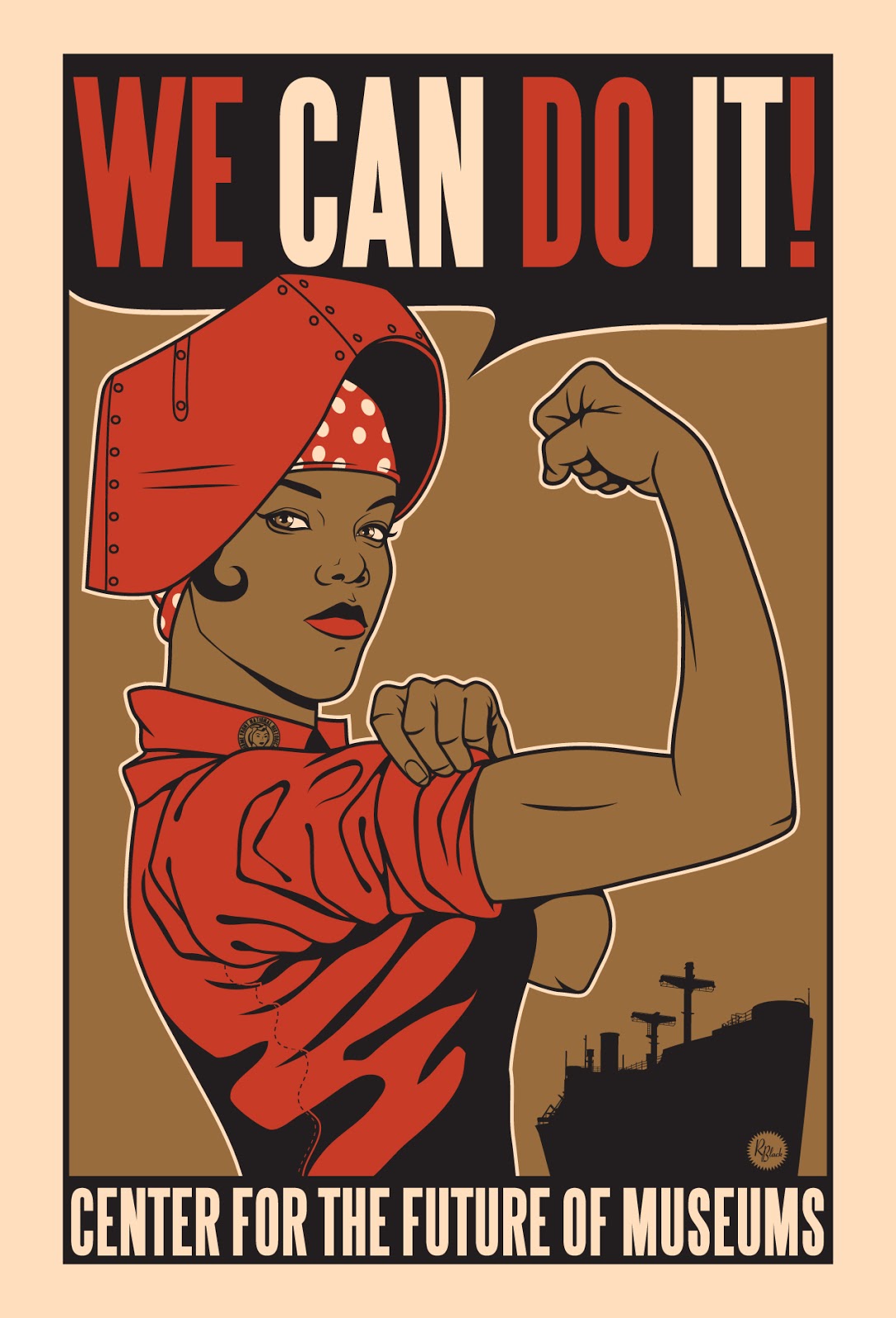 Image by R. Black
The Future of Labor is an Equity Issue
During my first week as a fellow, CFM founding director Elizabeth Merritt and I talked at length about current issues in the field and how my work might engage some of these. Questions about museums and culuture change were real and inspring for both of us. Once we began to talk about the work that groups like #MuseumWorkersSpeak and #MuseumsRespondtoFerguson were doing, I knew that my fellowship would highlight the theme of labor in some way. In collaboration with the CFM team, I directed my efforts here around issues of museum and the future of work, with a focus on equity as a deliberate through-line. I connected with colleagues and new friends in the field and sought out innovative practices around unbiased hiring. I started this work with the FutureLab: Hiring Bias project in partnership with technology company, GapJumpers. I am honored to say that I will continue this focus on the future of the museum workforce in my new role as director of inclusion at the Alliance. I will remain committed for scanning for change and visioning a more equitable future, as I truly believe that the future of labor is an issue of diversity, equity, accessibility, and inclusion. As Y-Vonne Hutchinson has stated, "diversity and inclusion is really the labor policy issue of our time." I am grateful to the Mellon Foundation, the ACLS Public Fellowship, and the American Alliance of Museums for this opportunity. I am especially proud to have worked with
Elizabeth Merritt and the CFM team
and I am eternally thankful to all of you, dear readers, for supporting me on this journey. Onward!
Skip over related stories to continue reading article