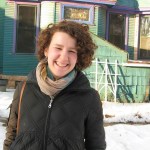 Our institutions are all asking that question: How can we build our museum's audience as our communities are changing?
I serve as Outreach & Development Director at the Somali Museum of Minnesota, the first museum celebrating the art and heritage of Somalia founded outside of East Africa. You might ask—someone named Larsson, at the Somali Museum? That's right. I happily provide diversity by being an American of European descent at our Somali-led, Somali-founded institution. More on that in a moment.
The Somali Museum of Minnesota is an incredible place. Not only the first Somali cultural-heritage institution founded in the United States, not only the host of the largest Somali performance event in North America, not only the home of the largest collection of Somali cultural artifacts outside of East Africa—the Somali Museum is the only Museum of Somali heritage currently operating in the world.
Our Museum's core is a collection of over 700 cultural artifacts from Somalia's rich nomadic heritage. We use this collection as a tool for building bridges – between young and old generations of Somalis in Minnesota, and between non-Somalis and their Somali neighbors. Out in our communities in Minneapolis-St. Paul, we are best known for presenting mobile exhibitions and lectures, traditional dance performances, nomadic craft workshops, and massive cultural celebrations. ("Minneapolis: First Somali Museum in the world!" Integration TV.) Our community has come to know the Somali Museum as a hub of all things Somali culture, and we pride ourselves on being America's best resource for both cross-cultural education and Somali-American contemporary artists creating new work.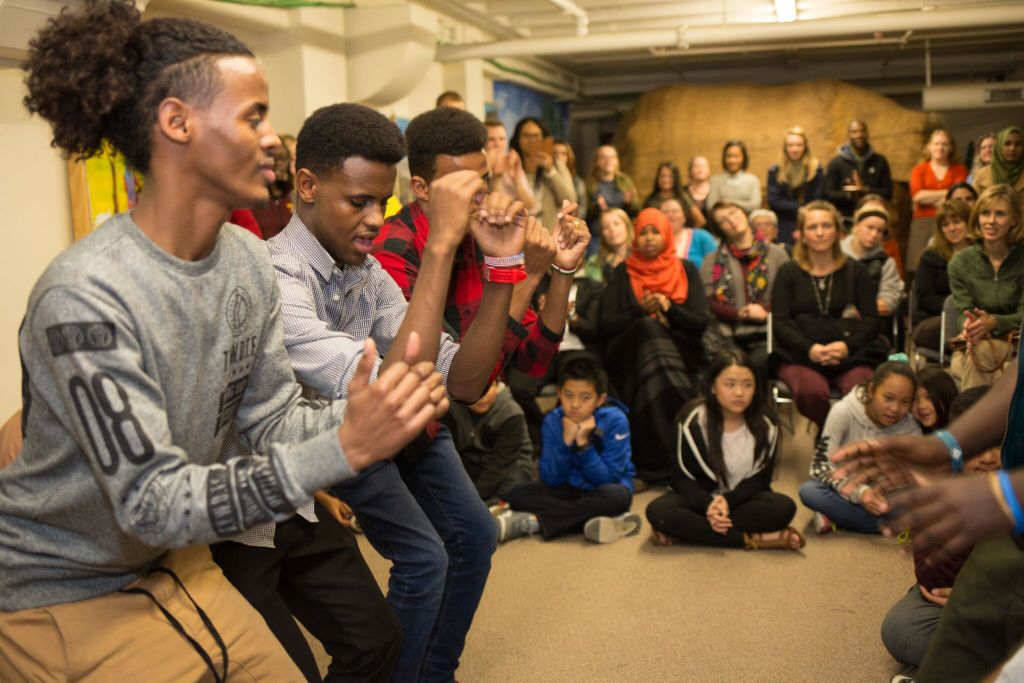 The Museum's home in Minnesota isn't a coincidence: our Midwestern state is home to the largest Somali-American population in the United States. Second only to London in size of the Somali community outside of East Africa, Minneapolis is home to hundreds (thousands?) of Somali-owned small businesses, innovative community-led social programs, about a dozen Somali senior centers, and more—daycares, charter schools, halal meat markets, mosques, Somali language bookstores, catering companies, on and on.
Skip over related stories to continue reading article
Our own "Little Mogadishu" is also a hub of Somali culture in the United States. Members of the Somali diaspora in America vacation in Minnesota, traveling to the Great North for our cultural activities, celebrity weddings, visits to the big Somali malls (and the Mall of America), and, of course, the Somali Museum.
So why Minnesota?
The path that the Somali community has taken to Minnesota is a story of struggle, good fortune, and tireless grassroots community organizing. (See this great book by Minnesota author Ahmed Yusuf: Somalis in Minnesota) In 1991, Somalia's 20-year civil war began, spurring massive migration and displacement of the variety we are now all too familiar. Minnesota had already set the bar for U.S. states welcoming refugees seeking a stable home, starting with the founding of Vietnamese, Lao, and Hmong communities in Minnesota, after the Vietnam War. In 1991, many Somalis were already living in the United States – these folks were doctors, professors, engineers, social workers, and businesspeople who had traveled in a spirit of international exchange in the 1960s, 70s, and 80s. These professionals immediately set to work helping to resettle their countrymen; they lobbied states and cities to accept refugees, coordinated with social service agencies to ensure support, and personally stayed up at night making calls to apartment buildings, workplaces, and schools, ensuring that newcomers would have a place in the community when they arrived (this I've heard firsthand from several of these folks themselves). Today the community in Minnesota is large and growing. Official estimates set the size of the population somewhere around 50,000-70,000 people in the state; Somalis will tell you it may be upwards of 100,000.
So for us Minnesotans, the global is right next door.
The Somali Museum is a small, community-based museum with a deep impact. We serve over 8,000 people (and that may be a low estimate) annually with our public programs and have built relationships with the bulk of the major arts and history institutions in our state to deliver more cross-cultural engagement.
This is a typical scene: A group of children and parents gather in a neighborhood park or a school gymnasium. On a table are laid out a dozen cultural artifacts from Somalia: a hand-woven butter churn, a round rich red-brown colored camel bell, a carved wooden cup still smelling of charcoal from use and cleaning. The table is covered with flamboyant red and yellow striped cloth, the iconic subaceeyid fabric of Somali folk costume. Osman Ali, the Somali Museum's founder, is dressed in the traditional Somali macawiis and shaal and explains the origins of the pieces to a group of 20 youth, gathered around the table. Mr. Ali describes the landscape, depicts herds of hundreds of camels, and tells a story of growing up as a nomad in a traditional home. Later, on the stage, the Somali Museum's traditional Dance Troupe performs three popular folk dances from Somalia, and mothers wave their scarves in the air singing along with the songs. The kids gather around the Dance Troupe members and try their own hand at the dance steps.
One student told us last year, "When we're at weddings, my mom always says I need to try the dance, but I never knew. Now I think maybe I can try it."
Then repeat that scene: At a Somali senior center, a room full of elders. In the community room at a public housing community. In an all-team meeting of county social workers.
A non-Somali neighbor came to a street pop-up performance earlier this summer. She gushed afterward, "I always wanted to get to know the Somali people in this city, but I never felt comfortable just saying hello on the street. Today I was drawn in by the music, and then was captivated by the dazzling dancers. Then I had a wonderful time talking to the dancers about their own stories of coming to Minnesota."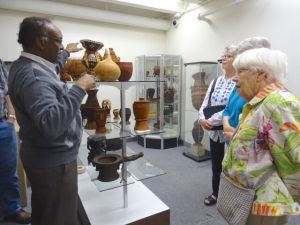 Minnesotans like to tell you that our state is exceptional (and it's not just the above-average residents of Garrison Keillor's fictional Lake Wobegon). The cover story of Time Magazine in August 1973 proclaimed, "Minnesota: A State that Works," and praised the state's long-held standards of "unnaturally clean" politics, education, technology, and cultural traditions. We've also been home to some exceptional historical pitfalls—the largest mass execution in U.S. history, the hanging of 38 Dakota men in 1862, the country's second-worst racial economic and social disparities, a prominent African-American neighborhood famously bulldozed to build our main freeway and a first governor who proclaimed "The Sioux Indians of Minnesota must be exterminated or driven forever beyond the borders of the state."
We're poised on the cusp of being able to celebrate a new kind of exceptionalism. If we do this right, Minnesota has the potential to become a national and worldwide leader for inclusion and cultural vitality. And it is thanks to the state's diverse communities, like the Somali community, who are working to build resilience, collective health, and cultural vitality together. Remember that 1973 Time Magazine cover? This month, Time Magazine featured our State Representative Ilhan Omar as the face of a new future.
Back to that idea of diversity.
When I work in my capacity as Outreach Director, I'm spreading the reach of the Somali Museum out and beyond the Somali-American community in Minnesota. Demand for our programs is extremely high among Minnesotans who know the Somali population is large but don't have opportunities to learn about the community. We bring those Mobile Culture Shows across the state to social service organizations, lifelong learning groups, churches, schools, and family gatherings. I often chuckle to myself that when we talk about "Outreach" and "Diversity" in our organization, we typically refer to European-heritage Americans.
The other museums in our state seek us out for exactly that reason. While they are struggling with audience growth and retention, we work right in the middle of one of the state's fastest-growing communities. Over and over, we connect with institutions whose leadership wants nothing more than to connect more deeply with Minnesota's immigrant communities and communities of color—communities that the Somali Museum already, naturally, serves. We know that museum audiences are changing as the population of this country changes and that there is a growing mandate to deepen and widen the American narrative by including these communities' silenced stories. We are thrilled to step in to provide just that.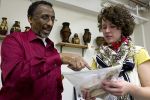 But we need to also grow. The Somali Museum was founded 6 years ago and opened our gallery just over 4 years back. Our staff is now a small but mighty team of 8. We're already doing this work. We just need resources to continue to build our impact in the state.
So this is a call out to you! We have built some of the most amazing programs in cross-cultural education, art, and historical preservation by working together with the institutions in our community who already have a strong base in this country, but haven't found the sweet spot to know how to serve new Americans. We have the community competency, the programs, the connections, and the inspiration to bring our society to life with the richness of cross-cultural education. We'd like to do it together.
About the Author
Sarah Larsson serves as Outreach & Development Director at the Somali Museum of Minnesota. An anthropologist and community advocate, Sarah has studied and served in community development in East Africa, Eastern Europe, and the United States. Sarah earned a B.A. and M.A. in Anthropology from Yale University, where she conducted research in the cultural anthropology of Africa. Sarah oversees publicity activities and fundraising, manages the Somali Museum's social media presence, designs press materials, initiates strategic partnerships for the Somali Museum, and conducts outreach to non-Somali Minnesotans.
More on the Somali Museum:
The Somali Museum of Minnesota, official website: www.somalimuseum.org
Facebook community page
Somali Museum Program Overview 2016
"Minneapolis: First Somali Museum in the world!" (Integration TV)
"Osman Ali interviewed backstage at International Somali Awards"
Minnesota Public Radio: "Somali Artifact and Cultural Museum Fills Void for those who Left Country" (October 2013)