Last week I flew down to Miami for the Contemporary Art in Historic Contexts Symposium at Vizcaya Museum and Gardens. Vizcaya gathered curators, scholars, educators, and artists from around the globe to delve into this topic, and I had the privilege of closing the agenda with a summary of the two days of presentations and panels. 
I'm looking forward to capturing some of those observations in a blog post, but meanwhile I'd like to share the output of a little futures exercise I led: four of our speakers wrote postcards from the year 2040, reflecting on what Vizcaya might be like in a world where it has become common practice to integrate contemporary art into historic houses and sites.
You know it has been 23 years since I first visited Vizcaya? I made the installation "liquid garden." It was right after hurricane Irma and when you see the place now! It's forbidden to come by car. There is a big parking lot for bikes.
Artists, designers and architects worked together with the team at Vizcaya. The village is reconstructed and has 5 artists in residency spaces.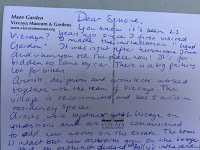 Tanja Smeets is a visual artist who lives and works in Utrecht, the Netherlands. She created a site-specific work, Liquid Garden, currently featured in the Overloadexhibit at Vizcaya Museum and Gardens.
It's as if white supremacy, patriarchy and homophobia have ended here. Writing you from Vizcaya. Is this some land of utopia? But yet, do utopias have such complexity? Stories of difference abound here: laborers, the poor, multiple abilities, genders, races, ethnicities are represented. Not just in the exhibition, programming and storytelling, but also in who is at the table! Vizcaya is ahead of the curve. Could this be the death of museum homogeneity? Inclusion and diversity is not an add-on here, and it shows! The richness of social causes & local culture that are addressed through the energy of contemporary art is inspiring and incredibly relevant to our times. I can see myself here—far afield from the Jim Crow South you fled in the mid-20thcentury. Truly feels like the people's museum. Can't wait to bring you here for your bday next year. Love, Jennifer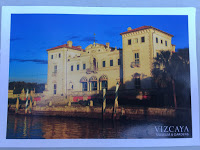 J
ennifer Scott is director of the Jane Addams Hull-House at the University of Illinois at Chicago.
It is so refreshing to be at Vizcaya today. I visited all the museums in town and each encounter was overrun with technology and generally a multitude of options to experience the place. Vizcaya was different. Did you know that they decided to go against the trends and return to a visceral and analog engagement with the site. No tech, no interpretation, but rather a real commitment to the value of a personal reading/experience. It's no longer clear what the place of the artist, curator, or educator etc. is! Oh, & it's Jennifer's Bday. Let's sing!
Gina Wooters
is Vice President of Museum Affairs at Cheekwood Estate and Gardens in Nashville.
Before accepting that position, she curated Vizcaya's Contemporary Arts Program, and led the development of this symposium.
Hey! I finally made it back here. It has been great being able to virtually experience the contemporary* art interventions thanks to Mark's work. Last time I was here, I was disappointed I could not enter the rooms. It was great to be able to get close and personal with the furniture and art. I only got zapped by one work. The virtual experience was so immersive, I could almost walk through with my eyes closed. Wish you were here.
P.S. Sorry the postcard is in a poor state, it got wet on my swim back.
*Isn't it ridiculous that we still call art "contemporary"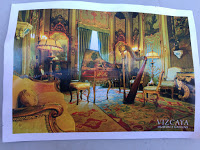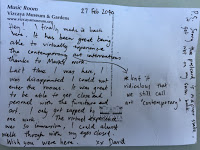 David Rastas is an independent curator based in London, Berlin, and Helsinki. His main curatorial practice has been integrating contemporary art into the architectural fabric of ritual space.


I encourage you to give this foresight exercise a try –nip down to your museum's store, buy a postcard, and write a short note that describes a visit in the year 2040. If your need some help imagining what that world might be like, read the scenario that formed the basis for the future issue of Museum magazine (Museum 2040). And share your thoughts by posting an image of your card on Twitter (tag @futureofmuseums) or emailing me a picture at emerritt (at) aam-us (dot) org. Heck, you can go retro and actually mail it to me (2451 Crystal Drive, Suite 1005, Arlington, VA 22202). I'd love to share a bunch of your "postcards from the future" here on the blog!