Ayanna Reed is the Director of Human Resources at the Oakland Museum of California.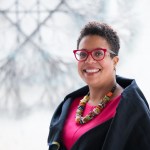 One summer during my college years I interned for the Port of Oakland, one of largest shipping ports in the country. I was a business student at the time and the internship gave me a fascinating opportunity for on-the-job training. The internship turned out to be a great, low-stakes introduction to navigating office politics and learning more of the emotional intelligence and soft skills I would need later in my professional career. That experience made me a more well-rounded job candidate upon graduation, gave me a practical introduction to a field I was considering entering, and connected me with several mentors I'm still close with today. Just a few blocks away and several decades later, that's exactly the kind of experience I want to give interns at the Oakland Museum of California (OMCA).
Five years ago, I joined OMCA as the first staff human resources professional the organization ever employed following its transition from being a department of the City of Oakland to an independent operation. Early into my tenure, we put our formal internship program on pause to evaluate how to improve it, but also quickly began taking steps to attract more diverse candidates for all of our employment positions. We eliminated many unnecessary education requirements for job openings that we believed were barriers to entry for candidates from diverse backgrounds, began working more closely with local colleges to recruit for some positions, encouraged museum staff to speak at career days in local high schools, and expanded coaching and training sessions for hiring managers. Once I began building those direct relationships with local schools and preparing our managers to be more effective mentors, I knew we would be in a good position to relaunch our internship program.
Our vision is for OMCA to be the heart of our thriving Oakland community and to contribute to the museum field by demonstrating the impact of placing community benefit and civic well-being at the core of our cultural work. Created in 1969, OMCA is one of the largest museums in the San Francisco Bay Area serving approximately 170,000 people on-site annually, of whom 35% are people of color. One of my mandates as Director of HR for the Museum is to continue building a workforce of well-qualified and diverse staff, but I also want the Museum to play a leadership role in the field by helping to increase the pipeline of diverse museum professionals.
Skip over related stories to continue reading article
In 2018, we're launching OMCA-UP, a summer internship program for students of all kinds, from community college freshmen to postdoctoral fellows. The OMCA-UP interns will gain exposure to a range of museum career opportunities and leadership development skills in the curatorial and collections areas as well as in our other departments such as public programming, human resources, project management, evaluation, etc. As we've prepared to launch this internship program, we've learned (at least!) seven things we think will help us recruit diverse, talented candidates.
SEVEN THINGS WE'RE LEARNING
1. Keep it legal: construct the program around learning and practicing skills
We have long considered the Museum a learning organization. We already provide all staff ample professional development resources, but an internship program would need special consideration to be compliant with the law. The Society of Human Resources Managers has a great primer on the six-part legal test an unpaid internship program must meet, including that the intern must be provided similar training to that given in an educational environment and that the intern (not the institution) must be the primary beneficiary of the program.
While the OMCA-UP program is for paid internships, we're still providing those benefits and training opportunities throughout the internship program, from application process all the way to post-internship mentorship. Interns will learn how to apply to the program through an online portal and will undergo the same multi-step interview process we use for permanent positions. Each intern will work on a discrete project they can complete within the 11-week program and we'll be offering training sessions on topics like resume writing. At the end of the summer, interns will present their project through our OMCA You learning program that all our staff are invited to attend, giving them further opportunity to build public speaking and presentation skills.
2. Build a network: reach out to career services departments and academic deans
When I first started conceptualizing the OMCA-UP internship program, I took some time to research the websites of local colleges to understand what type of students they enrolled, what degrees and courses they offered, and what kind of internship programs they already promoted to students. I began by reaching out to a few schools and describing what we were thinking about for the internship program, asking if they thought students would be interested, and how we could be a good partner in building a program that truly served students' educational and professional development needs. The schools I contacted were all incredibly excited about the program and our proactive attempts to shape the program to benefit students.
Even then, we knew that we couldn't just post an internship opening on a career services portal and hope for the best. Instead, we would need to make direct contact with a diverse group of students to convince them to consider a career path as a museum professional. The contacts we've made are helping us look for opportunities to speak with students on campus during career fairs, connecting us with student affinity groups where we might find diverse candidates who have yet to consider the museum profession and putting us in touch with deans and faculty in relevant academic departments. We're also leveraging the alumni network of our current staff, asking them to find opportunities to serve as guest lecturers and connect with their own alumni and affinity groups to help us spread the word.
3. Make it equitable: offer funding
One thing that was interesting to me when I began working in the arts field was learning that most nonprofits primarily offer unpaid internships, or interns actually have to pay to participate in the program. Coming from the for-profit world, that was totally new to me. Honestly, I was uncomfortable at the thought of not being able to offer payment to our interns in part because I knew that would likely exclude a whole population of candidates who didn't come from economic means.
We have made a commitment to ease financial capacity as a barrier to entry for potential interns. We applied for and received funding from the Walton Family Foundation and the Ford Foundation through their Diversifying Art Museum Leadership Initiative to support six intern positions each summer for the next three years, and we're using the OMCA operating budget to fund an additional four positions.
4. Offer diverse career paths: extend the intern program beyond curatorial
I've found that most students think, "I can't work at a museum because I'm not an artist." But as we all know, there are so many other roles and skills needed to make a museum successful. Like many museums, the majority of our staff are in fact not trained artists, though they all share a love for the arts and for cultural institutions.
Offering internship positions across such a diverse range of skill sets helps introduce new kinds of professionals to the museum field and prepares students for rewarding careers adjacent to a formal museum, such as exhibit fabrication and installation. I'm personally really excited for OMCA to be this kind of skilled-trade job creator in our Oakland community.
5. Prepare managers: make sure they have the tools and time to be good mentors
You need strong managers who will be able to support these internship positions in addition to continuing to support their existing staff.  Ensuring managers are committed to providing educational opportunities to interns is important as you structure the program. It's also turning out to be a growth opportunity for some of our newer managers, who have limited experience routinely managing other employees. We're intentionally tapping high-potential leads to serve as managers for some internship roles, so those staff members can also gain more leadership skills and experience. We're also working with managers to make sure they also have the time and support systems they need to prepare for the recruitment and application process, all the way through to the final intern presentations. I've been working with the Museum's executive team, in addition to a managers group, to identify those high-potential leads that are primed and ready to become intern managers.
6. Stay flexible: shape the timing and structure of the program around students
One major "aha moment" we've had is that when you're looking for a diverse array of candidates, you need to prepare for their diverse range of academic calendars and credit requirements. Originally we wanted to have a very structured cohort of ten interns who all started and ended the program on the same day, but that turned out to be an unrealistic possibility. Instead, we're planning a team building experience around a midpoint in the summer when we know all ten interns will be in residence, with at least a little experience at the Museum under their belt, but with still plenty of time to build relationships with their peers. We're setting the same expectations for all interns around a time commitment of up to 20-hours per week, but staying flexible on weekly schedules.
Schools also have a variety of requirements for students to earn summer credit, so make sure you set expectations up front with schools in true partnership fashion. We want students to return to their school as great OMCA ambassadors, referring their friends and classmates to next year's internship program, and staying in contact with us for years to come.
7. Track the results: invest in evaluating this program like you would any other
We're committed to tracking each class of interns for two additional years after they leave us to evaluate whether the exposure we provided made any difference in their educational or professional pursuits, and what impact the program is having on the diversity of candidates in the museum field. In the future, we want to go further down the pipeline to reach younger students; we're hearing that even many high schools now require internship credit for students to graduate and we want to introduce students to professions in the museum field as early as possible.
OMCA may be a relatively large institution, but I believe this kind of program could translate to many sizes and types of arts and cultural organizations, and it's going to take effort from all of us to significantly increase the pipeline of diverse and well-qualified museum professionals. The OMCA-UP internship program is just one example of how the Museum is placing community benefit and civic well-being at the core of our cultural work. Learn more about our work building a diverse board, measuring the social impact of our work in the Oakland community, and embedding engagement throughout our institution on our website.
ABOUT THE AUTHOR
As Oakland Museum of California's Director of Human Resources, Mrs. Reed brings more than 20 years of experience in human resource management. Prior to joining OMCA, she served as the Human Resource and Facilities Manager and Interim Director of Human Resources for the San Francisco AIDS Foundation. She is currently the President of the Board of the Northern California Chapter of the National Association of African Americans in Human Resources, a national organization for African American human resource leaders.