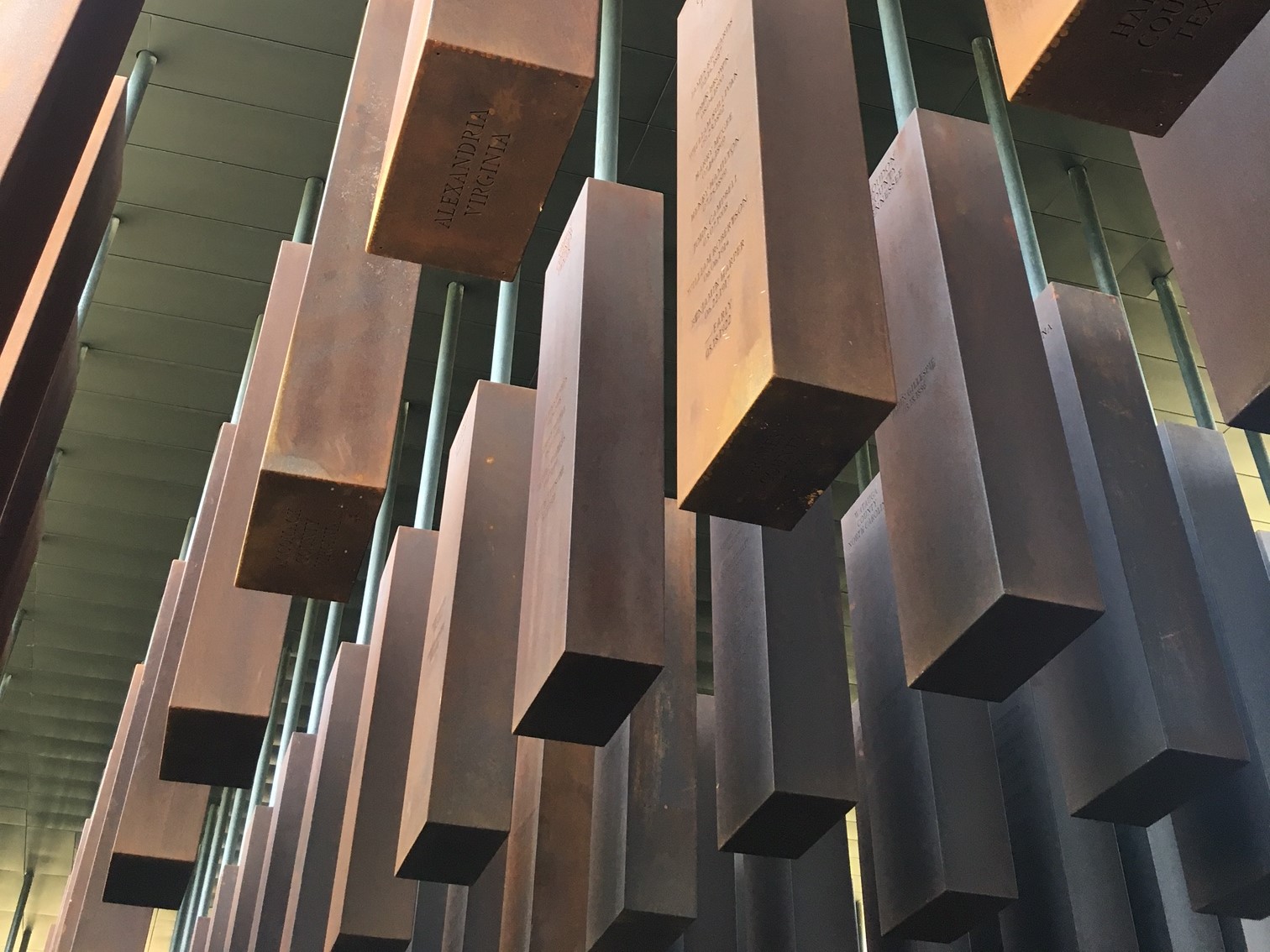 I am privileged to be part of many special museum events—openings, re-openings, milestone anniversaries and the like. Each is special—for the museum; for the hardworking boards, staffs, and volunteers; and for the proud local communities. Each of these celebrations teaches me a little more about the true value of museums and how our roles are evolving in this complex and fast-moving world.
As I made the trip to Montgomery, Alabama for my first look at The Legacy Museum: From Enslavement to Mass Incarceration and the accompanying National Memorial for Peace and Justice, I couldn't help but feel the weight of what was about to happen.
The heaviness came from, not only the dark subject, but also from the recognition that this museum and memorial opening is a pivotal and, in the words of Equal Justice Initiative (EJI) founder, Bryan Stevenson, a "difficult and necessary" moment for our country. It's a moment to confront, not only a shameful history of racial terror lynching that few of us learn about in our history classes but the enduring legacy of the unjust racial narrative of that time that few of us contemplate or understand.
Skip over related stories to continue reading article
Still, the opening in Montgomery was no different than the other celebrations I attend. While it took a few days in Montgomery for me to grasp how to "celebrate" a museum filled with stories of violent and heinous crimes. EJI's Bryan Stevenson explained that it's a celebration of truth, which must precede reconciliation. It's a celebration of a city, including its local newspaper, coming to terms with shameful parts of its history. It's a celebration, a very bittersweet one for sure, for families whose murdered ancestors have been left out of history…anonymous…unimportant, to finally see them memorialized…remembered…acknowledged.
In preparing for the opening, I read a quote lamenting the fact that people don't know a single name of the over 4,000 African American lynching victims. And so I made it part of my mission in visiting the museum and memorial to learn some names…Robert Lewis, the only documented lynching in the State of New York, was killed on June 2, 1892, in Orange County, NY where I grew up. I saw a jar filled with dirt from the site of his death in Port Jervis at The Legacy Museum—and it was more powerful than I expected. Benjamin Thomas was killed in Alexandria, Virginia—not far from the AAM office, as was Joseph McCoy almost exactly 121 years ago, on April 23, 1897. There is power in calling their names out loud.
Bryan Stevenson spoke, almost exactly one year ago, at the American Alliance of Museums Annual Meeting in St. Louis, the theme of which was "Diversity, Equity, Accessibility & Inclusion". An amazing speaker, Stevenson shared some of the themes in his book Just Mercy and the powerful documentary Thirteenth—namely the connection between our nation's history of racial injustice and our current system of mass incarceration which disproportionately affects our black youth, especially boys.
The Legacy Museum's thesis is that the narrative created to justify slavery several hundred years ago—that black lives were worth less than white lives, that black and brown skinned people were dangerous—didn't go away with the abolition of slavery. The Museum makes the case that it just evolved—first to racial terrorist lynchings, then to segregation, and now to mass incarceration. It is an eye-opening realization—especially for those of us who took too long to realize that white privilege means being able to drive (sometimes a little too fast or with a broken tail light) with little fear of dire consequences.
In the last few years, as AAM has taken on work in Diversity, Equity, Accessibility, and Inclusion (DEAI), I have received some letters and comments chiding us for being too "political." I've heard other arguments that our country is past this shameful history and needs to move on—which, incidentally, strikes me as particularly odd when it comes from the museum community, built on preserving, interpreting, and promoting education about our history, be it art, science, or social/political.
I take my responsibility to represent the entire museum field very seriously—and so I've struggled with this member feedback—and have been careful to put aside my personal, political beliefs on many issues. However, I am determined that inclusion, equity, justice—though some would like to make the words somehow "political"—are central values for AAM, for most (if not all) museums, and for the United States of America.
What became evident to me and others in Montgomery was that we were there as patriots. I was raised with a deep pride for our country—and the ideals for which it stands. I am committed, in my personal and professional life, to work that makes our country strong.
We teach our kids that "strong" means standing up for your values (even against—especially against, friends and peer pressure). Strong means confronting failures and striving to learn from them and improve. And, yes, strong sometimes means shedding tears.
I am hopeful that the memorial and monument will help our country confront our history, challenge our status quo, stand up for our values of equity and justice—and build a stronger future.
I am proud that many Americans—young and old, rich and poor, urban and rural, black, white and brown—came together to make The Legacy Museum and the Memorial for Peace and Justice a reality. I am proud of the counties—and I hope some museums—who will claim their marker and use it as an opportunity for education and reflection, locally.
And I'm reminded, once again, that this is the power of museums—to mark, to preserve, sometimes celebrate and sometimes grieve our history and culture—but always to strive for better understanding, reflection, and fulfillment.