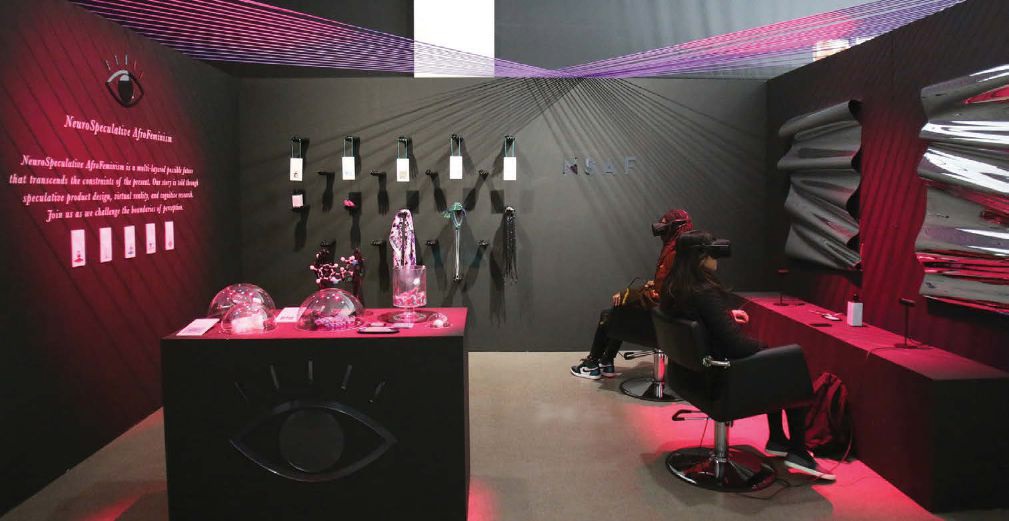 This article originally appeared in the January/February 2019 issue of Museum magazine, a benefit of AAM membership.
Ashley Baccus-Clark discusses the storytelling promise of VR, her work, and what museums can do better.
In September 2018, I had the pleasure of moderating "Immersion in Museums: AR, VR, or Just Plain R?," a small convening hosted by the Detroit Institute of Arts with support from the Knight Foundation. Ashley Baccus-Clark was there to help us explore museum applications of augmented and virtual reality. Ashley is director of research at Hyphen-Labs, an international team of women of color who create meaningful and engaging ways to explore emotional, human-centered, and speculative design.
I fell in love with Ashley's work last year at South by Southwest (SXSW) when I toured NeuroSpeculative AfroFeminism, an award-winning, three-part digital narrative that she created with her colleagues. In this interview, Ashley shares a bit about her work and its potential implications for museums.
Ashley, can you start by introducing yourself to our readers? How do you characterize yourself and your work?
I'm a Brooklyn-based scientist, writer, and multidisciplinary artist. As a black queer woman navigating spaces that typically overlook people who share this identity, my goal is to bring visibility and representation to the forefront of important conversations that are taking place at the institutional level.
Currently, I'm a member of Hyphen-Labs. We are a multicultural team of women working at the intersection of technology, art, science, and the future. We hold ourselves to a high degree of integrity and rigor in all the work we produce, whether it is a commercial or self-directed project. My two partners, Carmen Aguilar y Wedge and Ece Tankal, co-founded Hyphen-Labs in the spirit of collaboration and the cross-pollination of not only ideas but the execution of these ideas.
When I joined the team two years ago, we were right on the verge of a tipping point in both global and US politics. We felt like we were living in the nucleus of change that was ready to explode all around us, so we created something to empower ourselves and anyone who needed to be reminded of their power. Yet, we see now that the old vestiges of power—racism, sexism, and xenophobia—continue to persist. This is why so much work remains to be done.
You earned your master's degree in cell and developmental biology and spent several years doing brand marketing for eyeglass retailer Warby Parker before transforming yourself into a technologist/storyteller. How does your background, and other aspects of your identity and experience, influence your work?
I've always been a storyteller; it's deeply embedded in my family and cultural history. When I was a kid, I wanted to be a neurosurgeon, so my fascination with the brain has persisted from a very young age. More than anything, I'm interested in the ways different fields could be greatly improved by understanding all facets of the mind, brain, and contemplative practices. Storytelling through art, technology, and science has been a way for us to explore the themes that resonate with us.
My fascination with the story of how things are created led me to Warby Parker. When I first learned of the company in 2010, I was intrigued by its brand story. I wanted to understand the mechanics of entrepreneurship and learn how to build a company that was boldly disrupting an entire industry and doing it with flair. After I finished grad school, I applied to be a retail advisor at Warby Parker and then worked my way up to being a store leader and then to an associate manager on the retail brand marketing team. I saw this as another facet of my education because my goal is, and has always been, to disrupt science and bridge the gap between art, science, technology, and futurism.
That is why I left Warby Parker to join Hyphen-Labs. Carmen and Ece challenge my thinking in many ways, and we are trying to set an example for how high-performing, diverse teams operate. We don't always get it right, but we're using our practice as a classroom. My background has been an asset because it's allowed me to see the interconnectedness of things.
When I viewed the installation NeuroSpeculative AfroFeminism (NSAF) at SXSW in 2017, I was bowled over by the way you combined physical "future objects," such as the hyperface anti-surveillance scarf, with virtual reality to create an immersive narrative. What are the particular strengths of VR as a storytelling medium?
VR as a storytelling medium isn't limited to the physics of space and time as in reality. We wanted to give our audience a sense of temporality in the opening scene in the neurocosmetology lab and then challenge that in the second scene in a 3-D, hallucinatory dreamscape. Finally, in the third scene, we returned them to their own body. We told a somewhat linear story in NSAF, but the possibilities to break with that form are endless. For this particular project, VR was appealing because we wanted to play with the physicality of being embodied (or having the audience be embodied) in the avatar of a young black woman.
How do you want the world to be different because of the work you do?
It's a tall order! We want to get people to pause and consider how they engage with others around them. We are exploring stories that highlight people expressing their humanity through technology.
Before Hyphen-Labs, we were all working in fields such as architecture, engineering, and game design, where there were very few women and even fewer women of color. We don't want other women who look like us or identify as we do to feel alone or that their voice and contributions don't matter. We do this work because we are imagining our
present so our futures have a clean slate, and to empower ourselves and others with the knowledge that we can do anything and be anything.
What has your experience with museums been like? What do you think our sector does well, or what could we do better?
For all of us in Hyphen-Labs, museums have been our second homes. From going on elementary school field trips to museums to walking through the storied halls of museums throughout the world, our experiences with museums have been an ongoing conversation. Museums create magic in that creators are made to believe that their works could be featured among the canon.
However, one thing that museums could do better is widening the lens of this canon. There are a lot of curators and artists of color who are creating art in general and using emerging technology to make critical work. But until these discussions matriculate to the institutional level in a way that really drives action, creating change on inclusion or incorporation will remain elusive.
Also, museums tend to be unnecessarily cautious around embracing new technology. How are museums engaging with young people and collaborating on installations and exhibitions with the incredibly brilliant independent curators and artists who don't fit into the traditional structure of the museum? The first step would be to invite more diverse groups of people to convenings and partner with organizations that are working in these spaces. Another way to do this is to partner with schools to help demystify the inner workings of the museum world because it seems inaccessible.
If you were going to create a museum, who would it be for, and what would it be like?
One museum I'd love to create looks to The Racial Imaginary Institute (TRII) as a rubric. (TRII is an interdisciplinary cultural laboratory that uses exhibitions, readings, dialogues, lectures, performances, and screenings to engage around the subject of race.) My museum would tell the story of futurism and speculation through the lens of black, brown, and indigenous people of color and women. A major focus of the museum's exhibitions would aim to demystify the processes of the body, nature, and environment, evolution, technology, and death. Every room would be an immersive experience that bridges the physical and digital. Thematically, most of the museum's permanent collections would center on mysticism and spiritualism and how both have been subverted throughout history at the hand of imperialism and colonialism.
What's next for you and your colleagues at Hyphen-Labs? How can our readers continue to follow your work?
We are going to continue making critically engaged work around human-centered design. This year, we're working on some new projects and collaborating with awesome artists, researchers, designers, scientists, and writers. One of our main goals is to continue making our work accessible to anyone who is interested in engaging with it. Hyphen-Labs is currently in residence at Somerset House in London and at Massachusetts Institute of Technology (MIT), where we are the Ida Ely Rubin Artists in Residence at the MIT Center for Art, Science & Technology.
We're always looking for partners and support to continue our work and hope to have more of these conversations in the future. Readers can follow our work at hyphen-labs.com; Twitter: @hyphen labs; and Instagram: @hyphenlabs.