FOR IMMEDIATE RELEASE
January 23, 2019 — ARLINGTON, VA – The American Alliance of Museums (AAM), the only organization representing the entire scope of the museum community, today named Dr. Tonya Matthews as its interim director of inclusion. Matthews steps into this role at the Alliance at a critical time: last week AAM announced a new $4-million initiative, Facing Change: Advancing Museum Board Diversity & Inclusion, which Dr. Matthews will help launch.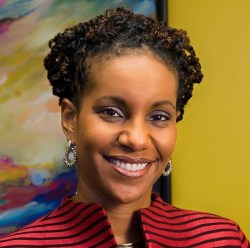 Dr. Matthews is a national thought-leader in museum engagement, free-choice learning, and equity and inclusion in STEM (science, technology, engineering, and math). She is the founder of The STEMinista Project, an initiative to engage girls' interest and skills in science and technology careers. Most recently, Matthews served as President and CEO of the Michigan Science Center, a museum providing hands-on science education and experiences for children and young adults in Detroit and across the state of Michigan. She served on the AAM board of directors between 2013-2018 and as past chair of both AAM's diversity committee (DivCom) and the board's nominating committee, has been integral to diversifying AAM's board.
"Museums are special places that have more transformative welcoming and inclusion power than most—and creating a strong focus on diversity, equity, accessibility, and inclusion within the Alliance is critical to living up to this promise. I am thrilled to be working alongside AAM's staff and board to support such focus and the launch of the transformative Facing Change initiative. Facing Change gives us space to champion diversity and inclusion at the highest levels of museum practice—from governance to excellence—in extraordinary compliment to work that has been happening on the ground within museums for decades," said Dr. Matthews. "AAM has been working toward this moment for quite some time—with seedling initiatives, signature programming, and a strategic plan that makes DEAI central to all of our work."
"Dr. Matthews is a perfect fit for AAM at this time, as we embark on our new Facing Change initiative and continue our internal work to be more equitable and inclusive," said Laura Lott, President and CEO of AAM. "With her expertise as a museum director, educator, and a catalyst for change, we will benefit from her years of experience leading diversity and inclusion initiatives."
About the American Alliance of Museums
The American Alliance of Museums has been bringing museums together since 1906, helping to develop standards and best practices, gathering and sharing knowledge, and providing advocacy on issues of concern to the entire museum community. Representing more than 35,000 individual museum professionals and volunteers, institutions, and corporate partners serving the museum field, the Alliance stands for the broad scope of the museum community. For more information, visit www.aam-us.org.

Press Contact:
David Harrison
410-804-1728
david@harrisoncommunications.net
###