In 2018, the Toledo Museum of Art (TMA) in Ohio named Asmaa Walton, a Detroit native with a master's degree from NYU's Tisch School of the Arts, its first KeyBank Museum Fellow. The announcement brought a four-year process of development, design, and collaboration to fruition: the creation of a program for diverse candidates pursuing a career in museums, cultural institutions, or related fields.
There is much discussion in our field around diversity, with one goal being more inclusive institutional leadership at the directorial and board level. While it is admirable and necessary to actively seek a more diverse range of candidates to fill these positions right now, keeping them filled this way in the future depends on initiating the next generation of leaders early in their careers. An existing TMA fellowship program provided executive-level training, mentoring, and experience to post-doctoral candidates, but we knew we needed to start earlier, introducing post-baccalaureate or master's degree grads from underrepresented groups to the inner-workings of cultural institutions, and training them to enhance connections between museums and their communities. Both the hosting of KeyBank fellows and the type of work they would focus on supported our strategic efforts to broaden and continue to create a vibrant arts community in our city and beyond.
The KeyBank Fellowship is unique in several ways. Perhaps the most important is that it is an endowed fellowship, thanks to the museum's partnership with KeyBank—a partnership that has proven to be dynamic and innovative. The concept of the fellowship aligned with the bank's own diversity and inclusion efforts, and the museum's strategic objective to lead efforts to enhance and engage the arts community. KeyBank also recognized the need for it to be a paid, annual position. This was a great advantage because it meant the fellowship would be sustainable, rather than a one-off program unable to be repeated regardless of how successful it might have been. We ultimately determined the program would host a fellow every other year, allowing us to focus on each individual beyond their on-site experience.
Another unique aspect, and one we believe makes the fellowship particularly engaging for the candidate, is the broad scope of the year-long experience. It is in part self-designed, with the fellow's own interests guiding the areas he or she is involved in, and beyond that is an experiential survey of museum functions and departments. Asmaa has been, or will be, exposed to finance, administration, curation and collecting, registration, education, operations, and community outreach. She'll participate in a rotation on security, working with the department supervisor, and will support the installation of an upcoming exhibition. Early on she participated in an art audit, an internal process around art handling, storage, and documentation review. It was an activity she had known little about, and she was fascinated by the scope of the job and the amount of time a full audit can take. So far, the things she has found interesting have surprised her, and given her more potential specialties to consider as she plots her career path.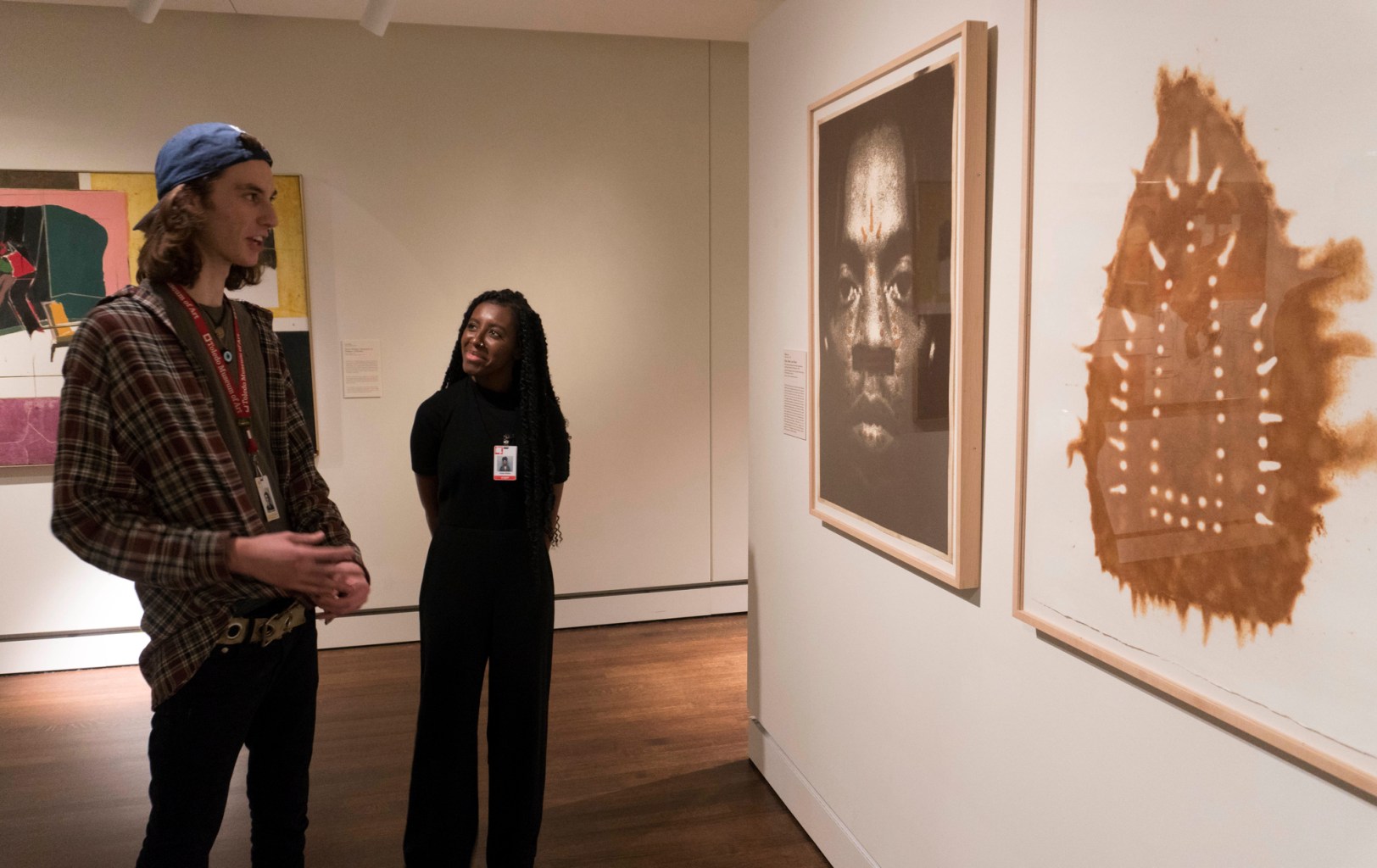 Skip over related stories to continue reading article
Thanks to Asmaa's undergraduate background in art education, she entered the fellowship with an affinity for educational programming, so working with our teen apprentice program is a great fit. The program started four years ago as a partnership with the Toledo School of the Arts, and we're working on expanding to other area schools. The teen apprentices—a diverse group themselves—are students who also have an interest in museum and arts-related careers, and their monthly meetings with Asmaa have focused on professional development and finding their specific interests within the museum. For Asmaa, this is a student-as-teacher opportunity that not only benefits the teens, but also allows her to better understand the steps to take in her own career-development journey. Asmaa is making good use of her education background as she helps the apprentices shape the museum's teen outreach activities, and she has approached education from a pedagogical standpoint while helping set up an on-site continuing education conference for teachers.
As associate director of the museum, I check in with Asmaa biweekly to review what she's working on, what's going well, and where she needs help. I've also mentored her in the basics of getting things accomplished in a large institution. Often, early-career employees are nervous about asking for help, or don't know who to ask. It's important that she knows if she hits a roadblock, I—or one of the supervisors she's worked with—can make a call to help resolve the issue. All workplaces have their channels of efficiency, and making them clear to everyone, from interns to staff, is a valuable lesson that can save time and anxiety. Another way we want to support Asmaa, and all the early-career professionals we work with, is by teaching them how to network within the industry and the community. Helping them network, maintaining our relationships with them, and promoting them in the marketplace is the way we ensure diversity and inclusion initiatives have impact down the road. If Asmaa leaves her fellowship with solid relationships at TMA, connections in the community, and a growing reputation in the industry, the fellowship will have done what these initiatives are intended to do: create fertile ground for longevity in her career, leadership positions in her future, and, ultimately, a greater number of diverse professionals at our industry's table.
About the author:
Lynn Miller joined TMA in 2013 as director of human resources, and was named assistant director of the Museum in 2016, with operational responsibilities over areas including human resources, protective services, finance, strategic planning, and risk management. Prior to joining TMA, she served as a senior consultant for the Hanover Insurance Group in Worcester, Massachusetts, and worked in senior human resources roles at Thomson Reuters Tax and Accounting and Domino's Pizza Corporation, both in Ann Arbor, Michigan. Miller holds a Human Resource Business Partner Certification from the Society for Human Resource Management, the leading national human resources professional association and accreditation organization. She received her Bachelor of Arts in psychology from Bowling Green State University.