In a 2017 post on this blog, Tui Te Hau, the director of the Te Papa museum's Mahuki innovation accelerator, offered some advice for museums considering starting their own coworking spaces. In today's post Cindy Foley, Executive Deputy Director for Learning and Experience at the Columbus Museum of Art, tells us how she and her colleagues have implemented a coworking partnership at the museum.
–Elizabeth Merritt, VP Strategic Foresight and Founding Director, Center for the Future of Museums
Jeremy caught me in the sculpture garden, "Cindy," he said, "I think one of the museum's participatory prompts just helped me solve my client's challenge!" Jeremy is the vice president and design director for GSW, and he and his colleagues are "in-residence" at the Columbus Museum of Art (CMA).
GSW is a global advertising company that focuses on pharmaceutical, biotechnology and health-and-wellness clients. GSW is in the business of developing new ideas that have value. CMA has a Center for Creativity and since 2011, has intentionally worked to be a catalyst for creativity within our community.
Jeremy had just returned from a client meeting in NYC to develop a new marketing campaign. The client needed to align two institutional values – quality and innovation. Imagine More than Lines, the particular creative challenge that Jeremy was referring to, is nestled in the Museum atrium. It prompts visitors to apply their imaginations and see more than two lines, then draw what they see. The creativity displayed by our visitors as they tackle this challenge is extraordinary. What Jeremy saw was the intersection of his client's two values and he realized the marketing campaign would show what is possible beyond the intersection.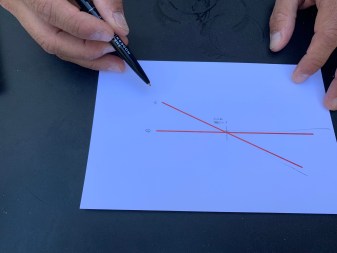 The benefits of an artist-in-residence program for museums has been well established. Artists gain access to art, staff and uninterrupted studio time to think and incubate. Institutions gain insight, energy, products, relationships and even new audiences. But museums have traditionally limited just who these residents can be. The Columbus Museum decided to evolve the idea of being "in-residence" and invite a different type of creative producer, a local business.
Nationally, museums are struggling to cultivate businesses and corporations as donors. Traditional funding for operating support and even underwriting for exhibitions has dried up. Many corporations are only interested in funding museum projects that fit their giving priorities, which range from work force development to financial literacy. That presents museums with a choice: shoehorn what they want to do into those categories, changing a program or initiative to fit a specific corporate direction or say goodbye to that support. Many times, the fit just never works and the museum is left without the needed funds and without critical relationships that can cultivate future board members and advocates, and even drive community engagement. Losing local business support is more than a loss of dollars. CMA wanted to explore whether, in the future, our relationship with businesses and corporations could be deeper than just philanthropy. Could it be rooted in something critical to both institutions, in shared values?
In the spring of 2019, CMA noticed that a local business leader Marc Lineveldt, was in and around the Museum regularly. We saw him in the café, and he would often rent space to bring his creative team to the museum. Marc has a mantra, "the desk is a dangerous place to view the world from." At a certain point after a glass of wine, an idea was floated—what if GSW was in-residence at CMA? We laughed. And then looked at each other and asked…"but, what if?"
Shortly after, a small group from both institutions hatched an idea to allow GSW unprecedented access to the museum, from spaces and experiences to collections and staff. CMA is now GSW's satellite office where employees work, hold meetings, linger in the galleries, host clients, participate in programs, and think with museum staff.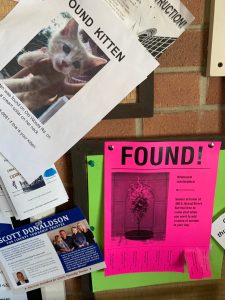 In exchange, GSW provides CMA with much needed marketing support. The first campaign they created for us—Lost and Found—is helping CMA reposition itself in our community. The goal of the campaign is to help the community understand CMA in the ways that GSW now understands CMA – as a place to practice creativity, explore and play, and have conversations.
We launched Lost and Found this month, posting hand-made flyers to spread the word about CMA in an unexpected way that builds awareness and celebrates creativity. Volunteers helped to hang flyers in neighborhoods across Central Ohio—in restaurants, libraries, street corners, and other public spaces. A comprehensive social media campaign creates buzz beyond the physical posters using the hashtag #CMALostandFound.
A decade ago, the KnowledgeWorks Foundation released a strategic forecast outlining some trends that would impact the future of learning. Their premise was that learning institutions would diversify and evolve into learning ecosystems in which learning adapts to each learner. Two points of that forecast are embodied in our business in-residence experiment:
Learning will no longer be defined by time and a place – unless a learner wants to learn at a particular time and in a particular place
As more people take it upon themselves to find solutions, a new wave of social innovation will help address resource constraints and other challenges.
This pilot project has spurred me to ask a lot of questions:
Who is a museum for?
How do we best use our spaces?
What does our community value about what we do?
If museums are catalysts for new ideas and new understandings, have we developed models and structures to support this?
The Columbus Museum of Art will learn a lot this year and if I listen carefully, I may find that Jeremy and his colleagues are already answering some of my questions.
Cindy Meyers Foley is the Executive Deputy Director for Learning and Experience at the Columbus Museum of Art. She envisioned and led the charge to open the 18,000 sq. ft. Center for Creativity in 2011. In 2013, the museum received the National Medal for Museums in recognition of this work. Foley has been on the faculty of the Harvard Project Zero Classroom Summer Institute and regularly keynotes a variety of Museum, Art, and Education Conferences. She recently received the 2018 Ohio Distinguished Educator for Art Education award.
Skip over related stories to continue reading article