Conner Prairie's focus on inclusion has led to community partnerships and programs that positively impact the well-being of its community.
---
This article originally appeared in the November/December 2019 issue of Museum magazine, a benefit of AAM membership.
---
Conner Prairie is an AAM-accredited and Smithsonian Affiliate living history museum in Fishers, Indiana, that re-creates early 19th-century life along the White River. We have long been a place that values opening doors for guests to learn by using innovative approaches that engage them in ways that books cannot.
Nearly four years ago, I sat down with our local city council member to talk about disability initiatives in Fishers and how Conner Prairie could be better involved. After that meeting, I was introduced to the Behavior Analysis Center for Autism (BACA), which works with children and young adults with autism, and was invited to join the Fishers Disability Council. These two introductions—and eventual partnerships—would lead to a new way to approach diversity, equity, accessibility, and inclusion (DEAI) at Conner Prairie that involves the community in programming and employment opportunities—and more broadly embraces and empowers our disabled community.
Looking back on that meeting, I never imagined that we would progress so far in such a relatively short period of time. Conner Prairie has developed many DEAI initiatives by actively listening to the community and then asking potential partners how we might be involved and used as a resource. This engagement has better informed Conner Prairie programming so that it affects the well-being of a more diverse cross-section of our community.
Improving the emotional and physical well-being of our guests is paramount in Conner Prairie's future plans for our 1,046 acres of land and 3.3 miles of White River. We are expanding the boundaries of historical and natural resources by exploring, celebrating, and improving the human experience.
Our Work with the Autism Community
BACA provides effective applied behavior analysis services for children and young adults with autism along with volunteer work that prepares them for the real world and teaches them skills to be more independent. We have worked closely with BACA on reaching, listening to, and learning about the needs in the autism community in our region.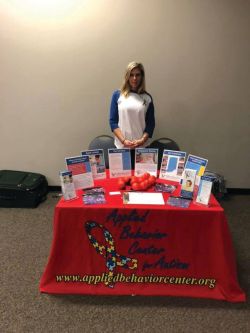 For example, through our partnership with BACA, since November 2016 a young man on the autism spectrum, Jimmy, has worked closely with our development and exhibits departments. Jimmy's involvement and presence at Conner Prairie has made a powerful and positive impact on all his Prairie colleagues. Staff has witnessed firsthand a different view of humanity because of Jimmy's spirit and his many talents, which include photography and art.
In March 2019, we featured his work in a temporary exhibition called "Through Jimmy's Eyes: Conner Prairie." The exhibition was the centerpiece of a larger March Disability Awareness Month exhibition at the museum in partnership with the city of Fishers and the Fishers Art Council. The exhibition highlighted 62 of Jimmy's works that uniquely and colorfully brought Conner Prairie's material culture, nature, and beauty to life.
Many other BACA constituents attended the exhibition opening. One parent I spoke with said Jimmy's involvement with Conner Prairie inspired hope in the autism community that other children will find similar opportunities. "It's important for us to share Jimmy's story in hopes that it can inspire other parents," says Sarah Cox, BACA's director of marketing, because "unemployment remains high for individuals with special needs."
With Jimmy's involvement, we've not only gained a truly valuable volunteer and family, but we've also demonstrated Conner Prairie's values and DEAI promise. "Doors of opportunity only open because someone says 'yes,'" says Jimmy's mother, Wendy. "From the first day, Conner Prairie staff has been a great example for other businesses to follow because they approach Jimmy with unfailing courtesy and kindness. The staff have given our family a lot of hope for the future and proven to us that Jimmy can and should work."
The museum also holds Sensory-Friendly Mornings, which we started in 2015. This free program allows families with loved ones on the autism spectrum to arrive early when lights are dimmed and noise is at a minimum, as those with autism are hypersensitive to sound and light. Based on feedback from this program and additional research, we then created Quiet Spots around the site, which allow those on the autism spectrum or with other sensory or developmental challenges to have a safe place for a calming break. These locations each include a sensory kit that includes weighted blankets and soft toys, which can help ease anxieties.
One of the Quiet Spots is a reading room on the ground floor of our four-story Treetop Outpost, which combines learning activities with opportunities to be active and enjoy the natural world. The outdoor reading room is tucked away from the surrounding boisterous activities.
The museum has continued to work with BACA and other organizations on improving programming to better serve the autism community. Last year, we began offering a Sensory Friendly map of the grounds, and this year we have denoted Quiet Spots on the site maps we distribute to all visitors. We also hold Sensory Friendly Days in which autism-centric organizations from across Indiana discuss their programs with individuals with sensory differences and their families, who can explore the Museum Center free of charge.
A Hand Toward Independence
In 2018, we broadened our inclusion work, forming new partnerships with organizations to help people with special needs gain employment skills so they can work and live more independently. Museum staff became active members of advisory councils and networks like Fishers Disability Council and Fishers Diversity Network, which introduced the museum to other employment and community partners like Bosma Employment Advisory Council, Best Buddies Indiana, and Janus Developmental Services. Partnering with these groups has helped us better understand and reach people with disabilities who want to be in the workforce.
For example, we work with Best Buddies Indiana, which serves persons with intellectual or developmental disabilities, on inclusive hiring practices and jobs for youth and young adults. In the 2019 summer season, we employed a young man on the autism spectrum to work in our cafe as a food runner and then as a dishwasher during the holiday seasons. We expect him to return next summer. Best Buddies also helped us secure a marketing intern for 12 weeks to help create the museum's new website. The internship came about when we attended a reverse job fair presented by the Autism Society and met the job candidate.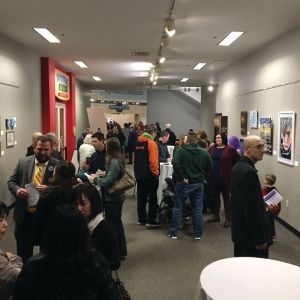 According to Kim Harvey, Best Buddies employment consultant, the intern not only gained computer skills that "will prove invaluable in a job search, but Conner Prairie also helped the intern navigate the new, exciting, and sometimes challenging world of working in an office." Best Buddies is also working with the museum on employment opportunities in the exhibits and education departments.
Conner Prairie is also partnering with Janus Developmental Services, which teaches life skills to people with disabilities and their families and creates opportunities for education, employment training, and independent living. The museum sells Janus clients' artwork in the gift shop, and many Janus clients are now serving as on-site "guest makers" who demonstrate craft skills in the making areas of the grounds, for items such as gourd birdhouses and walking sticks.
In addition, we work closely with Bosma Enterprises and LUNA Language Services to find creative ways to make Conner Prairie's grounds and programs more accessible to those with vision and hearing loss so they can achieve greater independence. Bosma is advising Conner Prairie on website accessibility for those with vision impairments, training staff to work more effectively with the blind community, and helping us hire a new employee who is blind to serve as an interpreter in our historic areas. Through LUNA, Conner Prairie is securing American Sign Language interpreters for the grounds and partnering with the Indiana School for the Deaf to host a Deaf Heritage Day during the school's annual homecoming program.
Conner Prairie also works closely with local school systems on several initiatives related to health and well-being. For example, the museum's partnership with the Hamilton Southeastern (HSE) Schools Exceptional Learners program enables students with disabilities to volunteer at Conner Prairie and gain professional work experience. This program supports disability inclusion in the workforce, focusing on ability and not disability.
"The students who work at Conner Prairie gain work skills in a safe, quiet, and inviting atmosphere," says Chrissy Pogue, transition specialist for the HSE Department of Exceptional Learners. "Our students know the value of work and want to have a job, though sometimes their disability makes it a challenge to use their employable skills outside of the school setting. Conner Prairie has been amazing working with our students and making accommodations when needed to help them succeed."
Our aspirational goal is to change the way the world views and uses museums. That's why we are opening our doors to a diversity of voices, programs, and employees. When we do this, we can also positively affect the health and well-being of community members who may not otherwise know us.

Becoming Dementia Friendly
In 2018, as a part of our dementia-friendly programming, Conner Prairie created the Memory Café, a safe place where individuals with cognitive disabilities and their caregivers can engage with Conner Prairie's collections in a program designed to engage the senses to elicit memories and emotions.
The museum's journey to becoming dementia friendly started in July 2018, when Central Indiana Council on Aging and Dementia Friends Indiana helped the museum train five staff members to be "dementia champions," who now lead trainings for other Conner Prairie staff to be "dementia friends."
The 90-minute dementia friends training sessions combine mental exercises, worksheets, and conversation to educate staff about the science behind dementia, symptoms of the disease, and different ways of communicating and connecting with individuals with dementia and/or Alzheimer's and their loved ones. Currently, 60 staff at Conner Prairie have been trained to be dementia friends.
Through this process, Conner Prairie has achieved certification and designation as a Dementia Friendly Museum by Dementia Friends USA, which is part of a global movement that is changing the way people think, act, and talk about dementia. As a Dementia Friendly Museum, Conner Prairie is a safe, judgment-free space for individuals and their loved ones to come and explore as they are. This designation helps us be a more inclusive and accessible museum that everyone can enjoy.
Read more about Conner Prairie's Memory Café on the AAM website: aam-us.org/2019/07/17/the-memory-cafe-creating-a-museum-program-for-people-with-dementia/.
Norman Burns is the president and CEO of Conner Prairie in Fishers, Indiana.