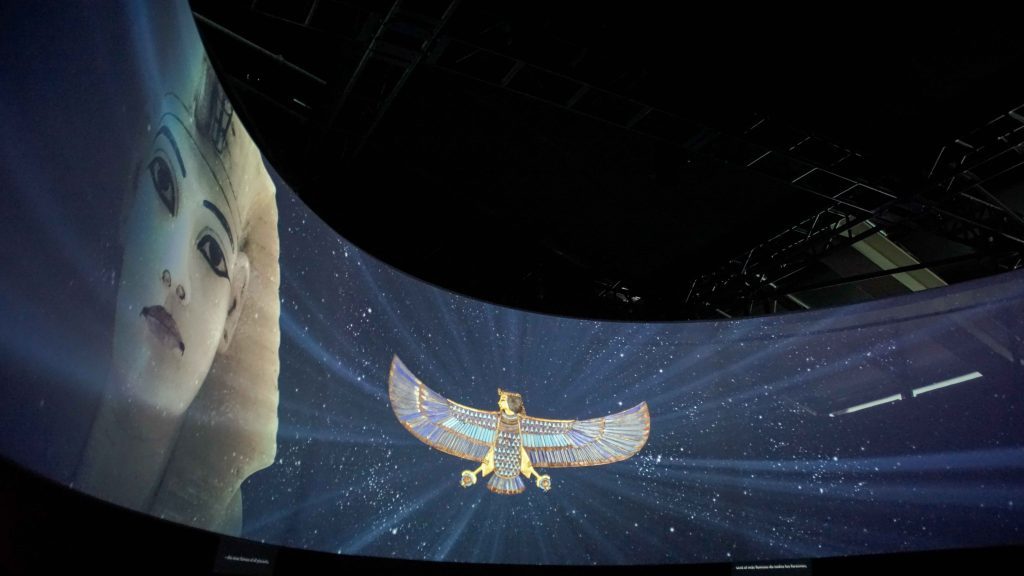 The museum field is using modern audiovisual (AV) technologies to reinvent how people experience art, cultural antiquities, and historical events. Some of these methods include developing immersive digital exhibits, deploying virtual and augmented reality to supplement and enhance exhibits, and leveraging data analytics to inform AV purchasing and design decisions.
The cases described below demonstrate just a few of the exciting possibilities enabled by modern AV technologies.
1. Incorporating Technology without Distracting from the Exhibit
For the one-hundredth anniversary of the discovery of King Tut's tomb, IMG and California Science Center developed a traveling exhibit called King Tut: Treasures of the Golden Pharaoh, partnering with Design Electronics to incorporate immersive projection systems, creative audio features, and projection mapping to deliver an engaging experience for visitors of all ages.
The first thing visitors see in the exhibit is an animated video that identifies artifacts and their roles in Tut's mummification process. To capture the attention of audiences of all ages, Design Electronics created a twenty-three-foot-wide, seven-foot-tall projection screen that wraps 180 degrees around visitors and is positioned slightly overhead so viewers can gaze up at it as they would a night sky. As this intro video ends, lights activate and the doors open to the next gallery—each gallery in the exhibit is designed to move people through with a natural flow.
Sound also plays an important role in the flow and sensory experience, according to Khalil Williams at Design Electronics. "We use sound to spatially create the effect that you are passing along with Tut," Williams explains,
adding that IMG was a big proponent of high-quality audio to complete the effect.
The exhibit's technology also needed to highlight the importance of the physical artifacts without overshadowing or distracting from them. Williams says the alternating digital and physical aspects "maintain a certain attention span, with pop-ups of experience to keep things fresh as they go through."
In one location the exhibit traveled to, where it covered two floors, a second intro show was developed around The Wishing Cup, an artifact that sat inside the doorway to Tut's tomb. As visitors gathered at the entrance, they saw projections before them but were unaware that physical objects were hiding behind the screens. Williams explains, "We used a translucent projection material that when projected on becomes opaque, so they don't know what's hiding there."
An audio narration explained the story of The Wishing Cup, then visitors heard sound effects as if a chisel was hitting stone. As it was chiseled on screen, the image fell away and the tomb behind it appeared. Throughout this immersive experience, all the technology was hidden and used to highlight the history and artifacts, not the technology itself. This same guiding principle is reflected in the exhibit's use of projection mapping, which projects images onto complex 3D surfaces instead of flat screens—in this case the tops of gallery entry portals—to create signage that blends into the exhibit.
While the King Tut exhibit uses various display technologies to focus visitors' attention, some museums are utilizing other AV technologies to share exhibits online, enable new perspectives that are impossible to present in a physical space, and improve the efficiency of exhibit design and documentation.
2. Using Virtual and Augmented Reality to Bring Art to Life
The Nelson-Atkins Museum of Art in Kansas City, Missouri, has more than thirty-five thousand works of art in its collection and welcomes five-hundred thousand visitors a year. Like many museums, it's exploring ways to use virtual and augmented reality to engage visitors and enhance their experience—while also using VR as a marketing tool to engage fans at home and encourage them to visit.
A few years ago, a donor gave Nelson-Atkins an extensive collection of impressionist paintings. While the museum was building the gallery to host them, it created a VR recording of the collection in the donor's home so people could preview them and be encouraged to either visit the museum or become a patron—both of which provide ROI by driving revenue.
Virtual reality can also let people experience exhibits in ways that are impossible in the real world, due to the size or fragility of the exhibit. For example, Nelson-Atkins worked with a local hospital to CAT scan a collection of miniature angels carved out of ivory, so those visuals could be converted to a 360-degree immersive video. "They'll be able to explore that in a completely different way than they would in reality," says Doug Allen, the museum's CIO.
Nelson-Atkins is also using VR to improve its internal operations. For documentation purposes, the museum has begun recording 360-degree videos every time it renovates a gallery or sets up an exhibition. "It's standard to photograph an exhibition, but [now] we're also going to be taking 360-degree video," says Allen. "So [the technology] has taken on this additional function of documentation that makes it easier. Let's say ten years from now, somebody wants to look back on how we had it set up, we'll be able to put on the headset and understand it."
The museum is also looking to use VR headsets to help design partners ensure each exhibit has optimal spacing and traffic flow before the actual build process begins. Using 3D design software, such as CAD, an exhibit's designers can create a true-to-life representation of the space, then explore it in virtual reality to see how it actually feels and looks from all angles, potentially saving time and money by negating the need for change orders and redesigns.
Augmented reality (AR) isn't being used at Nelson-Atkins yet, but Allen is excited by the prospect. Referencing the Detroit Institute of Arts, which uses Google's Tango platform, Allen notes that, "They have really great navigation. You'll see blue dots along the floor telling you to turn. When you come up to the mummy, you hold up the phone and see inside the casket. When you walk around the casket, it knows where you are at each point and orients you properly."
While AR makes the personal smartphone a central part of an exhibit, and inevitably leads to more time looking at it, this can actually help museums connect with younger visitors who already use personal devices for countless activities every day. The potential for added content and interactivity through AR could also provide major benefits, enabling digital interactions that don't require any extra physical infrastructure within an exhibit.
Integrating new technologies can also directly benefit a museum's bottom line by reducing maintenance costs for older tech and improving attendance by updating existing experiences.
3. Digging into the Data to Cut Costs
Organizations in most fields are now using data analytics to determine things like cost-benefit analysis and space optimization—and the National Naval Aviation Museum in Pensacola, Florida, is no exception. The museum recently used an array of data points to evaluate the costs related to one of its central attractions: its 325-seat Naval Aviation Memorial Giant Screen Theater.
The theater's existing xenon-lamp projector was impressive to experience but expensive to operate, costing six figures annually to lease, operate, and maintain. The projector's operating costs—including an annual lease fee and the price of replacing the lamps an average of three times a year—accounted for nearly 10 percent of the theater's gross revenues. As part of a planned facility-wide upgrade, Phillip Crabtree, Operations Manager for Visitor Attractions, used data from the theater's operations records to determine if any other system could replace it for a lower annual cost.
Working with Chicago-based integrator D3D Cinema, the sister company of large-format cinema content developer Giant Screen Films, Crabtree gathered and logged similar costs for other projection options via RFPs. Comparing the line items, the theater's staff calculated annual savings of up to $250,000 by cutting lamp-replacement and other consumables costs, as well as eliminating the cost of operators by using a highly automated laser-based projector instead.
"Phil's experience is not uncommon when it comes to the economics of small and mid-sized institutional giant-screen users," says Derek Threinen, Vice President, Film Distribution and Business Development, Giant Screen Films/D3D Cinema. "We're providing a combination of digital projection technologies, which these cinemas can own versus license—which usually allows them to achieve ROI within two years."
Thanks to cost savings and word-of-mouth excitement about the brilliant new technologies in the Giant Screen Theater, Crabtree says that through the first eleven months they achieved increased revenues of about $200,000. This includes a 30 percent reduction in electrical costs attributable to the shift to laser-based projection, and a 5 percent increase in attendance (eight thousand patrons a year). Even though the exhibit content stayed the same, more people are drawn to it now that the presentation technology has been updated.
"The reviews are very positive and audiences love the experience," says Crabtree. "I read one [review] that talked about the new projection technology and how spectacular it looks. The reviewer said he definitely recommends a visit to the theater." Crabtree directly credits reviews like this for the increased attendance.
All of the installations described so far use technology to highlight or augment museum exhibits, but one museum has gone a step further by creating an end-to-end digital journey that engages visitors on a personal level without requiring any traditional physical exhibits.
4. Going Completely Digital
Opened in 2016, EPIC the Irish Emigration Museum shows how museums can combine content, space, and technology to create meaningful and memorable experiences that are exclusively digital. The museum utilizes a variety of audiovisual technologies to tell the stories of Irish emigrants around the world, from 500 A.D. to the present day. Exhibits highlight the individual stories of hundreds of Irish emigrants, including notable names like U.S. President John F. Kennedy, Canadian Prime Minister Justin Trudeau, and Gone with the Wind author Margaret Mitchell.
Inside the museum, content is presented on various digital displays, touchscreens, and AV pods where visitors actively swipe and tap to unlock and access information. Visitors essentially act as their own guides, generating unique experiences and becoming the storytellers. The interactive exhibits allow visitors to select their home countries to personalize what they see. This personalization reinforces one of the broader messages of the museum: the story of Irish emigration is the visitors' own story.
Different galleries in the museum feature different technologies. In "Changing the Game," stories of successful Irish diaspora athletes are stored on interactive disks with QR codes, with each disk representing a different sport. Visitors physically place the disks on the surface of a table and rotate them to cycle through information. The "Achieving Infamy" gallery, which portrays notorious criminals, pirates, and outlaws of the Irish diaspora, allows visitors to physically walk toward the characters presented on a projection screen in front of them and bring these selected characters to life. Using a Microsoft Xbox Kinect, the display tracks visitors' movements and reacts by presenting a factsheet about the characters' lives, followed by a "Whodunnit?" game in which audiences can decide whether the character is guilty or not.
"We see technology as being really accessible, for everyone from young to old, and for many different learning styles and levels," said Thalia Neilson, Assistant Curator at EPIC. "Combining tactile action with the digital medium encourages engagement with the museum's content."
Production company Digital Post helped create the audiovisual content for the museum, and its Managing Director Jim Colgan notes that, "Practically, the AV platforms we chose had to strengthen the impact of the piece. For this we considered the positioning of screens, the timing of action on the screens, the sound, color, etc. Unlike some conventional centers, the visitor in EPIC is immersed in an AV experience; literally invited to be part of the story."
EPIC is on the forefront of a trend in the museum sector to include more interactive, tactile, and personalized elements in exhibits and displays. Mark McGowan, Head of Technology for EPIC, sees this trend as essential to reaching larger and younger audiences. "Many people nowadays engage more readily with information presented digitally than in more traditional formats," he explained. "Technology provides a familiar and accessible way to learn for the younger generations, who make up a huge part of the target audience for the sector."
---
Changing the Museum Landscape
Museums' newfound ability to deeply integrate audiovisual technologies presents an incredible opportunity to reach larger audiences than ever before, even at home, and to cast off the perception of museums as exclusively quiet, somber experiences. In addition to elevating visitor experiences, new technologies are enabling data-driven decision making, cost savings, and enhanced documentation of exhibits that provide immediate benefits to museum operators.
Working with dedicated partners well-versed in the design and implementation of audiovisual technologies, museums of all kinds can now develop entirely new kinds of exhibits that make a lasting impact on visitors. Whether an experience utilizes interactivity, large-scale displays, tech-enabled surprises, or self-determined journeys, the future of museums is increasingly audiovisual.
About the author:
Dan Goldstein, an AAM member, is Chief Marketing Officer for AVIXA™, the Audiovisual and Integrated Experience Association. AVIXA represents the $231 billion global commercial AV industry and produces InfoComm trade shows around the world.
Skip over related stories to continue reading article