A mother and her spaceship-loving children, ages five and seven, arrive at the Steven F. Udvar Hazy Center using their timed tickets. As they enter the museum, unsure where to turn first, a volunteer on a sixty-five-inch monitor behind the Welcome Center calls out to the children, "Good morning. I love the Milky Way pattern on your face masks. What would you like to see first?"
The person on the monitor is a Virtual Information Desk Volunteer, and the question to the children is more than a casual greeting.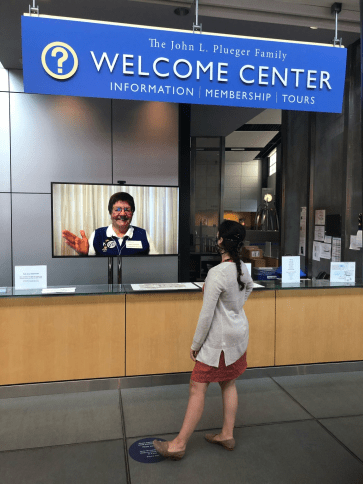 "When we launched our Virtual Information Desk," shares Rachel Owens, Visitor Services Coordinator for the Smithsonian National Air & Space Museum (NASM), "one of the first things we found was that visitors didn't think the image on the monitor was real. In order to assist them, we had to convince them that they were speaking live with an actual person." To do that, the volunteers make a point of getting the visitor's attention by noting something visible about them.
NASM was an early adopter of remote technology to enhance the visitor experience while enforcing COVID-19 safety measures. In July 2020, after some beta testing with staff, the Visitor Services team took its two primary volunteer roles, Information Desk and Docent, and adapted them for a virtual environment.
Skip over related stories to continue reading article
The first virtual information desk opened at the end of July at the Udvar-Hazy Center. In September, the docents returned in a new role, as "Artifact Station Volunteers," available to answer questions about some of the larger pieces in the collections. Volunteers performed both roles until the museums closed again in November due to the COVID-19 surge.
The Artifact Stations Volunteer role is notably different from that of a docent. Rather than speak for sixty or ninety minutes, sharing stories and pointing out multiple features throughout the museum, the docents are there to answer questions in one location and then encourage visitors to move on. This shift requires the docents to study up on artifacts that perhaps they hadn't covered before.
Neither role requires specialized software or expensive hardware. The Information Desks and Artifact Stations rely on four commonplace components: a monitor, a web camera, a Wi-Fi connection, and a collaboration platform such as Microsoft Teams or Zoom.
Rachel and her colleagues have been contacted by dozens of museums that seek to establish their own virtual information desk or docent positions. NASM's virtual model has also been the inspiration for similar virtual positions at most of the Smithsonian museums.
For museums interested in launching similar virtual roles, Rachel has this advice:
Collaborate with Your Volunteers
Throughout this process, NASM has relied on its volunteers for suggestions and feedback. According to Rachel's colleague, Docent Coordinator Amanda Ferrario, "We are using our volunteers as beta testers through and through. By having them offer up feedback and constructive ideas, we have been able to pivot as necessary. This takes a lot of trust, both on the part of the volunteers, and that of staff, but it has proven to be the most effective form of problem solving on a virtual platform. Issues such as surrounding noise abatement, location of monitors, signage, closed captioning, as well as other hiccups were merely that, hiccups! We were able to effectively address them (and sometimes problem solve solutions) alongside the volunteers."
For example, docents at the Space Shuttle Discovery Artifact Station had difficulty discussing the shuttle without a visual. They requested a photo of the shuttle when it is upright and stacked on the launching pad, with the rocket boosters and the fuel tank at the back. The volunteer coordinators worked with the exhibits team to put the image on a clamshell sign next to the monitor. That way, docents could refer visitors to the image when talking about the artifact.
Find New Storytelling Practices
As Artifact Station Volunteers, NASM's docents have had to reconsider how they present content and interact with visitors.
Rachel explains: "We encouraged the docents to be creative in their storytelling and treat their new role as an opportunity to answer questions or share anecdotes in ways that are not possible on a traditional tour."
As a result, the docents have become better describers, using more specific, spatial language to highlight an object or event. They have also played with the technology. Rather than show an image from a tablet, as in a traditional tour, a volunteer might use relational or descriptive language or encourage a visitor to research a fact with their phone. Sometimes this self-exploration leads to questions the visitor might not have thought of before, and they might circle back to the Artifact Station later to ask them.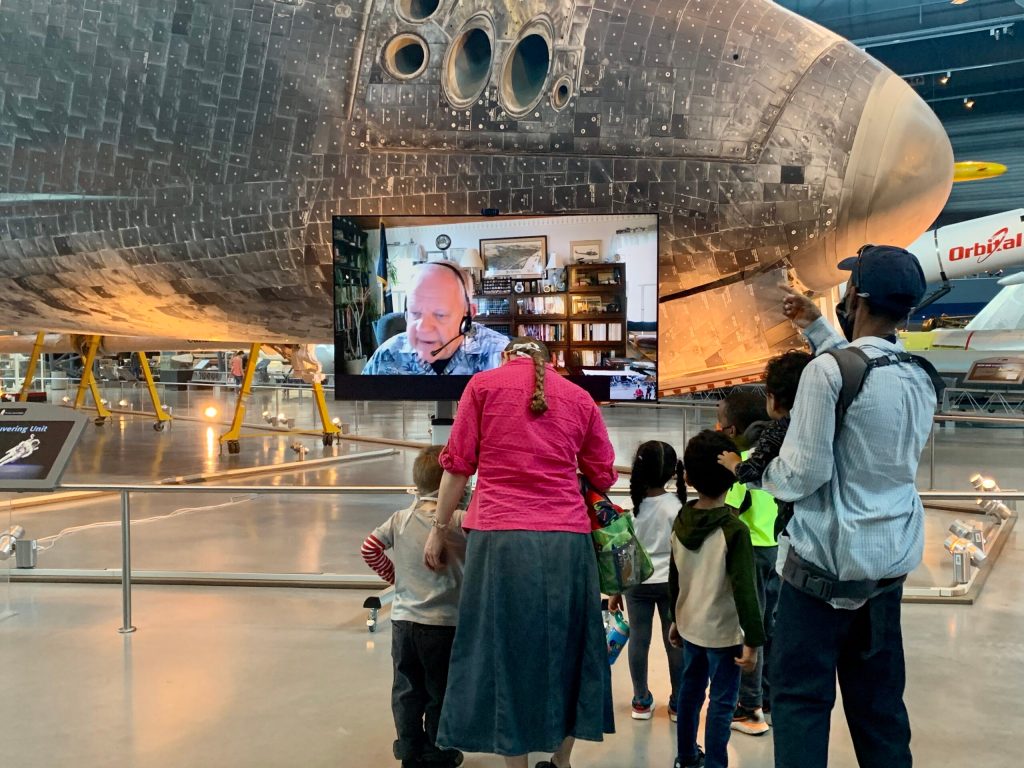 Treat the Roles as an Opportunity for Greater Inclusion
Virtual volunteer roles have one important advantage over on-site positions: they are more accessible. Teleconferencing features such as automated captioning assist volunteers (and visitors), and the remote nature of the virtual role allows for a wider cross-section of volunteers.
While an on-site volunteer must have the stamina to commit to a lengthy shift or remain on their feet for several hours, virtual volunteers may assist and answer questions from the comfort of an armchair. This difference has the potential to facilitate volunteering for older adults and people with disabilities.
In addition, NASM has limited the virtual volunteer shifts to one hour—an increment that's attractive to younger volunteers, working volunteers, or any individual who wishes to contribute and cannot commit to a typical multi-hour on-site shift.
Have Fun with It!
As the newly reopened Udvar-Hazy Center faced the challenges of limited capacity, both staff and volunteers were concerned this new experience might not deliver the same level of satisfaction. But these concerns turned out to be unfounded. Rachel's colleague Michelle Welker, Visitor Services Coordinator, says, "I did not anticipate how much the volunteers would take to the virtual opportunity. I had hoped they would, but I worried that they would get restless with so few people. They certainly rose to the occasion! They made each interaction as impactful as they could in whatever amount of time they had."
It is important to set reasonable expectations for your volunteers, but with enough encouragement, they learn to adapt and create a unique visitor experience. Developing a virtual program, at least at NASM, required a fair amount of work up front. However, it is worth the effort to see both the volunteers and visitors excited and engaged.
---
NASM's new virtual roles are not temporary. They are not merely a stopgap solution to use until it's safe for volunteers to return on site. Rachel sees an ongoing place for virtual volunteer roles:
"I don't see this as just a COVID-19 solution. These new positions are not a substitute for what we normally do. We think of them as something entirely new. The expectations are completely different. The interactions are completely different. This is an interesting step forward that wouldn't have happened without the pandemic."
As with so many innovations in 2020, this creative response to the unforeseen is here to stay.