Ever since I was a student of museum studies at Georgetown University, I've been interested in how to embed museums into their communities in more useful and necessary ways. Now, at the National Czech & Slovak Museum & Library (NCSML), I'm part of making that a reality, prioritizing innovative education in a way I have never seen before.
It started in 2017, when we first asked ourselves how museum education could be different in our community, a neighborhood of Cedar Rapids, Iowa, surrounded by a low-income, historically Black and immigrant population. Through those conversations, we began to envision ourselves as an essential partner in the process of making education more invigorating, practical, and inspiring in our community, starting by building relationships with project-based learning initiatives in schools. These efforts culminated in 2019, as we worked with local students to research, design, and build a replica of the Berlin Wall. Through this hands-on work, we brought the stories and lessons of communism, Czech history, and revolution into the real-world backyards of our students and their families.
The Model
Our educational model prioritizes community need. As we decided what to focus on, we looked around and noticed an alarming Iowa "brain drain," trade industries lacking incoming talent, and at-risk students dropping out of school for a myriad of reasons. So, we decided to use these needs to bring the educational content we teach to life. We invite corporate mentors—such as engineers from the local Collins Aerospace branch or tradesmen from the Carpenter's Union Local 308—to help teach employable skills, while I provide lessons on the history and culture our museum encompasses.
To illustrate the model, I will outline a case study of my favorite projects thus far: Revolution Starts in the Streets.
What If?
Revolution Starts in the Streets started with an idea to honor the thirtieth anniversary of the fall of communism across Europe. In summer 2018, I crowded NCSML staff members around a table and asked the crazy question, "What if we built a replica of the Berlin Wall with high school students?"
Instead of balking at the idea, my amazing colleagues received my question with optimism and adventure. We began writing grants for the project immediately. In our vision, the wall would serve as a public participatory art space. We would have free paint, stencils, and arts educators staffing the wall daily to engage passersby in artmaking. We would host artists for mural installations, art workshops on the wall, and public lectures.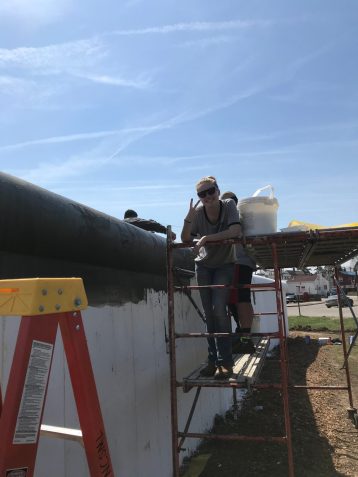 To make all of this happen, we worked with students from two school programs in our community that use real-world projects as a way to retain students and build employable skills. A group from Metro STEAM Academy, whose students were interested in hands-on building and learning, helped us construct the wall. A group from Iowa BIG—whose students were deeply interested in media, marketing, and design—helped us market the program. Another program from the rural Alburnett High School joined our group as well, designing screen prints for our education outreach around the Berlin Wall.
Over the course of the school year, the students met with over ten community organizations and countless professional mentors who invested their time and energy into making this project as meaningful as possible. They worked with business leaders, trade professionals, architects, and artists to create a sixty-foot-long Berlin Wall, a dynamic and creative marketing plan, and professional-quality screen prints for public outreach. In total, we worked with over fifty high school students and seven educators over the course of an entire school year. Students received in-person career counseling and mentorship from every community partner, and in nearly every instance students were tasked with professional responsibilities.
An Unconventional Education
From the outset, our goals were to have real impacting conversations around Czech history, as encapsulated in the potent symbol of the Berlin Wall. We find that students are most inspired by history when we use it as a lens to look at the problems they are passionate about today, so in these discussions we brought up issues of freedom of speech and expression. We discussed the very real need throughout history for people to protest for change in order to make a difference in their world. We wanted students to see themselves in these stories and see that they too could have a lasting impact on their community and the world by using their voice to fight for what they believe in.
Using Czechoslovakia's Velvet Revolution as a launching point, we showed students the power of art and protest to make just and peaceful change in society. We hosted six artists for workshops and lectures related to the Berlin Wall Project, plus meals where the artists and students could get to know each other. Local artist Paco Rosic told students about his journey as a Bosnian refugee who grew up in Germany and learned art in the streets of Berlin. The mural he painted with the students, a series of elephants charging through a brick wall, symbolizes the will of the people to address "the elephant in the room," whatever it may be at any given time in a society. Ganzeer, who participated in the Egyptian Revolution of 2011 as a street artist, delivered a lecture on his changing role as an artist throughout his life, and led a workshop to make protest art on the Berlin Wall replica. For each program, we saw students from Iowa BIG and Metro participate in record numbers, and the experience seems to have stayed with them. I recently learned that two of the students still regularly talk with Ganzeer on Instagram—a full year after they attended his lecture and had dinner with him.
This seven-month project culminated on November 19, the thirtieth anniversary of the fall of the Berlin Wall. We invited the community to come, sledgehammer in hand, to tear down this wall we had created. So many were sad to see such an incredible piece of public art leave their community, but this symbolic gesture united hundreds of us in the effort to preserve democracy and unity. A year later, on Election Day, I would have three of the students drop by my office unannounced to show me their voting stickers. I can't help but think that showing these students their ability to effect change in their community and the importance of democracy must have contributed to getting them to the polls in 2020.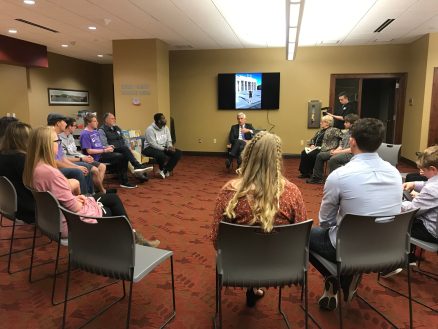 At the end of their semester, there was no test about the demise of the Berlin Wall. Instead, students and teachers sat in our public library before the opening reception for our replica with the Slovak Ambassador to the United States, who attended all the way from Slovakia. They heard firsthand what it had been like to live under the communist government. The ambassador painted a stark image of the period for our students and asked them tough questions related to their project, like why young people tend to lead revolutions, and how they felt building a replica of a wall so many had struggled for a lifetime to tear down.
This represents a very unconventional museum education, and I could not feel more optimistic about its outcome. I ask you to consider, which experience will have a more lasting impact on today's youth: a tour of an exhibit at their local museum, or erecting a sixty-foot-long Berlin Wall in the backyard of a national museum?
What's in It for the Museum?
I couldn't tell you how many times I've been asked why my museum does this work and what benefit we are seeking. As these questions reveal, the sad fact is that museums have a transactional reputation in their communities. When we do something, the public expects there to be an obvious benefit to the museum. I guess, to many, my work in project-based learning does not seem to obviously serve my museum's goals.
But I find that to be profoundly untrue. First and foremost, it is my utmost belief that museums should serve their communities. But even beyond that, this work has reaped many traditional positive outcomes that museums seek. Firstly, and most logistically, the work has greatly increased our traditional funding sources. Through this model, I am able to apply for funding from corporate foundations, workforce development grants, and STEM-related foundations which would otherwise not align with our traditional programmatic offerings as a cultural museum. I approach corporate donors with a project that endeavors to enrich the workforce in Iowa and foster relationships between them and local youth—something they are eager to be a part of. The relationships they've built have been strong: When COVID hit and many of my Berlin Wall students were graduating without a ceremony or parties, our corporate partners on the project chipped in to raise funds to send each graduating senior at Metro High School a present, so they would still feel celebrated.
Along with new and diversified funding sources, our work also builds a diverse audience. We are seeing at-risk and underserved populations at our programs purely because of their connection to this educational project. Families, former students, and young parents have emerged to attend programs related to the Berlin Wall project, as well as other, unrelated projects. By positioning our staff as friends and mentors, and becoming fully embedded in these communities, we are expanding our reach to underserved audiences without spending money on marketing or free admission. We have positioned the museum as more than a mandatory school tour but instead an extension of their classroom and their community. Beyond the educational programming, we've invited students to come to the museum for lunches, exhibit tours, and meetings. This repeat exposure slowly makes them see the space as a comfortable setting where they belong. Students who have sometimes been the most difficult to get to know have proudly declared at the end of the year that they "practically own the museum" because everyone knows their name when they walk in.
And finally, on the most basic level, this work creates relevancy for my museum. Traditionally, people view the museum as a place to see an exhibit, attend a program, or visit with a school tour. I am repositioning it to be a place for students to hang out, to work on a school project, and to show off work they can be proud of. It is not a coincidence that I have met the parents, aunts, uncles, and grandparents of many of my students. Several students have family members who have visited from hours away—even across state lines—to see the students' work proudly displayed at the museum. And we're not talking about a classroom drawing hanging on a gallery wall; we're talking about a sixty-foot-long, eight-foot-tall wall.
In a community where many folks are losing interest in their own Czech heritage that spans three generations, and others who aren't Czech see no reason to visit a Czech museum, the museum must establish a new kind of relevancy based around community need. By entering the community every day and fulfilling this new hybrid role, we are redefining what a museum does. Now a museum is present in the classroom, on the jobsite where a company is pitching their apprenticeship program to students, and at the skate park where local students are meeting local graffiti artists and asking them to paint on their wall.
What's Next
I have been asked if this model of museum education can only exist in Cedar Rapids, and while our school partners are absolutely crucial in our ability to practice this model, they cannot be the only schools willing to collaborate and create this experience. Educators are passionate and driven mentors who want their students to succeed. Project-based learning is practiced in high schools across the country.
The first step for any museum is to reimagine what your educator does. If you cannot allow your educator to step into the community and enter these classrooms every week, then no, this model isn't replicable for you. It takes investment in the form of time and patience. There is a growth period where you must demonstrate to your community that you will listen and respond to their needs.
Start by sending your educators to meet with teachers and administrators at schools with project-based learning programs. If the programs don't exist in your community, then meet with folks until you find one willing to pilot something with you. Sit in on classroom projects and get to know the school dynamics before pitching your first project. When it comes time to pitch a project, pitch something impactful to your students and teachers. If your project doesn't help the community or effect positive change for the student's surroundings, go back to the drawing board.
I never anticipated that my students would learn physics from a structural engineer, but project-based learning naturally brings along those opportunities. Along the way, I shared oral histories, Czech and Slovak artifacts, and films that brought my student's work back to the history and gravitas of their work. These things will come naturally when you have a trained educator who is the project manager and can spot opportunities for teaching as they present themselves. With the right team and a flexible understanding of what an educator can be, anyone can build the Berlin Wall.
Skip over related stories to continue reading article