After announcing our free admission initiative in January 2020, MOCA's lobby was a bustling hive of activity. Visitor engagement staff welcomed attendees by scanning their tickets and orienting them to exhibitions, rules, and amenities. Families laughed together on benches, friends watched Wonder Woman spin on a monitor displaying a Dara Birnbaum video, and the scene behind the desk was a flurry of bag-checking, membership-selling, and direction-giving to sites around the museum. But by spring 2021, the lobby was a faded tableau of those suddenly disrupted days. After a year of closure, the unattended lobby desk still held unclaimed water bottles and instructions for what would have been the next day's staffing assignments; the back-of-house break area remained cluttered with extra uniform shirts, craft supplies, and a tray of tea bags, honey, and disposable cups.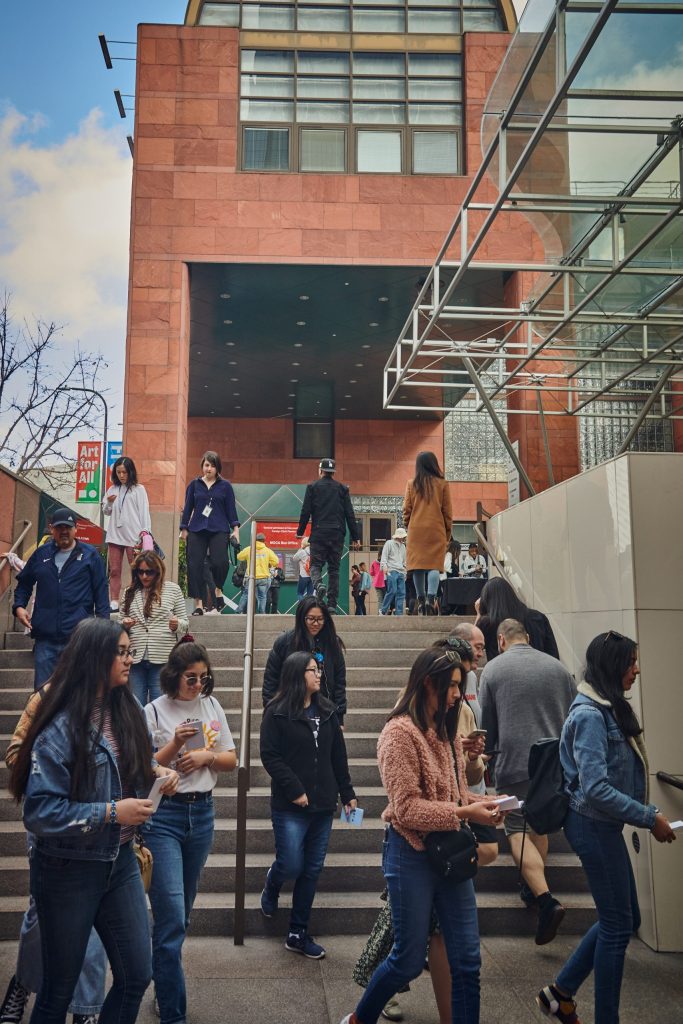 While the energy of this people-centered space has been interrupted, a group of front-line staff has figured out how to translate the same dynamics to an online arena. Instead of welcoming people into the lobby and galleries, they are bringing the museum directly to people's homes through thoughtfully produced social media content, finding ways to get people to stop scrolling long enough to look more closely and think more deeply. This has created new possibilities for how the museum can remain vital and publicly relevant, even as it has had to reposition itself as a community resource without being a physical space.
As in many cultural organizations, most front-line staff at MOCA were temporarily laid off. However, because a small group of our visitor engagement staff held full-time positions, they were furloughed with their health benefits intact from April until we received funds from a PPP loan to bring them back to work remotely in September. These seven active visitor engagement staff members, a predominantly BIPOC group made up of artists and other creatives as well as an aspiring curator, returned to work in the fall with no roadmap or mandate other than to re-envision their museum roles in the digital realm. Ever since, they have been hard at work reimagining what it means to connect people with contemporary art.
As they considered their mandate, the team started with an analysis of what was missing from MOCA's virtual presence. In their view, our social channels and digital content—with the exception of that produced by our education staff and teens—seemed geared more toward donors and members than the general public, effectively nourishing a core audience without broadening that audience. Their assessment was that MOCA's content made assumptions about viewers' prior knowledge and appetite for information rather than extending invitations to wonder, riff, or relate in non-academic ways to our art and artists. In their words, we had been "posting content, not engagement."
Skip over related stories to continue reading article
The team had a special vantage on how the public might respond to online content from working on the museum floor. They knew from experience that most visitors do not represent an imagined inner circle of artists, scholars, and collectors, but come simply to enjoy a socially and visually stimulating cultural experience. In their interactions with staff, visitors typically want to know why certain artworks might be grouped together, hear biographical and sociocultural context about artists, explore an artist's choice to work with everyday objects, or process an emotional response to a particular work. They're also eager to pose for selfies in front of art—a way of engaging that suggests they identify with the work in a purely visual or entertaining manner, or as a creative means to generate their own images.
Visitor engagement staff understand their role as being a critical conduit between visitors and the institution, particularly for museumgoers who might feel tentative about whether they will be accepted and understood. As they thought about how to transfer this role to an online setting, they said they felt the same personal stake in these interactions:
"I want visitors to know that I'm a safe and open source of information. I know how it feels to not 'fit in' in museums, so I want to be that person who reminds them that they are in good hands."

"I am hoping that our current and future visitors can get a sense of belonging. In creating relatable and entertaining content, I hope that our guests feel welcomed and we can eliminate that fear that they don't belong."

"I hope visitors feel warm and happy when engaging with MOCA online. I know that the museum is often an escape for some visitors, and my intention is to bring them some joy and remind them of the power of art."
Deciding how to apply these values to the online experience, the visitor engagement team landed on three goals: to shift the tone of our digital content to become less formal and more directly educational, to adopt the TikTok platform to attract younger audiences, and to elevate groups and cultural assets that they felt were underrepresented—including BIPOC or women-identifying artists and local community treasures. While they identified these goals intuitively, from their everyday lived experiences inside and outside of the museum, research shows that growing audience segments nationwide share in the same priorities. For instance, Slover Linett Audience Research's recent analysis of a national data survey gathered in the early days of the pandemic found that, for BIPOC Americans especially, arts and culture organizations must improve by: "(1) Becoming more inclusive and community-centered, (2) becoming more casual and enjoyable, and (3) offering content that's more reflective of people's lives."
With those goals in place, the team broke into two groups focused on specific formats—bilingual wayfinding videos and TikToks—and began experimenting with using them to add a welcoming, inclusive tone to the museum's online offerings. In the process, they have met weekly with Eva Seta and Savannah Peykani, two communications department colleagues who manage the museum's online presence, who have provided the team with feedback, image rights support, formatting suggestions, and encouragement. This invaluable collaboration has sown the seeds for ongoing visitor-focused content to remain prominent in MOCA's digital sphere.
The group focused on wayfinding videos—Diego, Janeth, and Maria—were inspired by the questions they frequently field from visitors to develop what they called the "Navigation Series." They initially conceived the project as a sequence of brief, friendly, bilingual videos that would show turn-by-turn directions for getting to and around MOCA's two downtown locations, as well as nearby outdoor-accessible "hidden gems." However, when winter public health orders prevented them from meeting up to shoot footage, they quickly adjusted the plan. They pivoted to an Instagram highlights series called "MOCA's Neighbors," using available footage, researched historical photos, and eventually collaborations with local partners to record first-person audio. As they tapped into technical video production skills not previously called for in their on-site museum roles, they drew on their shared history of teamwork, mutual respect, and appreciation for one another's strengths.
View this post on Instagram
View this post on Instagram
While their first videos focused on little-known aspects of nearby landmarks, newer posts have focused on the community of Little Tokyo, home to one of the museum's locations. At the same moment that museums have grappled with how to speak out against hate towards Asian Americans and Pacific Islanders, this team has created informative and heartfelt videos that tell stories about the Japanese American community in which MOCA is situated. These videos represent a compelling shift in how the museum presents itself publicly: as part of a neighborhood, as respectful of cultural assets beyond its collection and exhibitions, and as speaking directly to its visitors in both English and Spanish.
Thanks to the group focused on TikTok—Raymond, Nikea, Cindy, and Brenda—MOCA has become one of the most active American museums on the platform, with about ten posts released per month. The team has experimented with a variety of formats and tools to present artists and artworks in accessible yet substantive ways. One of these tactics has been to incorporate humor and lightheartedness, often with references to trends circulating on TikTok. In contrast to the reverence with which artworks are presented in the galleries, they might appear on TikTok as green-screen backdrops to a staffer's tongue-in-cheek commentary. For the team's first post, Raymond shared details of abstract artworks this way, completing a trending format that begins "you have to stop…" with "looking at artwork and saying your kid could make this." In subsequent posts, he has offered information about hypnotic light-based installations in whispery ASMR-inspired voiceovers, highlighted artworks he considers indicative of artists' zodiac signs, and offered a sweet Valentine's Day message that paid homage to the work of Felix Gonzalez-Torres.
Other creators have taken different tacks. Nikea's first viral post, for instance, spotlighted Betye Saar's mixed-media Gris Gris Box with information about the artist's intentions and influences, topped off with a playful, emoji-festooned close-up of the sculpture's dried chameleon with the caption: "But wait, is that a lizard?!" Brenda's videos have racked up tens of thousands of views by engaging people with questions not unlike those she might pose in the galleries. The resulting comments—sometimes hotly debating the merits or moods of her featured artworks—are a lively conversation that anyone can join, regardless of their prior familiarity with contemporary art.
Cindy's contributions to the platform represent a broad range of formats, from D.I.Y. art projects inspired by works of art, to densely packed educational posts, to quick riffs on current trends. She also produced a series of compassionate holiday wishes from each of the team members and, most visibly, engaged 108 thousand people in a live event she co-hosted with another art-focused account, Soulpancake. The participatory live event presented some challenges, including constant trolling from some anonymous viewers, but Cindy's courageous and unflappable effort yielded a doubling in MOCA's TikTok follower count and increased views on many past posts—including a "MOCA's Neighbors" video on Little Tokyo not even originally intended for TikTok.
These are precisely the kinds of strategies that convey a museum's importance in these changing times. As the Slover Linett data analysis found, "Americans use culture to meet a wide range of needs and purposes—emotional, social, cognitive, expressive, practical…and some BIPOC communities place a greater emphasis on the social or civic, emotional or therapeutic, and creative expression roles of cultural organizations." Recognizing these multifaceted reasons for seeking out cultural experiences, the visitor engagement team has widened the ways that MOCA considers and addresses its audience. Through their unique creative choices, they have offered ways of engaging that use a variety of voices, speak directly to viewers, and invite participation. They have found a new way for the museum to present itself in public, one which might stick as we move into the future.