Nothing gives me greater joy than learning how the futurist materials created by CFM have helped museums and museum people in their work. Today on the blog, Ty Smith and Jeremy Taylor tell us how the California State Railroad Museum used Museum 2040 and TrendsWatch: The Scenario Edition to fuel their planning.
To learn more about using scenarios and futures thinking to improve museum planning, join these two sessions at AAM2021: TrendsWatch: Navigating a Disrupted Future on Monday, May 24 at 3 pm CT, and Living in the Future: A Guide to Scenario Planning in Museums on Monday, June 7 at 3:30 pm CT. (Not registered yet? No problem! Register here.) You can engage me to lead futures-oriented planning workshops for your museum through the Alliance Advisors and Speakers Bureau.
–Elizabeth Merritt, VP Strategic Foresight and Founding Director, Center for the Future of Museums, American Alliance of Museums
---
Elizabeth: Ty and Jeremy, can you please introduce yourselves to our readers?
Jeremy: Thanks Elizabeth, for sure. Hi readers! I work with a museum planning and design firm based out of Montreal called GSM Project. Along with a few of my colleagues from GSM, I had the pleasure of working with Ty and his team on the vision they have for two historic industrial buildings—typically called "the Shops"—that the museum has recently acquired. It was a fascinating and exciting process, thanks in no small part to the clarity of vision Ty has for these buildings. With that, I'll pass it over to you, Ty!
Ty: Thanks, Jeremy, for the introduction and kind words. I started my service as the director of the California State Railroad Museum about four years ago. Like any new director, I received a great inheritance. Over the last 40 years, many dedicated individuals contributed to making the museum into what it is today. But museums are not just made. They are made and remade. We have these two wonderful, old buildings that were once part of the largest industrial complex west of the Mississippi. For a decade or so, there was a series of planning steps to make them into a museum of railroad technology. I was fortunate to begin my tenure with an amazing group of new museum professionals and in our collaboration with some of the founders of the museum, the California State Railroad Museum Foundation, California State Parks (our parent institution) and Jeremy and GSM, we were able to think bigger and bolder about the best use of these surviving buildings.
Elizabeth: Ty, tell me how you first encountered the "future" edition of Museum.
Ty: When AAM published Museum 2040, I looked at my mailbox in the morning, got my coffee and I started reading the magazine.
Now, as an educator, I think a lot about education, and as somebody who spent time in their career working on distance learning, I worked for a pilot program for California State Park called PORTS which is a hugely successful method by which we bring parks to schools. That had me thinking about museums not just as destinations, but museums as schools. I was also thinking about how we have teaching hospitals, why don't we have teaching museums?
I thought this was kind of a novel concept, but then I opened up the magazine, and I leaf through it and see the infographic that says there are 2,132 museum schools, serving more than half a million K-12 students. And I was like "oh, this isn't that novel at all!" Then I start reading the rest of the issue and I go "Wait a minute. What is going on here?"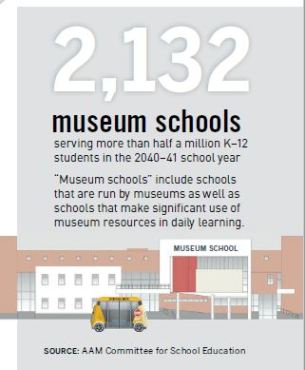 I go back to the front of the magazine and realize the whole issue is written as if it is taking place in the future! That restored my faith in myself but also validating my thinking about where we might go and some of the things I'd been teaching up into that point.
So that edition of Museum was quite influential in terms of confirming some of my thoughts and helped me to think differently about the role museums could play in education. Like micro-credentialing, for example, exploring that as a real concept and something that we can do now in partnership with formal education.
EM: This came at an apropos time, yes?
Ty: Yes, when the magazine came out, the museum had just embarked on a visioning process with Jeremy, thinking deeply about what to do about a golden opportunity that we have to expand our campus into historic shops buildings in the Sacramento Railyards. They are right in the middle of this massive development taking place in central Sacramento that is going to include lots of residential units, a hospital, sports teams and a bunch of hip hotels. But there aren't going to be any schools. Sacramento is developing this huge community that will be desperate for a hub and we can be that!
Ty:  One of the things I love about the thought of a railroad museum taking a futurist approach towards interpretation and planning is that trains were such a transformative technology that accelerated the future in and of itself. Railroads are an apt metaphor about making the future come faster.
For the California State Railway Museum, the biggest futures question is "how do we stay relevant?" I know that the same things that made us successful for the last 40 years are not going to be the same things that make us successful for the next four years. With that in mind, we took a futurist approach to creating the principle ideas under which we operate, informed by Museum 2040.
One principle is that our highest calling is to be a laboratory of learning. That means moving away from "museum as field trip." We still want kids to come on field trips, but we also want to have more formal programming that allows students to learn by doing inside the museum context. Eventually I want the museum to be a learning campus, including operating a school that is the museum. In the shorter term that means bringing graduate students in and turning them loose on the museum and having them create an exhibit. And that exhibit is not going to be a project that lives on a shelf—that's going to be a project that works in the world and lasts well beyond the semester. This is the California State Railroad Museum as a teaching museum.
The second principle underpinning our approach is museum as community. The 2040 report is all about opening up our spaces and sharing authority and about the museum as the hub of community in very tangible ways. We don't want to simply welcome people who happened to come in we realize we have to run down the street and say "hey, let me really make you feel comfortable here, and not only speak to what you are, but who you are." It's about creating relationships.
Elizabeth: From what I know about the demographics of museum visitation it seems to me you have a particularly high hurdle because traditional railroad museum attendance is skewed towards older, male, white audiences.
Ty: There's two big groups of people who like trains: five-year-olds and 68-year-old white dudes. I have 500 volunteers, and a lot of them fall into that second category. I love them and I want them here, but our challenge is to reach everyone else. That's not hard to do if we talk about railroad as art, or how the museum can help kids learn STEM and STEAM principles in the context of historic information. And there's no more diverse history than railroad history: it's a springboard to explore labor, immigration, employment.
Related to that we also support a pretty robust internship program, where we have students mostly from Sacramento State (because I teach there) and we hire interns as California State Parks Park aides. We have them do all kinds of interesting things in our archives and in the museum. This is tremendously important because the next generation of people who are passionate about trains, railroad history and culture don't exist—we have to create them.
Elizabeth: What advice do you have for other museum people about using a futures-approach to their planning?
Ty: I think that museums, individually and collectively as institutions, do not have a fixed role and identity within our society, though we often act as if they do. If you look at it from a historical perspective, museums are created anew each generation. Not without tension, and not without some pitch battles about their right and proper role and the right and proper definitions! But museums are evolving and they will continue to evolve.
If we don't think about the future and integrate futures thinking into our work, we will be relegated to being reactive instead of proactive in that evolution. And if you're reactive then you're probably not going to answer the core question, which is "how are we going to matter 20 years from now?" Thinking about the future is essential to the long term survival of any museum.
Jeremy: I think it's inspiring to think about what museums will be like 20 or 40 years from now and how this generation can change what a museum is. That's really the same perspective that led the California State Railroad Museum to tie the planning for their new buildings into the future of the formal education system.
To me, one of the things that was so fascinating about this process that we went through together was envisioning the museum as a source of practical training for trades, like welding or engineering. This is completely relevant to CSRM's mandate as a train museum, and increasingly important in the world we live in now. There's this perception that the history of trains is this quaint thing in the past, but what could be more relevant than learning how to engineer, how to weld, how to create things or build things? The notion of kids from Sacramento learning those trades on-site at the museum to me is a great reversal of traditional thinking about what the museum should be. And it addresses how the museum can bridge that gap between the five-year-old and the 65-year-old white guy. There's a huge amount of relevance for everybody in between that I think comes from the vision that that Ty has for the variety of different ways people can learn on campus.
Ty: Thinking about the museum as a core educational resource suggests a future financial model as well. If you look at the budget of the state of California as a pie chart, the three biggest government programs are health care, education, and prisons. The California State Parks are this little sliver that you can barely see—about one tenth of 1 percent. So, museums are constantly fighting over the scraps. Yet we live in a time when schools and teachers are struggling to make connections that enable them to teach across curriculum, asking "how do we integrate the Common Core State Standards into our classes?" The answer already exists—state parks, museums, we've been common core from the beginning. The challenge is opening up these spaces, innovate, and empower innovation to thrive.
Our museum has to maintain and restore our locomotive and rolling stock anyway. If I can teach a student the skills needed for this work while filling that immediate need, that empowers their future and moves us to the center of the funding pie. Our museum's future lies in placing itself at the heart of the formal education system, not at the periphery.
For more information about the California State Railroad Museum visit:
and follow them on Facebook or Instagram: @californiastaterailroadmuseum
Skip over related stories to continue reading article