There are many options available for museums to address climate action and become more sustainable, but recent work at two institutions has highlighted the value in one particular method: creating "microclimates" which confine environmental conditions directly to display cases. These solutions—combined with creative programming and exhibition design—ensured museum-appropriate humidity control to objects on exhibit while enhancing overall visitor comfort and wellness and significantly reducing the associated costs and energy usage. Such methods will become increasingly critical and relevant to meet today's demands of limited budgets, visitor engagement, and carbon reduction goals.
Why It Matters
A museum energy dataset compiled in 2017 shows that many museums have much higher Energy Use Intensity (an efficiency metric measured by kBtu/sqft) than many other building types. Some are more energy-intensive than large city-center skyscrapers or 24/7 hospitals on a square-foot basis. A major reason for this intensity, besides public uses like after-hours entertainment and on-site eating establishments, is the tightly controlled temperature and humidity standards for collection spaces. To meet these standards requires a great deal of heating and cooling, humidification, and dehumidification to condition air.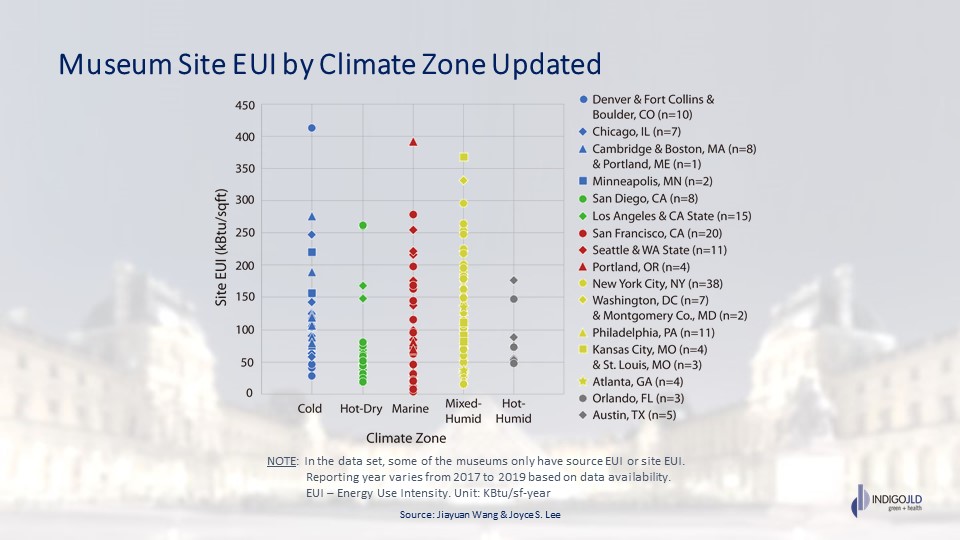 In other words, while some museums have made strides over the last decade, incorporating renewable energy onsite and dramatically cutting down energy use, there is still great room for improvement in many institutions, and climate control is a key area to focus on.
A Look at Collection Care
The detrimental effects of uncontrolled relative humidity on museum collections are well known, including mold outbreaks, pest activity, metal corrosion, flaking paint, and cracks in wood, among the more visible signs. In storage spaces, museums can sustainably manage environmental conditions in a number of ways, from specially constructed Passive House buildings to low-energy mechanical system operation. In traveling exhibits, however, current loan requirements typically allow for very little flexibility in relative humidity, and the tighter the control, the more energy expenditure required.
Skip over related stories to continue reading article
This is where microclimates can be of great use. A microclimate is any space within a larger one where conditions differ. In this case, it means creating a space around objects on display with the relative humidity parameters required for the safe display of objects, allowing for better preservation conditions at lower energy costs. When well-sealed, exhibit cases act as a buffer against fluctuations in relative humidity in the larger exhibit area. The museum can then relax ambient conditions in the exhibit area itself to meet the lower-energy threshold of visitor and human comfort.
Two recent examples, at the National Nordic Museum and the USS Constitution Museum, demonstrate how microclimates can be an effective solution for institutions of all sizes.
The National Nordic Museum: Use of Desiccants in Exhibit Cases
In constructing a new facility opened in 2018, the National Nordic Museum achieved the low Energy Use Intensity (EUI) of 62.3 kBtu/sqft based on real-world utility bills, 48 percent lower than the baseline of 120 kBtu/sqft at the time of design—for which it won a 2020 AAM Sustainability Excellence Award (SEA).
As a museum located in Seattle, an area of the country known for its high seasonal humidity, a major hurdle in this achievement was designing how to maintain suitable humidity levels for objects without heavy energy use. The solution the museum identified, in collaboration with Ralph Appelbaum Associates, is to use microclimate control in select cases containing objects that require specific climate conditions. To do this, it uses ArtSorb, a pre-conditioned silica gel that can maintain relative humidity at 40, 50, or 60 percent. The amount of gel needed is dependent on the size of the space being conditioned, and it comes in different forms for use in a range of applications, including sheets inside framed works on paper and in "bricks" that can be integrated into the case itself. Several times a year, staff inspect the cases using the gel to ensure it is working properly.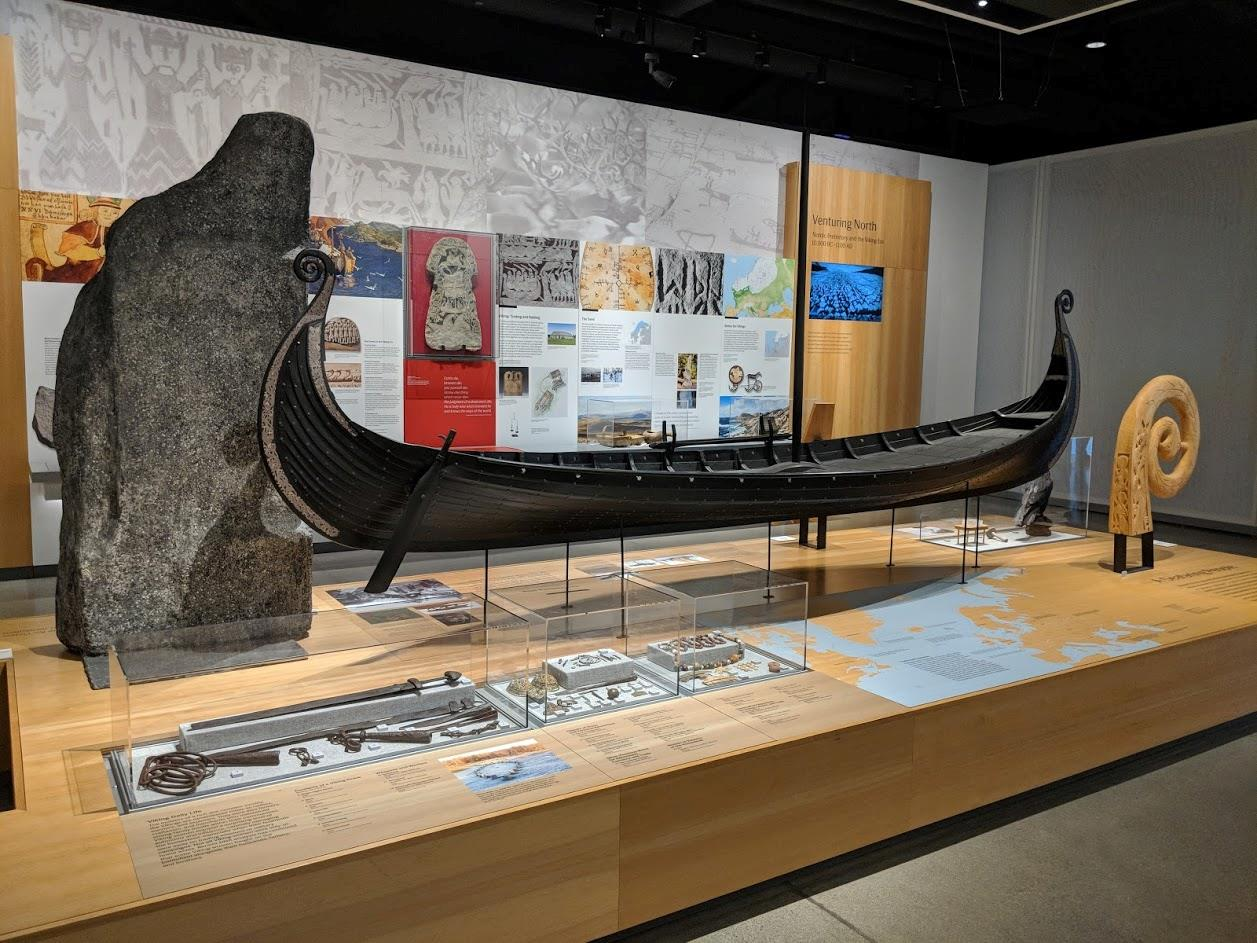 An unexpected bonus of this solution was the ability to create a better visitor experience, since, by meeting the artworks' needs locally, the gallery design could be more flexible without the need for doors to keep environmental conditions contained. It also saves considerable energy and financial resources, since the main galleries can have much larger humidity ranges.
The USS Constitution Museum: Dedicated Mechanical Systems for Exhibit Cases
Another institution, the USS Constitution Museum (part of the Boston National Historical Park), worked with Innovative Construction & Design Solutions, LLC, to explore options to control relative humidity. Between the options to either control the whole gallery to 70°F and 55 percent relative humidity or maintain it at human comfort conditions and use four individual mechanical systems to condition the exhibit cases for relative humidity control, the museum chose the latter. It uses Keepsafe systems, a microclimate equipment placed near the display module. Even rough estimates indicate that the savings are significant (see tables).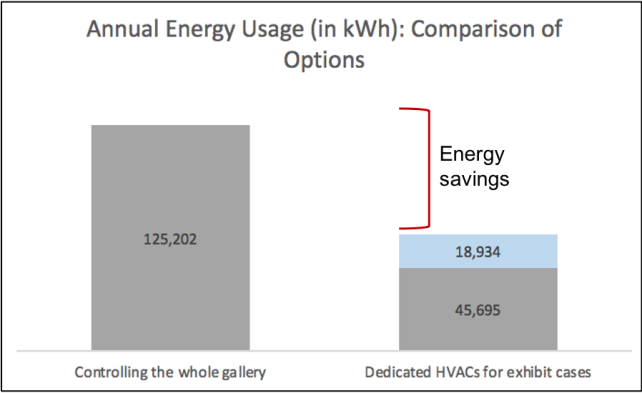 By decoupling the gallery and exhibit case conditions, the museum focuses on localized control of special artifacts. The museum reports that the Keepsafe system has been consistent, reliable, and primarily only requires monitoring of the water levels. The solution respects the fabric of the historic building, which is challenged with humidification in the winter, and allows the museum to display objects that would otherwise be too sensitive for display.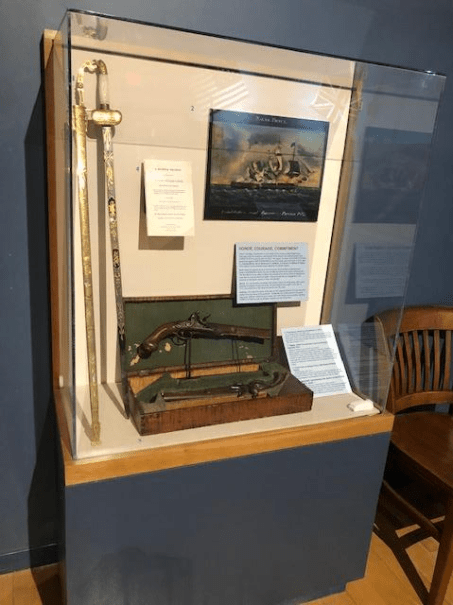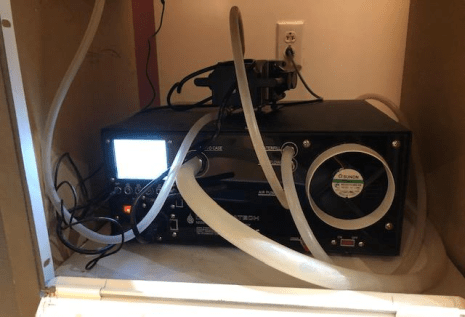 Looking Ahead
Both of these examples—using desiccants or a dedicated mechanical system to control relative humidity—focused on creating microclimates within exhibit cases to provide appropriate conditions for objects on display, rather than controlling large volumes of space. Decoupling the display of objects or collections with the larger gallery space can result in high energy savings. A quality building envelope could further these goals. Whether it is through the cases themselves, the use of desiccants, or small dedicated active units, microclimates have proven to be a more cost-effective and green way to provide safe environmental conditions for museum exhibits.
This approach, along with others (such as re-examining the environmental requirements for loans, revisiting set point relaxation, and installing building system controls) can be key to developing a plan for a museum to reduce its energy use and carbon footprint while remaining a steward of its collections as well as the planet. "Museums and cultural institutions are spaces that inspire creativity, ingenuity, passion, and expression. I cannot think of a more important time for our museum sector to come together while harnessing those traits to do its part for our climate," says Julie K. Stein, an AAM Board Member and Executive Director of the Burke Museum in Seattle, which constructed a new building with sustainability, energy use, and carbon reduction at the fore. "As the UN Climate Change Conference approaches this year, there is an incredible opportunity for our museum community to rise to the challenge together."
If you are interested in learning more, please contact the authors for additional resources and guidance.