---
This article originally appeared in the September/October 2021 issue of Museum magazine, a benefit of AAM membership.
---
An intergenerational LGBTQIA+ arts program at the Museum of Contemporary Art Tucson is setting a gold standard.
"Stay Gold," a creative aging program at the Museum of Contemporary Art (MOCA) Tucson, invites members of the LGBTQIA+ community into the museum space to create and consume contemporary art to make relevant connections between museum exhibitions and their lives.
Through dialogue, gallery activities, and art-making, the program offers opportunities for skill-building, cultivates empathy, provides connection, and expands our community. Members of "Stay Gold" have learned printmaking techniques, built pocket shrines, created soul paintings, made zines, and interrogated our generational differences through dialogue. We share our stories, unpack our difficult histories, and celebrate and grieve together.
"Stay Gold" began in 2017, but it has grown since 2018, when MOCA Tucson was invited to apply for a grant from Aroha Philanthropies to engage and serve those 55 and older through its Seeding Vitality Arts initiative. Although it was an intergenerational program aimed at serving the LGBTQIA+ community, we thought that "Stay Gold" would be a good candidate for the funding, which would allow us to more intentionally and thoughtfully serve our 55+ participants.
How It Started
"Stay Gold" was created as a part of the curriculum in a graduate seminar course, "Issues and Recent Research in Contemporary Visual Culture Education," taught by Dr. Carissa DiCindio at the University of Arizona. Dr. DiCindio challenged our class to create a three-session program that connected to "Mapping Q," a program at the University of Arizona Museum of Art (UAMA) developed by Chelsea Farrar that helps LGBTQ+ youth explore art-making, self-care, and harm reduction. Mapping Q operates in partnership with Arizona's Life Links for Youth (ALLY), which focuses on reducing the rate of attempted and completed suicides among Arizona's youth through peer leadership development.
In addition to identifying as LGBTQIA+ myself, MOCA Tucson had collaborated with UAMA and "Mapping Q" before, so I was familiar with the program and many of the participants. Also, I had been a teaching artist with "The Latona Project," which sought to encourage LGBTQI seniors to understand one another and their unique, underserved identities in art museums via tailored guest lectures, art tours, and art-making at UAMA.
I shared my experience with both of these programs with my peers in the seminar course, and the class collectively decided that an intergenerational LGBTQIA+ program would be an excellent way to extend the ideas introduced by "Mapping Q." As we researched other museum programs, we found there were almost none that specifically served this community.
With inspiration from the film and book The Outsiders as well as the Robert Frost poem Nothing Gold Can Stay, we decided to call the program "Stay Gold" to reflect the idea of time, aging, innocence, beauty, and self-reflection.
Program Goals and Structure
With "Stay Gold" we wanted to have a space for the LGBTQIA+ community to connect with one another, learn, and heal. During the first program, I felt the instant relief of being in a classroom with only other LGBTQIA+ people. It was as if a weight was lifted and I could focus on learning rather than trying to navigate this usually heteronormative environment as a queer/trans person. I had never acknowledged how heavy that weight was until it was removed, and I believe it is a critical element of the program.
Through support from Aroha and Lifetime Arts, we learned that 55+ learners have unique needs. Older people are often seeking affirming spaces, new social networks, and a new sense of purpose in an effort to stave off loneliness and isolation and remain engaged with the world. This prompted us to shift to a sequential skill-building format, challenging participants to engage in one longer project throughout the program, allowing for a scaffolded learning experience that would end with a final piece of art that participants could feel proud of. We also incorporated a showcase event at the end of each session where participants could invite friends and family to experience and celebrate the work they created.
"Stay Gold" is offered in the spring and fall in 10-week sessions. The weekly two-hour classes are held in the museum's education space, and the museum provides all supplies, snacks, and transportation vouchers to remove as many barriers to access as possible. We usually have 15–20 participants, with a core group of six to seven who return every season and new people joining us each session. The program includes an art-making studio component, demos of new techniques, intergenerational dialogue, and gallery activities.
No two "Stay Gold" seasons are the same. There is always a different mix of people in the room, and the participants guide the experience. The program is "queer" in that way. It pushes the boundaries of what we consider the "norm" in museum education. As soon as it is defined, it changes.
"I honestly just loved meeting everyone and how truly intergenerational the experience was," wrote one participant in a program assessment. "I said this on a Zoom, but intergenerational (queer!) connection was something I didn't know I needed but it felt so impactful and important."
Another shared, "I'm so grateful that there's funding for this program. I can just see how special and impactful it is, and I'm just so grateful to be part of this community and that it can essentially be accessible to so many people."
"Stay Gold" is meant to challenge traditional museum education models. It "queers" colonized spaces. It seeks to be as non-hierarchical as possible, negotiating power between all parties, rather than exercising power over the group from the top down. It is collaborative, multi-vocal, and always evolving with the group.
Our participants often become facilitators of subsequent sessions, and their personal experience and skills guide the program. We revisit the conceptual program focus and logistics at the end of each season and make changes when necessary. I work with facilitators to mediate and assist with curriculum that aligns with our exhibitions.
For example, during our 2018 exhibition "Blessed Be: Mysticism, Spirituality, and the Occult in Contemporary Art," group members explored their relationship to religion and spirituality, and one participant offered to lead a session on "soul painting." We also made pocket shrines and clay vessels. Our exhibition "Dazzled: OMD, Memphis Design and Beyond," which highlights the black-and-white camouflage used on World War I warships to disorient the enemy, allowed us to shine a light on the ways we have used camouflage, or "code-switching," to protect ourselves in different public or social settings, especially when occupying space within any type of institution.
I think of "Stay Gold" as a constellation of bodies who are all affected by one another. We consciously attend to these relationships, addressing the rippling effects our experiences can have on one another, using art as the vehicle for dialogue. While echoes of the institution will always reverberate through our program structures, flattening hierarchies of power can help minimize the negative impacts colonization and oppression have had on our most vulnerable communities.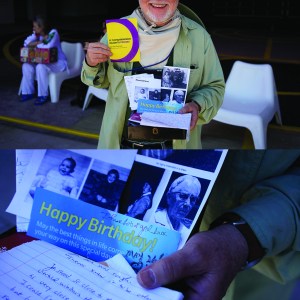 A Constant Evolution
Since receiving funding from Aroha, we have run the program an additional nine times, with each program teaching us something different about how to best attend to our community.
Just as not all people 55 and over have the same needs, neither do all LGBTQIA+ people, as illustrated by the generational differences unpacked during the program. Through thoughtful dialogue prompted by the work of different contemporary artists, the group can discuss their various experiences, cultivate an atmosphere of mutual respect, and acknowledge differences, which when not attended to can inadvertently pass on generational trauma and misconceptions.
For example, during our conversations on gender, it was clear that older participants felt disconnected from younger generations and left out of the conversation. Once we were able to share our individual perspectives, older participants understood that younger participants were grateful for the work previous generations did to cultivate a world where they could openly live as themselves. Older participants could then see that the gender shifts occurring were building on previous work rather than rejecting it.
One artist we looked at in our virtual sessions was Zanele Muholi, a South African photographer who uses photography to provide a platform for LGBTQIA+ people to control their own narratives and choose how they want to be represented in the world. I created a prompt that challenged participants to create their own work that illustrated how they want to be represented in the world, and then we discussed each participant's art. Ultimately, this illustrated how we all approach queerness in our own personal ways. It allowed us to cultivate empathy among and between members of the group.
Contemporary art, as a direct record of lived truths, provides context and relevance for members of "Stay Gold." It allows us to interrogate the past from a queer perspective. It also allows for a wider range of expression, which can include mediums that fall outside of the traditional painting, print, and sculpture canon. It decenters one central way of consuming information and expressing ideas. It recognizes and celebrates other cultures or individual queer experiences and ways of making, which are just as valid as what western art has deemed historically "correct."
The success of "Stay Gold" has inspired the museum to create other programs for older adults and LGBTQIA+ populations. For example, the museum ran an arts program at a local senior center that served the general 55+ population. Unfortunately, this program ultimately highlighted the major blind spots in our government agencies with respect to inclusivity and a dedication to serve all members of our 55+ community equitably.
On a brighter note, we recently invited our "Stay Gold" participants to the showcase for a program the museum runs called "School of Drag," which focuses on the art of gender performance and drag. After the showcase event, several 55+ members of "Stay Gold" were interested in participating. With consensus from the youth in "School of Drag," we have made the program intergenerational.
My hope is that others in the museum field will be inspired to create programs that attend to not only specific communities but the unique individual needs of those in their programs. Through multi-vocal, learner-centered programs, we can examine how museums can best do this work.
---
What We've Learned
Listen. When creating a program like this, listening is key. Be willing to let go of power and what has been before. Your community knows what it needs.
Decenter. Decenter your own experience and what museums are "supposed to do." Allow for the lived experiences of others to guide the design of your program, even, and especially, when it may seem unconventional.
Collaborate. Collaboration makes us all stronger. It allows us to expand our audiences as well as our social and professional networks. It can also offer new ways of viewing and approaching your collections and/or mission as an organization.
Adapt. Needs change. Be willing to adapt as the group changes. Remain open to shifts in program structure, curriculum, and outcomes.
Evolve. Think about your program as a living, breathing thing, because it is. Museums are the people who run, support and visit them. Be willing to grow and change along with the program as you learn as an educator, administrator, or participant. Scaffold what you have learned, but also be willing to "unlearn"
so that you can create something from a multi-vocal and collective space. When in doubt, reread your organization's mission statement. This is your "true north" and should always inform your program development.
---
Resources
Eli Burke, "Digital Gold: Queering Flat Spaces," American Alliance of Museums, July 20, 2020
aam-us.org/2020/07/20/digital-gold-queering-flat-spaces/
Eli Burke, "Intuition and Vulnerability: A Queer Approach to Museum Education," Journal of Museum Education, 45(4), 2020
Eli Burke and Carissa DiCindio, "Staying Gold: How a Group of University Students Created Intergenerational Connections Through Art Museum Programming and Community Collaboration," International Journal of Lifelong Learning in Art Education, 2019
scholarscompass.vcu.edu/ijllae/vol2/iss1/7
Eli Burke, Harrison Orr, and Carissa DiCindio, "Queering Community Through Intergenerational Arts Experiences in the Museum," Medium, September 11, 2020
bit.ly/3wJ4SxH
Eli Burke, Harrison Orr, and Carissa DiCindio, "Stay Gold: An Intergenerational LGBTQIA+ Arts Program," in Engaging Communities Through Civic Engagement in Art Museum Education (edited by Bryna Bobick and Carissa DiCindio), 2021