If there is a positive outcome of the pandemic's impact on cultural institutions, it may be the willingness to ideate and take different approaches to our work to ensure that no one is excluded—particularly low-income communities, where access to arts and culture can have the most transformative impacts. Cultural institutions have faced new challenges, but also found renewed purpose and direction in serving our audiences, and this has expanded the possibilities for shaping new norms for the future.
This has been the case at the Barnes Foundation, which this past summer organized and served as an intermediary for a newly formed network of eight cultural agencies and institutions in Philadelphia to offer the Early Learners Summer Pods Initiative, designed to meet the needs of children from the underserved and under-resourced communities hit hardest by the pandemic. The past year-plus has resulted in disrupted access to high-quality early development and learning opportunities, posing deep setbacks that can jeopardize the potential of long-term achievement, particularly for low-income families with few resources to counter the loss of such critical supports. Philadelphia's childcare centers, Head Start Programs, and Pre-K and Kindergarten classrooms all faced exceptional challenges during the pandemic.
To help fill this gap, institutions in the network offered six weeks of summer programming centered on learning and social-emotional development through literacy, arts, nature, science, and play. The programming was coordinated to reach the city's most vulnerable children ages zero to five years old and their families where they are—in community centers, neighborhood daycares, public parks, city neighborhood food access and play programs, and at our own sites. Activities included story read-alouds, hands-on artmaking sessions, storybook performances, science manipulatives, distribution of art kits and museum resource packs, family nature walks, play camps, and free little libraries for more than twelve hundred children and families. The network enabled us to serve communities beyond what each partner could have offered on their own otherwise.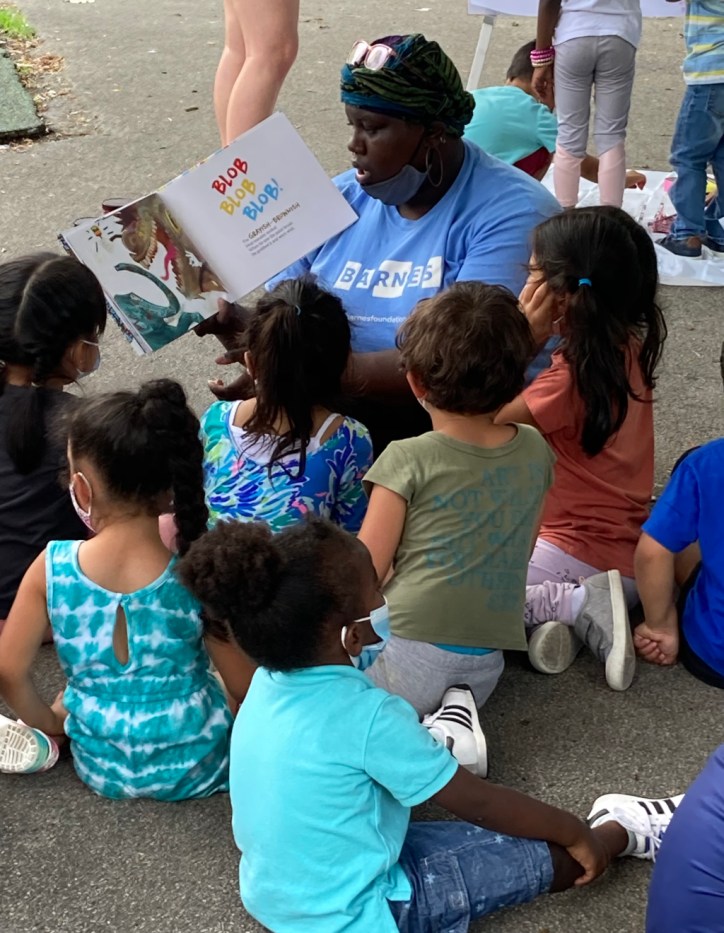 The Early Learner Summer Pods Initiative was structured to be experiential and relationship-driven, and to utilize the strengths of the cultural partners' assets—to support areas of early development including language and literacy skills, social and emotional growth, cognitive development, critical thinking, and physical well-being/motor development.
Skip over related stories to continue reading article
As the network's organizer and intermediary, the Barnes Foundation led a process to engage cultural partners and solicited project ideas that would utilize grant resources through a request for proposals (RFP). The Barnes' responsibilities included network coordination, fiscal management, subgrantee allocations, branding, communication, and coordination of network trainings. Network partners committed to a set of requirements, including:
Program quality (qualified facilitators, well-designed activity model, appropriate spaces and materials, child engagement, etc.)
Service to Philadelphia's low-income children and families
Parent/caregiver strategies for home
Cultural network convenings, organizing and strengthening our work
Eight cultural partners joined the network, leading projects independently and collaborating in network planning, training, and reflection retreats. The majority of the partners are part of the William Penn Foundation's Informal Learning Initiative—a  program that partners cultural institutions and community-based organizations to connect literacy-rich learning experiences with children and families in low-income neighborhoods. The partners and their projects included:
Academy of Natural Sciences of Drexel University, a natural history museum dedicated to advancing research, education, and public engagement in biodiversity and environmental science. Through its program, Discover, Play, Share, delivered at community sites and parks, children learned about animal adaptations, read stories, and created animals out of clay. Families learned to recreate project ideas and explore materials from home into science activities.
The Barnes Foundation, whose mission is to promote the advancement of education and the appreciation of the fine arts and horticulture. Founder Dr. Albert C. Barnes believed that art had the power to improve minds and transform lives. Barnes Early Learner Summer Pods engaged early learners and day care centers in outdoor performative storytelling, artmaking, and art kits in South Philadelphia public parks, West Philly Play Streets, and Parks and Recreation Centers.
The Clay Studio, a preeminent art space that deepens the connection between people and clay with the highest-quality programs and exhibitions. The Clay Studio inspires curiosity and discovery around the art and craft of clay, drawing together students, artists, and an engaged public. Claymobile for Early Learners presented live workshops, literacy games, take-home clay kits, and read-alouds at childcare centers in the South Kensington neighborhood.
Fairmount Water Works (FWW), the region's premier urban environmental center, formerly Philadelphia's sole water-pumping station. Splash! offered family expeditions to discover the wonder of water and the environment. Summer program served West and North Philadelphia preschool and childcare centers and families.
Fleisher Art Memorial, whose mission is to make art accessible to everyone regardless of economic means, background, or artistic experience. What Happens Next? was a summer mobile art studio with weekly outdoor workshops in paint, collage, and printmaking for early learners and families in two South Philadelphia public parks.
Smith Memorial Playground and Playhouse, a six-and-half-acre outdoor play space and resource for children and families in the Strawberry Mansion and Brewerytown communities—promoting and providing access to playful learning and adventure. Camp Read offered early learners multiple-week, half-day camp experiences in play-based literacy-enriched learning in nature.
WHYY, the leading public media organization in the Philadelphia region. WHYY Summer Literacy and Engagement Project provided weekly storytimes, plus art and literacy activities in Philadelphia Parks and Recreation centers and public parks.
Please Touch Museum, whose mission is to "change a child's life as they discover the power of learning through play." Please Touch Museum engaged in network partner activities and organizing.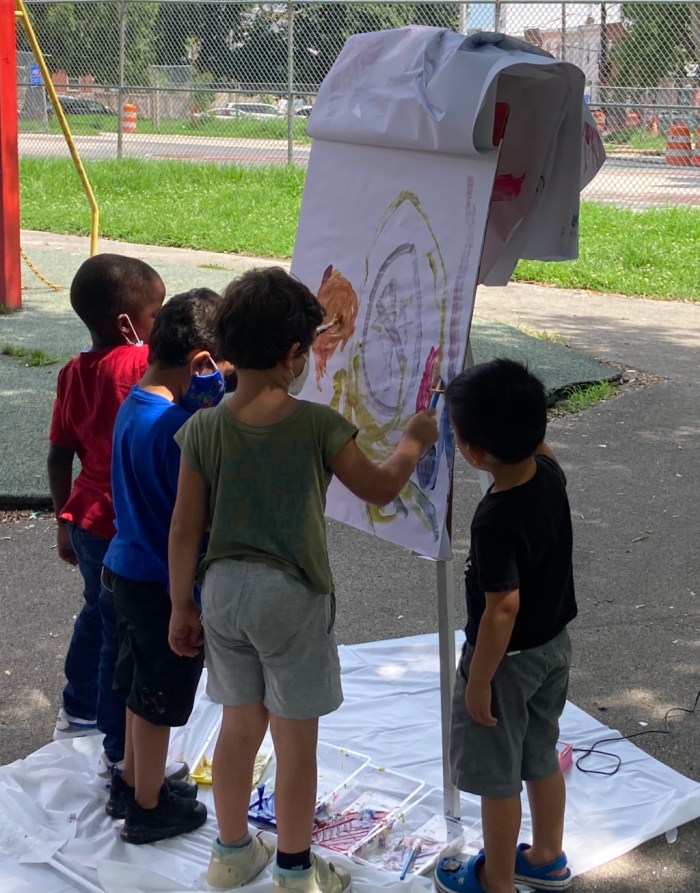 The network jointly promoted aligned opportunities for early learners and families across the city and built citywide visibility for the importance of access to high quality early childhood experiences for all children zero to five years old. The reduction of capacities and resources challenged us to be efficient, and to break out of some of our program "boxes" to foster greater agility to meet audiences where they are.
Pre- and post-summer initiative retreats included two trainings led by Action for Early Learners (AFEL) and share-outs on essential trauma-informed care and practices for vulnerable children and families. These retreats gave partners a safe space to embrace our excitement for summer programming as well as address the possibility of post-traumatic stress resulting from the impact of the pandemic on our field. In organizing our efforts to emerge back to in-person programming, we also discovered our own vulnerability and need for social solidarity. Together, we found hope and healing through trauma-informed care not only for our young audiences and families, but also for ourselves in emerging into a new day.
For the benefit of serving our communities effectively and relevantly, collaboration amongst our peer cultural institutions and agencies allowed us to share best practices, diversify our voices, and generate new ideas for programs. Collaboration also supported a wider pool of collective data to inform research, funding strategies, and policymaking. The Cultural Partners Network struck a fine balance in embracing the uniqueness of each cultural agency or institution's program design, while generating common ground for the seeds of longer-term collaboration to take root.
For other museums considering forming similar collaborations, we offer the following lessons learned from the initiative:
Partner networks are successful when partners are centered around an explicit common objective and vision, see opportunities to improve and strengthen their own practice and relationships, and recognize how their unique strengths can be amplified by a collective approach.
Partner networks benefit from centralized funding opportunities and intermediary support. This helps organize partner engagement and creates efficiencies that allow partners to focus on quality programming and outcomes.
Partner networks need time to grow relationships through clear communication, interactive and inclusive engagement, and shared learning.
Ideation and innovation thrive when safe spaces are created for all partners to participate, share, and be heard.
While partner networks can sometimes be viewed as additional work and meetings, the benefits of a successful network can exponentially strengthen our practice, improve impact in serving communities, and provide an informal support system for hard-working practitioners.