"Institutions play a role in shining a light on the past and the future. They challenge us and give us a deep understanding of how we came to be; they also help us see what's important to change if we're going to have a more successful future for our country." Dr. Donald Suggs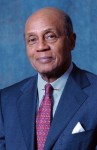 Join us in a conversation with Dr. Donald Suggs, honorary chair of the 2017 AAM Annual Meeting and MuseumExpo. Dr. Suggs has a deep and longstanding commitment to the St. Louis region, our cultural institutions and to issues of diversity, equity, accessibility, and inclusion.
What do you see as the role of the Honorary Chair?
My hope is that I can help AAM attendees have a great experience in St. Louis and explore some of the cultural and institutional riches that may not be well known.
How have cultural institutions affected you personally?
Cultural institutions, in this city and around the country, have had a profound affect on my life. For me, the cultural amenities were what influenced me to stay in St. Louis. Over the years, I've come to recognize the value of living in a community like St. Louis because individuals have access to so many opportunities. In other cities, cultural institutions are often costly and difficult to access.
Skip over related stories to continue reading article
St. Louis has the greatest number of institutions available to the public for free of any community outside of our nation's capital. So, families of ordinary means can visit as often as they want. That's a distinct advantage. We are just more accessible.
And the size of our institutions and community mean that people can be not just spectators, but really engaged in working for the future. You don't have to sit in the stands and watch the action; we have space for you to be a participant. You can easily cultivate an interest in art or history here and be involved in the organizations. I've lived most of my life here and I would say the cultural opportunities have been the most compelling aspect of life in St. Louis.
Why do you think the theme of "Gateways for Understanding: Diversity, Equity, Accessibility, and Inclusion" is important when you think about the challenges facing our community and our country?
I think in a country as diverse as ours, after all, we are geographically huge and we have many different identity groups, there's a real challenge to find common and shared values, interests, and priorities. Cultural institutions have a particularly important role as we try to do a better job of bringing more people into the great American mainstream.
The arts enable a conversation that's easier than when you have to tackle some of these more daunting challenges. People come together more easily with shared appreciation, understanding, and familiarity with cultural things, outside of any particular political framework. When people share differences, it's easier for them to agree or at least find common interest in a cultural experience. With all of the differences in the world, we have to find those things that we can share. Cultural experiences offer a more promising way to bridge some of these deeply entrenched differences that promote conflict and disrespect. For us in St. Louis, with all of our differences and polarities, we also share a great deal on the cultural side.
If attendees are going to leave St. Louis with one impression, what do you hope that it is?
St. Louis very much has a sense of place. It's not just another city that has emerged in the last 50 years, but it has a deep and interesting history that is reflected in its institutions. And all of our amazing individual sites work together to create a cultural fabric that makes it possible to have a very rewarding life here whether you are intellectually curious or just like to have fun.
We have real organic growth in neighborhoods like the Grove or Cherokee Street or the Loop. These things have grown organically. These are not, for the most part, things that have come from elsewhere. They are bred and nurtured in St. Louis which says something about the people here and their character. Our future is bright in large part due to the quality of life we offer – and our cultural institutions play a significant role.
The AAM Annual Meeting in St. Louis is May 7-10, register here.
Dr. Donald Suggs is a retired oral surgeon, former gallery owner, civil rights organizer, newspaperman and committed supporter of cultural institutions in the St. Louis region. He currently serves as the publisher and executive editor of The St. Louis American, the largest independently-owned newspaper in Missouri and one of the nation's largest and most respected independent newspapers. And we are grateful to say that he has now added the title of Honorary Chair of AAM 2017 Annual Meeting to his resume.