Over the course of its distinguished 120-year history of art education, the Toledo Museum of Art (TMA) has offered classes that extend beyond simple drawing and painting into topics ranging from shop window design to robotics. As unusual as this territory may seem for an art museum, it is part of an underlying understanding: that the concepts of art history and art education can be applied to the world in practical ways.
This notion has become an increasing focus for TMA's operations in recent years, through a collaboration between the museum's Deputy Director (now Director) and a retired senior corporate executive of a Fortune 500 company. Working together, we have discovered an unexpected application of visual literacy that has grown over the past three years into a business that is both profitable for the museum and life-saving for the people who participate.
The Center of Visual Expertise
Even though Owens Corning, a Toledo-based manufacturer of building materials, won recognition for its accomplishments in safety—including the Green Cross, the highest honor bestowed by the National Safety Council—it still saw injuries at the workplace, like almost all companies in every industry do. Over the past few decades, companies have made huge strides in engineering their environments to be safer, but when injuries do happen, a shockingly common refrain has been and continues to be: "I walked past that hazard every day, and I just didn't see it." People were getting hurt because they could not see what was right in front of them.
This problem inspired Doug Pontsler, then the Vice President of Operations Sustainability and Environmental, Health, at Owens Corning and Adam Levine, then the Deputy Director at TMA, to ask a question: Could we harness applied art history to make people safer? The answer, it turns out, is a resounding yes. We learned that if you can teach employees to look at their workstations the same way an art historian looks at a painting, they spot more hazards. As a result, incident rates decrease, employees are safer, worker's compensation claims go down, and companies save money.
Skip over related stories to continue reading article
Since we founded the Center of Visual Expertise (COVE) three years ago, COVE has established a thought leadership position in the EHS field and counts numerous Fortune 500 companies among its clients. COVE generates hundreds of thousands of dollars in revenue, allowing us to metabolize the considerable start-up costs of a services business. This past year, in the face of a global pandemic, COVE turned its first profit. But more important than COVE's thought leadership or economic contribution is its demonstration of the social value that museums can have, as it uses art history to save lives and livelihoods.
The Approach
At COVE, we train workers in applying visual literacy, a fluency with visual cues, which is a crucial skill in every field. Participants join instructor-led workshops, which are primarily conducted live and leverage TMA's collection in order to share visual language lessons. During the COVID pandemic, we pivoted to offering virtual workshops, which offer a different participant experience but, we have found, the same learning outcomes.
The flagship Foundations of Visual Literacy workshop is two days in length and focuses on what visual literacy is, why it matters to us as individuals, and how it improves our ability to live and work safely. The content is a combination of classroom teaching and experiential learning through group work and exercises. COVE offers open workshops for multiple-company participation and dedicated workshops for single-company participation. It also offers a license model that includes a train-the-trainer program. Through workshop revenue and license fees, COVE was imagined as, and has become, a revenue source supporting museum programs and education activities.
The workshops have confirmed our belief that visual literacy as a form of critical thinking can be exercised beyond traditional audiences and applications. The positive feedback from participating companies, as they learn how something from art education can improve safety, has demonstrated that the museum can be relevant to industry in a new and different way, enabling further engagement and expanded opportunities for patronage.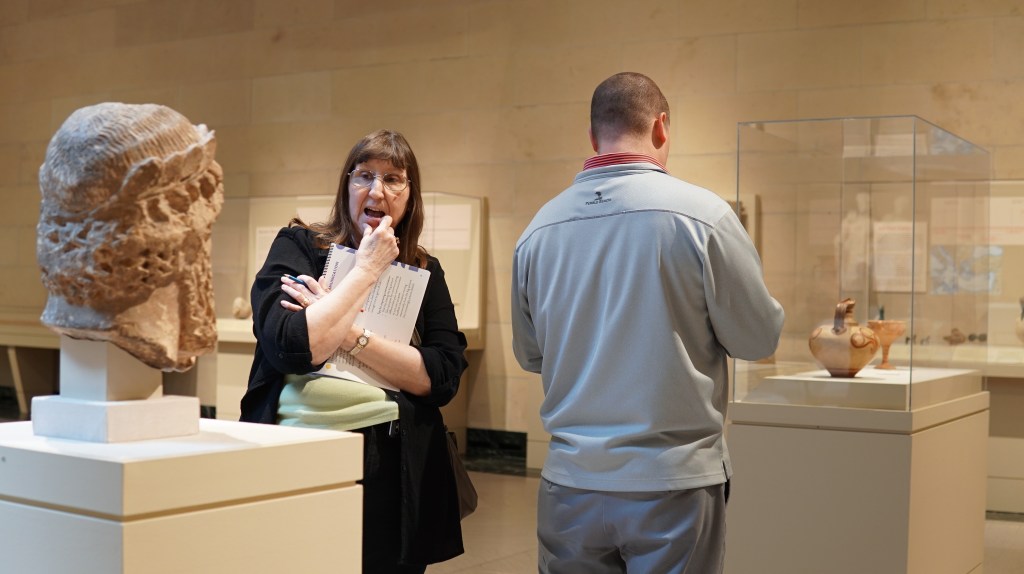 Lessons Learned
As museums seek to create sustainable business models, finding ways to leverage their expertise can provide an important contribution to their earned income potential. But despite some notable exceptions, museums are not particularly experienced as incubators of early-stage ventures, and starting any business requires capital and a tolerance for risk. TMA got comfortable with this risk and the start-up investment by validating the existence of a market before ever launching COVE. Through a two-year collaboration with Doug and Owens Corning, TMA was effectively able to do all our "research and development" work with a partner committed to saving lives but also committed to supporting the museum.
COVE was imagined and treated as a separate entity from the outset. TMA maintained some governance oversight through an advisory board, which the director chairs, but COVE was left to manage itself as a business, not as a department of the museum.
Though TMA is hardly the first museum to start a business, a business focused on industrial hygiene may seem on the surface as far removed from a museum's core operations as can be. However, we've found that forming a connection to this industry has been an invaluable asset, particularly during this global pandemic. Doug generously agreed to sit on the museum's COVID task force, providing TMA with surely one of the most qualified experts to offer safety guidance in our entire sector. Whether a museum starts a business or not, our experience with COVE reminds us how much we can learn from organizations outside the arts and culture space.
Growing a business within a museum is not for the faint of heart, but the process can be de-risked, and the benefits to a museum, its culture, and to the world beyond the arts can be significant.