In this series of posts, EdCom's Trends Committee is taking a deeper look at emerging phenomena identified in the 2021 edition of TrendsWatch from the Center for the Future of Museums. In this post, they survey university museums across the country to see how pandemic restrictions yielded changes to programs and priorities.
---
The prolonged impact of COVID-19 on university campus and museum operations has forced museum educators to reframe the once-temporary adaptations they implemented as tactics for survival into long-term strategies. This was a period of wild experimentation–mostly digital–to see what would stick. The great reshuffling brought deep anxiety about who we can serve, and how, and when. But it has also been an incredible opportunity to answer that question in new and exciting ways. Museum educators saw significant changes in their work patterns, budget configurations, and priorities.
After nearly two years of disruption to university campuses and museum operations, we asked educators in university museums how they pivoted to serve their core audience of students and faculty. We also asked which pandemic adaptations they are planning to keep in place, and what they hope will disappear (perhaps forever).
Enhancing the Student Experience
At many university museums, the pandemic has strengthened the connection to students and faculty. Though COVID restrictions varied across states and institutions, students and faculty were generally granted priority access, which meant a shift in educators' time and resources to focus on the in-person experience of their campus community.
Skip over related stories to continue reading article
For example, the Bowdoin College Museum of Art reopened to the campus community in the fall of 2020 but remained closed to the public until summer of 2021. Like many others, it struggled to create concrete plans for how to use its galleries and plan future exhibitions. "If we could show you the number of plans we have drafted, thinking that right around the corner we'd be able to implement these plans—and how many of those plans have ended up in the trash can," co-director Frank Goodyear said in October of 2020. But the resulting gaps in the museum's exhibitions schedule created an opportunity to rethink the use of the gallery spaces. In the spring of 2021, it emptied its lower galleries and converted the spaces into a series of classrooms, where different courses could curate mini-exhibitions, with the galleries rotating every week.
Supporting Students' Professional Training
The museum job market was tough pre-COVID and only worsened when the pandemic hit. The positions most impacted by furloughs and layoffs were those on the front line, precisely where many recent graduates get a foot in the door.
In this climate, many students planning careers in the museum field doubted their prospects. In a 2021 survey measuring the impacts of COVID on people in the field, AAM and Wilkening Consulting found that, of eighty student respondents, only 34 percent thought it was likely they would be working in the museum field in three years. The potential barriers they cited included availability of employment (92%), compensation (78%), opportunities for advancement (57%), disillusionment (54%), and burnout (49%). As a student planning to go into a museum career, Sabrina Lin, who graduated from Bowdoin in 2021 and is now a Post-Baccalaureate Curatorial Assistant, felt "in the dark." She remembers asking herself, "Should I go to grad school, go home, find an office job?"
Given the uncertainty many students felt, some academic museums saw a role to play in supporting them through the transition. In some cases, this meant changing their stance toward students' involvement in their public-facing work. This has been a long-running tension, since academic museums have the ability to provide hands-on training for a multitude of museum-related professions, but sometimes struggle to strike the right balance of professionals and students contributing to their work.
After significant cutbacks at the Museo de Historia, Antropología y Arte de Río Piedras at the University of Puerto Rico, Lisa Ortega and Oneida Matos took stock of what it would take to operate effectively again. They realized they needed over twenty student workers "if we wanted to cover all bases in collections inventory, donations inventory, gallery attendance, and reception." Together they reimagined the hiring and onboarding processes of their student workers, and during the summer months they diligently recruited, conducted interviews, facilitated virtual orientations and training, and scheduled work shifts for twenty-two student helpers to start in September. "Supervisors double as mentors for these students since all museum staff are University of Puerto Rico alumni and have graduate studies or experience in our respective fields. It's been a win-win," they report.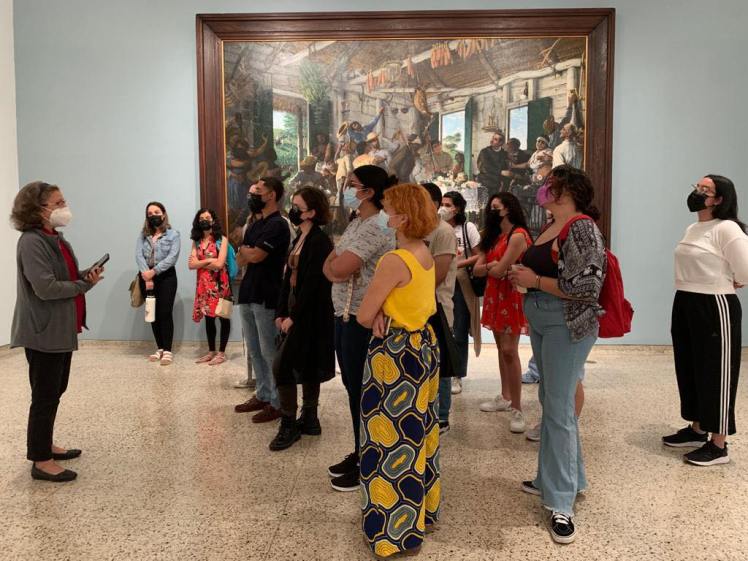 One thing that COVID has taught us all is the importance of support systems, both formal and informal. Campus jobs and internships provide the training, but mentorship provides the network and guidance to navigate the foreign terrain. Sabrina Lin highlights her relationship with Bowdoin College Museum of Art co-directors Frank and Ann Goodyear. "Throughout my time at Bowdoin, when I was a student, an intern, or now an employee at the museum, they have always embodied the values of kindness, generosity, and mentorship to me. With incredible warmth and openness, Anne would always share her personal stories and experiences as I navigated each critical juncture of my career thus far—whether that be working on my thesis, completing my internship, applying to jobs and grad schools, etc."
Designing a Website for Online Learning
Like other museums across the country, university museums worked to overhaul their websites during the pandemic to encourage virtual engagement with their audiences, often presenting brilliant new menus to interact with their collections and programs online.
New digital landing pages gave a sense of order and logic for the public to engage with collections search portals, classroom lesson plans, live virtual programs, instructional videos, and virtual tours. Mark Osterman, the Director of Digital Engagement and Head of Education at the University of Miami's Lowe Art Museum, said the museum's digital initiatives webpage did not exist before the pandemic, but has since become a go-to resource. After two years of serving the public in adapted ways, he says the museum's staff feel okay to "let go of the notion that visitors should all visit the museum." Like many others, they're realizing that "virtual visitation and reach is real and enhances access and accessibility when done right."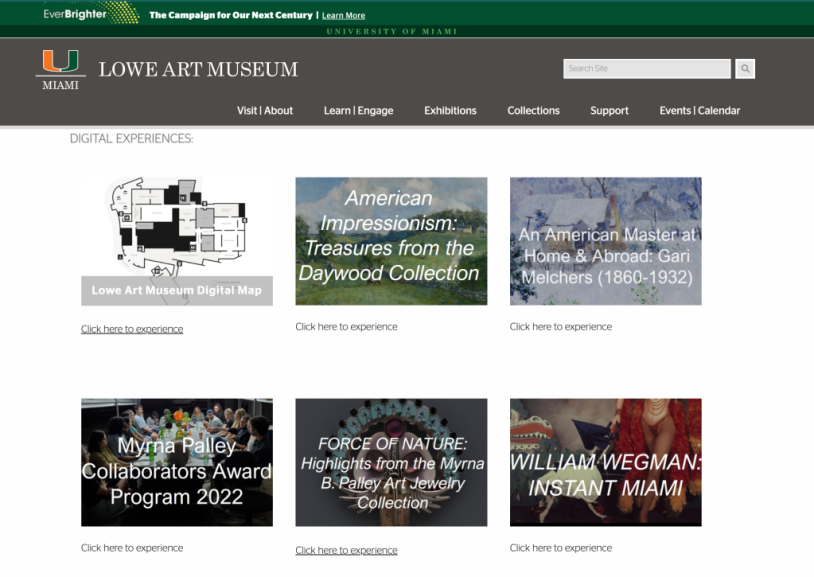 At the Museum of Texas Tech University, the website has also become a platform for focused teaching and interpretation of the collections. Jill Hoffman, the museum's Curator of Education and Assistant Director for Visitor Experience, said, "the 'downtime' of not having to produce huge events has allowed me to begin writing lesson plans with photos and sometimes video to be posted on our website… We want to do more of this, and we want to create more 'interpretive' material for our website so that anyone, anywhere, could download and print and use the material. That would be for teachers, families, librarians, really anyone who had interest."
The Smart Museum of Art at the University of Chicago created a page called "Smart at Home," where staff "gathered together resources—some newly created for online distribution and some from the archive—for our community of students, scholars, caregivers, teachers, and life-long learners. This digital resource page offers hands-on art activities, teaching guides, a trove of artist interviews, virtual exhibition experiences, and more." Thanks to the ramp-up of online offerings, it was also able to virtually extend the life of its exhibitions. It referred to its exhibition The Allure of Matter as "physically closed, virtually open" during the isolation of COVID. In an accompanying project called "Merely a Mistake: A Score for your Door," Chicago Dancemakers Forum 2020 Lab Artist Irene Hsiao took independently submitted videos of people moving in the door frames of their homes and paired them, creating "ghost duets" with "contrasting energies." These overlaid videos available on the website allowed the museum to connect and collaborate with community members from the safety of their own homes.
Virtual (And Hybrid!) Programming
It's hard to deny the impact of virtual convenings, and the continuity they offered for museums and their audiences. In many cases, virtual conferences, lectures, panels, or interviews can be just as effective as having the guests in the room. Some museums found significant success precisely because the program was virtual and allowed for far more people than ever to participate.
Virtual programming also opens the door to speakers who are otherwise unable to travel. The Bowdoin College Museum of Art has been able to host speakers from France, England, Iraq, and Cameroon for its virtual programs. "If you can't get to Maine, we can Zoom you in," staff explain.
Some are abandoning the days of flying, housing, and feeding a speaker all for the payoff of them speaking to a room of a few dozen (or with some luck, a few hundred) people. The budget relief from working with guests who don't have to travel to your site can be redirected into neglected areas. One of these neglected areas could be the infrastructure to run virtual programs. Bowdoin College Museum of Art co-director Frank Goodyear found that "it was a big lift to get the museum staff up to speed with virtual programs. Though we didn't increase this element of the budget, the pandemic did expose us to the urgent need for additional staff with an expertise in such activities."
Thanks to these benefits, many museums are planning to continue hosting virtual programs for the near future. Jessica Sack at the Yale University Art Gallery, for instance, expects that two of the museum's popular programs will continue to be virtual for the time being, even as in-person programming becomes possible. One of these, the Arts in Mind program, has been able to "break down geographic boundaries" and partner with new organizations that are working to help those dealing with early-onset memory loss. In the summer of 2021, museum staff worked with Lorenzo's House, a Chicago-based foundation for people with younger-onset Alzheimer's, on a one-day virtual camp. The other program, the museum's Teacher Leadership Program, typically served educators in the immediate community before the pandemic, but since becoming virtual, participants are joining in from across the country and even internationally.
---
Even several years into the pandemic, academic museums, and campuses as a whole, are still adapting to a constantly shifting reality. It is exciting to see the innovative ideas and flexibility staff and students have exhibited over the last two years. How these will change museum work in a post-COVID world remains to be seen.