The National Blues Museum was one of ninety-one museums, libraries, and cultural or tribal organizations that leveraged their position as trusted community partners to help bolster vaccine confidence in their communities as part of Communities for Immunity. From hosting vaccine clinics to combatting misinformation, each awardee took its own customized approach through this work. In this post, Erin Simon, Deputy Director of the National Blues Museum, shares how she and her museum's staff tied tackling the public health crisis to their mission, framing the issue around bringing live music back into their community.
–Vida Mikalcius, Marketing and Communications Coordinator, American Alliance of Museums
---
Since its founding, the National Blues Museum (NBM) has seen preserving the historical legacy of blues music as going hand-in-hand with championing the blues musicians of today. This philosophy informs every aspect of our programming as both a museum and music venue, and was a guiding force behind our participation in Communities for Immunity. We recognize that, across the blues' centuries-long history, hard-working musicians have always kept the music and its community thriving. Our relationship with local musicians constitutes the museum's most meaningful connection to our community in St. Louis, Missouri. So, when grappling with the COVID-19 pandemic, the National Blues Museum focused its programming on serving the community and supporting local musicians.
Skip over related stories to continue reading article
COVID-19's impact on the music industry hit the blues world especially hard. In an era dominated by inequitable music streaming models, musicians of all kinds require the income from live music and touring to sustain their livelihoods. Yet blues music, in particular, has always held a distinctly communal role, creating the soundtrack to nights of celebration and togetherness at clubs, venues, and community events across the globe. For the musicians who dedicate their time and resources to providing this joy to audiences, the pandemic threatened their vocation and sense of purpose.
Confronted with this reality, the National Blues Museum made operating a safe venue for music a priority and set the pace for other venues in the St. Louis area. The museum started Blues on the Block, a free outdoor concert series in the summer of 2020 for musicians to safely reach their audience. As soon as St. Louis's city government issued the permits to close the intersection perpendicular to the museum each Saturday, we were able to bring accessible, family-friendly outdoor performances to the walkable streets of downtown St. Louis, easily reachable by public transit. As the pandemic progressed, the National Blues Museum was one of the first local venues to require vaccination cards at concerts. Our audience members encouraged these measures, and the museum continues to look to its community for guidance when taking safety precautions and programming events.
When the opportunity to be a part of Communities for Immunity arose, the National Blues Museum saw it as a perfect chance to further our goals for the future of live music and a healthy entertainment ecosystem in the United States. As part of our project, we began multiple initiatives to promote vaccination and educate ourselves and our audiences about the connections between live music and public health.
One of these initiatives was the creation of Pandemic Blues, an exhibit exploring how a different pandemic rocked the music world. Over one hundred years ago, the 1918 influenza pandemic dramatically impacted a modernizing, urbanizing United States and the new culture of public entertainment that it supported. At this same time, the blues and other styles of African American music came to prominence in popular culture, despite the systemic violence Black communities faced nationwide in the wake of Reconstruction and Jim Crow segregation. Blues musicians even wrote songs about the flu, with "1919 Influenza Blues" entering the blues repertoire and spreading across the country throughout the 20s and 30s:
"It was nineteen hundred and nineteen;

Men and women were dying,

With the stuff that the doctor called the flu.

People were dying everywhere,

Death was creepin' all through the air,

And the groans of the rich sure was sad.

Well it was God's almighty plan,

He was judging this old land,

North and south, east and west,

It can be seen,

It killed the rich, killed the poor,

It's gonna kill just a little more,

If you don't turn away from the shame."
The parallels between the 1918 pandemic and COVID-19 are astonishing, particularly in the music world. Much like in 2020, the way Americans listened to music was rapidly changing in 1918. Radio was not yet commercially available, and recorded music—played on Phonographs and "Talking Machines"—was a brand-new invention. Sheet music was the industry's primary medium, reflecting a simple truth that now seems mind-boggling: if you were listening to music before 1918, it was most likely being played live by a musician. As in 2020, live music and entertainment came to a halt throughout the United States, leaving thousands without work. Musicians faced heartbreak in their personal lives as well. The foundational blues guitarist Lonnie Johnson—whose innovative style and recordings with Louis Armstrong inspired generations of musicians—returned from a tour in Europe to find that both of his parents and eight of his nine siblings had died from influenza.
Despite major setbacks, the music world rebounded from influenza, and researching the progress made in combating infectious disease throughout the twentieth century gave us hope for the future of music in the 2020s too. Before and during the 1918 pandemic, infectious disease played a much more significant role in American life than it does today. Between 1900 and 1910, infectious diseases like tuberculosis, diphtheria, and pneumonia (frequently caused by influenza) caused around 50 percent of all deaths in Americans ages 5-44. By the 1970s, infectious diseases caused only 3 percent of deaths in this age group. Vaccination was a leading factor in this tremendous progress, shedding light on how widespread COVID-19 vaccination rates are essential for a thriving musical ecosystem.
Building on the research and curatorial work of Pandemic Blues, the National Blues Museum's second Communities for Immunity initiative made use of our capacity as a music venue and arts presenter. To encourage vaccination and raise awareness around the safe foundation of public health that professional musicians need for their craft, the museum hosted a free outdoor concert and museum open house for kids where community members could get vaccinated for COVID-19. Partnering with Affinia Healthcare and the St. Louis Regional Health Commission, the museum provided free vaccination for both children and adults. At the Open House, kids had opportunities for art- and music-making, and families could visit the museum at no cost. Alongside the Pandemic Blues exhibit that had recently opened, the event gave community members an opportunity to attend the exhibit and listen to quality live music, kicking off our summer season of free music in downtown St. Louis.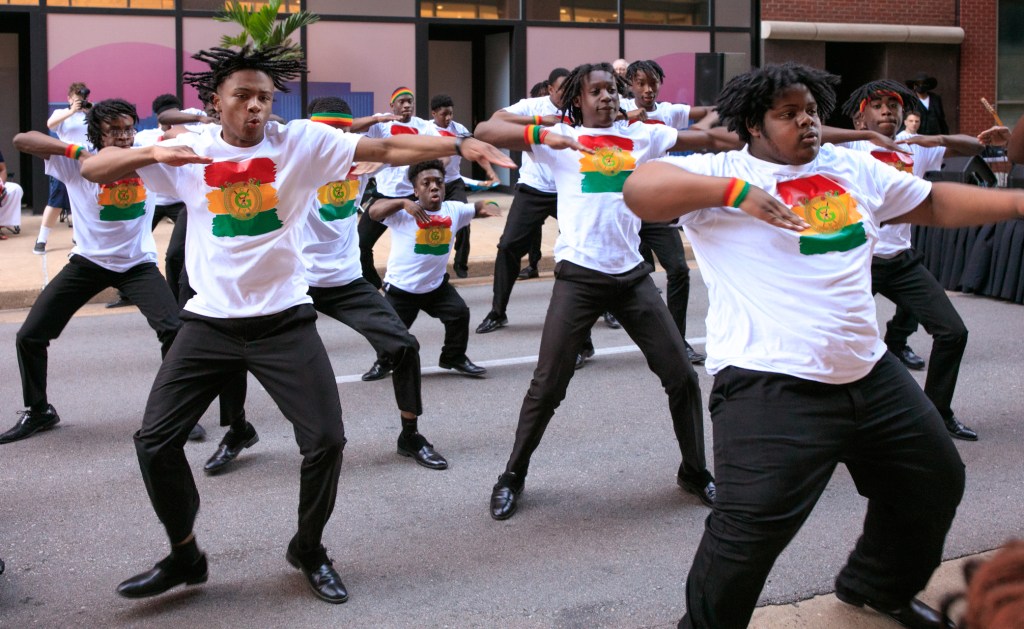 Our Communities for Immunity event and other free concerts held by the National Blues Museum reflect how a healthy music and entertainment ecosystem can bring people together for positive impact. As an oral tradition, blues music is a medium through which communities can reflect, share their experiences, and feel a cathartic release of joy. These traits align with the National Blues Museum's mission within its own community and make our museum a space where St. Louisans from different backgrounds can have affirming interactions with one another.
These same properties of music enabled us to spread valuable information about vaccination as part of Communities for Immunity. In fact, there is literature to support this theory. Researching performers who promoted polio vaccination in The Gambia, ethnomusicologist Bonnie McConnell witnessed how "more than just information transfer, musical participation can involve people socially and emotionally, creating the conditions necessary for deeper levels of engagement." Framing their educational efforts through music, these performers showed McConnell how "integrating unfamiliar information into familiar participatory forms enables people to establish a sense of coherence and meaning." Holding vaccination events around the participatory form of blues music, the National Blues Museum harnessed music's ability to unite groups through emotion and rhythm to work toward this shared cause.
The National Blues Museum's community-informed approach to presenting music is part of what's made our programming so cherished by local audiences. Celebrating locally significant styles of Black heritage music like blues, R&B, and soul, the museum attracts majority-Black audiences who are often underserved by mainstream arts programming. Our dedication to local musicians sits at the center of this community engagement, and the museum gives musicians regular, equitable opportunities to reach their audiences.
Without the equitable compensation, public resources, and opportunities for engagement professional musicians deserve, the music/entertainment world and the unity it is capable of fostering will fade away. Vaccination and safe presentation practices are key to this, but so are business models which reflect musicians' essential place in our society and don't take their contributions for granted. Time and time again, we are reminded of how crucial professional musicians are to our culture. We were reminded during COVID-19, and we must remember what the pandemic taught us to support them in the future.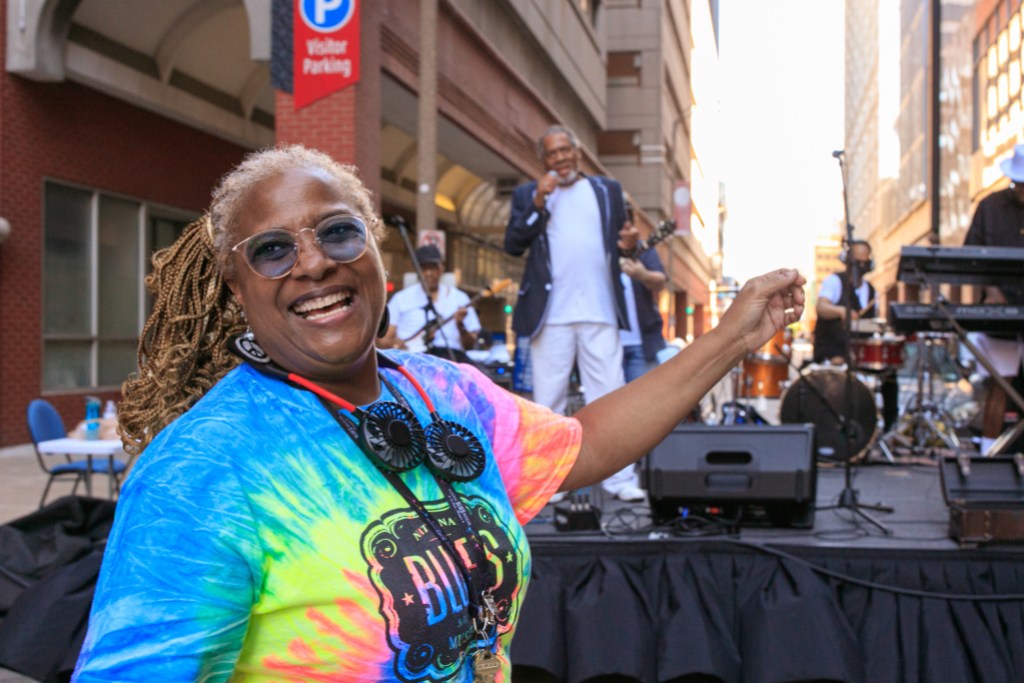 ---
Communities for Immunity is an initiative of the Association of Science and Technology Centers; Institute of Museum and Library Services; American Alliance of Museums; and the Network of the National Library of Medicine; with support from the Centers for Disease Control and Prevention; and in collaboration with the American Library Association; the Association of African American Museums; the Association of Children's Museums; the Association for Rural and Small Libraries; the Association of Tribal Archives, Libraries, and Museums; and the Urban Libraries Council.