The museum sector went into the pandemic ill-prepared to use digital strategies to keep themselves afloat, but many museums that had begun to experiment with how digital could enhance or replace existing practices found themselves at an advantage. This week on the CFM blog, Executive Director Trevor Beemon tells us about the digitally enabled, self-guided tours that helped the William Root House ride out the pandemic, and why touch screens and videos will replace volunteer-led tours going forward as well.
—Elizabeth Merritt, VP Strategic Foresight and Founding Director, Center for the Future of Museums, American Alliance of Museums
---
In discussions about the future of museum technology, the focus is generally upon large-scale institutions experimenting with interactive tools such as mobile device applications, touchscreens, augmented reality, and other immersive visitor experiences. This work is often groundbreaking and aspirational, but for smaller institutions operating with limited resources, it can be difficult to imagine how to adapt these technologies for their own use.
I joined one such institution when I became Executive Director of Cobb Landmarks & Historical Society, Inc. in 2014. In my previous role at the Atlanta History Center, I had spent seven years in marketing and exhibit design, which allowed me to collaborate across the organization, learn what the public responded to, and experiment with new formats for sharing the museum's collection and programs more widely. I came to Cobb Landmarks to continue building on these ideas and pushing new boundaries.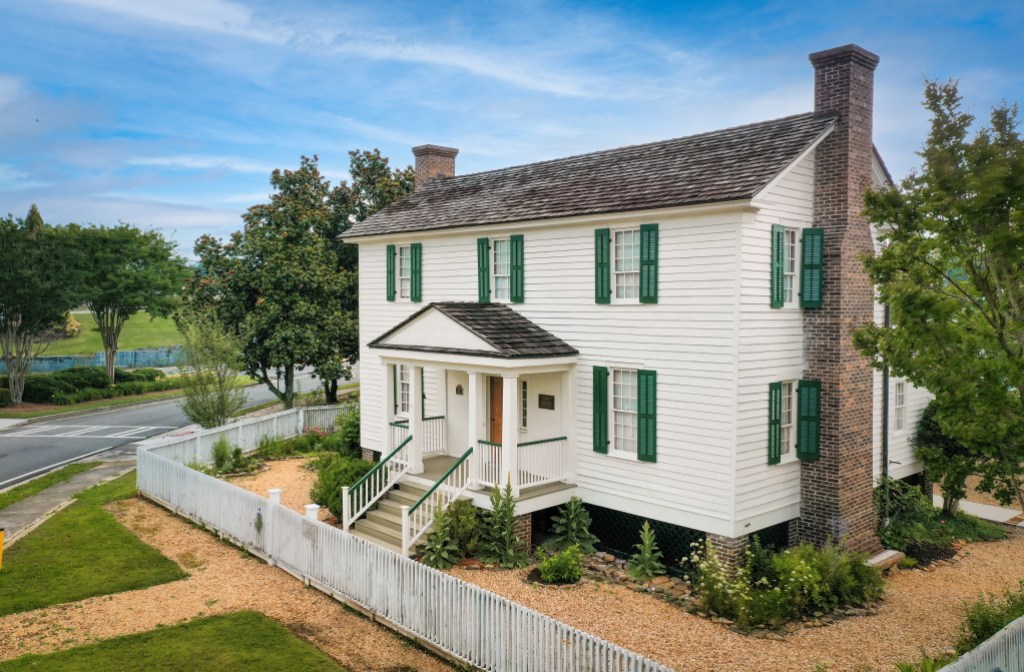 Skip over related stories to continue reading article
Joining the organization as Executive Director was also a homecoming of sorts. I had begun volunteering for it at the age of twelve, spending many happy hours giving tours of the William Root House Museum & Garden in downtown Marietta, Georgia. I therefore knew very well that the docent-led tours of the site, which interprets the lives of the Root family and their enslaved house servants during the 1850s, focused mainly on the well-researched furnishings and decorative finishes of the house, but said almost nothing about the people who had lived and labored in it. As we developed a new interpretation plan, I wanted to change this and to answer so many other questions: What makes the Root House different from other house museums? Are traditional docent-led tours something younger visitors are seeking out during their free time? Would the board of trustees allow me to try things which hadn't been widely implemented in other house museums?
One of the experimental things I wanted to try was having guides use handheld electronic tablets while they conducted tours. Docents and staff began to carry inexpensive models as they toured visitors through the property, swiping through family photos, documents, and before-and-after photos of the house's restoration as they spoke. Guests responded well to the additional content. Eventually, I decided to transition the handheld tablet to a static touchscreen mounted in a small exhibit space inside the house. The screen displayed several pages of content, including information on the founding of Marietta, the Root family, the house, the Civil War in Marietta, and slavery in Marietta. The screen allowed visitors to explore what would have traditionally been five large wall-mounted exhibit panels on a single touchscreen. Again, the addition of technology received enthusiastic praise from visitors.
About this same time, I was preparing for a half-million-dollar expansion and renovation of the Root House property, which included the addition of a slave quarters and smokehouse and the construction of a dedicated visitor center with staff offices and a gift shop. Prior to the expansion, staff had shared a workspace inside the Root House, and moving them to the visitor center meant they would no longer be inside the house during the day. The addition of more historic structures further underscored the issue, as we now had to tour visitors through multiple buildings. We couldn't hire more staff and finding volunteers each day would be challenging. The best solution, to me, was to transition to a self-guided tour by expanding the touchscreen experience throughout the entire property.
Converting to a self-guided experience would also allow us to standardize the content of our tours, which was especially important as we worked to incorporate more of the human element of the site than before. We wanted to present a full and honest look at slavery in Marietta, with great sensitivity and respect for the enslaved, and this way we were able to choose our information and wording carefully and stick to them across all visitor experiences.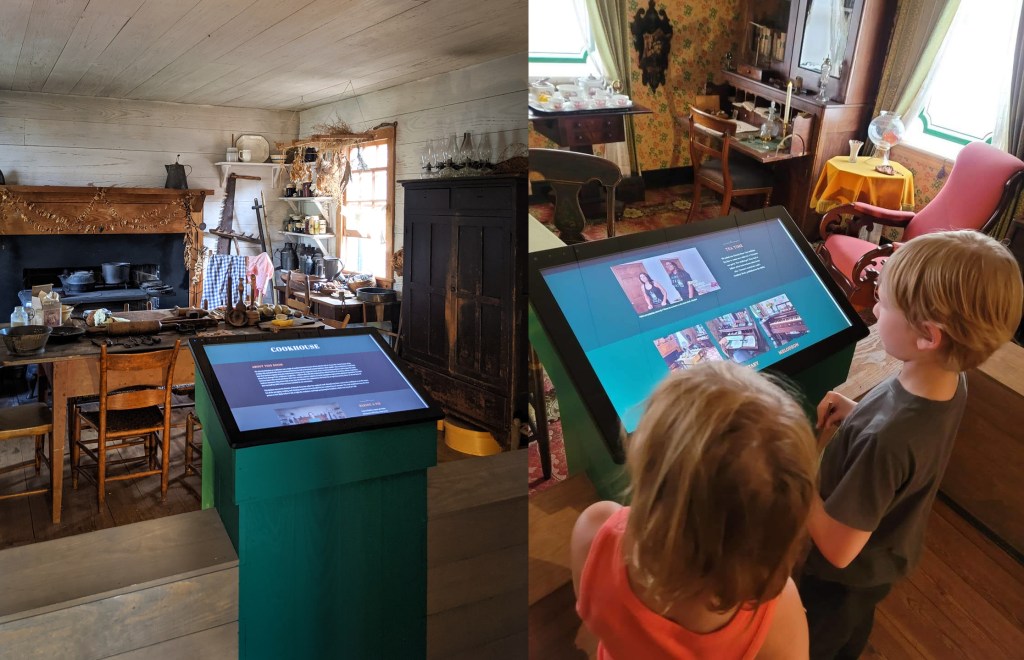 I set out trying to find examples of other house museums with touchscreen tours to show our staff, trustees, and donors what I was trying to accomplish. However, to my surprise, I couldn't find a single example of one with a barrier system and touchscreen kiosk installed in each room. I came to realize we would have to devise our own system. To do so, I worked with a construction contractor to design the barriers and touchscreen pedestals and ordered touchscreens and mini-PCs online. We used pine cladding on the barriers to complement the historic interiors. The pedestals concealed wiring, speakers, and the mini-PCs. The mini-PCs were set up to launch in kiosk mode when turned on, loading the content automatically. For the touchscreen content itself, staff wrote text focusing on the Root family, their enslaved house servants, and how the rooms were used. Key furnishings and artifacts are highlighted with thumbnail images and descriptions. The best part is content can be updated as new research becomes available.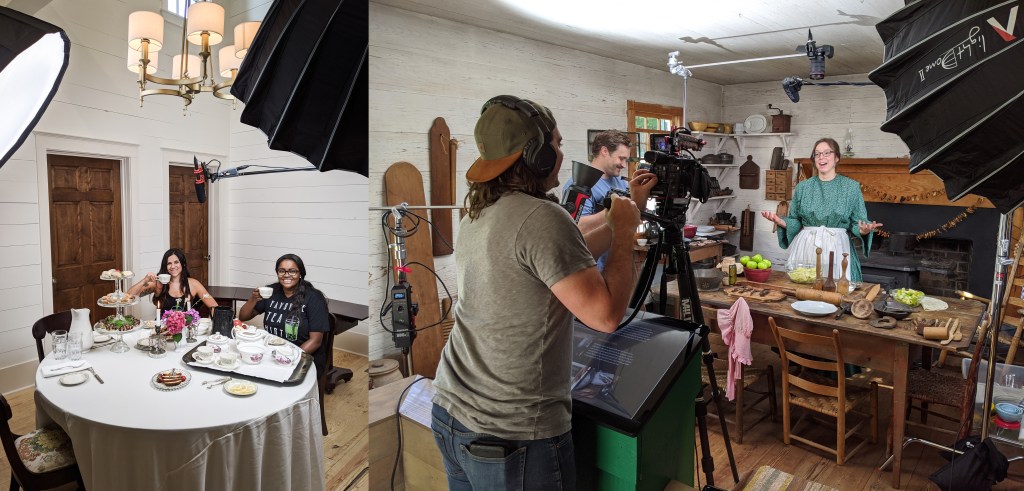 One problem I foresaw was that the rooms were going to be viewed without guides present to give the spaces life. So, we collaborated with historians, local celebrities, and business owners to create video content for the screens. In the formal parlor, for example, a video shows the owner of a local bubble tea bar struggling to follow nineteenth-century instructions for hosting a formal tea. In the dining room, a video shows local comedians tasting popular dishes from the time period, like oxtail stew, dandelion greens, and vinegar pie. The videos help bring a little levity to the tour and resonate especially well with younger visitors.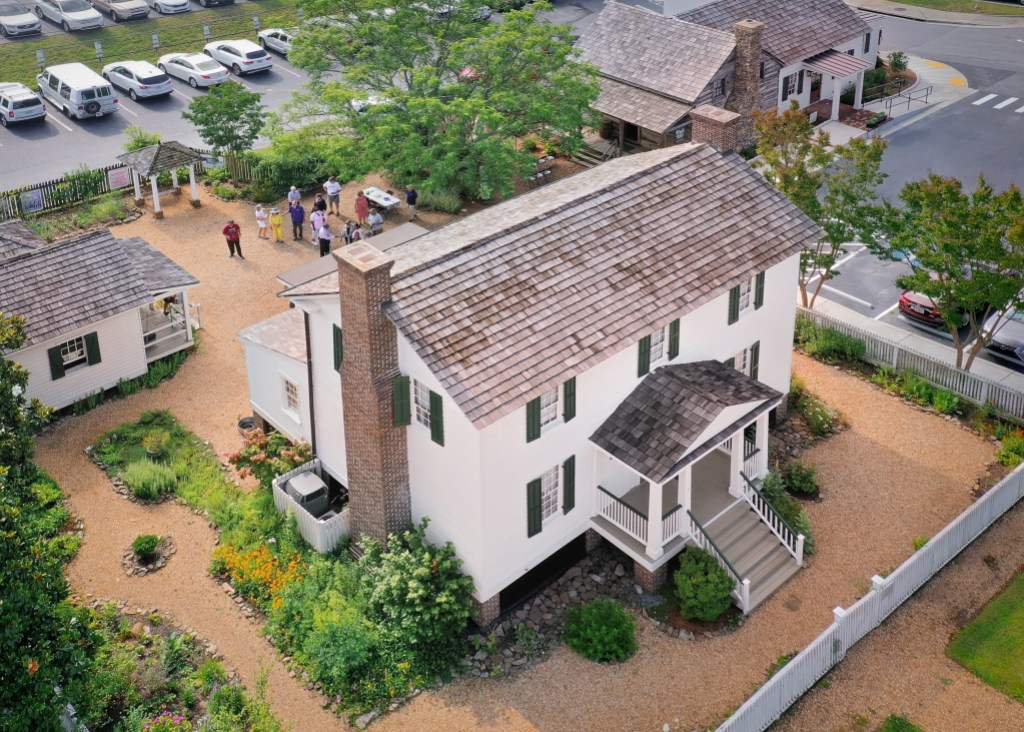 All of this work took place before the pandemic struck, and it turned out to be a boon in navigating reopening under the new restrictions it imposed. With the touchscreens already in place, we were able to pivot quickly, offering stylus pens and limiting the number of guests on the property. This allowed us to reopen much earlier than our counterparts who still relied on guided tours and personal interaction.
What we have crafted at the Root House is a visitor experience that's truly unexpected. Guests often return to the visitor center expressing their surprise at finding something so technologically complex and progressive in a house museum. Little do they know how it was cobbled together by our small but passionate museum staff using very limited resources. But we're all museum people here, right? Accomplishing the impossible using limited resources is what we do!