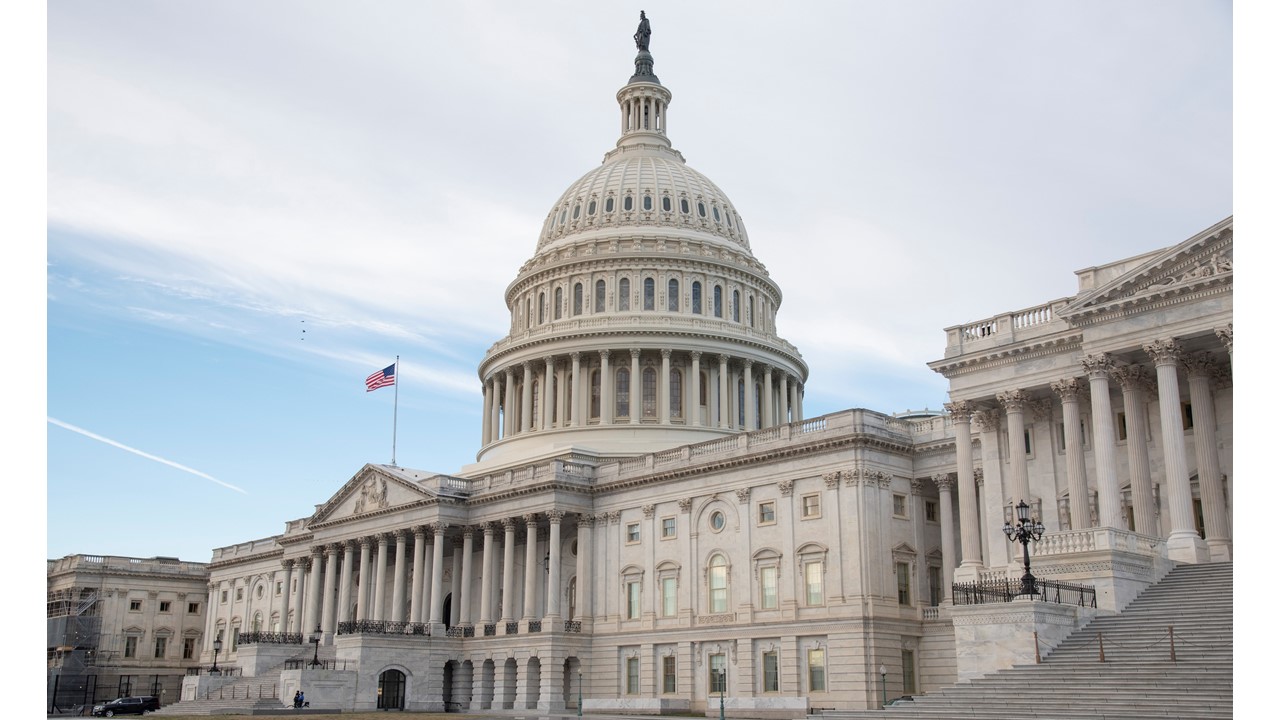 Advocacy Alert – November 18, 2022
In this Alliance Advocacy Alert:
Take Action to Support Funding for Museums: FY 2023 Funding Decisions Are Being Made Now. Last Chance! Urge Your Legislators to Support the Office of Museum Services (OMS) and Include a $20 Million Increase for Facilities Improvements
Post-Election Updates for Museums: What to Know Following Election Day
National NAGPRA Seeks Comments: Share your museum's NAGPRA work and funding needs
Registration Opening Soon: Museums Advocacy Day 2023 is Feb. 27-28, 2023
Take Action: Last Chance – Urge Your Legislators to Support the Office of Museum Services (OMS) and Include a $20 Million Increase for Facilities Improvements!

In late September, Congress passed a continuing resolution (CR) to keep federal agencies funded at last year's levels through December 16. Congressional appropriators are making funding decisions now, which could be the best chance for museum advocates to secure a significant increase in funding for museums.
The U.S. Senate draft fiscal year (FY) 2023 Labor-HHS-Education Subcommittee Appropriations bill and associated explanatory statement released July 28, if passed by Congress, would provide a $33,800,000 increase for IMLS overall, maintaining much of the previously reported OMS increases proposed by the U.S. House of Representatives. Most notably, the legislation would include a $20 million funding increase for improving museum and library facilities, according to the explanatory statement noted in our September Alliance Advocacy Alert.

AAM survey results underscore the need: Nearly forty percent of responding museums plan to make investments into their building, HVAC equipment, and other infrastructure to improve energy efficiency, reduce the environmental impact of their operations, and enhance safe workplaces. Final FY 2023 negotiations have begun and now is the time to advocate for a much needed funding increase for OMS and secure a new funding resource for museum facilities.

What Can I Do? Make sure your Representative and Senators know how much their support of this funding matters to constituents like you. We urge you to take a moment right now, using our quick and easy template, to contact Congress in support of OMS and new facilities funding at IMLS. While AAM continues its lobbying efforts, including coordinating this recent appropriations letter, it's critical that your legislators hear directly from constituents about this important funding. If you contacted your legislators already but have yet to hear back, please send another message. Reaching out again can help make sure your voice is heard.
Post-Election Updates for Museums

Were you as gripped by the midterm elections as we have been? Following the Nov. 8 elections, the Alliance is pleased to share this brief analysis of historic highlights and possible impacts for museums.
Election Results: Despite predictions of a Republican "red wave," Democrats will maintain control of the U.S. Senate (and could gain a seat depending on the December 6 runoff election in Georgia), while Republicans will take control of the U.S. House of Representatives with a narrow majority.
There were several historic firsts, including:
Summer Lee (D) was the first Black woman elected to Congress from Pennsylvania.
Markwayne Mullin (R) a current member of Congress and a tribal citizen of the Cherokee Nation, won election to the U.S. Senate in Oklahoma. He will be the first Native American senator in nearly two decades and the first Native American senator from Oklahoma in a century.
Democrat Maxwell Frost (D-FL) became the first person from Generation Z elected to Congress.
Democrat Becca Balint became the first woman and the first openly gay person to be elected to Congress from Vermont.
Anna Paulina Luna (R) becomes Florida's first Mexican American woman elected to Congress.
Delia Ramirez (D-IL) will be the first Latina elected to Congress from a Midwestern state.
Eric Sorensen (D) is the first openly gay person elected to Congress from Illinois.
Katie Britt (R) is the first woman to be elected to the U.S. Senate from Alabama.
Wes Moore (D) was elected Maryland's first Black governor and becomes only the third Black person to be elected governor of a state.
Massachusetts Attorney General Maura Healey (D) broke two barriers: She was elected as the first woman governor of Massachusetts and the nation's first openly lesbian governor along with Tina Kotek (D) the next governor of Oregon.
Former White House press secretary Sarah Huckabee Sanders (R) was elected Arkansas governor, becoming the first woman to govern the state.
James Roesener (D) became the first transgender man elected to any state legislature. Roesener will represent New Hampshire state House District 22, Ward 8.
As a result of retirements and the recent elections, for the first time four women will lead the Appropriations Committees in Congress: Sens. Murray (D-WA) and Collins (R-ME) and Reps. DeLauro (D-CT) and Granger (R-TX).
Rep. Hakeem Jeffries (D-NY) announced a bid for House Democratic leader in a generational shift that would make history. If elected by fellow House Democrats, he would be the first Black lawmaker to lead a party in Congress. He would replace House Speaker Nancy Pelosi (D-CA), who announced yesterday she would relinquish her party leadership post.
Lame Duck Session (November 14 through December TBD)

In addition to Congressional leadership elections and making House and Senate committee assignments, Congress has returned with a big agenda of unfinished business, chief among the to-do list is fiscal year (FY) 2023 appropriations. In late September, Congress passed a continuing resolution (CR) to keep federal agencies funded at last year's levels through December 16. Congressional appropriators are working on an omnibus bill making funding decisions now, which could be the best chance for museum advocates to significantly increase funding for museums (see OMS facilities funding action item above). The FY 2023 funding process may not wrap up until late December and could require several stopgap funding measures. In addition, with the broader nonprofit sector we urge that Congress Enable Charitable Nonprofits to Respond to the Current and Ongoing Natural Disasters, as outlined in this #Relief4Charities coalition letter to congressional leaders which includes enacting a Universal Charitable Deduction.
118th Congress Convenes January 3
In recent years and with the support of museum advocates, AAM was instrumental in securing museums eligibility and $1.3 billion in Shuttered Venue Operator Grants, and $1.5 billion in Paycheck Protection Program (PPP) and IMLS, NEH, and NEA relief funds. Building on our past success, we will quickly engage our newly-elected legislators and share the value of museums as essential community infrastructure – a cornerstone of our communities and backbone of the nation's education system. Fortunately, Museums Advocacy Day (Feb. 27-28) comes just weeks after the start of the new Congress, serving as a catalyst for our outreach and kick-off to the year-long advocacy by all museum advocates. The conventional outlook for the next two years is political gridlock with few major legislative accomplishments. We will need to continue our efforts to build strong bipartisan support for museums on Capitol Hill. On the other hand, the regular work of Congress will continue and museums need to be alert to potential opportunities. While there are many unknowns and we are still processing the impact of the elections, we will continue to be guided by our legislative agenda as highlighted in our Issues at a Glance.
What You Can Do Now
Take Action to Support Funding for Museums: Urge your legislators to support needed increased FY 2023 OMS funding, including facilities funding, as noted above.
Share Your Connections: The AAM Government Relations & Advocacy staff looks forward to working with the new Congress. We know that you may already have connections with your new or returning members of Congress and hope you will share that information with us by filling out our Washington Connections Contact Form, so we can work together on outreach.
Invite Legislators to Visit your Museum: We also encourage you to introduce and/or invite returning and new members of Congress to visit your institution and tell them your story about the vital positive impact you have on improving your community.
Mark Your Calendar for Museums Advocacy Day 2023 (Feb. 27-28): Registration for Museums Advocacy Day 2023 will be opening shortly and we can't wait to join with museum advocates this February on Capitol Hill to make our case early in the new Congress. Together as a field we've defeated several attempts to eliminate or de-fund federal agencies supporting museums and were instrumental in securing more than $3 billion in relief funds, but we must keep speaking up for museums. We need to thank legislators for their support, inform them how relief funding helped, and continue to build relationships that were key to making it happen which will be critical to avoiding potential funding cuts. Museums Advocacy Day is a unique opportunity to network with peers from your region, hear from agency and nonprofit leaders, and build your own professional skills.
National NAGPRA Program Requests Feedback from Museums on Proposed Regulations

The National Native American Graves Protection and Repatriation Act (NAGPRA) Program recently reached out to AAM to request feedback from museums on specific issues in proposed regulations issued in October, including whether or not the proposal would achieve its stated goals and its impact on museums capacity and resources. Detail on this specific request is here. AAM encourages interested museums to submit written comments for the Department's consideration by the January 17 Federal Register deadline. Read the full proposed NAGPRA regulation revisions, including instructions for submitting written comments, and please share a copy of your written comments with AAM's Government Relations team. In addition, National NAGPRA has scheduled virtual Public Listening Sessions on Nov. 18, Dec. 16 and Jan. 13, each taking place at 4:00 PM Eastern. To register for these and upcoming NAGPRA Review Committee meetings, please see NAGPRA Events.
Registration Opening Soon: Museums Advocacy Day will be in-person in Washington, D.C., February 27-28, 2023!

Registration will be opening soon for Museums Advocacy Day. The schedule at a glance and an overview of the programming, networking, advocacy, and public policy elements to expect are now available. Legislators do not know how their decisions affect museums, and the people who work for and with them, unless they hear directly from you–the museums and people they represent. We look forward to gathering with museums advocates in Washington, D.C. for Museums Advocacy Day 2023. Stay tuned for registration information and additional updates on this page, in newsletters, and on social media (Twitter | Facebook).
Visit http://www.aam-us.org/advocacy to access all of AAM's advocacy resources.