Illinois Holocaust Museum & Education Center is preserving survivor oral histories for generations to come by using hologram and virtual reality technology.
---
This article originally appeared in Museum magazine's March/April 2023 issue, a benefit of AAM membership. 
---
Illinois Holocaust Museum & Education Center was founded in 1981 by survivors who remade their lives in the aftermath of one of the greatest atrocities in history. Their choice to share what happened to them, their struggles, and resilience, is the basis for everything we do.
But as the museum grew and entered the new millennium, we faced a challenge to our mission: How can we preserve survivors' stories for future generations in a way that fosters empathy and understanding? How can we ensure their voices are still heard?
Seeking to answer these questions, we reached out to colleagues across the country and the world to understand the breadth of potential options to document firsthand accounts before our survivors passed away. At the time, the University of Southern California (USC) Shoah Foundation was beta testing its New Dimensions in Testimony technology that would create the experience of having a conversation with a Holocaust survivor.
This, along with virtual reality technology, were the answers to our questions.
Making Holograms a Reality
In 2013, several museum staff members, board members, and Holocaust survivors Aaron Elster, Fritzie Fritzshall, and Sam Harris met with Stephen Smith, former Executive Director of the USC Shoah Foundation. Sitting in the museum's boardroom, Stephen pulled out his laptop and provided a demo of the 2-D version of the first hologram they created with survivor Pinchas Gutter. Using voice recognition technology, Pinchas' hologram could answer all of the museum team's questions.
Up to this point, many in the Holocaust museum arena had been skeptical of the technology or hesitant to use it. They wondered if it was too gimmicky. Was it the "Disney-ification" of the Holocaust? But we were sold by the survivors' reactions to it. After the demo, they said, "This is it. This is what's going to preserve our stories." Their buy-in was all we needed to take the risk and move forward with hologram technology.
Next, we needed to ensure that the visitor experience would be focused on the power of the survivors' stories rather than the technology. We knew that if the technology became the focal point of the experience, we had failed.
Before filming the survivors to create their holograms, USC Shoah Foundation compiled the 100 most commonly asked questions of survivors and did extensive research on each participant. Once this was ready, seven Chicago-area survivors flew to Los Angeles where they filmed under a dome of more than 100 cameras and lights, answering questions ranging from what they remembered of life before the Holocaust to their favorite color. After days of filming with each survivor and around a year of post-production, we had seven holograms—eight in total with Pinchas—that could each answer 20,000–30,000 questions in real-time. While we were the first museum to partner with USC Shoah Foundation on this project, five more survivors were filmed shortly after, and dozens more have been filmed since.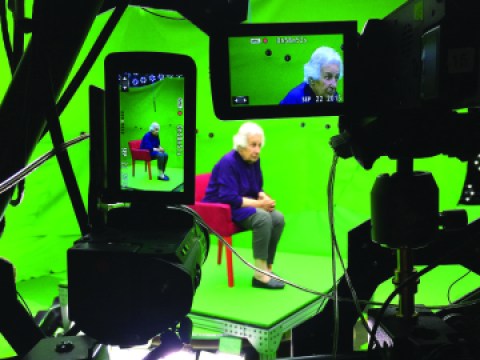 Dimensions in Testimony debuted in our "Abe & Ida Cooper Survivor Stories Experience" in October 2017 as part of our four-gallery Take a Stand Center, which showcases human and civil rights issues and "upstanders" working to champion equity and provides visitors with tools for civic engagement. The "Survivor Stories Experience" was the first space globally to use hologram technology in this way as part of a permanent, purpose-built theater dedicated to sharing with technology. It opened to rave reviews in media coverage around the world, including a feature on 60 Minutes and being named one of the 12 must-see exhibitions globally by Smithsonian Magazine.
More important, animating these stories through a question-and-answer format using this technology has had an immense impact on visitors. For many, the concept of the Holocaust is too large to grasp or relate to. The museum's own research and national studies show that Holocaust survivors' stories humanize difficult history, helping visitors develop empathy, learn the dangers of indifference, and recognize their responsibility to stand up to hatred and antisemitism. According to a recent study on dark tourism (travel to places historically associated with death and tragedy) and social mobilization conducted at the museum by the University of Illinois, the experience of visiting the museum and seeing the holograms empowered and motivated attendees to address injustice in their lives and communities.
We have also learned that audiences are often more willing to ask questions of the holograms than a living survivor. The holograms offer no judgment, allowing visitors to address their curiosity without feeling pressured or intimidated. In speaking with our audiences, we have found that this technology is helping them create memorable encounters that they wouldn't get from passively reading about history.
Turning to Virtual Reality
While our survivor holograms were a success, we knew we needed to do more to preserve survivor stories and Holocaust history. A 2018 survey found that more than 60 percent of Americans did not know that 6 million Jews were murdered during the Holocaust, and more than 10 percent believed that Jews themselves caused the Holocaust. This, compounded with rising antisemitism and other forms of hatred around the world, spurred us to find other ways to share survivor stories.
Once again, we turned to technology, this time in the form of virtual reality (VR).
We realized that much like our survivors, there may come a time when historical sites like Auschwitz are not around for future generations to visit and learn from. This concern motivated the late Fritzie Fritzshall, a Holocaust survivor and former museum President, to become intimately involved in creating our VR experience in which visitors travel with survivors as they revisit important sites in their lives, personally connecting to the survivor's legacy.
In 2018, several museum team members traveled to Auschwitz-Birkenau with Fritzie to record her story, which would become a VR experience in "The Journey Back," a first-of-its-kind Holocaust exhibition created by IHMEC in partnership with VR/AR design studios eyelash.ai, 30 Ninjas, and Farm 51; Winikur Productions (film production); Gallagher & Associates (exhibition design); and Silver Sound Studios. She filmed for hours on location, sharing her experiences of her life before the Holocaust, her arrival at the infamous killing center, and the story of the 599 women who helped save her life.
When filming wrapped with Fritzie, the film crew continued to gather footage at the Mauthausen and Ebensee concentration camps in Austria. They brought back that footage to a Chicago studio where survivor George Brent, filming in front of a green screen, shared how he was separated from his father at Auschwitz-Birkenau, was sent to several camps, and later found his father after liberation. The result of this trip was two VR films: A Promise Kept, featuring Fritzie, and Don't Forget Me, featuring George.
Filmed in Austria, Poland, and Ukraine, these VR films utilize immersive cinematography, animation, photogrammetry, and 360-degree sound as viewers explore Fritzie and George's hometowns and the camps. Film techniques convey the passage of time and magnitude of the atrocities. Panoramic scanning and drone footage illustrate the camps' scale, overlays of historical photographs enable viewers to see the camps as survivors saw them, and "memory spaces" constructed with animated sequences that cue the viewer that these visuals are distinct from the actual footage in the rest of the film. These spaces include the inside of a deportation railcar, the women's and men's barracks at Birkenau, and slave labor sites near Auschwitz and Ebensee.
Participants control their own experience as they are immersed in present-day and historic camps, guided by the people who survived them. Visitors have said they do not just see and hear the story through a screen, they viscerally feel it. As viewers bear witness, we hope that they will be empowered to take action in ways that are meaningful to them.
Prior to debuting in the museum's VR gallery, both films received global recognition and awards from a variety of prestigious film festivals, including South by Southwest, Nashville Film Festival, and Vancouver International Film Festival. Knowing the films can elicit strong emotions, we also conducted beta testing before their museum debut to ensure guests have a safe and comfortable experience. The exhibition opened in January 2022 and has received worldwide coverage, including from NBC News, Forbes, and Fast Company.
When we asked visitors about their experience in "The Journey Back," a majority told us they learned something about the Holocaust and said they were likely to share their experiences and what they learned with others. One guest said it's a "better way to visualize and experience, rather than learning about it in a textbook. It is immersive, helps people see what it was like there, and a good balance of modern/past."
Plans for the Future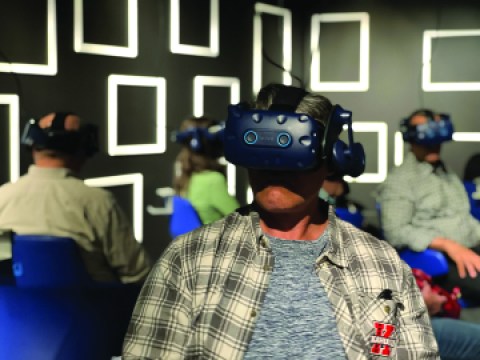 We plan to launch three more VR films in 2023, each with a survivor who experienced the Holocaust from a different part of the world—China, France, and the Netherlands. We are also excited that, unlike our holographic theater, this technology is more easily accessible and mobile, allowing these important stories to be shared around the world. Through licensing to other museums and VR educational platforms, millions of people will be able to journey with survivors to see where some of the most horrific crimes of the Holocaust took place. In doing so, we hope they will connect with history in a profound way while understanding the dangers of silence and indifference.
Survivor Rodi Glass is a subject of one of our upcoming VR films. After viewing the finished product, she removed the headset and with tears in her eyes said, "This is why I did this. It honors my family's history and the history of the Holocaust in Western Europe." As the last generation of Holocaust survivors ages, holograms and virtual reality help ensure their stories will not be forgotten after they are gone.