This post was originally published in 2014 and is republished with updates. Read more about how to get involved in Museum Store Sunday taking place November 26, 2023!
---
I had the pleasure of giving a talk at the Museum Store Association conference in Houston a few years back. My hosts invited me to exploring how, in the future, stores might play a more integrated role in the museum.
I loved this assignment, not least because I've long followed stories documenting museums' often conflicted relationships with their retail operations. See, for example, the fuss that was kicked up over the Takashi Murakami exhibit, staged both at LA MOCA and the Brooklyn Museum. The exhibit was designed around a fully functioning Louis Vuitton store selling Murakami merchandise—which shocked a bunch of people, even though it was entirely apropos of Murakami's identity. A few years ago, the debate over whether the 9-11 Memorial Museum should have a shop at all, and if so, what is it can appropriately sell. (Consensus: not cheese plates.) Even though we all know that nonprofit is a tax status, not a business strategy, we in museums often seem to act as if commercial activity is a necessary evil, something that ought to take place at a dignified remove from the core activities of the organization.
That seems odd to me, as someone both devoted to museums, and to shopping in museum stores. I think museums per se and their stores spring from the same basic human impulse. Somewhere at the heart of the hard-to-define museum identity is the nature of our relationship to objects. My personal theory is that our thoughts, emotions and memories are too big to be encompassed by our oversized mammalian brains. We use objects as receptacles for the overflow, as repositories of memories, feelings and stories.
The museum store is a natural extension of our relationship to the objects we preserve in museums: enabling people to capture and archive their memories, feelings and stories of their visit. In the past, stores did this by selling stuff, and doubtless will continue to do so. But they may also find other ways of fulfilling this function in the future. Sure, in the future stores may sell futuristic "things" (such as Adam Harvey's "stealth fashion") but importantly, they may behave in different ways.
To free up our thinking about the "museum store of the future," let's look at four assumptions that currently undergird the status quo. Stores:
choose what to stock and sell
deal with tangible objects
transfer ownership of objects to customers
are primarily about financial transactions
Let me present the cast that current trends could call each of these assumptions into question.
The Rise of Personalization

What is even hipper than a name brand item? A personalized name brand item. Now you can use photos from your smart phone to customize your Adidas sneakers or iPad covers. And photography in the museum is now ubiquitous—"No photos" is the exception rather than the rule. Technology—e.g., smart phones, Etsy, self-publishing platforms—that enables people to make and sell their own sharables could be seen as competition with traditional store products. (True confession: sometimes I generate my own postcards with the Postagram app, and send from inside a gallery during my visit, no stamp necessary.) But visitor-generated digital content is also an opportunity to invite people to put their own personal stamp on the museum brand.
Perhaps in the future: in addition to choosing merchandise to stock and sell, museum stores encourage visitors design their own personalized products, using the museum's resources. A store could offer print on demand services (for e-publications or physical books) in which visitors' combine their own photos with museum images, and add their own text. In short, the store could create the in-house retail equivalent of the Rijksmuseum's radical invitation, via their Rijksstudio, to "take our stuff and do anything you want with it" (including creating temporary tattoos or decorating a car). The museum store becomes a point of access to the museum's open resources.
The Maker Movement and Accessibility of Digital Resources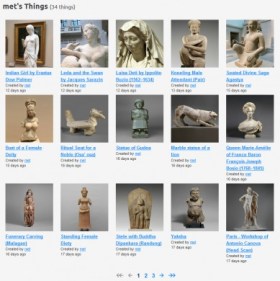 Mass personalization is made possible, in part, by the increasing sophistication and plummeting costs of technologies like 3D printing that transform digital data back into physical objects. Increasingly, museums are capturing and sharing digital data (2D or 3D) about their collections, and people are becoming more sophisticated about manipulating digital content—whether it's cropping & applying filters to an image file, manipulating up digital data to create their own 3D creations.
Perhaps in the future: In addition to physical objects, museum stores will vend data. Free content is great (when it is subsidized) but maybe there is also a place for paid premium digital content—early access to newly scanned acquisitions, for example, or higher resolution images. Or the museum store may also become part maker lab, helping people choose and manipulate  data to create their own personalized objects. The store becomes a partner in co-creation.
Use rather than Ownership
One of the trends I'm following closely is the rise of the "sharing economy."  What role can museum stores play in a future that values access over ownership? In TrendsWatch 2014, I list just a few of the many instances of "art sharing" programs run by museums. I also cite the Museum of Vancouver's Swap-o-rama-rama as an example of a museum choosing to play a part in the entire life-stream of products by serving as a site for exchange of goods.
Perhaps in the future: museum stores facilitate sharing and reuse, at a larger scale, and in new ways. Museums might create collections of historic cars or tools, for example, for loan to the public in order to cultivate a constituency interested in deeper engagement with the subject. People may value the chance to tap into museums' knowledge and expertise, and connect with fellow enthusiasts, as well as the opportunity to use stuff they don't want to (or can't afford to) own. The store joins the growing economy of organizations matching underutilized resources with willing users.
New forms of currency
Data has been dubbed "the new oil"—a gushing human-generated resource that can be monetized in many ways. Clicks on a web page translate into advertising revenue. More subtly, information about individuals is transformed into personalized, highly targeted marketing. Data helps companies refine their products and services, making them more valuable.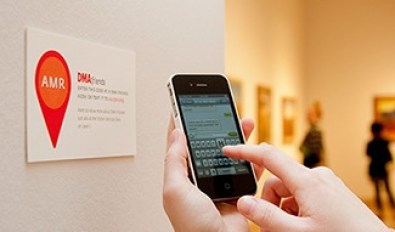 Our algorithmic ability to find meaning of the mass of data we generate fuels advances in fields as diverse as law enforcement, medicine and disaster relief.  Museums are already starting to play in the realm of big data, using analytics to build visitor engagement and loyalty,  personalize communications, and track impact.
Perhaps in the future: museum store clerks will ask "will that be cash, credit, or personal data?" That's a flippant way to frame a serious challenge: not how to configure the checkout register, but how to integrate the store into the whole ecology and economy of the museum. The stores becomes one of many facets of the museum responsible for interfacing with visitors, playing a role in the exchange of personal data for valued experiences, the collection of metrics on behavior and participation, the sharing of expertise and information, and deepening visitor engagement overall.
My only disappointment in my time at the MSA meeting was that most of the attendees were (no surprise) people who manage museum stores. The challenge presented by this presentation—how to integrate the store more deeply into the museum's operations—is one that needs to be tackled by the museum as a whole, including directors, CFOs, educators, experience designers, and evaluators.
So I'm going to end by asking you some questions I lobbed at the MSA attendees, and encouraging you to share them, along with this essay, with you museum's leadership and the staff of all departments. I hope you report back on some of your collective answers in the comments section, below.
Warm-up questions:
Name one thing about museum stores that is true now, that you think will not be true (or will be rare) in 20 years.
Name one thing you see just beginning to happen in retail (museum or otherwise) that you think will be mainstream in 20 years.
And the heavy lifting:
What do you think is the "core identity" of your museum's store–the essential role it plays in your operations?
How might that role be fundamentally different in the future
Skip over related stories to continue reading article