When I was packing to head to Phoenix for AAM2018, I stuffed my suitcase full of dresses to be ready for the Arizona heat, jackets to be ready for the convention-center air conditioning, and a whole bunch of different pens and highlighters to use for visual note-taking, or sketchnoting.
#Sketchnotes from Ericka Huggins' address at #AAM2018. #AAMSMJ pic.twitter.com/dlsAgJHXOV

— ? shaelyn amaio (@heyshaelyn) May 8, 2018
Sketchnoting is the process of using illustrations, shapes, lettering and other visual elements to summarize the main points from a talk or panel and help show a hierarchy of ideas in a glance. I have always doodled in the margins of my notebooks, but I decided to begin channeling that into sketchnoting at conferences a few years ago. I have found that sketchnoting helps me get more out of conferences in a few ways:
Focus: Representing ideas visually requires a) time and b) space, so, while you're listening, you also have to synthesize what you're hearing and record it in an appealing way. This means that you're focusing much more on the information than if you're just writing down everything you hear.
Cohesion: When you're done, you'll have a clear, concise, lovely view of whatever you just listened to.
Fun: To be totally honest, the rhythm of someone talking while I'm snuggled up under a scarf in a cool conference room is prone to putting me right to sleep. But sketchnoting keeps me engaged and keeps me alert.
Better Recall! Because you've been actively listening while recording and because you can now visualize the page to remember what was talked about.
When I sketchnote at conferences, I get a lot of questions and comments from the folks around me in different panels, and great responses when I post photos of the finished product online. In fact, I attended a #MuseumEdChat meetup in the MuseumExpo at AAM this year where I ended up giving a quick-and-dirty tutorial on how I sketchnote, and thought it would be fun to share some of my tips here.
GETTING STARTED WITH SKETCHNOTES
Practice First: When I'm gearing up for a conference or feeling a little rusty about sketchnoting, I like to take visual notes during a webinar. It's a timed talk not unlike a keynote or panel at a conference, but I'm comfy-cozy at my desk with no one looking on and a full array of office supplies within my reach.
About Those Supplies: Everyone I know who takes sketchnotes has different preferences for supplies – and it takes some experimentation to find what works for you! I like to use a spiral-bound notebook with unlined paper (my favorites come from Muji, but I've also loved plain sketchbooks from office or art supply stores) that's big enough to use comfortably on my lap when I don't have a table, but small enough to fit easily in my bag. I prefer felt-tip pens with permanent ink and regular highlighters for a pop of color, but if you're less likely to lose expensive art supplies than I am, feel free to experiment with nicer markers and pens.
Practicing Flair: Before you get started, you'll want to have in your sketchnoting arsenal some shapes, illustrations and other visual elements to use for emphasis and to connect ideas to each other. In most situations, I use thought and speech bubbles, banners, and a variety of shapes to complement my notes. These can be simple squares and circles, or expand to elaborate flags with three-dimensional details showing them waving – as you get more comfortable, you'll likely play with more things!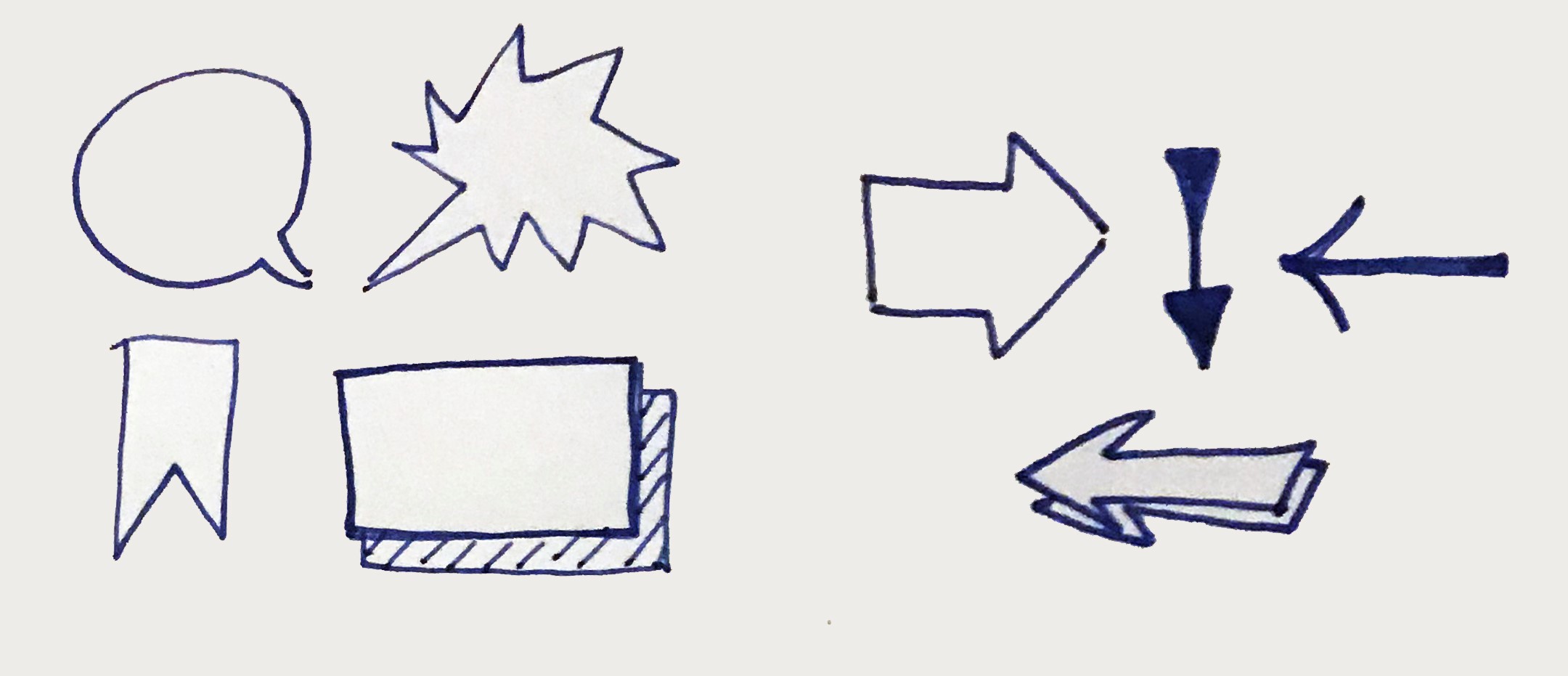 Sometimes, I'll get fancy with a sketch of the speaker at a keynote, or with little faces or figures reacting to or acting out ideas. I tend to really simplify faces down to quick shapes and lines, and a quick way to sketch people is imagining they're shaped like a 5-pointed star with a circle on top for a head!

While I take most notes in my neatest all-caps printing, I also like to use fancier lettering to emphasize big ideas or title different parts of my notes. A cheat for drawing cursive lettering is to thicken the line everywhere you've made a downward-stroke when writing out a word.
SKETCHNOTING LIVE
When I settle in before a conference session I'd like to sketchnote, I usually take a few minutes to make sure my supplies are in easy reach, either on the table in front of me or the chair beside me. If I have time, I like to write out a few things at the top of my sheet before the session begins: the title of the session, speaker names (and social media handles if they're available to you!) and the conference name and date.
One of the hardest things when it comes to sketchnotes is making sure you don't fill a page too quickly or leave a lot of empty space at the end. I like to imagine that I've divided the page roughly into thirds. As the talk goes on, I can keep an eye on the clock and see if I'm filling a third of the page in the first third of the talk, and so on.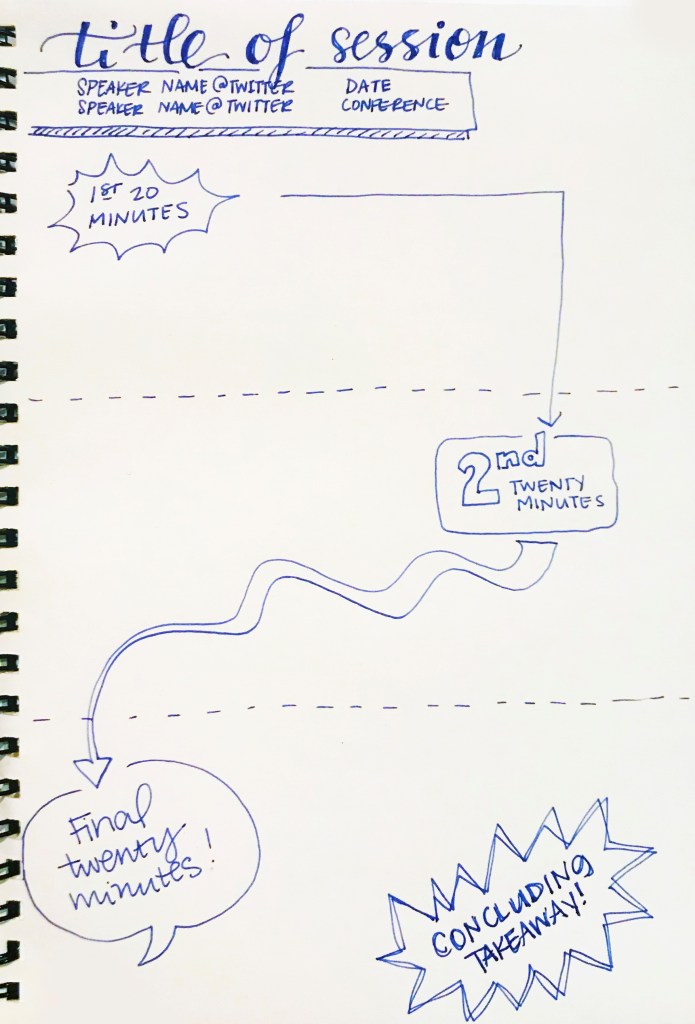 If a speaker has slides, they can be helpful in defining the main ideas of the session, but I prefer to just listen to the speaker and note those ideas that they linger on or which stick in my mind. As the talk progresses, I try to show relationships between points using arrows, boxes, and flowcharts. I also like to try to replicate diagrams or charts featured on slides or described by the speaker in my sketchnotes – though usually in a simplified form! Remember, you're trying to cover a lot of paper in a pretty short amount of time, while keeping up with a speaker who's probably sharing some big ideas! Mistakes happen, and I usually just cross things out and keep moving, figuring it's part of the process. Not everything you draw is going to be a masterpiece, and that's okay!
I usually wait until the end of a session to go back through my notes and add color with another pen or a highlighter. I really like to be able to see how the page has taken shape and use the color to add emphasis and detail – and sometimes to add elements like boxes or call-outs!
Skip over related stories to continue reading article
It can be tricky to listen, simplify, and synthesize ideas during a live lecture, so sometimes I take just text notes and go back to create visual notes at the end, especially if I know I'll have some time right after the talk. I find it's best to create sketchnotes while ideas are fresh, and when you might be able to remember the way a speaker said something – or the way an audience reacted to something – which might impact the way you represent that note visually.
Sketchnotes will never be as faithful or full a summary of a lecture as text notes. However, I find them to be profoundly evocative – when I look at the sketchnotes I created at the AAM Annual Meeting this year, I can remember the type of room a conversation took place in, what the panelists looked like, who was sitting near me, and more details from the conversation itself that I don't get from my text notes. And I think they add to the richness of information I can share out from conferences like AAM's Annual Meeting, providing an overview of a session all on one page.
I hope you'll consider sketchnoting the next webinar, conference session, or talk you attend! It's a fun way to learn, record, and share your experiences. Here are a few of the pages of sketchnotes I shared out from AAM2018. If you search the #sketchnotes tag [https://twitter.com/search?q=%23sketchnotes&src=typd] on twitter, you'll find lots more from all different visual note-takers that you can use for inspiration for your next – or your first! – sketchnoting adventure.
#Sketchnotes from Impact & Scalability: Building Engagement into Every Museum. #AAMSMJ #AAM2018 pic.twitter.com/XBKappg9w5

— ? shaelyn amaio (@heyshaelyn) May 6, 2018
My first #sketchnotes from #AAM2018! And some sweet, sweet convention center carpeting. Thanks for a fun session, @vexgroup! #AAMSMJ CC: @Wittwering pic.twitter.com/5xFWdZk5Os

— ? shaelyn amaio (@heyshaelyn) May 6, 2018
---
Shaelyn Amaio is the producer of public programs & community engagement at the New York Transit Museum. Shaelyn has been a public experience advocate since her days operating rides at an amusement park in Connecticut. She has worked in education at museums and tourist destinations in the Northeast and the Deep South and has also held roles in project management and content development at design and consulting firms in New York City. Follow Shaelyn on Twitter and Instagram @heyshaelynwas
Shaelyn also served as a Social Media Journalist for the AAM Annual Meeting in Phoenix.