"The human species thinks in metaphors and learns through stories."
—Mary Catherine Bateson
TrendsWatch 2018: The Scenario Edition has been released into the wild! This installment of the Alliance's annual forecasting report takes a break from our usual format. Rather than exploring five or six trends and their implications for society and for museums, this year I present four stories of the future, designed to strengthen museum planning.
Futurist fiction is enjoying a resurgence of popularity as readers discover or revisit classics such as George Orwell's 1984, Margaret Atwood's The Handmaid's Tale, and Octavia Butler's Parable of the Sower. These books command our attention because they provide a lens through which to process current events. Even titles that are almost a hundred years old (Aldous Huxley's Brave New World was published in 1931) raise issues of burning relevance today. What happens when technology gives government the tools to monitor our behavior, speech, even our very thoughts? Is social progress linear, or could we lose many of the basic human rights we've fought to establish in the past century? If we continue on our current path of growing inequality, environmental degradation, and political divisiveness, what kind of world will we create? Dark imaginings can make us hesitate before continuing down that path, while utopian fiction like Always Coming Home (Ursula K. LeGuin), Woman on the Edge of Time (Marge Piercy), and Pacific Edge (Kim Stanley Robinson) encourages us to work towards peaceful, equitable, and ecologically sane futures.
What does fiction have to do with the practical application of future studies? Everything, as it happens. I believe that good futurist fiction tells the truth about things that haven't happened…yet. While it is important to share the relevant facts and figures, storytelling is the beating emotional heart of strategic foresight. We often go through life with an unexamined assumption that the future is going to be more or less like the present, except with better technology. By immersing us in many plausible futures, fiction can challenge this assumption. Stories help us surface and confront our fears. They encourage us to dream big, to ask how our best version of the world could come true. And they disrupt complacency, making us realize we have both the power and the responsibility to shape our future.
The stories created by futurists are called scenarios, and sets of scenarios, exploring a range of possible outcomes, are critical planning tools for government and industry. One motivation for founding the Center for the Future of Museums (CFM), back in 2008, was concern on the part of the Alliance's Accreditation Commission that museum planning is often short sighted, failing to anticipate and adapt to a rapidly changing environment. As we mark CFM's 10-year anniversary, it seems high time that our sector have our own set of scenarios to help museums navigate an uncertain future. With the help of many creative thinkers, I collected diverse story threads that explore the Cone of Plausibility, and wove them into the scenarios presented here.
These stories can be used in a myriad of settings. Some options to consider are:
Hosting an informal lunchtime discussion for staff, focused on one scenario and structured around the questions provided at the end of each chapter.
Devoting time at a board meeting to an exploration of how these scenarios apply to the museum they govern.
Encouraging staff to contribute news items and stories to a fictional version of the museum's newsletter or in-house communications platform that explore what the museum is like in one of these versions of 2040. (For inspiration, see the special issue of Museum magazine, Museum 2040, featuring articles based on the scenario "A New Equilibrium.")
Using TrendsWatch 2018 to create one or more extended exercises as part of your strategic planning process.
It is my hope that we will see many museum plans become stronger, more resilient, and more future-proof as a result of this resource. In the coming year, I look forward to helping museum folk explore how to use this resource in their own planning. (If you are interested in bringing to your conference or museum, for a lecture or a workshop, please send me an invitation via the form on the Alliance Advisors webpage. Yes, there is a fee for these presentations—this income helps underwrite the free distribution of the TrendsWatch PDF.)
Go—download, read, discuss, debate, and share your ideas for guest posts riffing on these futures (a la Museum 2040). Let's work together to build the best possible future.
          Yours from the future,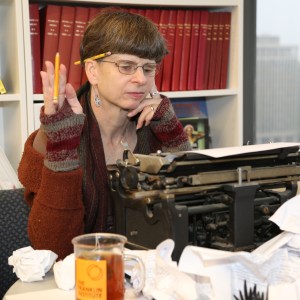 Elizabeth
Elizabeth Merritt
Vice President, Strategic Foresight and Founding Director,
Center for the Future of Museums
American Alliance of Museums
Skip over related stories to continue reading article