How is AI going to impact the future of museum work? How can museum professionals prepare for future technologies? What will be the next breakthroughs in AI technology for museums?
This post, one of three on the topic of artificial intelligence in museums, explores those questions, with information pulled from a live convening I attended.
The Knight Foundation and the American Alliance of Museums hosted this series of convenings about technology topics at museums around the country this fall. Rob Stein, AAM's executive vice president and chief program officer, approached the AAM Media and Technology Professional Network to help conceptualize these convenings. After much discussion, the M&T working group identified two large areas of focus: Experience/Immersion, and Data/Artificial Intelligence. The convening I cover in these posts, on the theme of Museums and New Intelligences, took place in November at the Pérez Art Museum in Miami.
The first post served as an introduction. In this second one, I'll provide some structured thought exercises you and your colleagues can use to consider the future of AI. I'll also offer some reasons why such exercises are useful for museum professionals in all disciplines.
Skip over related stories to continue reading article

The future is not written in stone, but it is being written continuously every day. #quote @danielmorena #MuseumsandAI

— Seema Rao __ Brilliant Idea Studio (@artlust) November 1, 2018
Introduction
The future is hypothetical until you realize it is already here. Or, said differently, the seeds of every possible future exist within our society. There is no one given future, but instead many possible ones. Everyone alive today has a hand in the shaping of this future. Think of purchasing power. Many possible technology futures have come and gone due to consumer disinterest (Betamax and eight-tracks to name a few).
Only a Svengali might claim to forecast the far future, but most people have the power to consider the near future. Our 2006 cultural consciousness likely could not conceive of the ubiquity of smartphones. But any person in 2008 could have posited the near future for smartphones. Many of their predictions would have come true.
Among the most useful aspects of Museums and New Intelligences were the two active-engagement experiences that Elizabeth Merritt led to help us consider the near and far future.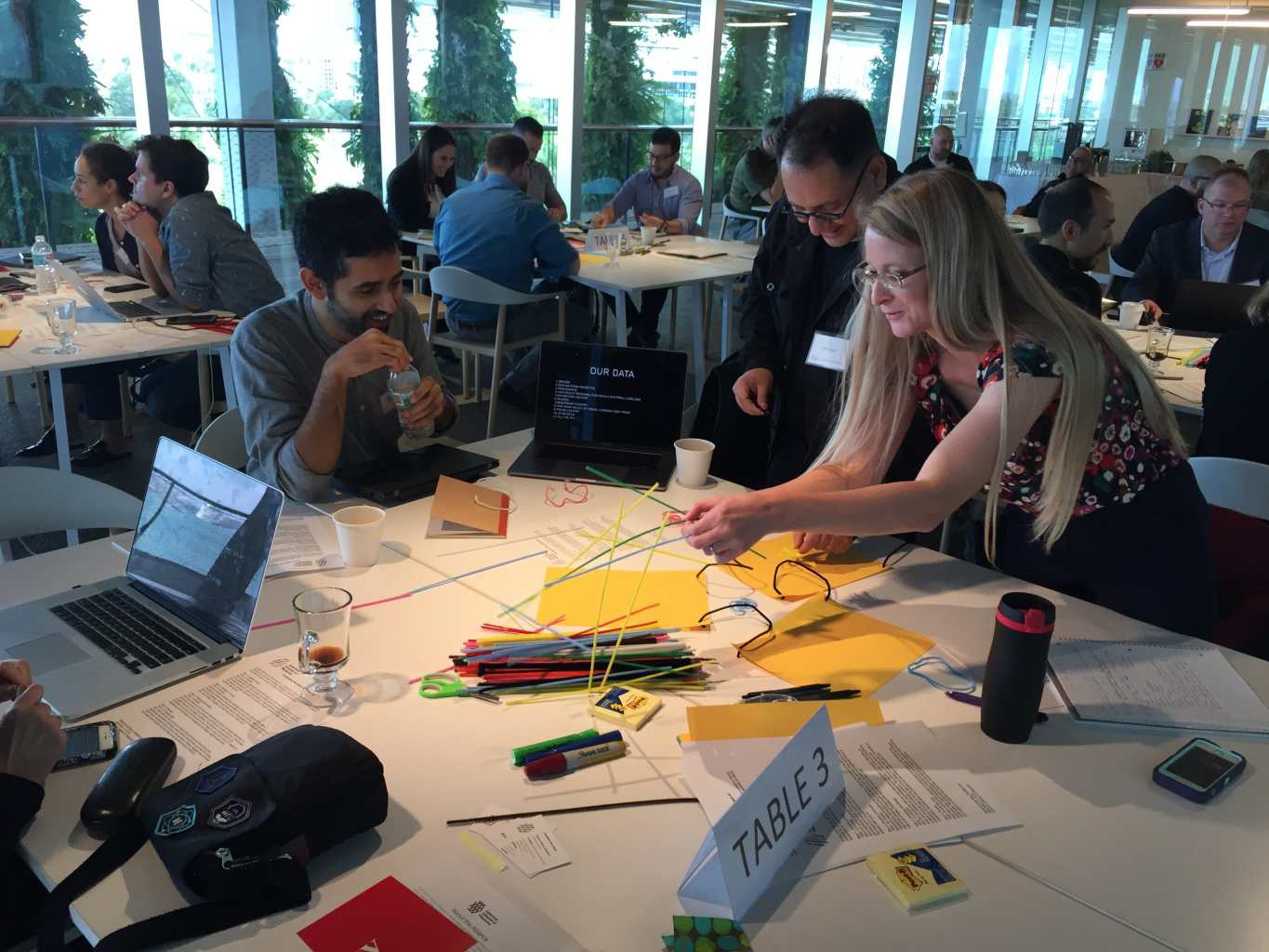 The Near Future and Solving a Problem
Many teams now use ideation and prototyping as part of their working processes. In that process, described broadly, teams brainstorm ideas about a particular problem to develop an expansive list, winnow this list down to a single compelling one, and then plan a solution for that idea. In Elizabeth Merritt's exercise, we were divided into teams and asked to solve a problem in our museum community with AI:
Start by brainstorming problems in our field
Choose one to solve with AI
Plan the solution
Sketch/prototype the solution
Before describing some of the problems and solutions the convening attendees discussed, it would be useful to describe what AI is. Kristen Summers, technical delivery lead for Watson implementations in the public sector at IBM, developed a good graphic to explain the types of uses of AI:
What exactly is AI? @IBMWatson helps explain. It's used tech to help answer questions (analyze) #MuseumsandAI pic.twitter.com/4oEv6BtaMt

— Seema Rao __ Brilliant Idea Studio (@artlust) November 1, 2018
As Summers said, machines are getting better at analyzing many forms of input, including visual, textual, and oral. AI will continue to improve as the scale of data increases. Every aspect of human communication is being "read" and mimicked by machines, including speech, sentiment, and images.
I am loath to impact your enjoyment of trying out Elizabeth's thought exercise for yourself. So, I will only briefly share what the people in attendance came up with. Of all the teams, each came up with a solution that could be implemented with the current state of AI. Two teams tried to solve the essential quandary of museum professionals: How do you get more visitors? They both had slightly different approaches, but basically, each saw a chance to use data to develop a sort of personalized event recommendation engine.
I want to underscore the fact that this was only thirty-odd museum technology professionals brainstorming ideas that could be implemented within the current state of AI. It is hard, near impossible, to plan for an unseen future. However, it is infinitely easier to try to think about reconfiguring what you know about the present to plan a near future. This lesson is incredibly important for museum technologists. AI is already here. You already have the ability to come up with solutions employing AI that you could actually implement.
Looking at the Far Future and Possible Problems
Elizabeth Merritt also led a wonderful session to help us move past the near future into the far future. Elizabeth does this exercise as one of several futurist exercises that she leads at conferences and museum gatherings. You can learn more about them here and here or join her on the last day of the annual meeting to try them yourself at the Center for the Future of Museums' annual gathering.
In this particular exercise, each group posited many possible futures for a particular AI technology. We looked at the near future, a mid-period future, and a far future. Teams considered a facet of today's AI, stepped their way into its implications for the near future, and then systematically considered the possible ramifications as time went on.
This type of thought exercise is imperative for practitioners in our field. Firstly, it helps people understand that the future is not set in stone, by prompting them to articulate a set of possibilities, and reminding them that there is no single certainty. Secondly, looking at the future through a series of phases helps you move past what you think will happen in the next couple years to the vast possibility of what could happen in the far future. For example, consider facial recognition. It might be overwhelming to imagine the ramifications of facial recognition on life fifty years from now. But, I bet you could make a few guesses about how facial recognition could impact life in five years.
Elizabeth's exercises also asked people the negative and positive elements of the technology in question. For example, facial recognition has many positive uses. Social media uses facial recognition to automatically tag people. Of course, facial recognition has more complicated uses. Law enforcement uses facial recognition in criminal enforcement, yet this AI tool has been shown to have bias causing it to misread people of color. For every good aspect of technology, there is a bad facet. Ignoring the bad will not make it disappear and might exacerbate the problem. Moreover, considering the negative aspects of technology can help alleviate fears and uncertainties about it.
Conclusion
While you might not have had the pleasure of joining the attendees at the Perez in November to brainstorm about the future of AI in museums, you can still explore these issues at your institution. When you are doing this, consider discussing these issues in groups. Your conceptualization of the problem and its solutions can be vastly richer when done in concert with peers. Try to be broad and deep in your exploration of the idea. Consider both the negative and positive of all of your ideas. Look at the near future but also the far one. In other words, let your mind take you to all the possible outcomes. After all, your work today is the beginning of the future.
Here are some thought exercises that you might try:
Imagine you could start collecting all artwork data (like educator lesson plans and social media data) in an organized manner with no additional labor and no internal argument. How would this change museum work in the upcoming year? In five years? In ten years?
Imagine you could work with peer museums to aggregate visitor trends by the standard (census) demographic categories. How would this change museum work in the upcoming year? In five years? In ten years?
Imagine that computer vision could accurately connect descriptors to collections (in ways that won't make curators pull out their hair). How would this change museum work in the upcoming year? In five years? In ten years?
To learn more about this event, please see: Museums and New Intelligences.