Ninety-six percent of art museums offer single-visit school field trips, and many also provide professional development opportunities for teachers. While a recent study indicates that these single-visit trips have a measurable impact on students, what could deeper, long-lasting engagement accomplish? The Hammer Museum is implementing that practice with its Classroom-in-Residence program, which brings students and their teachers into the museum for a full school week of activities related to the museum and its exhibitions. Read below to learn why this program won the EdCom Award for Excellence in Programming!
—Veronica Alvarez, EdCom Leadership Awards Chair
---
I feel like art is going to help me throughout my life.
– 2019 Classroom-in-Residence student
A plate of "three rocks with crumpled paper wad." A dish containing a 45-rpm vinyl record. A "Patti Melt" comprising an image of country music singer Patti Page plus a few toasted marshmallows. These are the types of dishes that were served up in a Los Angeles storefront by conceptual artist Allen Ruppersberg in his 1969 work Al's Café. The original set of these non-edible meals was on view in the Ruppersberg retrospective at the Hammer Museum this spring. When I first heard about the exhibition, I wondered how Los Angeles students in 2019 would relate to this conceptual work of art from the 1960s. Would they wonder why it is considered art? Would they be able to connect with the humor in the work? Would they even know what a record is?
It turned out that Al's Café was incredibly engaging for students of all ages. During guided visits to the Hammer, school groups sketched a range of playful and light-hearted meals inspired by Al's Cafe. But while this activity offered a fun way to connect to the work, a brief stop on a one-hour tour can only go so far.
This is why the Classroom-in-Residence at the Hammer (CRH) program is so powerful. Instead of a typical one-hour tour, students participating in the CRH program visit the galleries every day for five consecutive days. During that time, they grow comfortable in the museum space and connect more deeply with program staff and works of art in ways that can only be accomplished over an extended period of time. The resulting student connections have been profoundly personal and moving.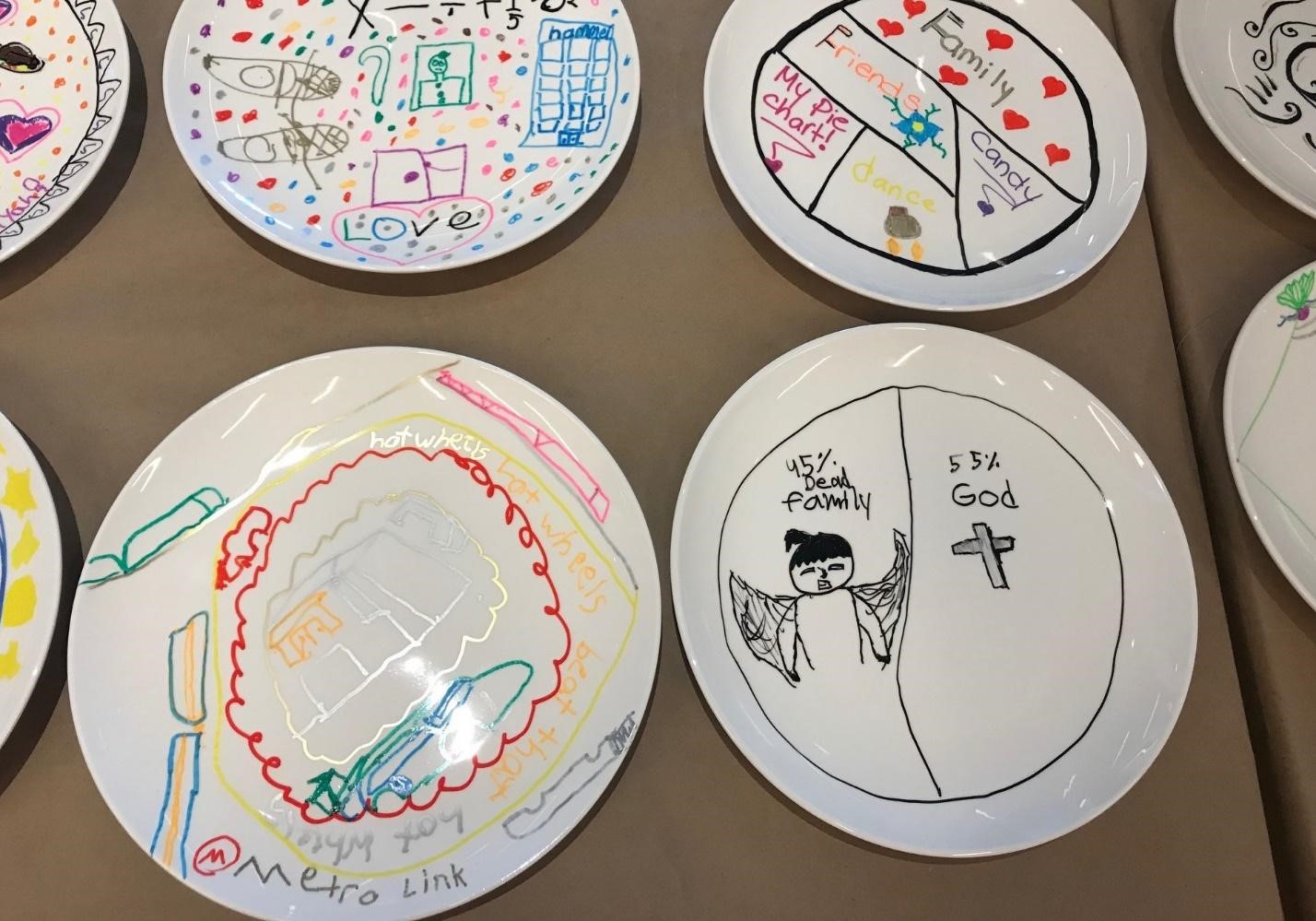 For example, one fifth grader began the residency despondent and disengaged. On the final day, he divulged to a CRH educator that his brother had recently passed away, and the educator encouraged him to channel his grief into his art project—a Ruppersberg-inspired plate to represent their lives. While the rest of the class created vibrant plates adorned with colorful images of hobbies, sports, and family, the grieving student created stark images representing his loss. The level of trust and openness established during the multi-day program enabled him to work through personal challenges, focus on his assignment, and ultimately create a powerful artwork.
I was poignantly reminded that students cannot open their minds to learning when their spirits are broken. Art has the power to mend broken spirits, which makes it an essential component of successful learning. And yet arts instruction has been a frequent casualty of budget cuts in the Los Angeles Unified School District, in which approximately 82 percent of students qualify for free- or reduced-price meals and more than seven thousand students are in the foster care system. In the CRH application process, we prioritize underfunded Title I schools that lack arts programs and could especially benefit from arts opportunities to increase student engagement. We aim to offer arts instruction to those who need it most.
What is Classroom-in-Residence at the Hammer (CRH)?
Now in its eighth year, CRH is a student, teacher, and university program designed to strengthen student and teacher learning about art through a weeklong immersive experience at the Hammer Museum. Instruction is taken out of the traditional classroom and into a new, arts-rich environment. The program is a collaboration between the museum, the Visual and Performing Arts Education Program (VAPAE) of the UCLA School of the Arts and Architecture, and two teachers from Title I schools in the Los Angeles Unified School District (LAUSD). Because of this unique collaboration, LAUSD students receive instruction from museum staff, UCLA students and faculty, and the person who knows the students best—their own classroom teacher.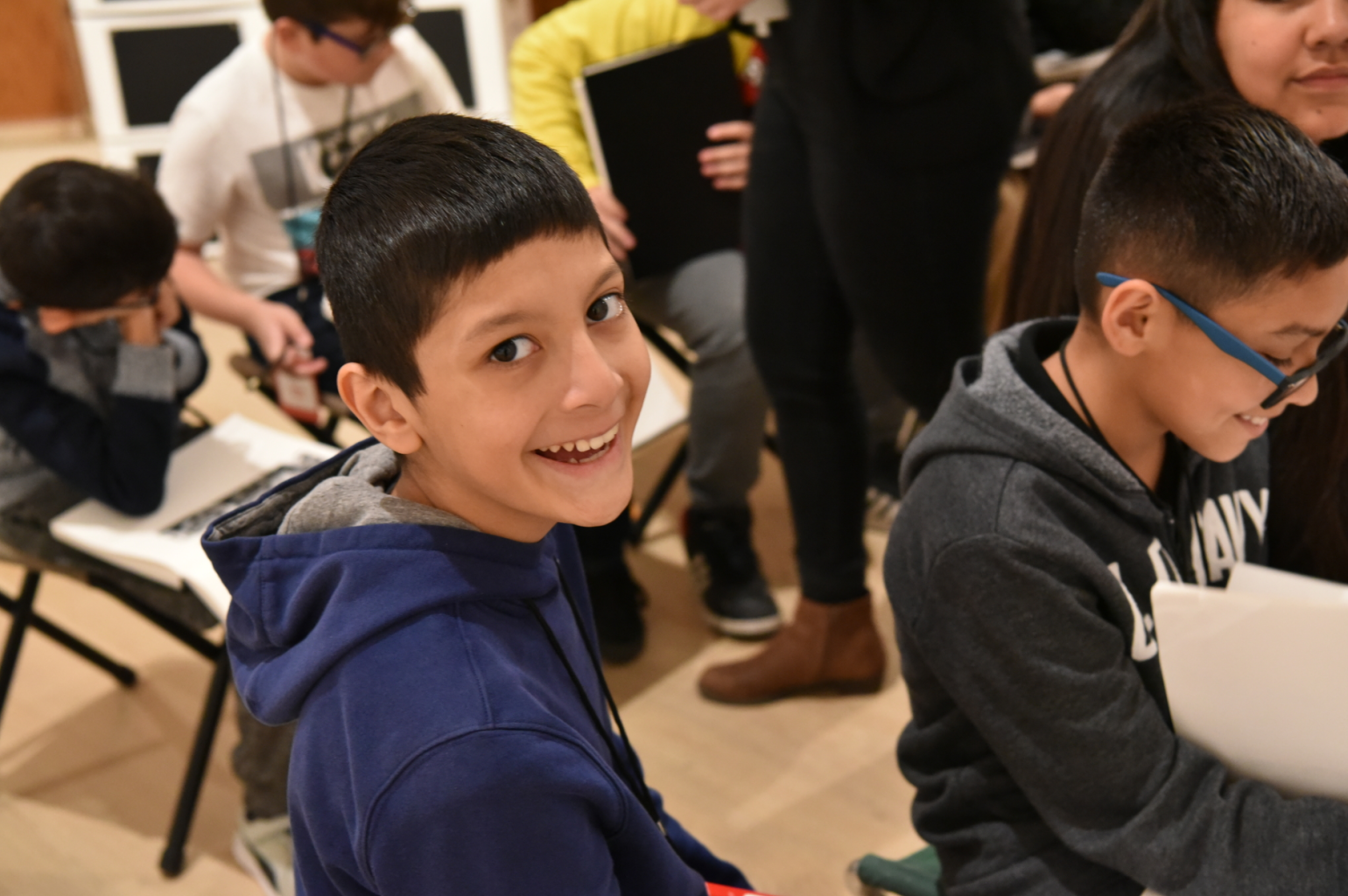 Every year, two fourth, fifth, or sixth grade teachers and their students spend five full consecutive days at the Hammer, with subsidized buses and lunches. Their time at the museum is organized in instructional blocks similar to the school day and includes cross-curricular connections to original works of art, movement and visual artmaking activities inspired by the art and the museum setting, and presentations from museum staff across departments.
The unique five-day format is critical to the program's success. A multi-day residency offers students the excitement and stimulation of a new learning environment while also providing structure. The class is able to settle into a routine and focus on their learning. During their residency, students learn to examine an artwork for an extended amount of time and make evidence-based inferences about what they see. One classroom teacher noted:
"The strategies we learned and used in the galleries and the classroom made [students] think in a different way, give answers in a different way…it wasn't hands shooting up to be the first one to provide an answer, any answer, it was a deep examination of what they thought and why they thought it."
This arts instruction is not limited to the museum space. Before and after the residency, UCLA students who are emerging teaching artists go to the schools to teach art lessons that had been reviewed by faculty. For UCLA students in the VAPAE program, the program offers an invaluable opportunity to gain hands-on experience teaching in the community. CRH is a program in which all partners walk away learning more.
Offering Art Experiences to Hundreds of Students through Two Teachers
To best prepare students for this immersive, arts-rich experience, teachers receive eight months of professional development, beginning with a three-day summer institute. This way, months before students set foot in the museum, generalist and humanities teachers are already implementing arts integration strategies that they learned at the institute. Throughout the academic year, teachers receive one-on-one guidance on their art lessons from Hammer staff. This customized professional development has long-lasting impact on teachers, who are able to incorporate art into their curricula long after the residency is over. Ultimately, hundreds of students receive arts instruction annually that they wouldn't have received otherwise.
As a result of participating in the program, one teacher noted:
"Before this program I didn't have any clue how to integrate the arts in my classroom—I thought of the arts as something separate, something extra, that I didn't have the time or the experience to do. Now I can integrate the arts into anything I teach…and I am integrating the arts in some way almost daily. This changes everything!"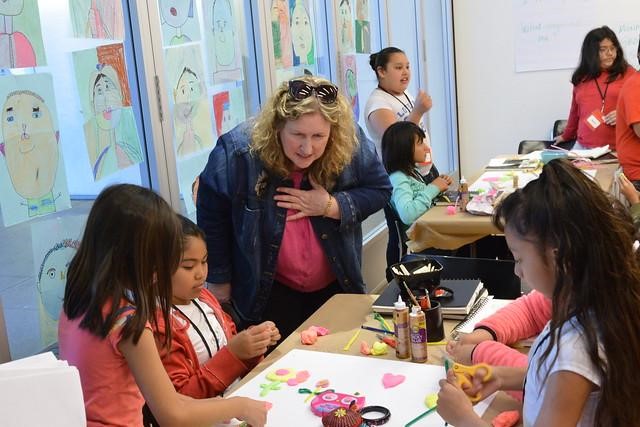 This fundamental shift in teaching practice is common for teacher alumni of the CRH program. During a convening of alumni that we hosted last year, teachers reported that participation in the program increased their confidence in visual arts instruction and influenced their overall classroom culture. Learning in and through the arts encourages a growth mindset, flexibility, and a willingness to experiment, collaborate, and identify multiple solutions to a problem. Seeing these benefits first-hand also impacted other aspects of teachers' work, such as setting up their classroom in ways that maximize flexibility and collaboration and becoming advocates for the arts at their schools.
Demystifying the Museum
When I was growing up in Baltimore, I remember occasional trips to the aquarium or science center with classmates or family, but I don't recall visiting an art museum until I was in high school. My first memories of art museums include being intrigued by the distorted limbs of Matisse's reclining nudes at the Baltimore Museum of Art and feeling in awe of the marble sculptures at the Walters Art Museum. I also remember feeling like I wasn't sure how to act in these quiet, austere spaces. It wasn't until many years later, after actually working in museums, that I figured it out: apart from being aware of gallery policies like not touching the art, there is no one right way to act. Just like anywhere else, being yourself is the best way to behave in an art museum. I wish someone had told me that when I was growing up.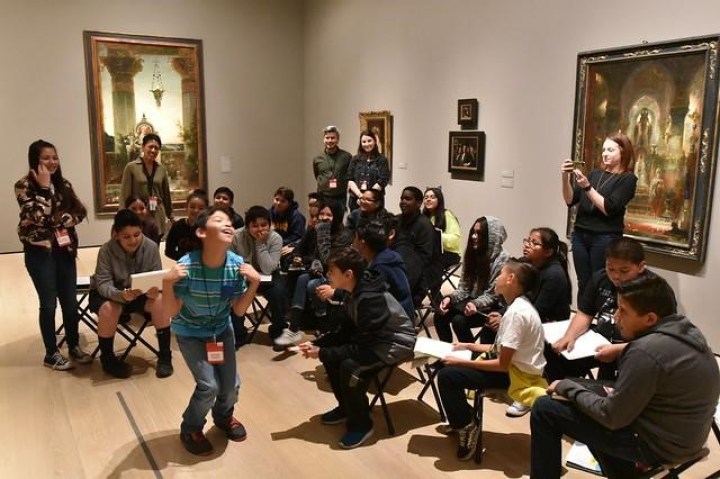 Programs like Classroom-in-Residence at the Hammer help to break down barriers to feeling comfortable in institutions that may be unlike any other space that a child has visited. Through presentations from museum staff across departments, students come to associate museums with friendly people with inspiring arts jobs rather than just buildings that house objects. Through a variety of interactive activities in the galleries, students learn that their ideas about works of art are just as important as an expert's analysis, and that galleries are places where you can have both quiet contemplation and fun with friends. And from the multiple sessions with educators invested in students' learning, students can truly feel at home in the museum.
Many students have experienced a field trip to a museum with a one-hour tour, but very few have the opportunity to learn in a museum for several consecutive days. If we truly invest time and resources into the communities we serve, life-altering experiences are possible in cultural spaces, as evidenced by this student reflection, which was written at the end of the program: "I feel good about art because it changed my life. Also it changed how I feel about art. I love art so much."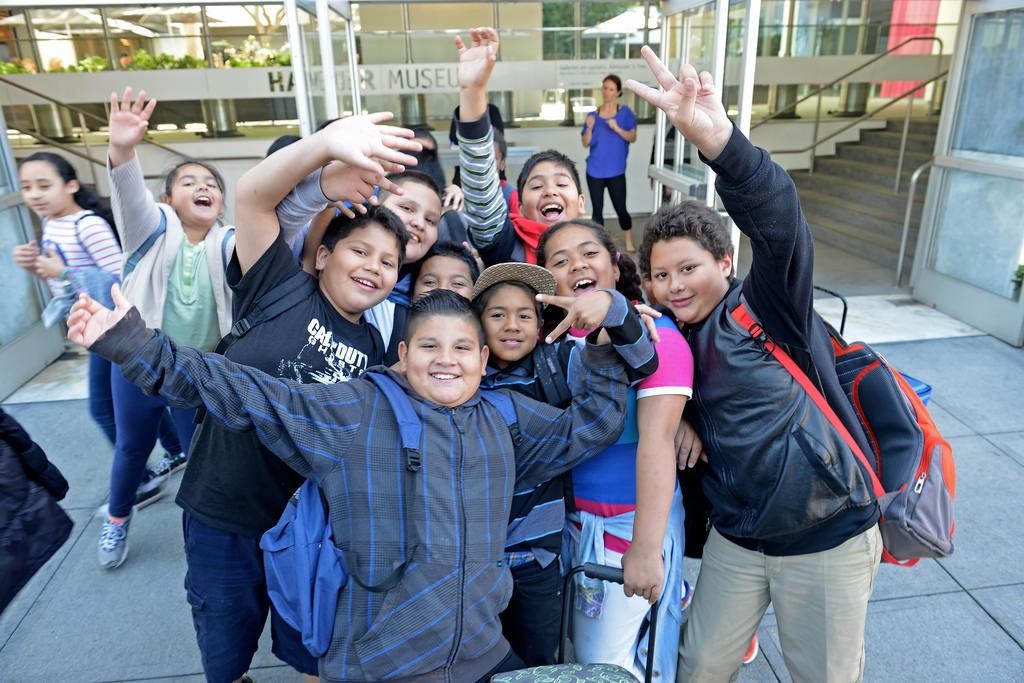 Skip over related stories to continue reading article