Earlier this year, as quarantine fell upon the US, Crystal Bridges Museum of American Art and its satellite contemporary art space the Momentary—both located in Bentonville, Arkansas—wanted to determine how best to help our region's vulnerable communities and bridge the equity gap created by the effects of COVID-19.
After speaking with several community partners and assessing resources, we identified the need to foster connections with vulnerable, isolated groups, such as patients in hospitals and residents in senior care facilities.
The result was a Social Connecting Campaign, the components of which included a community-wide postcard campaign to more than 3,600 recipients, original artwork commissioned from nine local artists, and an art exhibition that traveled to twenty-two sites around Northwest Arkansas, made possible by the museum's partnership with University of Arkansas for Medical Sciences (UAMS)'s Community Health and Research team and Schmieding Center for Senior Health and Education.
As more organizations look for ways to connect with their local communities in the era of social distancing and beyond, museums may consider low-cost, high-impact projects that align with their missions, mobilize community members and partners to get involved, and spread messages of hope, comfort, and creativity, as outlined in the steps here.
1. Reach out to community partners to determine needs.
Skip over related stories to continue reading article
As Crystal Bridges and the Momentary assessed how to best help the community during quarantine, we turned to our community partners―an assortment of regionally based organizations from a variety of industries that weigh in on community needs. We realized the need for a Social Connecting Campaign through a series of community listening sessions with partners from UAMS's Community Health and Research team and Schmieding Center for Senior Health and Education.
Community partners raised concerns about the negative effects of isolation for seniors, healthcare workers, and hospital patients. They were enthusiastic about using the arts to provide comfort and joy during this difficult time and to support mental health and well-being. This need aligned with the Crystal Bridges' mission and resources, making it a great opportunity to pursue. Museums can actively seek out input from community partners and leaders to assess the community's needs and determine how the museum's offerings and mission can help to meet those needs.
2. Determine project scope and goals that fit within the organization's mission, and get creative!
As team members brainstormed meaningful ways of connecting the public and those most isolated during this time, their minds turned to one of the most reliable and appreciated forms of communication: postcards. In an effort to support local artists, the team reached out to local artists to create designs for the postcards and a temporary art exhibition that would be displayed at selected facilities.
Nine local artists were commissioned to create an original artwork inspired by the word "TOGETHER." Their interpretations ranged from personal reflections on the word and separation from family and friends, to broad messages of hope in coming back together again with love. Their designs were inspired by images of strength in nature, memories of cherished time with family, and appreciation for frontline workers.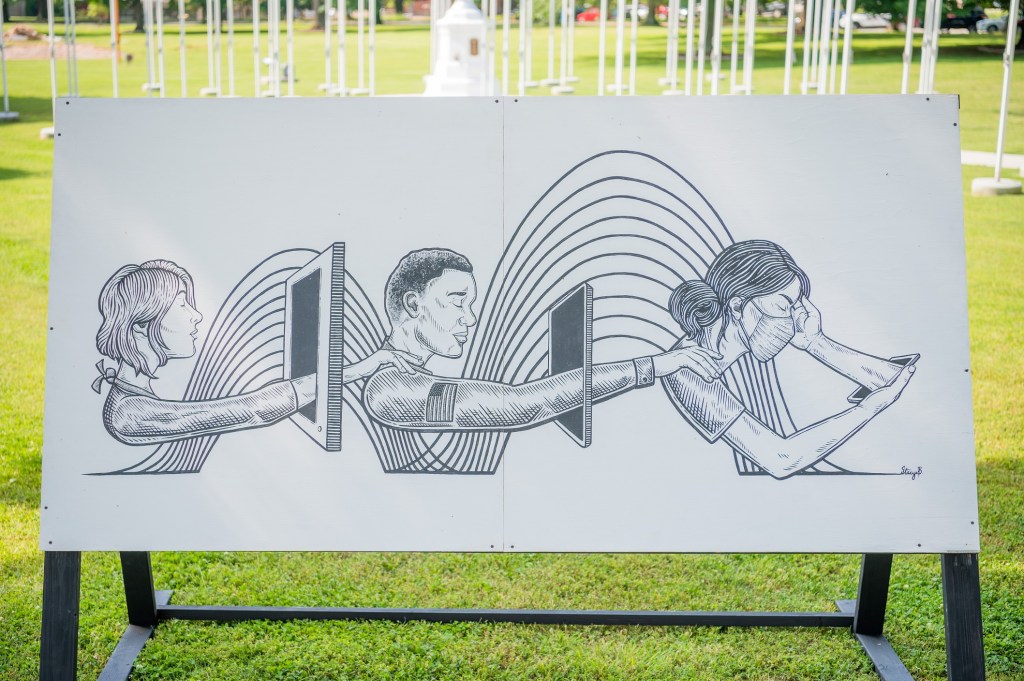 The artists included Kenny Arredondo, Stacy Bates, Kinya Christian, Tram Colwin, Leana Fischer, Octavio Logo, Matt Miller, Hannah L. Newsome, and Alan Rodriguez. You can learn more about each artist here.
You can listen to some of the artists speaking about their work in this video:
3. Mobilize staff, volunteers, and the community to bring the concept to life.
Once the postcard designs were created, Crystal Bridges and the Momentary put the word out via social media and eNewsletters to let the local community know about the project and invite participation. The public was asked to pick up bundles of postcards, color in the artists' line drawings, and write messages of hope to those living and working in healthcare facilities across Northwest Arkansas. Once completed, the postcards were returned to Crystal Bridges, and the team included the personalized postcards in creativity kits that were distributed to patients and staff around the area.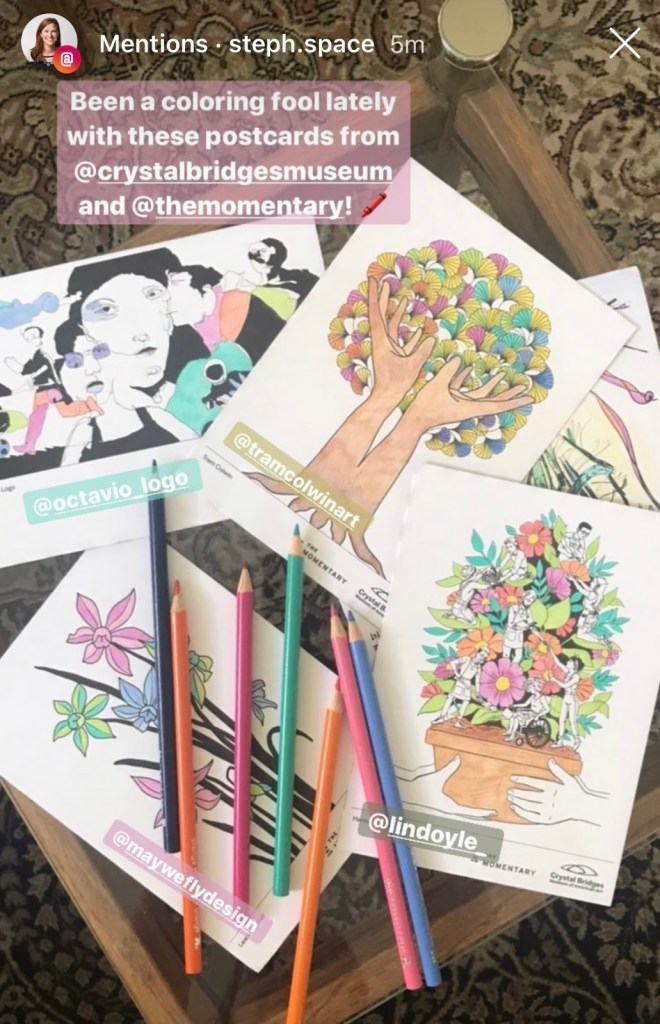 Local community organizations such as public libraries, non-profit support organizations, and individuals in the Northwest Arkansas community mobilized their friends, families, and neighbors to write and color the postcards. Crystal Bridges and Momentary staff, members, and volunteers were also a huge support to the campaign, from assisting in distribution to hosting virtual postcard coloring parties with family and friends. To spread the word, museums can start within their immediate circles first, branching out via word of mouth in addition to owned channels.
4. Provide opportunities for connection through art.
Virtual Postcard Party
In June, Crystal Bridges hosted a virtual public program, a Postcard Coloring Party, to connect some of the postcard artists directly with community members. The program provided connection between artists and the community as the artists discussed their inspiration for the designs and led guests through a few coloring techniques. Museums can find ways to cultivate these kinds of meetings between artists and community members through virtual events, offering a deeper connection to the museum's campaign and mission.
Traveling Art Exhibition
The second part of the Social Connecting Campaign consisted of a temporary art exhibition that traveled to nine hospitals and thirteen senior citizen facilities around the Northwest Arkansas region for one-day displays at each location. For the exhibition, each of the nine artists painted large-scale, colorful versions of their postcard drawings.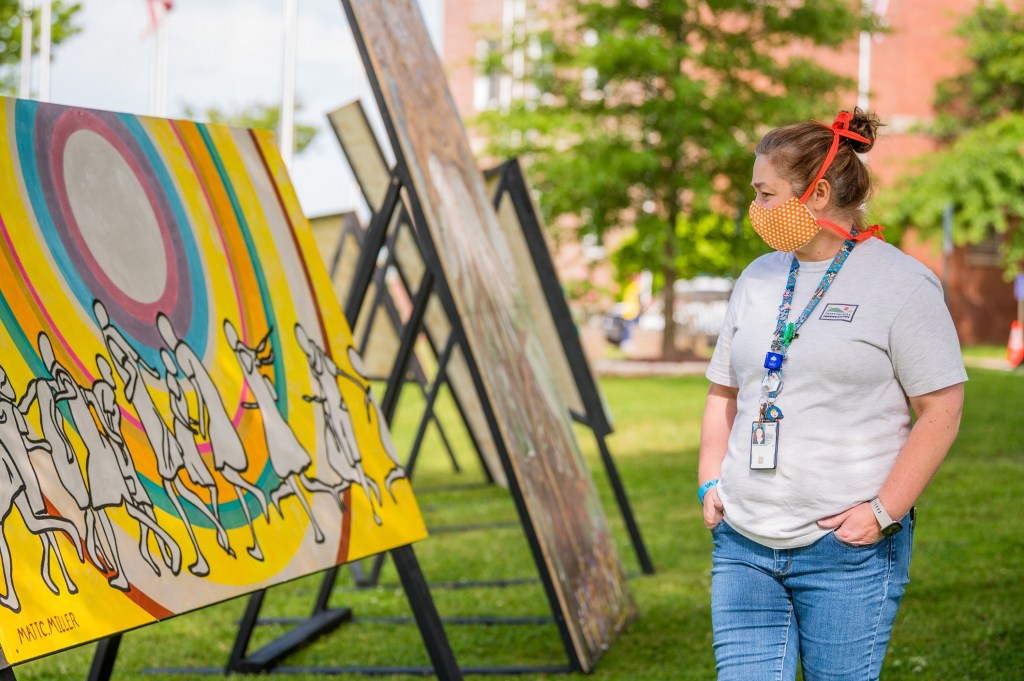 Each drawing was brought to life on a freestanding, custom-made four-by-eight-foot support, created by Crystal Bridges' preparatory team. Patients and staff were able to spend a moment with the works installed outdoors. Art kits were also distributed to encourage creativity while in isolation―kits which included a returned colored postcard from someone in the community!
Community Response
"The response from all involved has been overwhelming, and it's brought joy to the lives of those most affected by this pandemic…This campaign demonstrates the excellence, generosity, and strong sense of service found here in Northwest Arkansas."
By the end of the campaign, Crystal Bridges and the Momentary provided completed postcards and art kits to every patient, staff member, and senior citizen in the nine hospitals and thirteen senior citizen facilities who participated. We are also organizing a public viewing of the postcard exhibition at the Momentary, August 4-16, and at Crystal Bridges, August 18-31.
As the Social Connecting Campaign winds down, the museum intends to continue cultivating relationships with the partner organizations and local artists who have contributed to the project's success. After all, the campaign would not have been possible without their input and advocacy. Museums offer hope and inspiration especially in trying times, but without community partners, this impact will never extend beyond the physical boundaries of museum galleries.
About the author:
Erica Harmon is the Copywriter of Crystal Bridges Museum of American Art in Bentonville, Arkansas.