On a virtual field trip, students search their screens for signs of movement as they try to spot the elusive macroinvertebrates lurking in a pond water sample. A grid appears over the screen with the numbers one through six in each box, so that when students spot something, they can hold up their fingers to signal the educator to scoop up the sample and transfer it to a bug box under a document camera for closer inspection. Then they embark on a virtual hike, swinging their arms and marching their feet as they scour the GoPro footage for signs of the food, shelter, and water that animals need to survive in their wetland habitat. While this is no substitute for the feeling of mud under the sneakers and the smell of the stinky pond, it is still stimulating to the students, many of whom will never have the chance to visit this wetland in person, pandemic or not.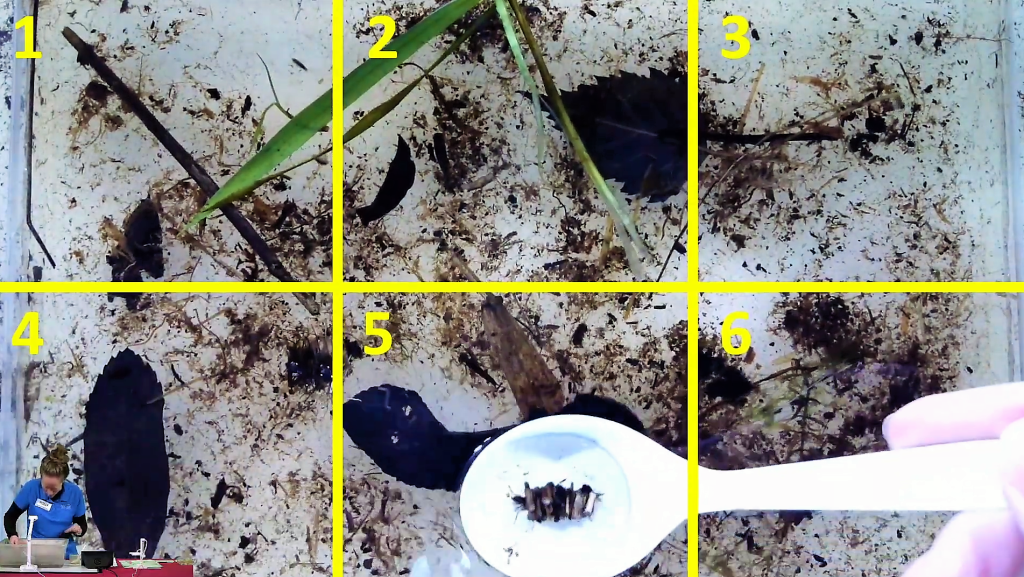 This field trip, hosted by Seattle's Pacific Science Center, was part of the wave of museums turning to virtual programming during the pandemic to continue to reach their audience, serve their mission, and salvage some revenue. In the ten months since its virtual field trip program launched in October 2020, the museum has delivered more than 725 programs to over thirty-one thousand students. It offers nine program topics ranging from chemistry to planetary geology, in live formats that support science standards, ignite students' curiosity, and engage youth with interactive visuals and activities.
Like most cultural institutions, PacSci designed these virtual programs as a temporary replacement for in-person equivalents during the period of remote learning prompted by the pandemic. But what happens now that our shuttered doors are once again open to the public? Will the virtual field trip, created in a moment of necessity, fall by the wayside? Or will it stand the test of time, becoming a permanent alternative to an on-site visit?
To help answer this question, we surveyed teachers from across the country who participated in our virtual field trips, and their response was clear: they'd like the virtual option to stay. In their responses, 95 percent said they were "somewhat" or "definitely" interested in continuing virtual programming, even after in-person learning is resumed. Here's what we've learned about why.
Simplifying the Teacher Experience
Skip over related stories to continue reading article
While virtual learning has its own barriers, it eliminates some of the obstacles associated with traditional field trips and provides valuable opportunities to increase access to science and cultural education for all.
"Virtual may be a great idea for our science programs," said a teacher from Cedar Heights Middle School. "The 45-minute time slot works perfectly with the amount of time I have for science without having to travel 1.5 hours to Seattle for a field trip." An educator from West Hills STEM agreed: "I think it is easier to spend an hour virtually rather than an entire day traveling for a field trip."
These are common sentiments among classroom teachers, who find their field trip experience streamlined without chaperones to recruit, buses to organize, and permission slips to track down, as is common for in-person excursions. The simplified logistics of a virtual program allow them to integrate a live guest presenter into their classroom at the click of a button without the stress of arranging an on-site visit.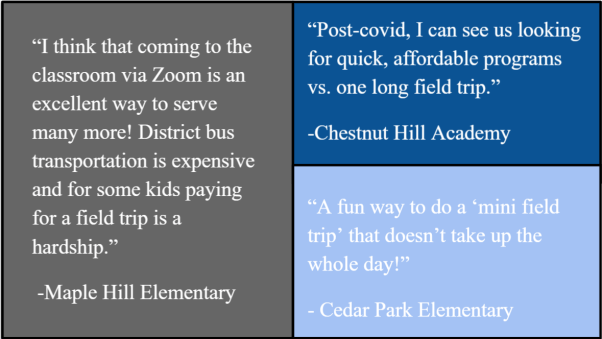 Scheduling is made easier without travel times or physical capacity limits, and teachers or PTA volunteers can book a program for a single classroom or an entire school. And while traditional field trips often leave gaggles of students to roam the campus on their own, virtual field trips can provide a personalized program guided by a knowledgeable facilitator to answer student questions in real time. Programs are more easily customizable to fit teacher and student needs, with quick digital changes such as toggling settings on the virtual planetarium or swapping out text for dual language learners.
Teachers aren't the only ones benefiting from the simplified experience. A virtual model is advantageous to the museum as well. Educators can lead a program for an in-person classroom of third graders across the country one hour, then teach remote-learning high schoolers spread across the neighboring county in the next. This way, museums can scale up their education programs to reach more students without any additional travel or capacity costs, and can integrate unique digital features such as slow-motion video playbacks and close-up camera views of objects to enhance the learners' experience.
Expanding Geographically
"Raise your hand if you've visited Pacific Science Center before" used to be a common phrase at the start of each program, but it is becoming less relevant with virtual field trips—and that's a good thing. PacSci is reaching students in distant states and even other countries. Students in rural areas with limited nearby field trip options are now able to access the same programs as students in urban hubs. Virtual programs allow students to travel far beyond a two-hour bus ride, bringing to life the physical, social, and cultural experiences of other regions. These are some of the same reasons that virtual tourism may also be here to stay.
Connecting science content to real-world communities is a challenge even without a pandemic, but virtual programs help bridge the gap by broadening horizons and exposing students to new perspectives. The plants and animals from the rainy Pacific Northwest region are sure to spark curiosity and provide a valuable comparison to their local ecosystems. "Our students are located in Los Angeles and future engagements with places outside of our immediate area [such as] virtual field trips allow for us to continue to expand our circles," commented a facilitator from Wildwoods Foundation, an environmentally focused non-profit in Southern California.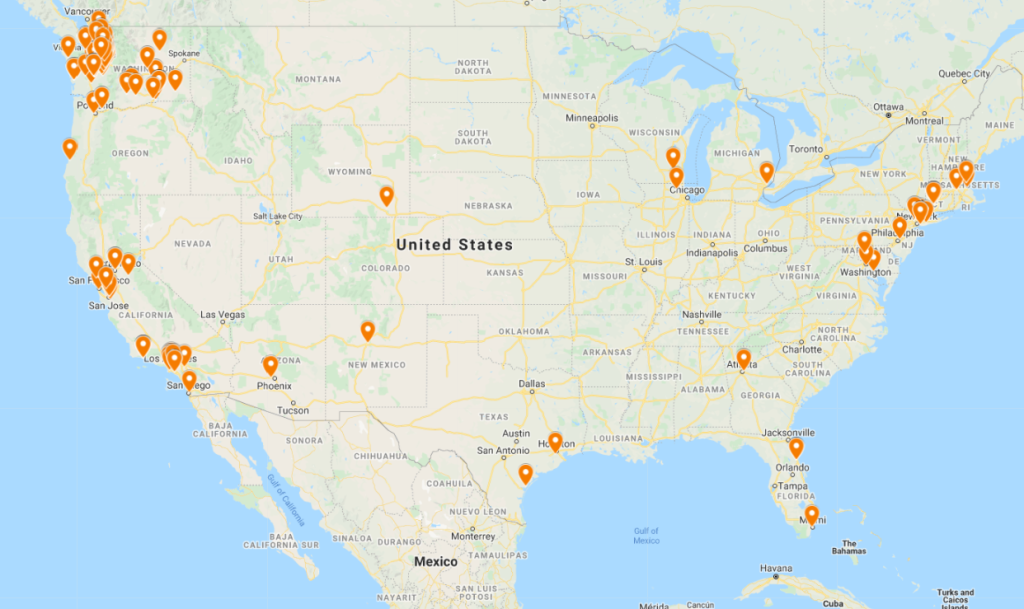 Increasing Access for All
Distance isn't the only barrier to cross when you're on a mission to expand access to science for all. Price is also a factor. For low-income schools with limited funds for buses and entry tickets, virtual field trips may be a more efficient way to gain access to high-quality supplemental programming. The price per student for a remote program is far lower than an in-person trip, and museums might be able to offer discounted or free programs to schools serving low-income youth, as PacSci does. Instead of just one field trip a year, imagine if the students most in need of access to programming could participate in numerous programs from a variety of informal education institutions throughout the year.
Barriers such as inequitable access to devices and internet still exist, but the pandemic brought renewed attention to this problem, and initial improvements have been made. EdWeek reports that the internet and device access gap has shrunk significantly since spring of 2020, with only 6 percent of teachers now reporting that more than half their students lack adequate internet access. While much more work still needs to be done, a few accommodations can be made in the meantime to increase accessibility. For example, PacSci offers access to recorded programs for students to review later, which is especially helpful if internet connections are weak during the live program. We also design programs to be effectively delivered on both individual and communal devices, since a single screen per classroom will become the norm as students return to in-person school.
Virtual programs also offer new opportunities for bridging language gaps. Closed captioning on screen adds real-time visual support for language learners, and ASL interpreters can be shown side by side with the presenter for students who are deaf or hard of hearing. Zoom language interpretation settings allow for live verbal translations and YouTube auto-translates subtitles into over one hundred languages, making it easier than ever to provide programming in non-English languages.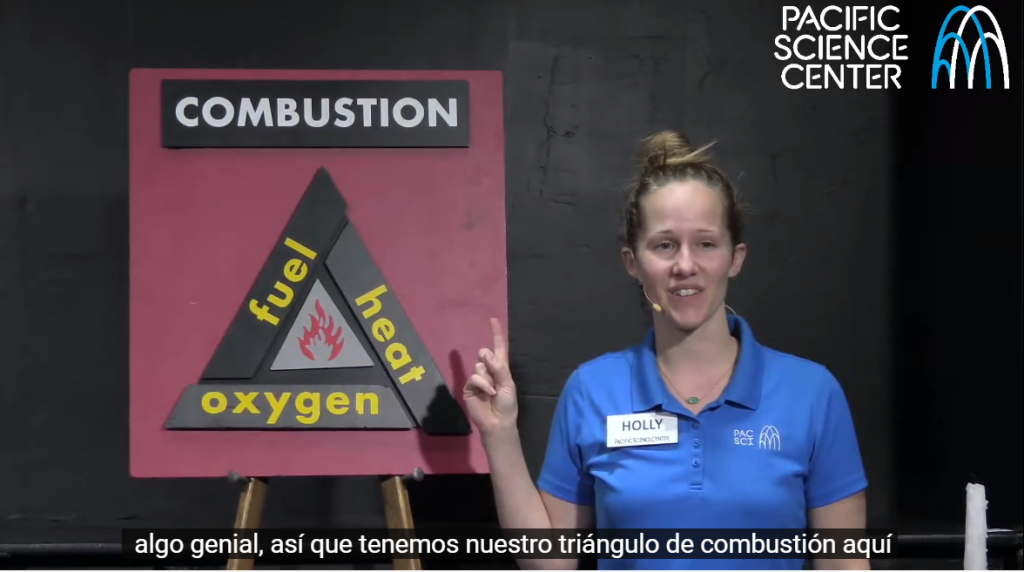 A Path Forward
Most virtual museum programs over the last year were created out of short-term necessity, but imagine the possibilities if we continue to commit time, people, and resources to strengthen and expand these programs. That is the plan at PacSci, where construction will soon be underway to build a permanent studio space to deliver live virtual programming well past the COVID-19 crisis.
Institutions still grappling with if and how these virtual programs will fit into their future plans do not need to base their decision on speculation alone. Hearing directly from teachers through surveys, listening sessions, and teacher advisory groups is essential to creating an effective and accessible virtual experience that will last well into the future. There is also much to learn from museums that have been using interactive virtual learning for decades. While the concept of using virtual programs to go beyond the classroom isn't new, the potential has only grown stronger over the last year as teachers and students have become more technologically savvy, confident, and aware after a year of on-and-off remote learning, and we are all rethinking how and where people learn.
Virtual field trips can never replace face-to-face visits and interactions, yet they are an invaluable tool to enrich classroom learning. And why not do both? Recent research shows that pre-visit preparation and post-visit activities lead to more positive student outcomes. Virtual programming provides an effective way to connect with student groups before and after their on-site field trip. Ranging from live, facilitator-led workshops to asynchronous virtual tours, the possibilities of virtual programs to simplify teacher experience, expand audience reach, and provide access for all are numerous. Let's give virtual field trips a permanent spot on the shelf and agree they are here to stay.