---
This article originally appeared in the May/June 2022 issue of Museum magazine, a benefit of AAM membership.
---
With "SubSpace," the Museum of Science, Boston is creating a more inclusive environment by pushing the boundaries of theater, technology, and art.
"What does this have to do with science?"

"This has nothing to do with STEM. Why is a science museum hosting this event?"

"I'm disgusted by the museum in hosting events like this; my child should not be subjected to 'woke' programming—we'll be ending our membership."
It is not uncommon for the Adult Programs and Theater Experiences team at the Museum of Science, Boston to field such responses to "SubSpace," its award-winning, after-hours public programming series. Expressing themselves through post-program surveys, negative commentary on social media ads, or responses to our email campaigns, these detractors find the tone of these events "provocative." They say "SubSpace" is inappropriate informal science education.
Such outcries drive us to continue this work, go against the conventional science programming, and open our building and platforms to more diverse and dynamic partnerships. This work makes some traditional audiences uncomfortable; however, it's vital in designing an inclusive future for our museum.
Historically, only a select few have been invited to participate in conversations around science and technology at science museums like ours. Our institution was founded on traditional viewpoints and strategies that left behind, left out, and often erased the contributions of most marginalized adult communities and voices. By limiting our focus to traditional hard science fields, leaving out social science conversations, refusing to acknowledge the systemic racism that permeates the scientific and medical fields, and consistently reinforcing a divide between arts and sciences, we have built barriers around our institutions that have discouraged, ignored, and intimidated too many of our local communities from seeing us as the communal, convening spaces we intend to be.
The Museum of Science, Boston is one of the world's largest science centers and one of New England's most attended cultural institutions, reaching nearly 5 million users a year on-site, in classrooms, and through virtual exhibits, programs, and curricula. Our mission is to inspire a lifelong love of science in everyone by making science accessible, engaging, and relevant. But to accomplish this, we must vigilantly establish an inclusive environment that allows everyone to feel seen, welcome, and valued. "SubSpace," after-hours programming for adults that has included headlining symposiums, live podcast tapings, performance art installations, and more, is one way we are attempting to do that.
Creating the (Sub)Space
The "SubSpace" brand, launched in 2017, was developed to utilize the museum's immersive theater spaces as accessible, live performance venues for artists in Boston. Once daytime programming ended, these spaces would sit dormant, so our team proposed using them as safe spaces for local artistic communities to experiment, elevating their performances and pushing the boundaries of theater, technology, and art.
In the beginning, every Thursday evening new artists and their audiences walked through the doors of the museum for experiences they were guaranteed not to get anywhere else in the city. Hip-hop artists, theater-makers, eGamers, and drag performers drew sold-out audiences and transformed the planetarium into an exciting nightlife venue in the unexpected form of a science museum.
This experimental ethos began to filter out to "SubSpace" programming across the museum. Large-scale gaming installations inspired by the immigration process took over our halls; live podcast tapings ingrained in the queer experience in America were staged in our auditorium; and dance, comedy, and performance art were used to explore astrophysics, engineering, and more. The faces and voices on our stages were changing to reflect the diversity of our city, creating new access points for marginalized audiences to participate in, shape, and lead conversations.
However, questions remained: How committed were we to opening the proverbial table at the Museum of Science? Was this entertainment-based work just a fleeting PR opportunity to increase attendance and revenue? These were valid inquiries given our selective history as a 192-year-old organization.
Strengthening Relationships
"SubSpace" programs are built on two main pillars: consistently welcoming new communities of adult audiences to the museum and, perhaps more significantly, reshaping the perception of how a science institution can play a relevant role in the lives of every adult in every community.
In this work, it has been vital for us to let go of the notion that a museum's role is to be the "experts," instead embracing our role as "conveners." Our programming provides opportunities to bring together diverse populations to share their work in ways that are relevant and authentic to their own communities.
The museum then takes an intentional backseat, helping to facilitate these conversations, performances, and experiences so they resonate with the audiences they are intended and designed to engage. How could we assume to speak authentically to communities we have never specifically designed programming for in the past?
Therefore, community partnerships and collaborations are the crux of our work. Any success the Museum of Science has achieved thus far in engaging "nontraditional" audiences is ultimately due to these partners, who have listened to our long-term intentions, agreed to work with us, and trusted us with their message. They have held us accountable along the way, challenging us to look inward at how we have perpetuated these barriers and acknowledge the triggers that still exist within our institution. Before we could begin to create an inclusive space, we needed to understand the internal work we needed, and continue, to do.
Working side-by-side with our community partners, we have slowly started breaking down decades of barriers. We are now opening our building and resources to Black, Indigenous, and people of color (BIPOC), LGBTQIA+, and non-science-minded audiences, among others, changing the landscape of who can and should engage with science today.
Understanding Differences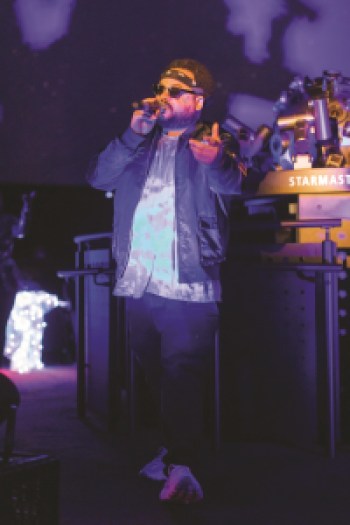 In the summer of 2020, we could no longer ignore the need to start dismantling the systemic racism that exists within our industry and history. We launched an ongoing series of antiracism programming that aimed to amplify luminaries and local antiracist voices and work, convene celebrations of BIPOC joy and shared experience, and offer opportunities for our white audiences to educate themselves on the need to end racism and understand the vital role we all play in that work. To do this authentically, we let go of the programmatic reins and made room for community partners to steer this work with us; as an all-white-identifying team, these are not our stories to tell.
Professor Ibram X. Kendi joined us for a conversation centered on his groundbreaking book, How to Be an Antiracist. We welcomed Pulitzer Prize–winning author Isabel Wilkerson for a keynote on her bestselling book, Caste. Science reporter Angela Saini and Professor Osagie Obasogie discussed and dissected the insidious history of race science. Author Pragya Agarwal took audiences on a deep dive into our unconscious biases.
However, it is our local community partners who have truly led in reshaping the future of the museum. Zakiyyah, a classically trained singer, actor, and political activist, brought her recent production Shades of Black to the stages of the Museum of Science as a call to decolonize not only ourselves but our peer institutions and explored the role museums play in deconstructing systemic racism. Keith Mascoll, actor, founder of the Triggered Project, and co-creator and co-host of Living a Triggered Life Podcast, explored the role trauma and mental health play in our relationships, advocating for self-care within Black communities using art. Genie Santiago, a singer, poet, and visual artist, is elevating the technologically driven, immersive medium of the planetarium through her live performances, drawing upon her experiences as a poor, queer Latina and survivor of sexual abuse. Ana Masacote and Yvette Modestin co-created the multimodal virtual production ReRooted, presented by The HairStory Project, a groundbreaking examination of current beauty standards and the importance of hair as more than just a style for Black and Latinx communities. These are just a few of the many local talents we have had the honor of amplifying over recent "SubSpace" seasons.
Looking Ahead
Gone are the days when public programming needed to be one-size-fits-all. We need to design programming that speaks directly to and for those who have been historically marginalized. We should not avoid creating and producing this work because we fear alienating our traditional audiences.
As we challenge the traditions of our institutions, it is inevitable that some will be uncomfortable. We see these moments as opportunities for people to sit in the discomfort, learn and understand their own biases, and hopefully grow and discover how they can promote inclusivity within their own lives. Even though some have stopped engaging with our programming altogether, we have gained more than we have lost by committing to this work and can confidently say we are working toward becoming a museum that represents everyone.
There is no blueprint for us in curating programming lineups, but the most significant piece of advice we can offer is to not be afraid to experiment or push against traditional museum programming. Don't be deterred by adverse reactions from the vocal minority who may disagree with this redesigned role, purpose, and presence of a science or cultural institution at the intersection of community and society.
While this article opened with some of the pushback we've faced, the positive response and results have far outweighed the negative.
"I am glad to see that our museums are taking the issues of racism seriously and beginning to make some changes. White supremacy affects every part of our society. We need to keep identifying it and realize its pervasiveness at every level."
"This program welcomes communities of color to the institutional space of a museum via action instead of just words. This anti-colonial concert and conversation set the tone for our entry, and followed through with centering our people in the art."
"I found this program to be especially valuable because the speakers were people of color working through trauma while also working hard at their careers and marriages. As married, African-American professionals, my husband and I (both in attendance at this podcast taping) appreciated the Museum of Science's efforts to be inclusive. Please keep this up! We would love to attend future events that are put on by people of color and greatly impact our community."
We have seen tremendous growth in our attendance over the past five years, including a 12 percent increase in those who engaged with the museum for the first time through "SubSpace" programming. And we have more than doubled our BIPOC-identifying audiences from 2017 to 2021. It's clear public awareness is shifting around the social value of the museum's adult programming for Greater Boston.
We believe public programming will continue to be an essential tool for cultural institutions to reach new communities in authentic and meaningful ways; however, we still have a lot of work ahead of us to establish ourselves as an inclusive space that represents all adults. Hopefully, one day the question won't be "What does this have to do with science?" but rather "What took so long?"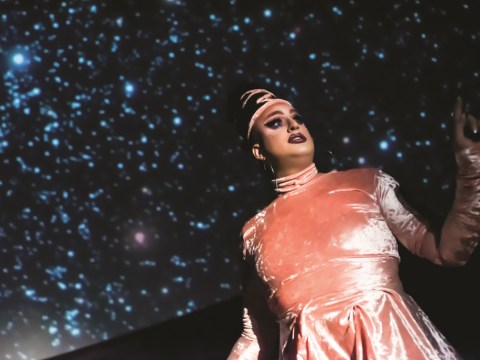 ---
How to Experiment with Traditional Science Programming
The Museum of Science, Boston believes that the role, purpose, and presence of cultural institutions should be redesigned to lie at the intersection of community and society. Here's our advice for starting that journey.
Let go of traditional notions that a museum's role is to be the "experts" and embrace the more expansive view of our role as "conveners." Take an intentional backseat to community partners.
Seek out community partners to listen to long-term intentions, hold your institution accountable, and work side-by-side to begin the long work of breaking down decades of barriers.
Explore new financial models to create accessible and equitable space for community partners and audiences by eliminating fiscal barriers. We are fortunate to have strong funding support for "SubSpace," including Science Sandbox, an initiative of the Simons Foundation, whose support made our antiracism series possible and free for audiences. Another important model has been ticket revenue splits for our performance-based work. We share expenses with artists and split the ticket revenue 50-50.
Gone are the days of one-size-fits-all programming. Design experiences that speak directly to and for marginalized audiences. Don't be deterred by a fear of alienating traditional audiences.
---
Resources
"Recapping the View from Inside—Pandemic as Portal: Exploring the In-between" by Angela Perrone, Katherine Miller, and Rachel Ginsberg
bit.ly/2Gsmh8F
"Designing for Now: The Implications of 'Going Online'" by Rachel Ginsberg
bit.ly/3jJUD5e