In September of 2021, TikTok surpassed one billion users, making it the fastest-growing social media app. The video-sharing platform allows users to post short-form videos, which are then shared around the world by an algorithm that encourages interaction through video responses, trending sounds, comments, and traditional cross-platform sharing options. The TikTok platform makes it easier than ever before for cultural institutions to engage historically underserved communities. Teens and young adults, a notoriously difficult demographic for institutions to reach, make up the majority of TikTok's users, and anyone with internet access can download the app for free. So what's the catch?
Why TikTok?
Unlike other social media platforms like Facebook and Instagram, where the audience for your posts is primarily users who follow your page, TikTok presents a unique opportunity to reach people who have likely never heard of your museum before. When you post a video on TikTok, its algorithm shares it to the "For You Page" feeds of people who have shown interest in videos with similar content, regardless of whether they follow you. Although there are challenges with this system—for example, lack of context, cultural and language differences, misinterpretation, and susceptibility to internet trolling—the platform also allows for unprecedented reach and engagement, especially with the elusive teen and young adult demographic, who make up the majority of users. Moreover, TikTok sets itself apart from its competitors by encouraging educational content creation and exploration through its #LearnOnTikTok initiative, part of the app's 250-million-dollar pledge to support communities throughout the pandemic.
This has obvious appeal for museums and cultural institutions, whose missions typically revolve around engaging and educating the public. The app's focus on video may also be a special advantage in breaking through to wider audiences, particularly when it comes to interpreting history. In a national survey conducted by the American Historical Association (AHA) in the fall of 2020, respondents overwhelmingly indicated that videos were their preferred method for acquiring historical knowledge. Museums and cultural institutions are therefore presented with an exciting opportunity to use TikTok to create educational video content that not only provides information, but also encourages high-level engagement from the audience through monitored discussions in the comments section.
Already, museums and cultural institutions of all types and sizes have used the app to interact with millions of people around the world. Some of these include Carnegie Museum of Natural History, Sacramento History Museum, Museum of Neon Art, Black Country Living Museum, and the organization I previously worked at, Old Salem Museums & Gardens.
What It Takes to Maintain a Meaningful Museum TikTok Account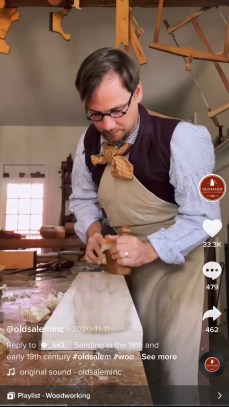 It sounds so simple. Just start a TikTok account. Get an intern—anyone can do it! But for those who venture onto the platform, it quickly becomes clear that it is extremely difficult to establish a successful TikTok presence, and even more difficult to maintain one. Although museums can take more or less intensive approaches to posting on the platform, from scripted, costumed interpretation to off-the-cuff informal videos, consistently creating content that connects with audiences is anything but a minor endeavor. Without a monumental staff undertaking and support from a collaborative, broad base of leadership at your museum, maintaining a successful TikTok presence is nearly impossible.
Take it from two museums who have successfully utilized the platform: Black Country Living Museum (1.3 million followers and 21.8 million likes across its videos) in Dudley, England, and Old Salem Museums and Gardens (311,500 followers and 2.9 million likes) in Winston-Salem, North Carolina. Both of these museums turned to TikTok during the pandemic to engage new audiences while traditional, on-site interpretation was closed.
At Old Salem Museum & Gardens, the decision to join TikTok came after years of strategic transformations and planning to completely re-envision the museum's digital engagements. Franklin Vagnone, Old Salem's President and CEO, had received extensive training from Bloomberg Media while working at the Historic House Trust for New York City and knew it was important to approach digital content with care. "People don't understand the depth of skill and experience required to use technology effectively at a cultural organization," he says.
This can be painfully true, especially when it comes to content creation and social media engagement. The level of understanding, creativity, time, and commitment required to be successful is often much more than cultural institutions can handle, or are willing to allocate resources to. All too often, museums saddle all the responsibility on one marketing/social media manager—or even worse, a volunteer or intern—to handle all of the strategic planning, content creation, and response monitoring, without providing the needed structure, vision, or support of an organization-wide collaboration.
It was due to Old Salem's more thoughtful approach that we had success on TikTok. When I joined the museum as Director of Community Engagement and Digital Learning, I benefited from a defined strategic framework, foundational support from leadership staff, vision from communications staff, and the commitment of the entire organizational staff to assist with content creation. Especially key to our success was Old Salem's move to restructure its Learning in Place education division, bringing in professional, talented educators and interpreters willing to research and present content in a way that was engaging and educational.
At Black Country Living Museum, Audiences and Communications Team Hannah Brown and Emily Smith have had similar experiences. They too found it to be a daunting undertaking. "For every one TikTok you send and receive twenty emails. It's a massive team effort," Manager Hannah Brown says. "The research team provides facts for videos; the historic character team, supported by the costume department, acts and performs them. There's someone needed for operational tasks like lighting the fire, holding the keys for the building, carrying equipment, etc." Coordinator Emily Smith agrees. Along with producing content, which involves research into what's trending on the platform and then filming and editing high-quality videos, the afterlife posts can have has been difficult to manage. "Unlike other platforms where a post goes away after a twenty-four-hour period, people will continue commenting on videos months after they were posted. A video could blow up while you're asleep and you could wake up to five thousand comments," she explains—comments which the manager of the platform is responsible for monitoring.
On top of the heavy time commitments, she has also found it a strategic challenge to determine what will make an impact. "I can tell you what camera to use, but I can't teach you how to identify trends and use the app," she says. "This is a really nuanced situation. You can't just make a video, stick a filter on it, and because you filmed it on a nice camera, expect it to go viral. It's not that kind of platform." Much of the work of being on TikTok entails the museum getting to know and dialoguing with its audience. Successful posts, for example, are typically response videos to a previous comment or a continuation on a popular series or theme.
After the Black Country Museum's widely anticipated relaunch on Valentine's Day this year, the team decided it was time to be stricter about time management. "What we were doing before was not realistic," Brown says. "It may negatively affect our engagement [to scale back], but it's better to be on the platform and not meet as many expectations. For museums, it's important to remember that you can aspire to do more, but you can only do what you can." Instead of coming up with an idea, filming it, and posting it within a day or two, the museum now uses a spreadsheet to manage content development, filming, and post-scheduling in advance.
Although it takes a monumental effort, establishing a TikTok presence can be a rewarding way to enhance visitor experience, not only online but also on-site. At Old Salem, TikTok has found its way out of the digital sphere and into the on-site venues via two vertically installed flatscreen TVs playing loops of the museum's "greatest hits" on the platform. Some visitors who follow Old Salem's TikTok account have even sought out specific interpreters who they recognize from the app, like Restoration Craftsperson Ben Masterson, Winkler Bakery Educator Deborah Crews, and Educator and Potter Tara Logue. Even though Black Country Living Museum's viewers are mainly in the United States, it gets some local visitors who discovered the museum through the app. TikTok fans also send letters through the mail directly to some of the characters in its videos, especially "1920s Grandad," who offers touching life advice and words of wisdom from his fireside armchair.
While neither Black Country Museum nor Old Salem have studied conversion of TikTok viewers to ticket-buying visitors in-depth, both sites often hear from visitors that they decided to visit because of the site's TikTok presence. This is a nice bonus, but in some ways it may be beside the point. Although increased on-site visitation and ticket sales are often a central goal for cultural institutions, developing a TikTok presence offers, arguably, greater advantages thanks to the platform's global reach. As Black Country Museum explains, "We're a visitor attraction, but we're also a museum. It doesn't matter if our audience is a ticketholder or if they are getting the information through TikTok; we're fulfilling our mission to educate the public about our history. It has given us a worldwide reputation."
Curating Thoughtful and Constructive Conversations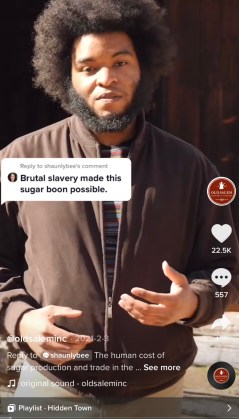 Another aspect that sets TikTok apart from other social media apps is the anonymity of the platform. Unlike Facebook, where your comments are connected to an identifiable public profile, TikTok profiles do not need to be connected to the user's identity. This anonymity has its benefits and drawbacks. On one hand, it allows for vulnerability and makes it easier for commenters to ask questions they would never dream of asking in a classroom or on a guided tour. On the other, it also creates an environment rife for potential abuse by white supremacists and others with hateful agendas or a desire to provoke arguments. Because the TikTok algorithm pushes videos that get more views, comments, and shares, videos that spark controversy often garner more page views, which can result in even more comments and even less context.
We experienced this dark side firsthand at Old Salem, when we began to publish videos about the Africans and African Americans who were enslaved at Salem, produced as part of the museum's Hidden Town Project. The videos began as a longer-format series developed by my colleague, educator Joel Cook, along with others on the Learning in Place Team and Digital Production Specialist Wei Ying. When we shortened and posted them on TikTok, views started to take off, and comments poured in. We typically posted videos late in the evening to get the highest engagement, so by midnight that night we were fielding hundreds of comments, some of them steeped in incendiary racist rhetoric.
One of the most valuable lessons I learned while managing Old Salem's TikTok account was the nuance of monitoring the comments section and determining what comments should be reported, blocked, or deleted because they were unconstructive and purposefully inflammatory. Some comments were based on false information, and may have even had racist undertones, but we strategically kept them because they sparked constructive debates, with subsequent comments diving deep into the topics of race and power. For example, in one of our videos about the transatlantic slave trade, one commentor replied, "Great knowledge that should never be used as a cultural weapon today. We've fought a war to stop it and made it complete with MLK. We're above it." But this dismissive comment turned out to spark useful discussion. Other users posted sixty-six replies underneath it about the long civil rights movement and modern-day social justice issues like mass incarceration, racial profiling, and housing inequality.
It was a challenge to maintain a respectful environment, but the time and energy spent to monitor the comments was worth it. Through the course of constructive dialogue about the transatlantic slave trade, some commenters ended up changing their perspectives about race and slavery, especially in response to our follow-up video addressing some of the more inflammatory comments we received. One commentor replied, "Thank you so much for this. These kinds of conversations need to happen if we ever want to learn and do better."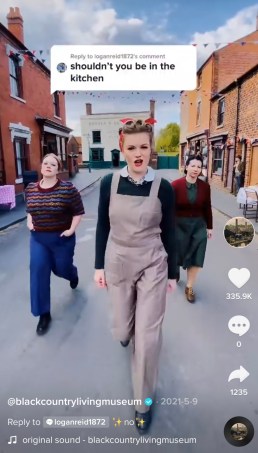 Black Country Museum also faced abusive comments related to social justice issues, specifically videos related to women's rights. Smith says, "You unfortunately come to expect comments like those when you tackle issues around social justice. You have to be so aware of hiding or deleting comments that aren't constructive, just abusive. There is a difference between saying what you think versus being downright abusive because you're anonymous." Brown adds that comments can be triggering to both viewers and staff, and "it's our responsibility to safeguard people who are reading the comments and to look after our staff's wellbeing." Like Old Salem, Black Country Museum was deep in the comments section, watching the conversation closely and deleting responses that were inflammatory.
The Future of Social Media
TikTok may be the fastest growing social media app (for now), but the only thing certain about social media is its fluidity. Even the TikTok app itself is in a constant state of flux. Brown says, "It is constantly changing. The audience's interests are changing; the three-minute video option [an extension of the former one-minute limit] has already changed the vibe completely." Like good public history interpretation, good social media content creation centers the audience. Where the audience goes and what it wants to see dictates the content and how it is shared. Smith concurs: "Audience is the middle of everything. Some content doesn't land. You have to constantly ask yourself, what do people want to learn about? Be prepared to be surprised by what sticks."
Especially on a platform like TikTok, where an uninterested viewer will swipe up without a moment's hesitation to watch what's next, museums and cultural institutions who venture onto the app are presented with the challenge of staying current, while also staying true to their core values. "There's a fine line you have to toe between being broadly appealing to an audience," Brown says, "while also staying true to your brand as a museum. We're a museum first and a TikTok account second."
Skip over related stories to continue reading article