In this series of posts, EdCom's Trends Committee is taking a deeper look at emerging phenomena identified in the 2021 edition of TrendsWatch from the Center for the Future of Museums. In this post, they explore examples of how museums have sought to engage in the process of strategic foresight, and how planning and programming has changed for some, specifically in light of climate change.
---
The "Strategic Foresight: How to survive an era of uncertainty" section of the 2021 TrendsWatch report discusses some of the many "cataclysms" that have been stacking up against institutions in recent years: climate disasters, economic crises, social/cultural disruptions, political turbulence, and technological threats. While the museum education world has been responding to these things for many years now, either through planning or direct reaction, TrendsWatch suggests that we may need to rethink our methods.
Skip over related stories to continue reading article
To truly prepare for the future, the report's author Elizabeth Merritt argues, we should embrace the discipline of "strategic foresight"—a process that requires "fundamental shifts in how we assess risk, navigate uncertainty, and create strategies that can succeed no matter what transpires." By following a plan of "scanning, exploring implications, creating visions, and making choices," she says, institutions of any size can learn to "manage uncertainty and prepare flexible, adaptive responses."
This structured approach can be especially useful in planning for a cataclysm like climate change, with its broad extent, significant impact, and plethora of unknowns. Already, some museums have started to demonstrate this. The Climate Museum, a non-profit and "the first museum dedicated to climate change and climate solutions in the United States," has laid out some practical ways for institutions to take action, while other institutions have acted by hiring for positions that specifically respond to climate change. Take, for example, the Royal Ontario Museum's (ROM) recent hiring of Dr. Soren Brothers as the Allan and Helaine Shiff Curator of Climate Change—a position that is partially devoted to weaving "evidence-based research and knowledge into ROM programming, exhibitions, and education [in order to] raise awareness and inspire ecological citizenship and action on the climate emergency and sustainability." As a representative of one of Canada's largest museums, Dr. Brothers has stated that he would like to provide community resources and work on climate adaptation and mitigation.
While most teams would likely benefit from having someone in a position like this, dedicating an entire staff role to these issues is a privilege that not all are able to afford. So, at a smaller scale than the ROM, what are some things that educators can do to help plan for climate change?
Taking Action: Invasive Species
One good example of a simpler plan put into action is the partnership program between Vermont Urban and Community Forestry (VT UCF) and several museums located throughout the state. Working with the Vermont Institute of Natural Science, the Montshire Museum of Science, the North Branch Nature Center, the Birds of Vermont Museum, and the Southern Vermont Natural History Museum, the organization created a collection of interpretive signs to display at various locations that addressed an issue partly connected to climate change: the spread of invasive species.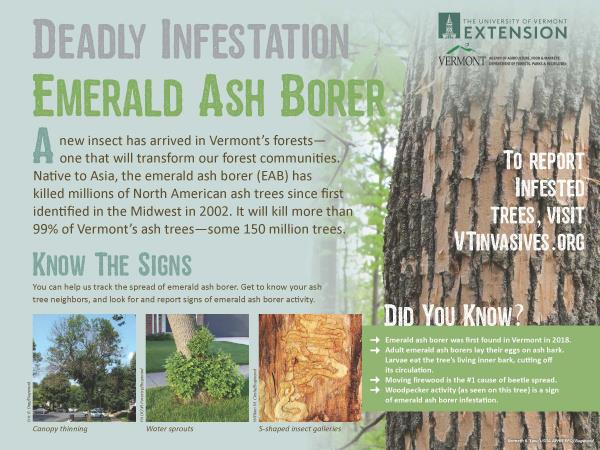 "We were trying to think of creative ways to educate the public about the signs and symptoms of the pest," said Ginger Nickerson, a Forest Pest Education Coordinator who works in education and outreach at VT UCF. "We knew that it was a matter of time before the infestation would be state-wide, but we wanted to slow the spread as much as possible to give municipalities time to plan for the loss of their ash trees."
VT UCF partnered with the museums in order to effectively reach its desired audience. "Since so many people visit our museums, museums and nature centers seemed like natural partners for reaching a broad audience of both residents and visitors," Ginger explained.
We asked her what advice she would offer to any institutions looking to execute their plans and create similar content or programming surrounding issues such as climate change or the emerald ash borer. She shared that working with previously known artists and museums in their community was key—a blueprint that many institutions could follow within their own networks.
Other museums, particularly those with extensive outdoor properties or that focus on local conservation, might want to follow their lead when it comes to awareness and advocacy around invasive species. If so, the USDA's resources can be a helpful place to start.
Taking Action: Flooding
Support from the community helped buoy two museums in Delaware following a historic flooding event. The remnants of Hurricane Ida made their way into the region early in September 2021, ultimately reaching twenty-three feet above flood stage in the Brandywine River Creek. This one-hundred-year rainfall event flooded two museums situated on the creek—The Brandywine River Museum of Art and Hagley Museum and Library.
"No works of art were harmed in this event, but the museum was closed for three months and there was significant damage to a multipurpose program space, some office and storage areas, and to other buildings that house offices on the museum's campus," said Mary Cronin, Dean of Education and Public Programs with the Brandywine River Museum of Art. The museum was later able to reopen in December thanks to federal and state relief funds, donations from the community, and its relationship with the nearby Brandywine Conservancy, where it relocated some of its operations temporarily as it repurposed its spaces for programming.
In addition to sharing physical space, the museum and conservancy have continued their ongoing educational collaboration, where the museum incorporates the work of the conservancy's riparian-zone restoration and understanding of the ecological landscape into its programming and exhibitions to explore the intersectionality of art and nature. This partnership helps the museum strengthen its approach to discussing topics such as climate change with its audience, which Mary says "will have even more relevance now, based on Brandywine's recent history."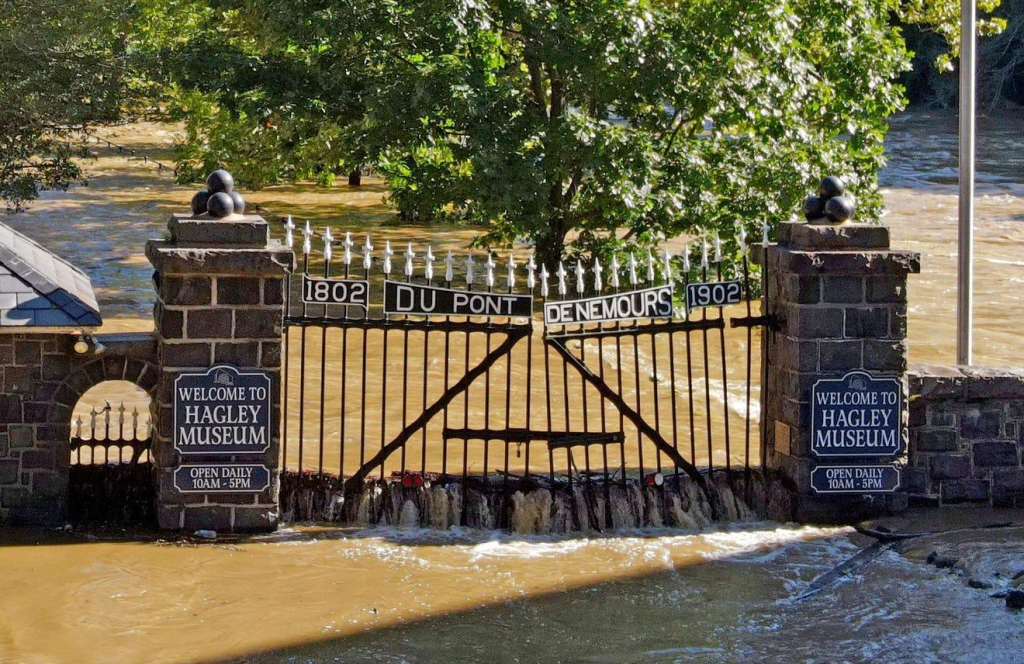 Hagley Museum and Library was poised to return to semi-normal museum operations following pandemic closures when the remnants of Hurricane Ida made their way to the region. Then, its staff's months-long work to reestablish school programs and install a brand-new exhibit, set to open in September, was put to a stop. Mike Adams, Director of Museum and Audience Engagement at the Hagley, said that "probably the biggest thing we learned is that every museum should be preparing for weather-related disasters regardless of location." The Hagley had never experienced flooding like this in its 220-year history, and staff have the records to prove it.
Now, this experience has them rethinking their operational layout. "To mitigate the effects of future disasters—it's not 'if,' but 'when'—we are relocating our utility systems to 'high ground,'" Mike shared. Utility systems, storage, the structural integrity of their historic buildings—they are looking over everything to ensure a future event will not wreak nearly the same level of losses and damage. Furthermore, they are also learning to account for the long-term effects such an event can have. Early in spring of 2022, months after the flooding, they were able to begin the process of dredging areas deeply affected by the storm, and with certain areas unsafe to enter, their school programs have been limited.
Both the Hagley and Brandywine River Museum of Art have been able to welcome back visitors with changes to day-to-day operations while repairs are underway to flooded areas, which they aim to reopen in 2022. But they do not intend to put the experience behind them. This was not the first time in recent memory the Brandywine has significantly flooded. Hurricane Floyd in 1999 brought seventeen feet of water, and a significant rainfall event in May 2014 brought twenty-one feet. "The flood in 2014 was described as a 'once every hundred years' flood," Mike said. "Seven years later the Brandywine beat its old record by 15 percent. … Going forward I don't think we'll be surprised when the next flood comes. The question will be about how quickly we can repair, recover, and reopen." With such events becoming a question not of if but when, these institutions, and others like them along floodplains, will need to devise strategies to reduce the likelihood of a repeat performance.
To kickstart these strategies, the respective museum boards are engaged in ongoing discussions with local experts, such as the Water Resource Center at the University of Delaware. The center's comprehensive report comes with steps the region could take to mitigate such disasters in the future, and the leadership and board of the Brandywine Museum of Art are engaged in talks for protecting their respective surrounding areas along the Brandywine River while making improvements to their facilities.
Climate change has the potential to deliver heavier, more impactful storms that may lead to historic flooding events in the near future. At any moment one's plans may be diverted due to changing conditions. Mary concluded by saying this event has solidified her view that museum educators must possess "the ability to be flexible, to adapt to changing conditions, and to develop programs that explore current topics through both contemporary and historical works of art." These "essential skills for any museum educator" will ensure a level of preparedness as museums move to address trends that may disrupt their work.
Mike urges all museums to learn about FEMA. "Since all museums should expect to face some kind of weather-related disaster, every museum professional, especially museum leaders, should learn about FEMA before they need it," he said. He recommends museums start forming connections with their state and local disaster preparedness and response agencies now, and collect contact information for firms that work in areas like restoration and structural engineering so the process of hiring them is easier when needed.
Even better than preparing for a swift response if a flood comes, museums can forecast how likely one is to come with tools like updated flood risk maps. This way, they can start preventing damage before the water comes lapping at their door.
Taking Action: What Can You Do?
The TrendsWatch report states that an important part of implementing strategic foresight is identifying the trends and events that could have the biggest impact on an institution and its community. Particularly when it comes to climate change, this means considering scenarios that might seem unlikely now. Mike quipped, "If someone told me six months ago that we'd have to worry about a hurricane traveling fifteen hundred miles from the Gulf of Mexico up and over the Appalachian Mountains, slowing down in Southeast Pennsylvania, and causing historic flooding in Delaware, I wouldn't have believed them."
No matter the size or location of your institution, to prepare for the issues that climate change will be bringing your way, you might ask yourself some basic questions like: What about climate change stands to most affect my institution? How can my institution address climate issues through education and interpretation? Answering questions like these could help provide the preparedness that both you and your audience need. Whether your issues are invasive species, flooding, or something else, following the strategic foresight process laid out by TrendsWatch could help your institution navigate to the best possible outcome.