When the pandemic forced museums to make a hard pivot to online content, the importance of reaching audiences beyond gallery walls became clearer than ever. As The Historic New Orleans Collection's first in-house media producer, figuring out how to do that successfully is my job, and one important lesson I've learned is that YouTube can accomplish this with video content in ways other social media platforms can't.
While Facebook, Instagram, Twitter, and TikTok can also host video, their algorithms favor showing users newer posts, rather than helping them surface content from deeper in the archives. That means your latest and greatest video production becomes yesterday's news as soon as someone swipes down to refresh their feed.
But YouTube is different because it isn't just another social media site revolving around fleeting "likes" and comments; it's the most popular video-sharing platform in the world, the second-most popular search engine on the web, and the second-most popular website in general (behind its parent company, Google).
Because of this ubiquity, videos uploaded to YouTube have a longer shelf life than those on other platforms. Its universal popularity and utility as a search engine means that your content won't swiftly disappear into an endless newsfeed. It can come up when someone searches for the subject it covers, or in their algorithmic recommendations on the platform after they watch or search for something similar. YouTube's multifaceted functionality is a major factor in its importance to museums, but that's just the beginning.
Why is YouTube important?
Skip over related stories to continue reading article
Launched in 2005, YouTube now boasts billions of monthly active users, and was recently named the most innovative social media company by Fast Company. The video platform shows no signs of slowing down in worldwide popularity, tastefully embracing TikTok-style short-form vertical video (something rival social media sites have struggled to compete with) and inventing genuinely useful features to increase accessibility, such as multilanguage auto-generated captions and a new option to add multilanguage audio tracks.
Beyond its innovative features, YouTube also attracts users through its integration into Google's ubiquitious search engine. As you might have noticed, when you search for something on Google, video results typically appear toward the top of the page, more often than other forms of content. That means that if you publish videos on YouTube, they have a higher chance at being a top search result than other content you might produce, like blog posts, podcasts, or Facebook posts. With research showing that only 0.63 percent of Google users click on the second page of results, that's an advantage you really, really want if you're trying to attract audiences through the internet.
But gaining this advantage requires a little more strategy than just publishing to YouTube. To get the most out of the platform and bring your videos to audiences' attention, there are a few things to know. Here are some of the most useful things I've learned from my recent experience rebuilding our museum's YouTube channel.
3 tips to improve your museum's YouTube channel
1. Spruce up your landing page.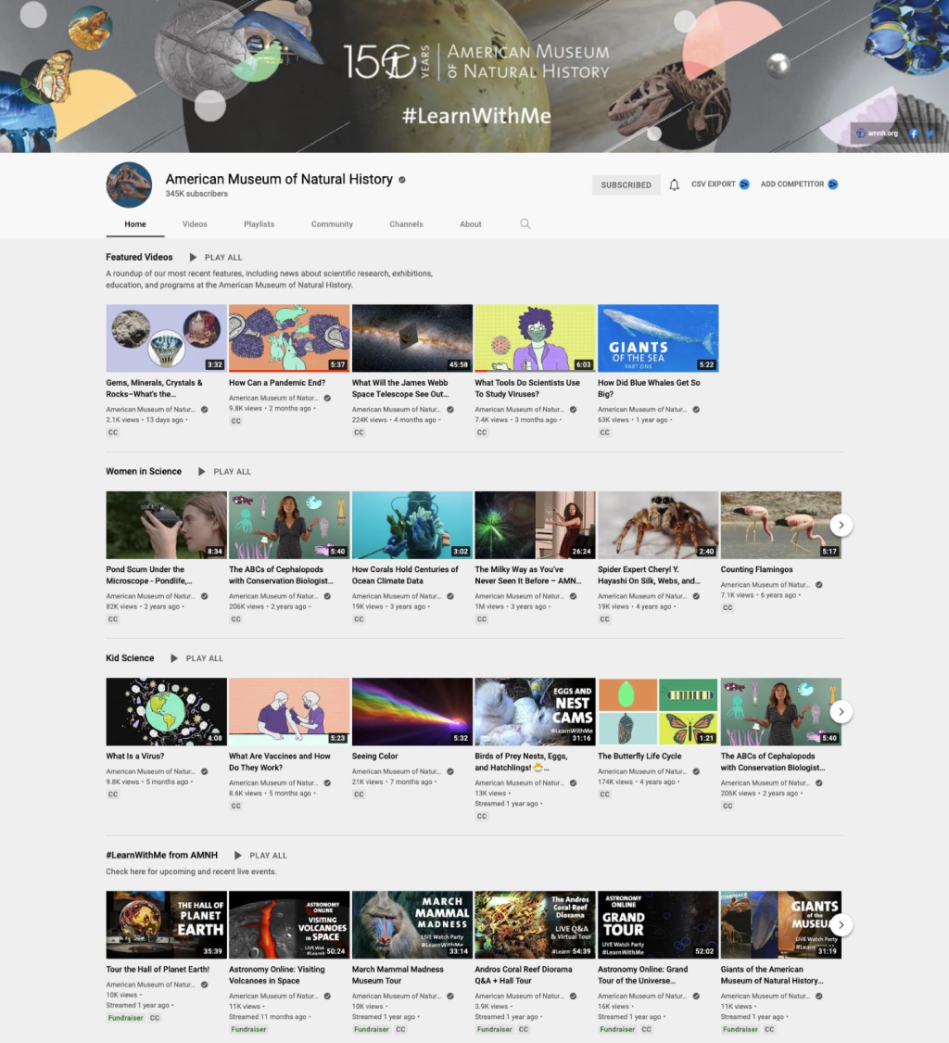 Just as your welcome desk does for your in-person visitors, your museum's YouTube channel should make a positive first impression on your virtual visitors.
Strong branding and clear organization on your channel's landing page can make a big difference to viewers, as Emily Robbins found in a 2015 study of museum YouTube channels. "For one thing, they let people know that a channel is actively and thoughtfully managed, which immediately suggests quality of content," she wrote in the report. "The stronger the brand, and the more the videos on the channel reflect it, the more likely a new viewer will understand what's being offered and become interested in having a long-term connection to the channel."
Here are a few areas of the landing page to focus on:
Custom banner



Just like a Facebook or Twitter page, YouTube offers the option of uploading a custom banner. It should align with your brand and act as a digital welcome mat. While this is mostly for aesthetic purposes, it's important because it signals to your audience that the lights are on—we're open, come on in!
What's your museum's voice and personality? This is a chance to visually communicate that. Include visual elements important to your brand, like an impressive photo of your facilities, or make a graphic that advertises your current exhibitions. Follow your brand identity guidelines and use your brand fonts and color palette for cohesion with your other social media channels and website.
For smaller organizations that don't have a graphic designer on staff (I feel your pain, deeply) I recommend using a user-friendly cloud-based service like Canva or Adobe Express, both of which offer a variety of templates that are easy to customize and share with collaborators.
"About" section
Assume whoever comes across your YouTube channel has no idea you are a museum. Make sure your "Description" contains a summary of your organization and what you're all about.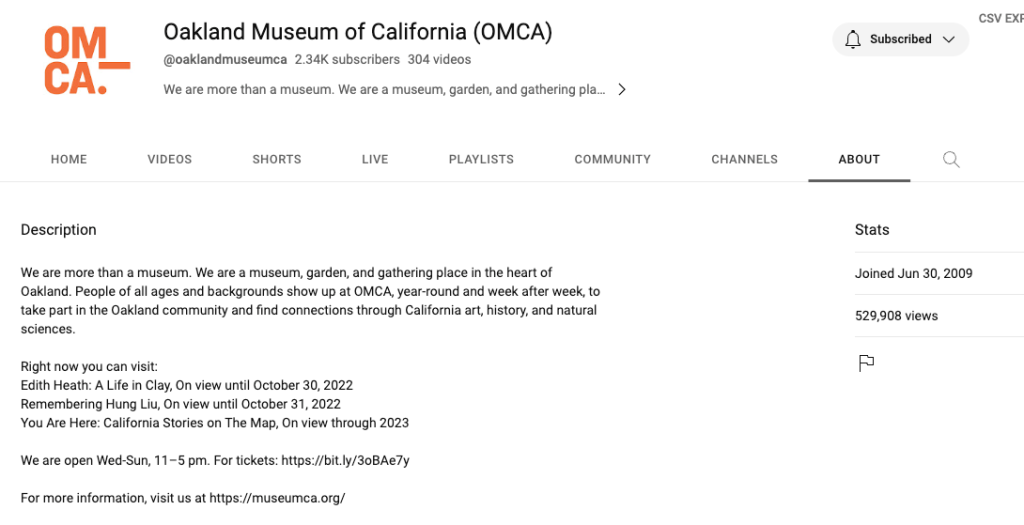 Remind your audience that you're not simply a channel producing videos—you also have a brick-and-mortar location they can visit. Don't forget to include relevant links in the "Links" section for your website and social media channels to increase engagement on other platforms.
 Profile picture


This image accompanies your channel name on YouTube. A high-contrast image of your logo in your brand colors works best for building brand awareness.
2. Choose a strong thumbnail and title.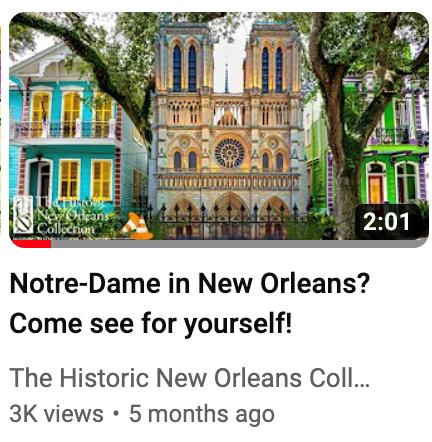 I regret to inform you that making a great video is only half the battle on YouTube. The other half is convincing people to click on it, instead of one of the millions of other videos on the platform. While the algorithm goes a long way in narrowing it down according to a user's interests, they still need an enticing reason to watch your video instead of the one next to it, so it then goes on to reach more people with similar interests. That's where the creative pairing of a well-designed custom thumbnail and a good title can make—or break—a video's success.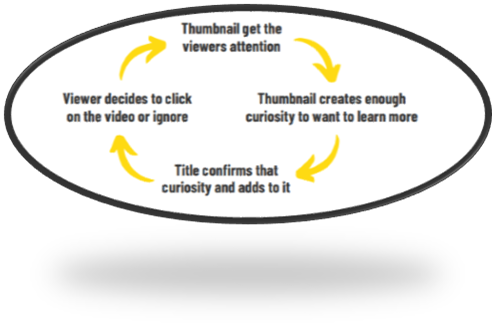 To develop a good thumbnail and title, it's important to understand the value of your content to users, so you can translate that in the most effective way possible. Consider the following questions:
What is your video about?
What does it provide your audience?
Why is it worth their time?
With those questions answered, you're ready to move onto developing your thumbnail and title.
Thumbnails
The thumbnail is a one-frame sales pitch to your audience. When brainstorming what to include in it, consider what elements of your video are most important. What clearly captures your idea? Is an object the focus of the video, or is it a featured speaker? What is going to get the viewer to stop scrolling and click? Include those elements to make it clear what's in store for the viewer if they choose your video.
Jay Alto, a YouTube thumbnail expert whom I wholly credit for much of this information, suggests using the "3 Element Rule" to keep your thumbnail clear and simple.
The process he suggests is brainstorming a list of potential elements, picking the three most important ones, prioritizing them, and using that to build your thumbnail:
Brainstorm – Always start by listing all the potential elements that could be in your thumbnail. Let your creativity run wild.
Selection – With a few thumbnail ideas in mind, pick your three most important elements. You want to select elements that:

Get viewers' attention
Appeal to viewers' interests
Hook viewers by creating curiosity

Prioritization – Rank your selected elements in order of importance. Use the list in the previous step to prioritize.

Priority 1 = Attention
Priority 2 = Interest
Priority 3 = Hook

Create – Now put your thumbnail together using your selected elements. Keep your prioritization in mind and focus on achieving the three fundamentals (attention, interest, and curiosity)
Guidelines, not rules – You can have more than three elements. You don't have to prioritize them in that particular order. Some elements can achieve multiple things, like acting as the attention grabber and hook.
Again, if your institution has no in-house resources for graphic design, Canva is a great alternative and offers tons of templates. I use Canva to make 99 percent of my thumbnails.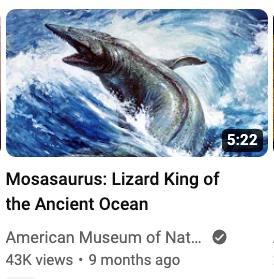 Alto also recommends that you focus on building curiosity. He outlines four types of titles that can accomplish this:
Question: Set up a question that the video will answer
Wow Factor: Hint at something completely unexpected that the video will reveal
Cliffhanger: Introduce an event with an unknown outcome that the video will resolve
Knowledge: Establish the information that the video will explain
While these general tips will steer you well, it's important to note that there are no clear-cut, paint-by-number rules to making clickable thumbnails and titles. It's more of an art than a science, and I've only scratched the surface here of the conversation in the YouTube creator community about it. Many of them put as much creative strategy into choosing these elements as they do into producing their videos themselves. In fact, one of the most successful YouTubers in the world, Mr. Beast, has said he often thinks of a thumbnail before he even thinks of a premise for a video.
To help you along, there are many online resources available on different strategies for thumbnail design and title crafting. Two of my favorites are VidIQ (which also offers services like AI-generated titles) and Jay Alto's insightful Twitter account.
3. Get to know SEO.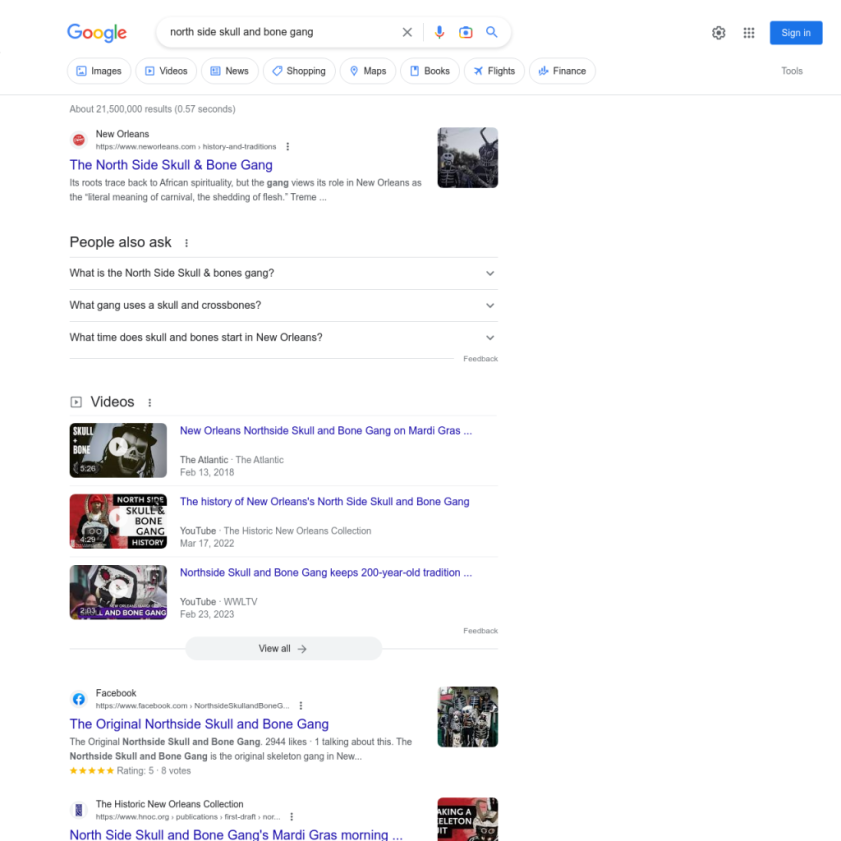 "As content experts, museums are well placed to deliver the kind of high-quality content that Google values. Museums should view providing SEO-friendly content not only as a good marketing exercise, but also as another route to deliver on our educational missions. All SEO takes is a little work from the museum to create the right content and structure this correctly. Then search engines will do the rest."
Search engine optimization (SEO) is the process of optimizing your content to be discovered via search engine. It means identifying and using the likeliest keywords people will type into a search window to find your content.
To show you an example of how this works for YouTube videos, I'll talk about how I positioned a digital video series I made on the North Side Skull and Bone Gang, a costumed group that has been a part of New Orleans' Mardi Gras festivities for centuries.
I made the series for HNOC's Making Mardi Gras exhibition, which featured one of the gang's traditional suits, made by its Big Chief, Bruce Sunpie Barnes. At the curator's request, I filmed an interview with Barnes about the history and meaning behind the suit, which I then edited into the three-part series. Though the videos were based on the exhibition, I wanted them to work as evergreen content that would remain relevant well beyond the exhibition's run. While I included the exhibition information in the descriptions, I crafted the titles to appeal to a general audience curious about the subject.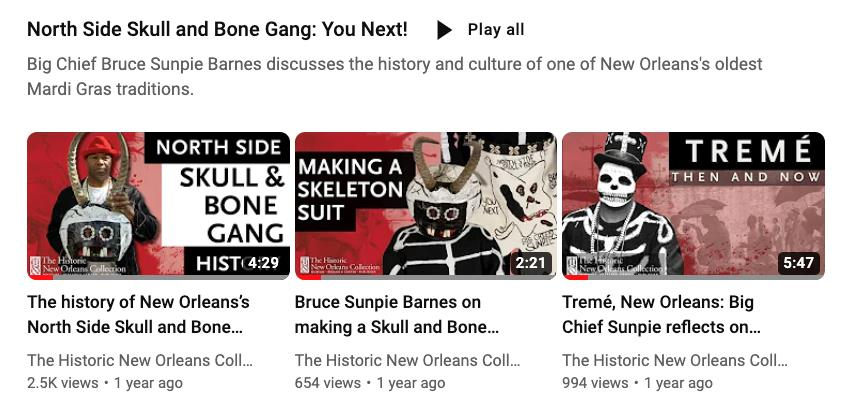 Though research on Google Trends, I identified the SEO keywords for the series as "New Orleans" (which is a keyword for most of our content), "North Side Skull and Bone Gang," "Bruce Sunpie Barnes," and "Treme" (the neighborhood in New Orleans where the gang begins its annual march, which is also well-known as the name of an HBO TV show.) As is best practice in SEO, I tried to include those towards the front of the titles, without sacrificing legibility.

This evergreen positioning paid off in 2023, when the North Side Skull and Bone Gang was prominently featured in an episode of AMC's "Mayfair Witches," a TV series based on the Anne Rice novels. Because the titles included relevant SEO keywords, viewers were able to easily find the videos to watch and learn more about the history of the group. They then received another boost in views at Mardi Gras season, when people curious about the meaning behind the tradition went looking for information on YouTube search.
In short, to make your videos easy for prospective viewers to find, identify those SEO keywords, front-load them in the titles and descriptions, and prioritize clarity over creativity. I like to start by asking myself what words and phrases I would search in Google if I was my target audience, in addition to using Google Trends.
Conclusion
There are many aspects to consider when making a video for your museum, including where to upload it. Due to YouTube's unique position as a video platform, social media site, and search engine, a museum's YouTube channel can help reach new audiences, connect with current ones, and increase your public profile. It can also help exhibitions and programs travel beyond the confines of their physical location and reach people that don't live in your community. It's hard to make an argument against using it.
While you'll find tons of advice on creating and maintaining a YouTube channel, there isn't much specifically geared towards museums, so I'm sharing these tips here from my experience as THNOC's media producer. They are intended as helpful pointers and guidelines to aid museums who don't have someone like me on staff, but they are not the be-all-end-all. Ultimately, the best YouTube channel standards and practices for a museum are the ones that align with your institution's mission, value, brand, and voice.