The National Museum of American History has been exploring the American Experience through the study of American food and foodways for the past 15 years through its Food and Wine History project. A signature object in the museum's collections is the kitchen from Julia Child's Cambridge, Mass., home. Later this fall, the Museum will open a new exhibition, including the kitchen, called FOOD: Transforming the American Table, 1950-2000. This month, the Museum will put the kitchen back on view for a limited run in honor of Julia Child's 100th birthday and its staff are cooking up some fun programming to accompany the exhibition. In today's guest post Amy Bartow-Melia, director of public programs, and NMAH intern Maura Hallisey share a peek into these projects.
How do you commemorate the centennial of an American legend? This was the question the members of the Food and Wine History team at the National Museum of American History asked ourselves as we prepared for the 100th anniversary of cookbook author, teacher, and television star Julia Child's birth. Because Julia donated her kitchen to the museum in 2001, we knew that "foodies" and "non-foodies" alike would be looking to us for ways to acknowledge her legacy and her many significant contributions to our culinary heritage on what would have been her 100th birthday, August 15. (Julia Child died in 2004.) We decided on five main ingredients with which to create a truly memorable party, including a "surprise" event that will be a first for the Museum.
Ingredient One: The Kitchen! First and foremost, we knew that our visitors would want to engage with the kitchen where Julia Child cooked and dined with family and friends from 1961 to 2001. Currently off view while it is being installed as part of an upcoming exhibition about food in America, we are offering the public a two-week "sneak peek" of the kitchen in its new gallery on the east end of the museum's first floor.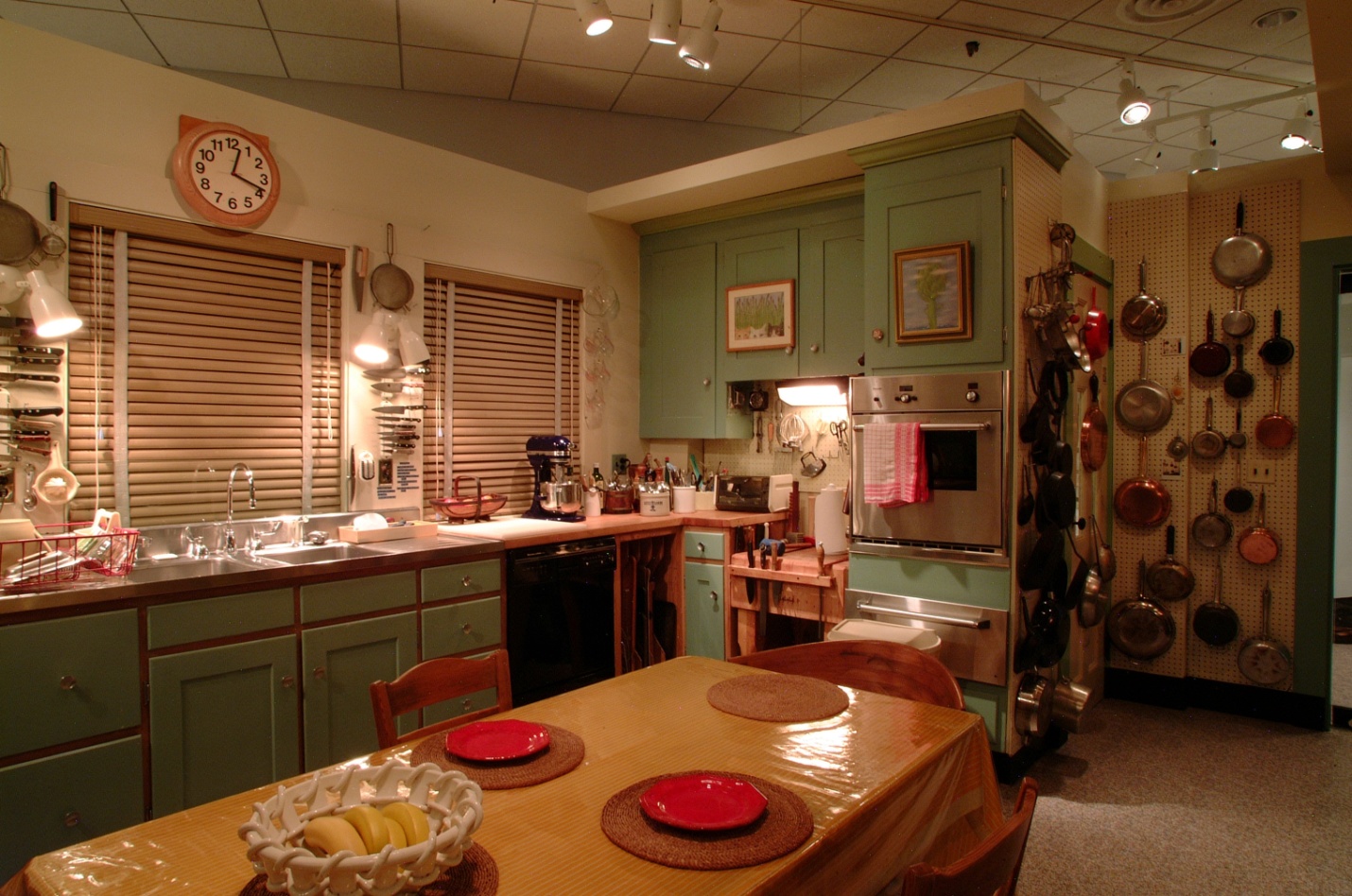 Ingredient Two: Julia in Action! There is nothing as inspiring as experiencing Julia Child in action, so we have partnered with WGBH's Educational Foundation in Boston who have generously given us permission to show three episodes of WGBH's The French Chef that haven't been seen since they were originally aired.
Skip over related stories to continue reading article
Ingredient Three: Food! Nothing is more frustrating than talking about food and not being able to eat. So we've partnered up with the museum's chef who will be offering dishes inspired by Julia Child's cookbooks throughout the two weeks the kitchen exhibition is open.
Ingredient Four: Stories. In addition to the amazing stories that the objects in Julia's kitchen inspire, we are inviting several authors and friends of Julia's to the party, including her grand nephew Alex Prud'homme and the producer of her last three television series, Geoffrey Drummond. We are also encouraging our visitors to share their memories of Julia and stories of their family's food traditions on our "talk-back" boards.
Ingredient Five: Surprise! Julia encouraged her students and fans to try something new and to have the courage of their convictions. We have decided to follow her lead and try something new for us—hosting a surprise birthday party–to courageously express our conviction that Julia Child deserves recognition on this special day. We hope our surprise will spark a memory, start a discussion and bring a smile to our visitors. If you aren't in D.C., follow us online and whip up a Julia recipe or try a new ingredient on the 15th. And if you are in D.C., we hope you come to the party—1 p.m., Flag Hall.
We're taking our cue from Julia, wrote in Mastering the Art of French Cooking, "above all… have a good time!"
This post is one of a series documenting the many ways museums are engaging with their communities through food, and part of CFM's ongoing Feeding the Spirit initiative. You should also read up on the White House's Let's Move! Museums and Gardens campaign coordinated by the Institute of Museum and Library Services.