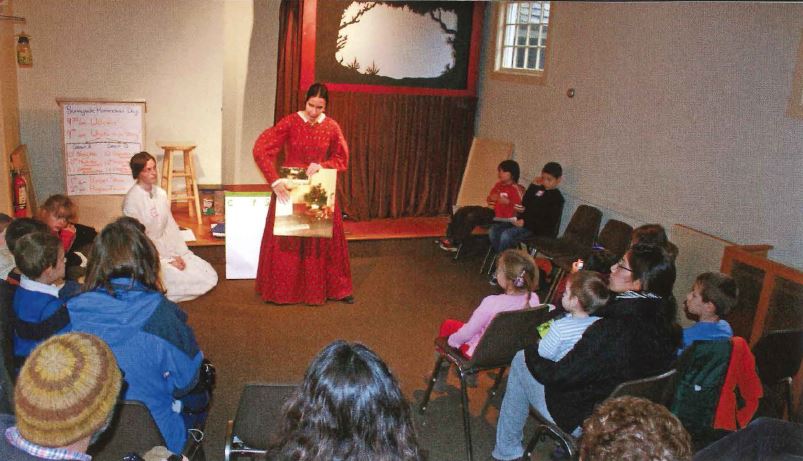 This article originally appeared in the July/August 2013 edition of Museum magazine.
It's 9:30 on a Tuesday morning, and already the museum shop of 19th-century author Washington Irving's Sunnyside, part of a network of house museums owned and operated by Historic Hudson Valley, is filling up with families.
Is it school break? Is it a snow day? No, it's the morning session of "Homeschool Days: Irving, Industrialization and the Modern Mid-19th-Century Home." The families have come a little early to orient themselves, collect the day's agenda, find the bathroom, socialize, have a snack, query staff about the particulars of the program and breast-feed infants before the program starts.
This is a community of learners that the Sunnyside management team was eager to engage. Our rationale was myriad. Our traditional school audience was dwindling, and we needed to boost our school program attendance. We wanted to challenge ourselves to look at our site and collections in a new way. Working with new material and teaching to a new audience would offer ample opportunities for staff to expand their teaching strategies and grow as learners. We were also eager to introduce more academically rigorous experiences to our school program roster. The homeschool programs, besides introducing a new and growing audience to Sunnyside, were going to serve as a learning laboratory for us.
Sunnyside is a single-focus museum. The house and grounds never really change except with the season. The homeschool programs required us to use Washington Irving, his family, the site's history and the time period it represented, antebellum America, as a catalyst for exploring related topics and subjects such as writing historic fiction, discovering the roots of the American Christmas and industrialization. Very exciting!
Before we embarked on programs for homeschool families, we carefully researched their unique needs and learning styles. After some discussion, we decided that simply retrofitting a current school program wasn't the way to go. We needed to start from scratch. With this in mind, Maeve Montalvo, Sunnyside's museum associate for school programs at the time, developed the model for our programs, centered on our understanding that homeschool families like to learn together; have some independent, interest-driven, family exploration opportunities; take time to socialize with new and old friends; and also delve deeply into a particular topic. They believe it's important to practice research and thinking skills that they can then transfer to their at-home learning.
The Sunnyside model allowed for all of that. Our programs were designed for a wide age range from 5-16, with the ability for parents to bring younger children along (although not as active participants in the program). "This meant that by the end we could have anyone from the equivalent of a kindergartener to a 10th grader in our workroom, all learning together at their own developmental level," Montalvo explains. "We came to call this approach our 'one-room schoolhouse,' drawing on the analogy of schoolrooms which would have been common in the time period we were interpreting."
In a one-room schoolhouse, the teacher had to be prepared to work with children of all ages. So did we. Our model was successful thanks to several distinct program components. First, we encouraged family exploration of the house, allowing participants time to discuss what they were discovering as it related to both the program and their own experiences; and to just check in with each other and enjoy one another's company. Second, we provided multiple opportunities for learning as an entire group. All the programs included a comprehensive group introduction, a craft activity or performance, a snack and conclusion. Finally, we developed an age sensitive, primary-source workshop in which students were divided into age groups of 5-7, 8-13 and 14-16.
We were careful to arrange for enough indoor spaces to make the smaller group activities possible. And we provided a high participant-to-staff ratio; especially critical to the success of the primary source workshops (and probably where we veered the most from a one-room schoolhouse model).
Montalvo acknowledges that designing a program for such a wide age range was a challenge. "But the pleasure of the multi-age learning environment, as well as the gratitude
of parents who were able to bring all of their children to the same experience, made the preparation and pre-planning for such a complex learning environment well worth the effort," she says.
Our debut program for the homeschool audience was "Homeschool Days: An Irving Family Christmas." Here, participants discovered how Irving's stories inspired many of our seasonal traditions; through this lens we were able to talk about aspects of mid-19th-century home and family life. Families also learned that Irving was a major influence in shaping the image of Santa Claus into the jolly guy we know today.
Our next offering was a look at industrialization and the mid-19th-century home. Irving's house sits right along the Hudson River, and the tracks for freight, long-distance and commuter rail lines are practically in the front yard. While the program explored the effects of industrialization on domestic life such as the advent of sewing machines and cast-iron cooking ranges, we paid particular attention to what the steam train meant to society during Irving's day and how technological change could be both good and bad.
The last program was the most ambitious. In "Crafting Stories and Telling Tales," participants sought inspiration for their own historical fiction tale by exploring Sunnyside for clues and hearing stories of the former inhabitants. Museum teachers guided homeschool students as they practiced research methods, learned to read the built environment, and investigated the elements of characters, setting and plot.
For all programs, children, adults and museum teachers first took part in a discussion. Then the participants went down to the house for a family and interest-driven exploration of the historic home. Families wandered through the house with workbooks or worksheets to guide their inquiry.
Museum teachers stationed in the rooms needed to strike a balance between offering information and letting families explore on their own. This was a very different style of teaching that took some practice and getting used to. Some families lingered in the parlor longer than others. Others, fascinated by the kitchen, spent the lion's share of time there and then quickly buzzed through the rest of the house. Through surveys we discovered that some wanted more time in the house; others thought the timing was just right. We continued to tinker with that aspect of the program.
For the document-based, self-study segment of the program, the children were divided into groups by age range. Everyone worked with the same primary documents but in an age-appropriate manner. We drew the documents from our own vast collection of archival material as well as from libraries, the New York Times archives, and even eBay. For the program on industrialization, for example, we used newspaper articles that could be gleaned for views supporting or condemning the train, schedules for the local Hudson Line trains, maps, and personal letters.
We were gratified to learn that our document selection and mode of use could be easily adapted up and down the age range for all program attendees, giving all the children in a family the same material to discuss back home. During the Christmas program, for instance, all the students explored poems, prose passages, and prints and paintings of Santa Claus from early to mid-19th-century America. Younger students described what they knew about Santa Claus, he drives a sleigh, he's jolly and fat, lives with Mrs. Claus and the elves, etc., and then studied the documents to learn how people once envisioned Santa. The children looked at images of Santa and listened to a museum teacher reading poems about him. They circled or colored in the characteristics that appeared in both the poem and the image, and concluded the activity by drawing a picture of Santa Claus as they understood him today.
Older students also used the documents to trace the development of Santa Claus as we now know him, analyzing the sources to discover when some of these characteristics appeared; they discussed why some other traits never made it to the 21st century. They wondered if the authors and artists knew each other and considered some of Santa's darker aspects, such as his penchant for leaving coal and switches for naughty children. Their session ended with a group discussion about how Santa's image changed over time and how Coke seems to have the lock now on how we now envision him. They speculated on what the Santa of the future might look like, with one child positing that modern-day emphasis on healthful eating might help trim Santa again to svelter proportions.
We learned a great deal about our audience. We observed them at work, had conversations during the program breaks and solicited feedback with program surveys. Danielle Carlisle, a dedicated home school mom, is quite specific in describing the value of our homeschool programs for her 12-year-old daughter, Haley. "Even if it's a topic Haley is not 'super excited' about, like steam trains, she comes out of the program beaming and wanting to explore further when we get home," Carlisle says. "For us, that's the point of homeschooling, to keep developing new interests and to keep learning fun! Sunnyside is a terrific venue for doing just that."
For Haley, each new theme that we have introduced is "exciting." And she loved touring the house and spending time in the historic kitchen (in part because she loves to cook). She especially appreciated the staff she interacted with. "The Sunnyside homeschool field trips are and will remain one of my favorite field trips," she says. "The staff is very kind and helpful. When anyone needs help, they are right there to give their advice."
While Sunnyside's foray into homeschool programs was self-motivated, the expressed need of the audience itself was the impetus for some other museums. The Walters Art Museum in Baltimore, for example, developed its monthly homeschool program "in response to the growing number of requests for museum tours and art classes from the large homeschool community in the Baltimore metro area," says Brittany Powell, senior education coordinator for school programs. "The format of the monthly workshop was developed to ensure an age-appropriate lesson that aligns with the needs and learning styles of homeschool students. The homeschool community has changed throughout the years, and the Walters is excited to offer resources and programs that fit the needs and motivations of home educators and students."
One important aspect of the program's success is their well-received take-home materials. "The Walters provides resources and activities that are linked to the workshop themes for parents to use at home with their students," Powell says. "These comprehensive materials utilize supplies that are affordable and user-friendly and connect the museum experience to home learning."
As with any new audience, developing programs for the homeschool population is an ongoing process that must be both nurtured and analyzed for future success. Like any program, there are always multiple stakeholders to be addressed: the intended audience, the staff who run the program and the administration. The most appreciated characteristics of Sunnyside's homeschool effort-the length, the varied activities, the staff-to-participant ratio; created a rich but initially costly program that staff recognized would need to be streamlined for long-term viability. For this reason, and in concert with a recent realignment of program and resources at Historic Hudson Valley, the homeschool program is now on hold for re-examination.
Other museums have successfully balanced the bottom line with their own philosophical underpinnings and the expectations of homeschool families. The Children's Museum of Indianapolis, for example, has offered monthly structured programs for homeschool families for the past 15 years, with its current model in place since 2003. Melissa Trumpey, the museum's public events and family programs manager, explains that topics vary each year and are focused on museum exhibits. In "Take Me There: Egypt," for example, families learn about the housing, food, environment, transportation, language, and culture of modern-day Egypt and then participate in hands-on activities encouraging discussion. "Family learning is a top priority for the museum, and we define that as any ongoing relationship between an adult and a child," she says. "Homeschool programs are designed for the entire family to be involved in the activities and the learning process. The costs have been kept low in order to allow families to participate together. They are also set so they are comparable to the cost for a field trip visit for a traditional school."
Developing and sustaining homeschool programs that meet both the audience's and institution's needs can indeed be challenging at times. But the homeschool community is expanding, and as the Center for the Future of Museums'
TrendsWatch 2012 articulated, museums that do not respond to changes in the educational environment do so at their own risk.
"Field trips have always been one of our favorite pieces of homeschooling," says homeschool parent-teacher Carlisle. "[They] provide new interests, teamwork experiences and a new way to look at previously learned material. And, of course, the opportunity to socialize with other students as well as other adults/authority figures! Yes, I believe children learn wherever they go. And although 'book work' can be completed each week, there are constant learning opportunities that seem to find us and take us in new directions."
---
Dina Rose Friedman is a museum consultant and former site director, Sunnyside, Historic Hudson Valley, Tarrytown, New York.