What's more fun than reading comics? And what if a comic could not only model science inquiry processes, but also offer readers the opportunity to jump in and solve a mystery along with the protagonists of the story? Action, adventure, and a little attitude can bring science alive and entice reluctant learners to dive in and discover that science can be fun.
Transmissions: Gone Viral, a digital, interactive comic from the New York Hall of Science (NYSCI), follows the story of three childhood friends who discover dead crows in their neighborhood. Meanwhile, many of their elderly neighbors are getting sick with a mysterious illness. The friends decide to try and discover the link between the two with the help of a veterinary pathologist and an entomologist. Readers follow the protagonists as they gather evidence, look for patterns, and ultimately solve the mystery.
We based our story on real events from the summer of 1999, when huge numbers of crows throughout the borough of Queens and exotic birds at the Bronx Zoo were dying from an unknown disease. Elderly people turned up at hospitals with symptoms mimicking the avian symptoms. But no known pathogen affected both these particular birds and humans. Officials at the zoo and the NYC Department of Health worked throughout the summer and discovered a pathogen new to this hemisphere, West Nile virus. Karen de Seve, a seasoned science writer and creative, transformed a straightforward science story into an engaging mystery, crafting fun and relatable characters and writing strong science interactives that supported the overall narrative.
The West Nile virus story offered the ideal narrative to illustrate how scientists do research and to explore how humans and other animals are related through evolution and can share the same diseases. It is also a great mystery story. But a straightforward account of the 1999 epidemic didn't feel like it would be compelling for our target audience—middle school students. So, we set the story in 2019 and created characters our audience could relate to. The characters reflect the diverse Queens community where the New York Hall of Science (NYSCI) is located. We added recent technology, like cell phones, laptops, and interactive whiteboards, making it possible to display real microscopic and MRI images and illustrate scientific principles effectively without feeling like we were delivering a lecture.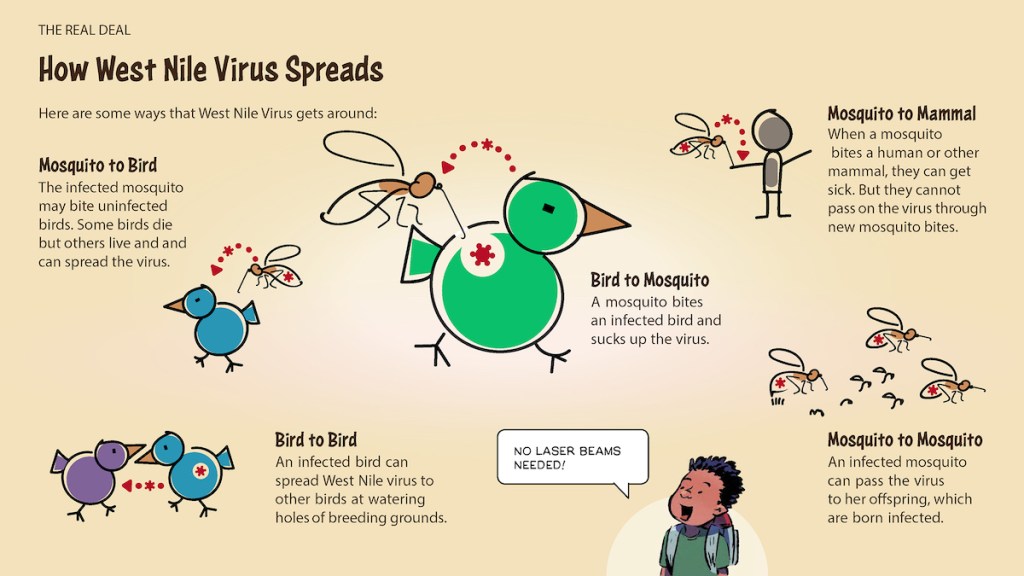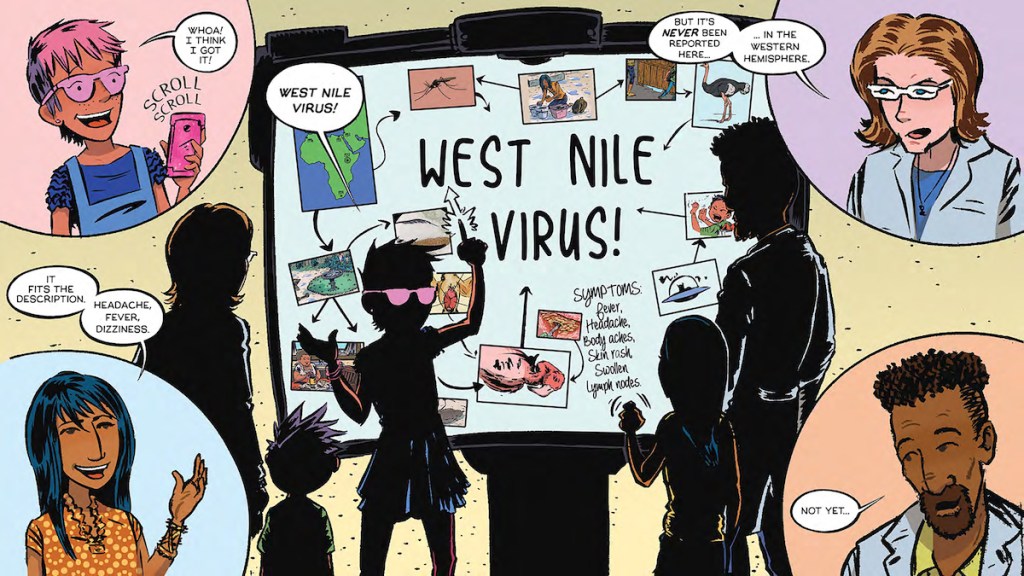 The story structure itself models the science inquiry process. The three main characters each approach the investigation with different inquiry skills: Rani collects and studies specimens, Maria documents and maps evidence, and Eduardo creates hypotheses. A veterinary pathologist and entomologist befriend the kids and take them through the laboratory processes as they work together to discover the new virus.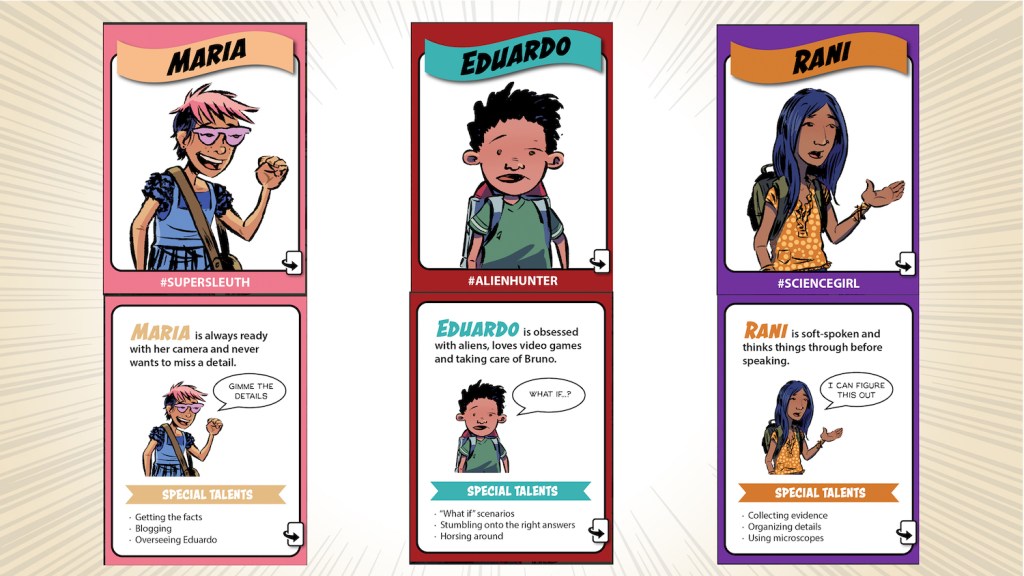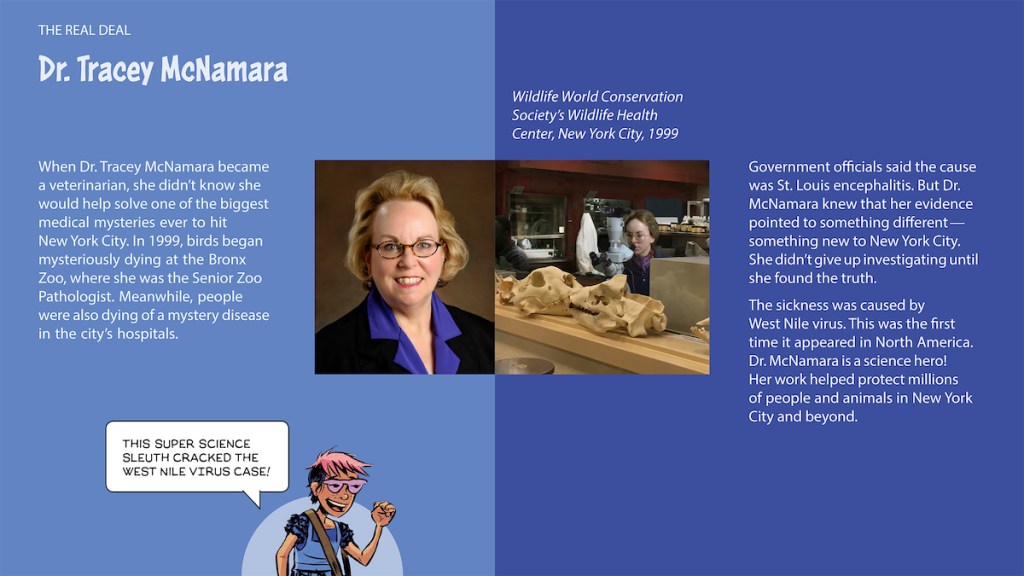 Going Interactive
At NYSCI, we want to offer experiences that give youth the opportunity to be active participants in science. A paper comic didn't feel like it would provide the kind of engagement we feel is so important. Using a digital format instead allows readers to join the investigation through embedded interactives. The activities, designed to develop science inquiry skills, include a digital map where the reader can sort and analyze evidence, a matching activity for exploring homologous structures, and a game where players take on the role of a virus and try to spread as far as they can via vectors. Infographic pop-ups illustrate many of the scientific concepts important to the investigation and allow readers to study images from dissections and microscopic studies from 1999. They can also read about the 1999 West Nile Virus in New York and some key people involved in solving that mystery. A glossary of science terms is available within the comic and includes audio files for pronunciation assistance.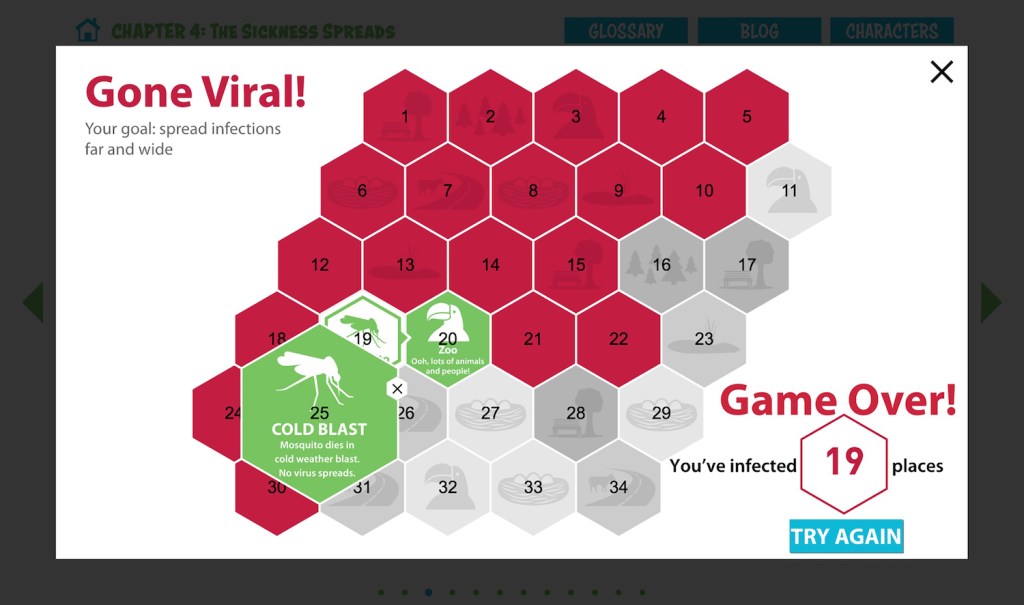 NYSCI produces a variety of digital tools and apps for use in schools and by individuals. A conundrum we often face is which platform to use, as devices across schools and in homes vary widely. For the comic, to ensure it would be accessible to as many readers as possible, we developed it to be web-based. It can be read on any device as long as there is an internet connection. This did come with trade-offs in our ability to make the interactives open-ended and exploratory, as we originally planned, but we worked with a top-notch developer, Blue Telescope, to create activities that provided a sense of discovery and experimentation for the reader.
Education and Research
As we created the comic, our educators convened an advisory board of teacher consultants. They were all middle school teachers in a variety of subjects including science, English language learners, and reading and comprehension. They informed the development of a supplemental resource guide to the comic for classroom use. A free download from our site, the supplemental guide includes suggestions on how to engage students around the story and offers ideas for additional classroom activities.
Our research team also worked with youth in our target age range from our community and in the greater New York/New Jersey area, who tested prototypes of the comic's look and feel, characters, and interactives. This provided essential feedback during the development, design, and production process, and challenged the team to think through learning goals and design decisions.
Blue Telescope's producer and self-proclaimed comic nerd, Brad Barton, introduced us to a wonderful comic artist, Charlie LaGreca, who has worked on many educational comics. Our writer, Karen de Seve, has written for many children's educational publications and animated series, and has a long history as a content developer for science museums. These contributors worked seamlessly with our team of educators, scientists, creators, and researchers at NYSCI.
The comic book and embedded interactives allow readers to join the characters in making sense of information and invite them to construct their own explanations about the events in the story. The narrative structure reinforces the science inquiry process. Major themes explored in Transmissions include: scientific evidence, mapping information to reveal patterns, the nature of scientific investigation, biomedical careers, homologous structures, and disease transmission. The accompanying teacher guide outlines ways a digital comic can be used in a variety of formal and informal settings, such as biology, health, English language arts, and social science classes; after-school programs; or even as a solo activity.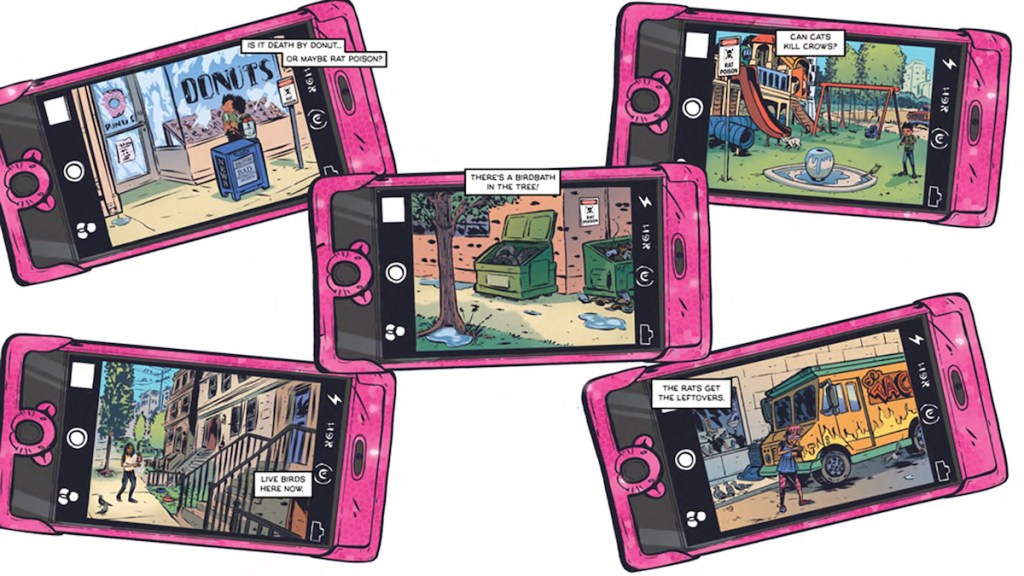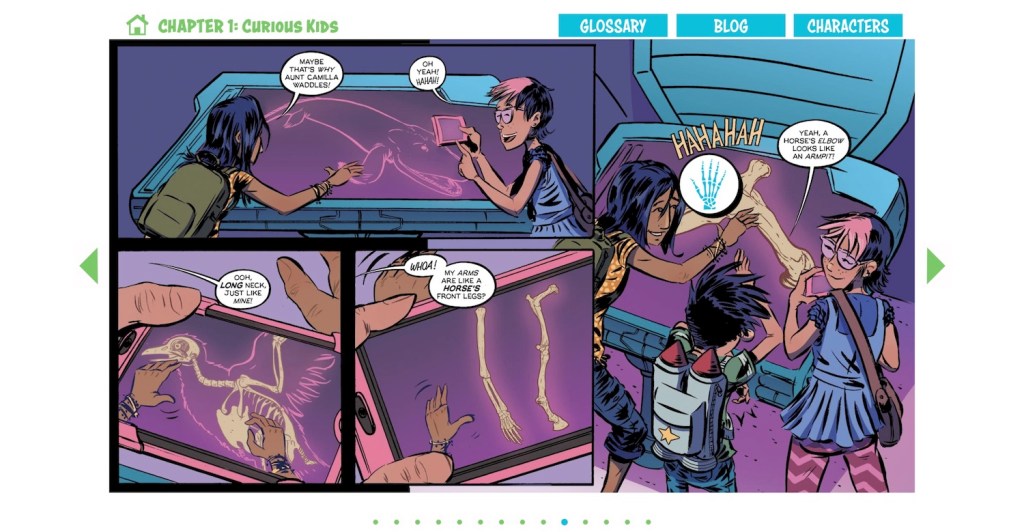 We've received strong positive feedback since Transmissions: Gone Viral has been available to the public. It recently won the Communicator Award of Excellence from the Academy of Interactive & Visual Arts. We've heard from parents that kids are reading the book outside of the classroom—and are totally engrossed in the story. Teachers and afterschool instructors are developing lessons and activities using the curriculum resources that were created along with the book. It is a community resource that takes science well beyond the walls of the museum. Transmissions: Gone Viral can serve as a national model for conveying educational information through the use of interactive technology and an engaging graphic novel format.
Dr. Martin Weiss, Laycca Umer, and Michaela Labriole contributed to this blog post.
About the author:
Geralyn Abinader, NYSCI's Creative Producer and an AAM Member, is an award-winning media creator for museums, developing many projects—from video programs and large-scale installations to computer interactives and websites—that use storytelling to enliven and share scientific content. The producer and content developer for Connected Worlds, a 2500 sq. ft. immersive interactive environment, Abinader helped to shape the experience around systems thinking, sustainability, and resilience; the exhibition won the 2018 AAM Muse Award. Abinader has also produced multiple apps and interactive digital books to extend NYSCI's outreach. The recently launched online interactive comic, Transmissions: Gone Viral, won the 2019 Communicator Award of Excellence, and the app The Pack was selected to be featured by Apple. Prior to NYSCI, Abinader was Founding Director of the Media Production Department at the American Museum of Natural History in New York, where she directed the media team in creating innovative installations, films, and displays to anchor permanent and temporary exhibits.
The Team:
Project Director and PI: Martin Weiss, Ph.D., Senior Scientist, NYSCI
Creative Producer: Geralyn Abinader, NYSCI
NYSCI Research Team: Harouna Ba, Cornelia Brunner, Wren Thompson, Rose Posos, Laycca Umer
Writer, Interactive Content Developer: Karen de Seve, Creative Content Studios
Design & Development Partner: Blue Telescope
Producer: Brad Barton, Blue Telescope
Comic Book Art: Charlie LaGreca, Blue Telescope
Additional Artwork: Daniel Loi, Senior Graphic Designer, NYSCI
Animation: Ray Ferrer, Ray Ferrer Art
Guest Editor and Advisor: Tracey McNamara, DVM, Professor of Pathology; Veterinary Medicine Western University of Health Sciences
Teacher Advisory Board:
Nora Fiskaa, Our Lady of Guadalupe Catholic Academy
Karen Gutwirth, MS 226 Q Virgil I Grissom Middle School
Sean Hogya, MS 216 George J. Ryan Middle School
William Lee, MS 216 George J. Ryan Middle School
Olivia Lovera, IS 145 Q Joseph Pulitzer Magnet School of Innovation and Applied Learning
Lazaro Sanchez, Excel Charter School
Advisors:
Paul Calle, DVM, VP, Health Programs and Chief Veterinarian, WCS
Laurie Fink, PhD, VP of Science at SMM
Katura Reynolds, Interpretive Content Developer, Oregon MSI
Stephen C. Stearns, Professor Evolutionary Biology, Yale University
Elizabeth Uhl, Veterinary Pathologist, Univ. of Georgia
Transmissions: Gone Viral was made possible by a Science Education Partnership Award (SEPA), Grant Number 5R25OD021906, from the National Institute of General Medical Sciences (NIGMS), National Institutes of Health (NIH). Its contents are solely the responsibility of the authors and do not necessarily represent the official views of the NIGMS or NIH.
Skip over related stories to continue reading article