"We want our students to do more than just wipe tables," said Lucas LaFaver, vocational coordinator at St. Coletta of Greater Washington, a DC-based charter school for students with intellectual disabilities. He's passionate about creating access for his students. "We want to give them a chance to share their abilities rather than disabilities, but you can't have an opportunity like this without local partnerships. We want our students to interact within their communities, gain independence, and learn new skills in internships, but if they're not seen, then the opportunities aren't there."
With this vision and hard work, St. Coletta has now had an internship opportunity to offer its 250 students. That opportunity went to twenty-one-year-old Jade Cooper, who interned with the United States Holocaust Memorial Museum this year. Jade recalled when she first heard the news.
"My first thought was, 'They wanted me?'" she said. "I was so surprised and shocked. I thought I may do good in this internship and make my mom and myself proud."
This was all made possible when luck and chance paired the school and our museum together over three years ago.
Past and Present
Our museum has always highlighted the history of the Nazi persecution of people with disabilities, within our exhibitions and by telling victims' stories on social media and through other public outreach.
But the connection doesn't end with educating about the past—we focus on challenges facing people with disabilities in our times as well. Our disability employment program committee, which is part of the Equal Employment Opportunity's Special Emphasis Program, runs throughout the year to offer events, including Disability Employment Awareness observance in October. In 2017, the committee—headed by Christine Sonnabend, a project manager in the Marketing and Communications office—discovered Disability Mentoring Day and signed up.
The American Association of People with Disabilities (AAPD) organizes this annual day to promote career development for students and job seekers with disabilities. AAPD connected our museum with DC-based students, the majority of them from St. Coletta. The students attended our museum's first Disability Mentoring Day in 2017.
After the event, we started thinking of how we could grow our partnership with St. Coletta. Our tactic was simple—start small, learn fast, and engage our museum colleagues in our outreach effort.
The next year, we added a months-long volunteer opportunity for the students at our First Person: Conversations with Holocaust Survivors program, which features live interviews between journalists and survivors at the museum. The students helped assemble the printed programs before each event and greeted attendees as they entered the theater.
"The students are exceptional," said Emily Potter, senior program coordinator at our Office of Survivor Affairs. "They're just extremely reliable, and it's a peace of mind for us to know that they're going to be there every week."
It was rewarding for Emily to witness the students gaining new skill sets.
"They're connecting with a lot of different people and really honing their interaction skills," she added. "They do it for several weeks in a row and with almost four hundred people every time."
The experience also empowered the students. The school's job coach was amazed to see the change in one student during a First Person event, saying the student spoke more that day than he heard him speak in months.
This is why we have this partnership. That student's goal was to speak more and he's now exceeded his goals.
Advance Planning
One of the new additions to the 2018 St. Coletta partnership was an interactive tour on Disability Mentoring Day. The first year of the event, we noticed that the staff had spent more time talking at the students than involving them in the conversation.
To ensure this didn't happen again, St. Coletta representatives toured the Remember the Children: Daniel's Story exhibition in advance of the day and identified any obstacles or challenges for the students, as well as opportunities for engagement. Remember the Children is the museum's primary exhibition program for young people and families. The exhibition tells the story of one family's experiences during the Holocaust from the perspective of a boy growing up in Nazi Germany.
On the day of the event, two St. Coletta staff members provided support while we ran the tour and adapted as needed. Our tour guide paused if someone in the group needed a moment to process the information in the exhibition and would then bring the group back together for a collective learning experience, so that no one felt excluded.
"It was important that they felt at ease, welcome, that they understood the material, and that it was communicated to them so that they could comprehend and internalize," said Kerry Phipps, the group's tour guide and project coordinator for our Youth and Community Initiatives.
By the end of the tour, the students not only felt comfortable, but had developed an appreciation for our museum and its mission.
"They were fully invested in going through the exhibit, understanding Daniel, what happened to him, why it happened to Daniel, expressing why it shouldn't have happened, and why it was wrong," said Kerry. "This was a space that they really felt content in."
An Evolving Process
This year, we added another arm to our partnership—an internship at our museum for a St. Coletta student. The internship was carefully crafted to set the student up for success and expose them to different facets of our museum. Jade, our first St. Coletta intern, had completed the First Person volunteer program earlier that year, and we thought she could bring a lot to the internship and gain valuable skills from it.
Jade cataloged an historic music collection, created a video for students learning about the Holocaust, designed and created a mount for artifacts, and posted social media content.
"The internship ran for two hours, once a week, for more than two months," said Christine. "Jade always had a project she could participate in. We didn't want her to sit and listen. We wanted her to do and feel empowered because she learned new skills that she could apply in the future."
To create an engaging and interactive learning opportunity that combined individual and group activities, ten staff members with diverse roles individually met with Jade each week for one-on-one experiences. She also gained collaboration skills when she joined weekly department meetings.
"Everyone taught me so much," said Jade. She's set to graduate next summer and is considering museum jobs in the future.
Looking Ahead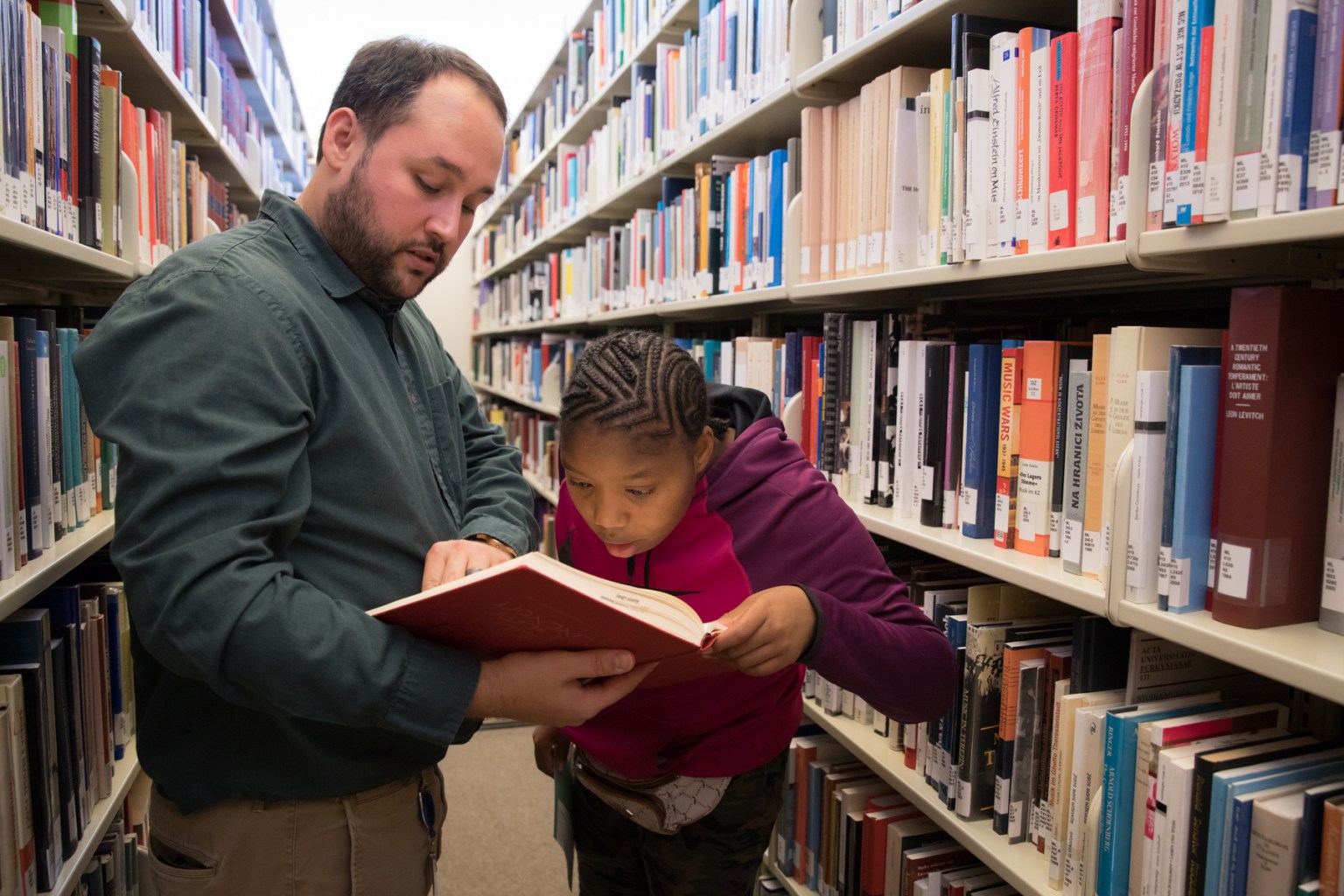 What's next for our partnership with St. Coletta? Kerry hopes to see more interaction and cross-collaboration.
"I think that there's still a relative stigma of disability and what people with disabilities can or cannot do," said Kerry. "Dispelling that myth is important. A large part of that is putting people with disabilities in positions so that they have visibility to dispel that myth."
Our latest Disability Mentoring Day was held in late October 2019. This year's students received a choice of tours. We added a Protection Services tour, which included getting a badge, viewing the museum's control center, and getting to learn about our canine unit. Every year we're improving, trying something new, and learning from what we have done. After this year's event, we're bringing together our museum participants and St Coletta to evaluate the mentoring day and brainstorm ideas for the 2020 program.
So how can your museum establish partnerships with local organizations that support people with disabilities? Here are some tips.
1. Start small. 
"Cultivate one relationship," Kerry said. "It could be one organization, one school, or one contact. Take the initiative, because teachers who work with students with disabilities have enough on their plate. As museum professionals, if we can do some of the heavy lifting to do outreach to them—that will go a long way. Send an email, pick up the phone, or arrange a meeting. Make that first leap to invite them in because a lot of times our spaces seem inaccessible. We need to welcome them in."
2. Be flexible. 
Flexibility on both parts is key. You can't have a rigid mindset and expect something to be a certain way, because someone with a disability may have a better idea. You should be willing to try new ideas.
3. Be willing to learn from partners in your local community. 
We learned a lot from St. Coletta staff and students. "You don't focus on the difference," said Kerry. "You modify the programming so that it resonates with them, but you treat the audience just like you want to treat any other audience."
4. Communication is key. 
Lucas said, "Call Christine." But he's not joking, really. Both partners have to be invested in and value the partnership, and there has to be ongoing and frequent communication. You become a team together, both of you working for your institutions, but also working for the betterment of the partnership.
5. Utilize resources. 
Sometimes it's hard to know where to start. We recommend taking part in Disability Mentoring Day in October. Contact the American Association of People with Disabilities to see how your institution can get involved and they will pair you with students from your community. The US Department of Labor offers plenty of resources to help you plan a Disability Mentoring Day event. You can also approach your organization's disability representative.
6. Visit potential venues and plan out events.
We walk through our museum spaces with our partner from St. Coletta prior to every engagement to avoid pitfalls and troubleshoot potential headaches. We are not only checking the space for access, but are also focused on students' learning while they are at our museum.
We recommend asking each other the following questions:
      How will a program work?
      What do you want from it?
      Does anything need to be modified for the students so they can access it?
      If the event includes an art or other hands-on activity, does it need to be modified for someone with a physical disability?
These are the questions we ask ourselves when we plan every event, and we rely on our partner's expertise.
7. Engage your colleagues – it takes a team!
It's important to have your colleagues' support. Our team has willingly taken time out of their schedules to share their expertise, experience, and skills as mentors or intern leaders. As a result, the successful program has grown over the last three years and is a rewarding experience for both employees and students.
About the authors:
Heather Irish is an international communications and marketing professional working as an editor at the United States Holocaust Memorial Museum. She was the former editor-in-chief of Down's Syndrome Scotland's Full Potential magazine and a project manager at the University of Edinburgh's Center for Research Collections. She has a bachelor's degree in journalism from Ohio University and a master's degree in comparative public policy from the University of Edinburgh. She enjoys traveling, yoga, and spending time with her family and friends.
Christine Sonnabend is a museum professional working in the marketing and communications department of the United States Holocaust Memorial Museum. She has a bachelor's degree in anthropology from Hofstra University and a master's degree in museum studies from The George Washington University. In her current position, she has established the process and procedures for project management in the marketing and communications department. She enjoys spending time with her twenty-year-old son, writing, and reading fantasy books and watching science fiction.
For more information on the Holocaust Museum, follow us on Twitter @HolocaustMuseum #USHMM
Skip over related stories to continue reading article