I'll never forget the moment I began to understand the true power of social media.
It was 2015 and I was working for a popular online feminist magazine. My job involved reading every one of the hundreds of Facebook comments that would pour onto our page every week.
One day, one of our posts about the prevalence of violence against women (and men's role in fighting against it) began to attract a lot of attention. A number of commenters felt the article wrongly accused "all men" of directly participating in gender-based violence. In response, dozens of other commenters spoke up to share their experiences with sexism and why the article resonated with them. Everyone, they explained, plays a part in structural inequality, and therefore everyone has a responsibility to undo it.
By the end of the day, I saw more than one of the originally defensive commenters come to the realization that being called on to be part of the solution didn't mean they were bad people. Instead, they began to understand that even as ordinary people, they had the power to create significant societal change through their everyday actions, and that the well-being of everyone depended on it.
Skip over related stories to continue reading article
Being witness to such nuanced and thoughtful shifts in perspective was truly a gift and solidified my understanding of social media's ability to create real change in people's lives. It can be so easy for organizations to treat social media as just a way to promote products or drum up excitement for events. The truth, however, is that social media is one of the most powerful ways to move your audience from one point to another, to engage meaningfully with important ideas, and to educate, transform, and heal.
No other museum encapsulates this truth better than the Smithsonian National Museum of African American History and Culture (NMAAHC). Since even before its official opening, NMAAHC has woven social media into its mission and its mission into social media. Their online presence is an extension of their educational mandate, and one only need glance at their Facebook, Twitter, or Instagram to see how effective they are at doing so.
Inspired by NMAAHC's creative, innovative, and experimental social media practices, I was fortunate to be able to sit down with Lanae Spruce, former Manager of Social Media and Digital Engagement at NMAAHC, to chat about the tactics and strategies used at the museum. Read on to learn more about what goes on behind the scenes, how Lanae has been able to create new educational opportunities through social media, and how other museums can put these ideas into action at their own institutions.
---
Josette Souza: To get us started, I'd like to ask you to tell me a little bit about yourself, your professional background, and what you do.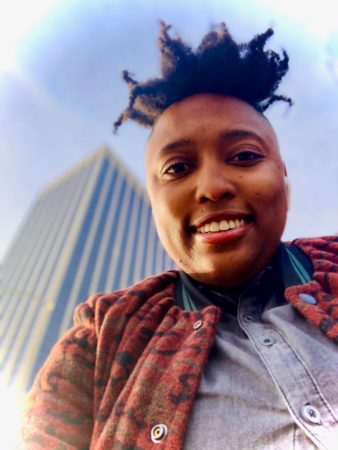 Lanae Spruce: I am NMAAHC's former Manager of Social Media and Digital Engagement and currently work as Senior Director, Social Strategy and Special Projects at iOne Digital. My work at NMAAHC involved overseeing the museum's social media strategy, external partnerships, video strategy, and thought leadership around our digital storytelling. I spent a lot of time working with brands and trying to figure out how to partner or collaborate with them for some experiential marketing opportunities.
For example, I worked with Spotify in New York for Black History Month this past February. I looked at six moments from black music history and tied it with apparel. I'm always thinking about what's a cool way to engage visitors around a museum or a social campaign and get people excited around the kind of content and stories.
JS: I don't see a lot of museums doing things like branded partnerships. People tend to think about branded opportunities as being more the territory of "influencers" or people who create content independently. How was that journey moving into branded content and what are some of the challenges or surprises that you found about it?
LS: I think historically museums have left so many people outside the narratives and the stories they tell and as we look to become a more inclusive America, museums should be willing to partner with organizations, including brands and influencers, that attract audiences.
Partnerships can help you reach your target market and figure out how to be in an authentic relationship that connects your mission and vision to what they're already doing or interested in. One of the worst things I think museums can do is to try to act hip and cool to attract an audience without doing the work. Because then it's very inauthentic and it can even become a crisis moment. You're trying to be hip and engaged with the community, but when's the last time you had an object by a black artist on view or had a black or Indigenous curator on your staff?
Partnerships allow me to see those opportunities to expand our audiences, to expand narratives around the stories that they tell, and also to get new people engaged around cultural institutions who perhaps had never thought about it because they were never targeted for these spaces.
JS: What would you say are the possibilities of the medium of social media? And what are the biggest challenges for museums who, say, have got these great ideas and goals but maybe don't know how to implement them for the audience they already have?
LS: The number one challenge right now facing museums and their social media engagement is funding. Most of my colleagues do not have positions that appropriately pay them for the work that they do. And oftentimes, there's just one person. In order for museums to be really competitive on social media, they have to invest funds to hire and retain really good talent.
One of the ways that NMAAHC has been so successful is because it's invested in social from the very beginning, and they made my role as social media manager part of the leadership team. When they were executing any new initiative at the museum, I was sitting in the room and thinking about what that impact is on social media.
Within the field, a lot of my colleagues are social media managers, but they're not necessarily in a leadership position. They're not decision makers. They don't have the ability to say yes or no or say, you know, "This won't work well. This will work well." I would love to see someone dedicating funding across the field for social media specialists/managers and really investing in making them a part of the vision and mission for your museum.
JS: And sometimes it's not even about a lack of funds; it's about a lack of understanding or buy-in from the people who have the funds that, for example, if you want ten thousand more followers by the end of the summer, we have to invest upfront for that now. What would you say to a social media manager who sees that some funds are available but isn't getting that buy-in they need? How can they show that upfront investment leads to much more value later down the road?
LS: Oh yeah, that sounds exactly like what I was doing for many of the roles I've been in. What I did to show the value of it was show the comments that people left when we did something really well on social media. It's great to say, "This is how many likes we got," but I would also ask myself, "Did anybody learn anything new on this post? Did somebody say, 'I've never thought about that before' or even 'Thank you for sharing'?" What is the real value in what you're doing? That's what drives me.
I also recommend finding someone on your team that you can engage with one-on-one, that can kind of be your eyes and ears in the rooms where decisions are being made. They can be your trusted confidant and be that voice for you in the room until you're able to get in there yourself. That's something that worked really, really well for me. I'd set up one-on-one meetings with different departments and ask them, "What do you want to see on social media?" I'd also reach out to social media colleagues across the field and ask, "What did you do that was successful?"
JS: I've noticed that all of NMAAHC's social media audiences are incredibly engaged, especially on Facebook. I mean, most organizations I know of haven't seen that level of Facebook engagement in years. Is there a formula? Are there tips you have for museums who want to engage on that more emotional level and not just use social media to say, "Here's a thing in our collection, it is cool" or, "Come to our event, it's really cool." How do they break beyond surface-level promotion?
LS: At NMAAHC, I did audience surveys every two years. I probed our audience and looked for those moments where we could pull people into our stories from multiple entry points. It was about making sure that our content features the universal themes people connected to in our stories. What really drives great social media is having a compelling story. And that's something that should always drive your brand, because you want them to come back and they see all different things.
JS: Speaking of audiences, a lot of museums are wondering not only how to engage with their existing bases, but also how to develop new ones. While they're out there building these partnerships and surveys for the longer term, what are things museums can do today to try to engage new audiences and reach new people?
LS: Find out what's popular and what people are talking about, and insert yourself into those stories. If one day on Twitter you find out wells are trending, pull out some wells from your collection and engage—have a conversation. Think about reframing narratives to reach your target audiences.
For example, when it comes to the Star-Spangled Banner, you always hear about the white women who sewed the banner. But something I found out a few years ago is that an African American indentured servant girl was actually majorly heavily involved with sewing it. That narrative has been constantly left out of that story. You can use your historians and researchers to find these new stories or take another look at your collection to uncover them.
You can also work with influencers, especially micro-influencers. Are there some people in your community, whether locally or virtually, that you can build a connection with and reach out to? Say, "Hey, I noticed you're always talking about this. We have this great object in our collection." Don't forget to look at conversations outside your field and invite those people and organizations to share things on your topic.
JS: One of the things that struck me most about NMAAHC's social media is that it talks about really heavy things. I mean, there's a story on Instagram now that involves sexual assault and violence. I think there can often be a kind of a pressure to only cover happy or uplifting stories, but it's also very important for us to talk about these heavier subjects. Could you speak a little bit to museums who do want to cover these heavier topics?
LS: Ooh, so I've been thinking about this a lot over the weekend. For instance, we just celebrated the fiftieth anniversary of the Apollo 11 landing. I'm African American. African Americans were not allowed to be astronauts during the time that the mission left for the moon.
There was one black man, Ed Dwight, who could have been the first African American astronaut, but he was not selected. Everyone was out there celebrating the landing on the moon and all I can think about is who was left out of that narrative and that opportunity.
I understood, though, that this was a great opportunity for organizations to talk about why African Americans and other communities of color were left out of NASA. Some people don't want to touch on that because it's not happy and it's not good. But that's real history, right? Like I can't walk away from it. That's my real history because I'm black. And that's in all of our real histories because we're American. So I think it does a disservice to our country when we want to tiptoe over things because they're hard. That was the truth; that's a part of the story. That's what drives the team at NMAAHC; they are focused on telling a fuller, more complete history of America.
JS: As a final question: What do you wish to see happen in the near future when it comes to museums and social media?
LS: I would love for there to be a way for people to experience your museum without having to physically be there. I'm thinking virtual tours online where people can read the labels, see objects you couldn't fit in the main exhibit, and generally just experience something similar to being there in person. The thing museums have to remember is that your physical visitor isn't your only visitor. Some people are too scared and intimidated by museums or don't believe museums are for them. Allow them the opportunity to test out what going to a museum is like—let them come in slowly and watch them connect with your museum. Many museums worry this means people won't come in person—just the opposite, this will bring even more people through the door.
This interview has been edited and condensed.