Nancy Hanks Memorial Awards for Rising Stars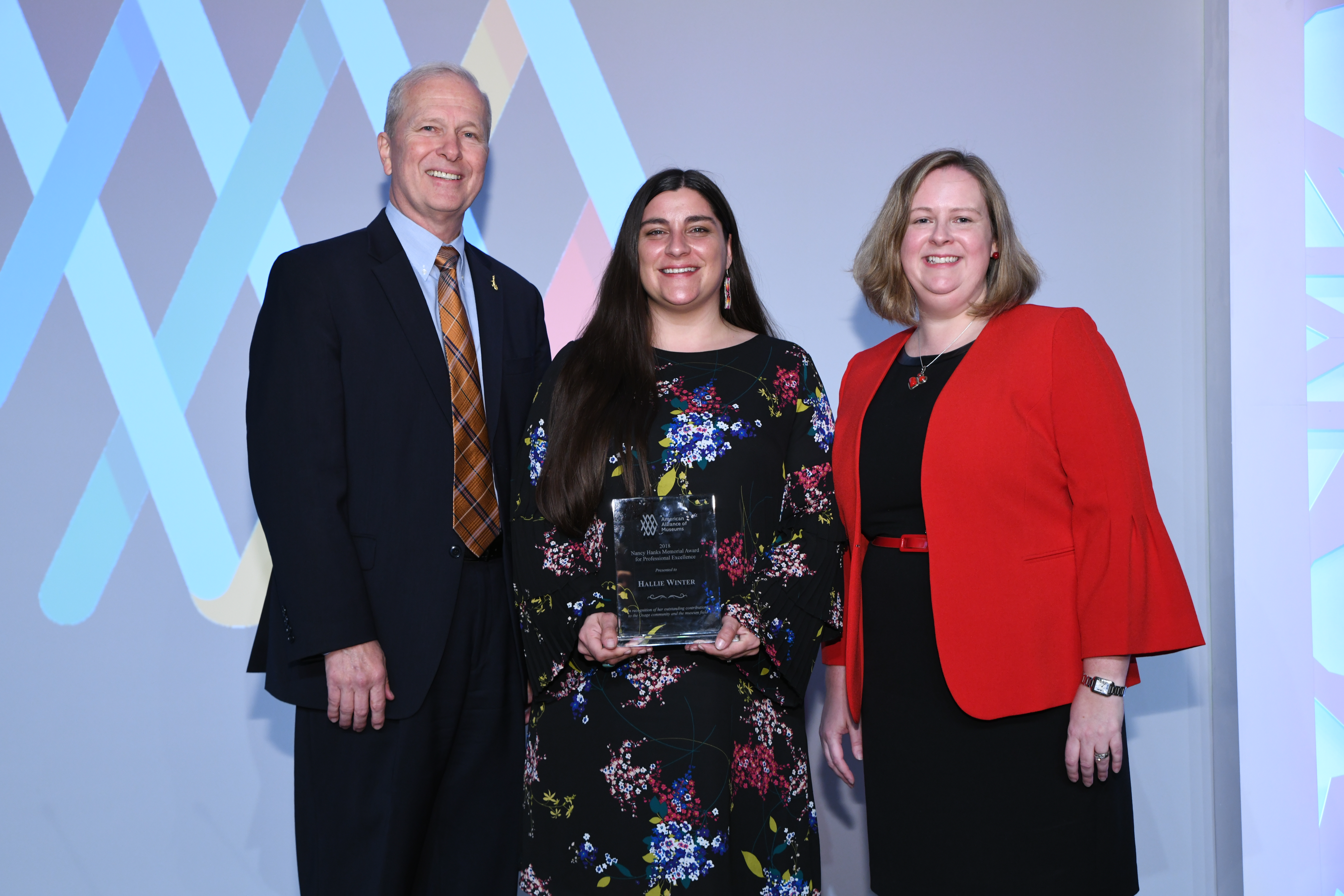 To highlight and celebrate the vital role that museum workers play in building thriving museums, strong communities, and a better world, the AAM Board of Directors is pleased to present the Nancy Hanks Memorial Awards for Rising Stars to recognize museum professionals age 40 or under who are making an impact in their institutions, communities, and the museum field. New as of 2023, multiple individuals may be recognized in a given year.
Awards recognize a specific achievement or body of work that has benefited the honoree's home institution, community, or the broader museum field. Honorees' work may be in any area of museum operations (administration, collections management, community engagement, curation, development, education, equity and culture, exhibitions, human resources, leadership and management, marketing and communications, public relations, research and evaluation, registration, security, technology, etc.) or any area impacting the museum field. Recent award winners have been recognized for creating impactful new programs or policies within their museums, harnessing social media to excite and engage audiences, significantly growing their institutions' membership programs, designing innovative learning environments, and transforming their museums into vibrant community hubs.
Contact aamnominate@aam-us.org with questions.
About Nancy Hanks
Nancy Hanks (1927-1983) was the second person and first woman to chair the National Endowment for the Arts. Dubbed the "mother of a million artists," Hanks grew annual federal financial support for the agency from $16 million to more than $100 million in her eight-year tenure at NEA. She was known for her inspirational and visionary leadership, her unwavering belief in the power of the arts and humanities to transform society, and her support for young professionals in the cultural arena. Tragically, Hanks died of cancer when she was just 55 years old. The AAM Board of Directors established the Nancy Hanks Memorial Award in 1985 to commemorate Hanks's lifelong support of cultural endeavors among emerging professionals.
Eligibility
Nominee should be 40 years of age or younger at the time of submission (January 2023)
Nominee must be active in the museum field through current employment, volunteer service, and/or enrollment in an academic museum program.
Nominee may be from or based in any country but must demonstrate contributions to US museum(s) and/or the US museum field.
Self-nominations are accepted.
Submit a Nomination
In addition to your contact information and contact information for the nominee (if not a self-nomination), please submit a compelling narrative summary (250-word maximum) of why the nominee deserves to be recognized, outlining the specific nature, outcomes (including any available data), and impact of the nominee's work or achievement.
Note that while not required at the nomination stage, additional information (such as the nominee's resume or CV) may be requested for finalists.
Timeline & Additional Information
Submissions must be received by 11:59 p.m. PST on January 20, 2023 for consideration.
An official announcement of the awardees will be made in May 2023
Awardees will receive a complimentary, nontransferable registration to attend the 2023 AAM Annual Meeting, though attendance at the conference is not required.