Museums are a great source of information and resources for their audiences. This year's winner of EdCom's Excellence in Resources award, the Shedd Aquarium's aquatic animal video series Sea Curious, proves that. Judges were particularly impressed by how the Shedd actively engaged their target audience, children ages four-ten and their families, throughout the creation process.
Are you or your colleagues doing innovative work? Or, have you come across a great resource, program, or educator? Consider recognizing their contributions to the museum education field by nominating them for an EdCom award. Nominations are now open!
—Veronica Alvarez, EdCom Leadership Awards Chair
---
As people spend more time looking at screens, how can we as museums meet them where they are? What resources can we provide for this context that are engaging and informative?
Shedd Aquarium answered these questions by creating a nine-episode weekly video series called Sea Curious, which launched in September 2018, with the goal of sparking curiosity about the aquatic animal world. The target audience for the series was elementary-school-age children (ages four-ten years old) and their families. All aspects of the video design took this audience into consideration, from the length to the graphics. The series' theme of curiosity was a direct tie to Shedd Aquarium's mission of sparking compassion, curiosity, and conservation for the aquatic animal world.

In developing Sea Curious, we went directly to the source and asked children what they wanted in a video series, which we truly believe was critical to its success. A newly created Shedd Aquarium Youth Council (dubbed the Aquarium Adventure Club), made up of a diverse group of children ages seven to ten from Chicago communities, identified the topics to cover and provided direct feedback on what types of videos they watch and what engages them when watching a video. During the months of meetings and planning, the Youth Council was given direct access to Shedd Aquarium's animals and behind-the-scenes areas, to inspire brainstorm sessions where they shared ideas for the questions that went on to be answered in the series. They provided invaluable input about what we should incorporate into our episodes, what animals they were excited to learn about, what questions they had about animals, and what format the videos should take on. Their parents and guardians also provided feedback on where and how they select videos for their children to watch. The Youth Council was so successful that we continue to convene it and add additional kids, so the group can provide their voice and input on future learning programs.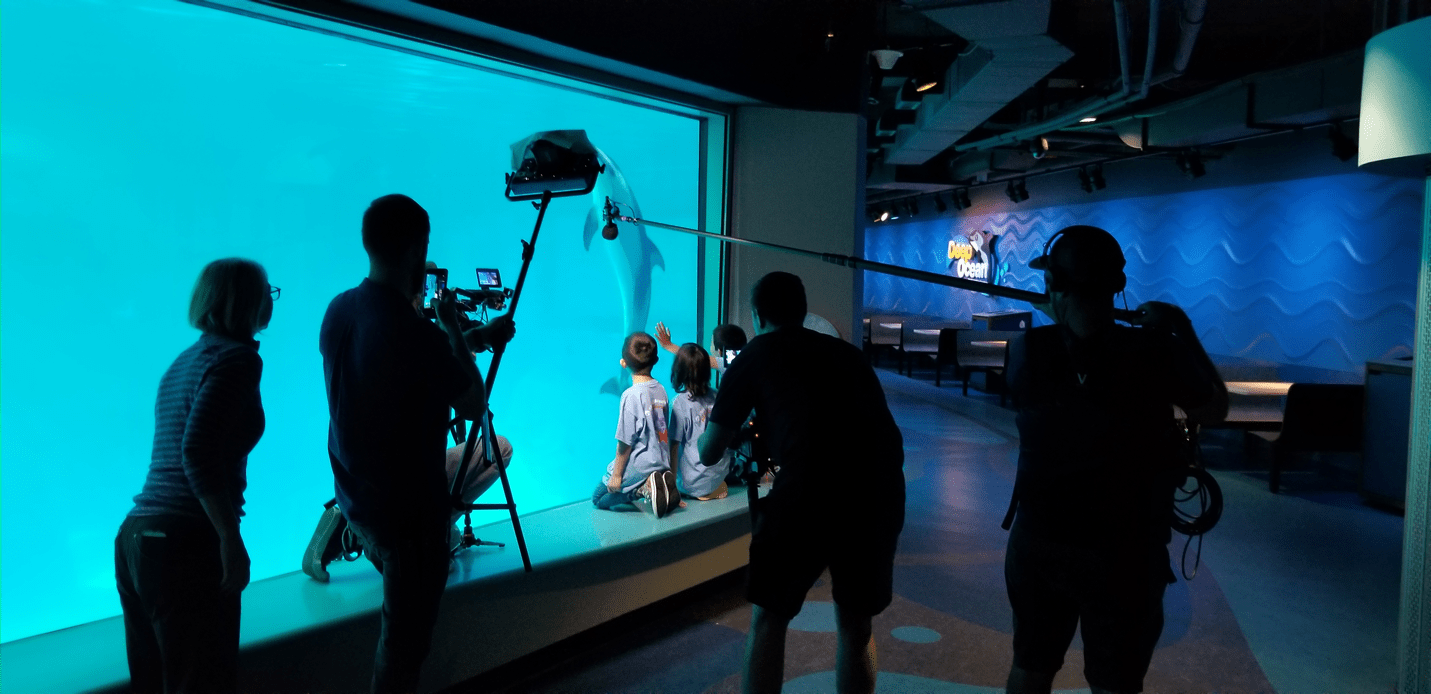 One of the main takeaways we received from our Youth Council was that kids want to watch other kids, so we made sure to give children as large of a role as possible in the videos. The Youth Council kids were so invested in the project that all of them came for at least one day of filming to be a part of the series. We also heard from the kids and their caregivers that they typically watched videos on YouTube, so we used YouTube as our main distribution channel. We decided that the names of the episodes should be questions themselves, to match kids' interests and how they search for videos on YouTube. (For example, "What do animals eat?" is something kids would type into a search bar and which would pique curiosity about the video's content.) Additionally, each episode was inclusive of Spanish language words and phrases throughout, to amplify reach to Latino audiences.
Because the series was driven by kids' interests, we were able to explore fun and sometimes unconventional questions about animals. For example, the kids wanted to know about slime: what animals have it, why they have it, and what cool facts there are to know about it. Slime (also known as mucus) can be gross, but it's also fascinating. Garden eels use slime from their skin to cement the walls of their sand burrows, so they don't collapse. Parrotfishes build a mucus cocoon at night to keep them safe while they sleep. Hagfish can ooze enough slime to fill a bucket in minutes! The green moray eel's skin is blue, but a layer of protective yellow mucus makes it appear green, a cool fact which the Aquarium Adventure Club made both yellow and blue slime to demonstrate in our slime episode.
We were also able to take the things that kids laugh about, like poop, and bring science and wonder to covering them as topics. For the Sea Curious poop episode, some of the Aquarium Adventure Club kids were able to meet with a veterinarian and look at real poop samples to talk about diet and animal health.
Because the purpose of the series was to spark curiosity in kids, we developed an online companion "watch and discuss" guide for caregivers and teachers, which outlined how they can help promote and encourage kids' natural curiosity. This guide was provided in both English and Spanish.
At the time of writing, the total view count of episodes of the Sea Curious series is 170,479 (well above the target goal of nine thousand views), aided by paid promotion during the release period. The most-watched video is "What does animal poop look like?" with over twenty-six thousand views. Over the release period in 2018, Shedd Aquarium's YouTube channel gained 504 subscribers, 40 percent above our target of 360 new subscribers. Because of the nature of YouTube viewing, where users may skip around or only watch part of a video, we also measure video view percentages. The average video view percentage for Shedd Aquarium videos overall is 47 percent, so we set our target for the Sea Curious episodes at 57 percent. But the episodes surpassed that goal, with a 62.7 percent average video view percentage, a 33 percent increase over the average of other Shedd Aquarium videos. The total watch time across all nine episodes of Sea Curious is 366,490 minutes and counting.
The Sea Curious videos have also been a helpful resource in developing other learning programs. We have screened the "What do animals do at night?" at our Overnight programs. During a family workshop, we showed "Do animals play?" Then we observed animals playing, went behind the scenes with otters, and set up play areas for families to engage in enrichment themselves. We also built an entire K-5 program around the question "What does animal poop look like?" After we watched the video, we explored habitats to look for evidence of eating and pooping, met a tortoise, and did an activity where participants created and then dissected poop from playdough.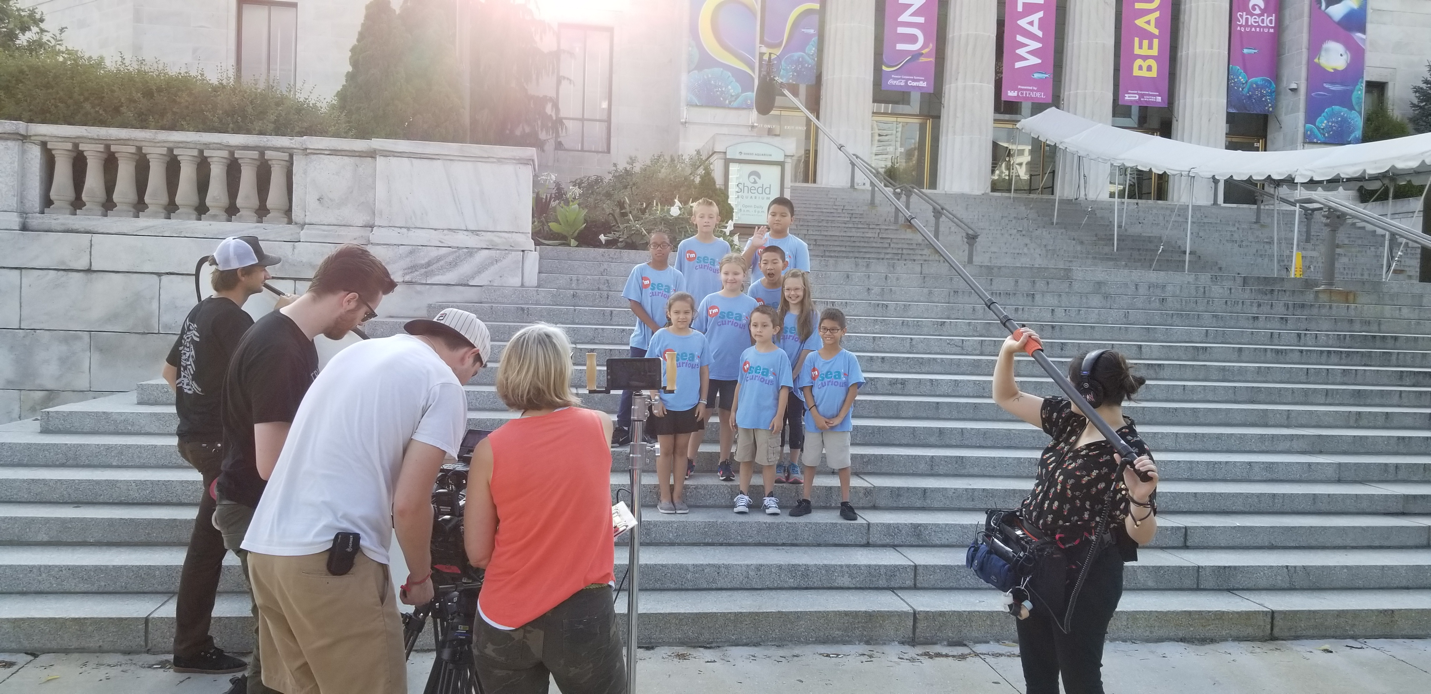 But the true success of Sea Curious was in sparking curiosity about aquatic animals for children and their families, as we set out to do. To evaluate whether we had accomplished this, we asked viewers to complete a survey about the series, and over 90 percent of respondents rated the videos as either "Excellent" or "Superior," the two highest categories.  When asked on a ten-point scale, "How likely are you to recommend Shedd's YouTube video series, Sea Curious, to family and friends?" the weighted average was 9.27, with ten being "very likely." We also received positive qualitative feedback, including things like:
"The videos are very informative, and I love being able to learn all about my favorite ecosystem and the things that live in it."

"I loved that there were kids that were actually involved with the making of the videos which allows other children to relate better."

"This is a video that the kids can relate to since there are children in it. It is short but full of information."
Since we received the Excellence in Resources award, other museum colleagues have reached out with questions about creating similar types of resources, and we've been happy to answer questions and share our experience. We would encourage other museum professionals to think about what unique resources they could create connected to the missions of their organizations. How can you share out the work your organization is doing?
I'm Sea Curious, are you Sea Curious? Watch the videos and find out!
Skip over related stories to continue reading article