COVID-19 Resources & Information for the Museum Field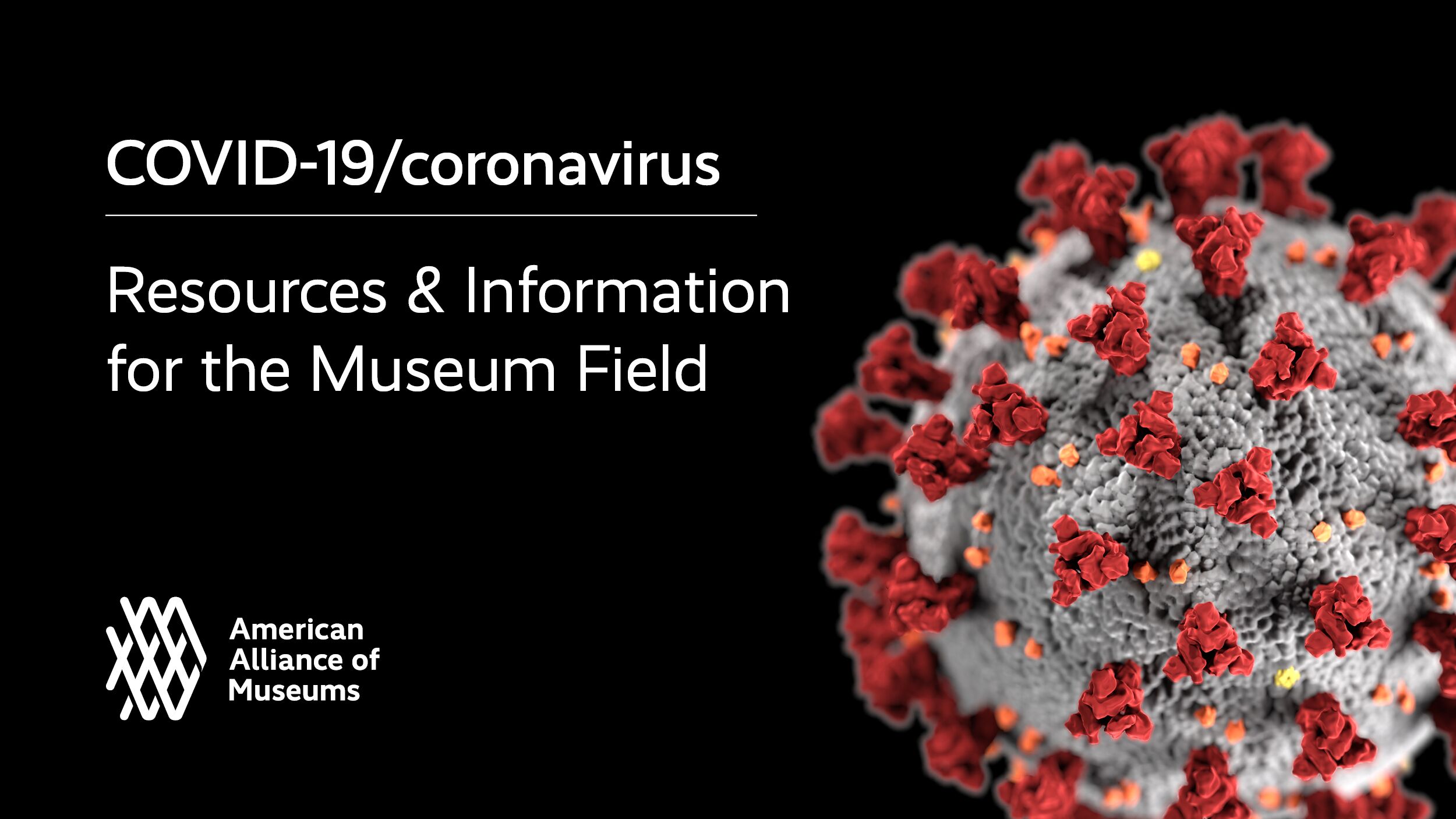 Engaging with the Alliance
AAM is here for you and your museum as we navigate through this unprecedented time together. Click below for original resources, engaging stories, and relevant event opportunities that will help your museum emerge from the COVID-19 crisis and connect with other museum colleagues for support.
These resources have been taken out from behind the member paywall to make them free and accessible for all. The current crisis is taking a distressing financial toll on cultural organizations, and AAM is no different. In these challenging times, we ask that if you can, consider supporting our advocacy work and making extensive COVID-19 resources freely available for our field, by making a donation or becoming a member of AAM. Thank you for your much-needed support.
Introduction
The American Alliance of Museums has compiled this guide to help museums prepare for and navigate the broader impact of COVID-19. AAM will continue to monitor this evolving situation and update this guidance as needed. These recommendations are not to be taken as legal advice or a definitive answer for any particular museum, but rather as a guide for managing the impacts of COVID-19 for the field. If you have resources, sample plans, or stories about how the COVID-19 crisis is impacting your museum that you would like to share with the field, please contact AAM at content@aam-us.org.
Follow the links below or click "Read more" under each section summary for expanded guidance.
---
Featured Resources
---
Directory of Resources
---
Centering diversity, equity, accessibility, and inclusion
All too often in times of crisis and uncertainty, diversity, equity, accessibility, and inclusion are deprioritized as individuals and institutions make sense of their new realities. But it is only more imperative in these difficult times when immense inequities that exist within global society and institutions are made visible, to center equity and inclusion in decision-making and actions. These times require collective action to center, protect, and lift up the voices of the most vulnerable, which mandates making decisions firmly grounded in equitable principles, taking bold stances, and creating opportunities to do individual and collective work differently than before.
Finding financial relief and support (for individuals and institutions)
The museum sector is just beginning to assess the impact of closures, travel bans, cancellations of major events, and the implementation of physical distancing related to COVID-19 on both institutions and individual museum workers. AAM is monitoring emerging sources of assistance and documenting potential strategies for navigating the emerging financial crisis.
This section includes resources that may be useful in developing short-term and long-term fiscal strategies for supporting organizations, as well as information for museum workers who need their own financial plans for riding out the pandemic.
Leading in times of crisis 
The COVID-19 pandemic has resulted in unprecedented economic, social, and health-related challenges that require decisive and resilient leadership from museum directors and boards. In this section, find information for cultivating effective leadership practices and be inspired by examples of visionary leaders who have found ways to successfully navigate through these difficult times. The Alliance has also put together comprehensive information on how you can use your voice to advocate for museums, including the resources needed to let your legislators know the impact the pandemic has had on you and your institution, and how museums are continuing to serve the community even while closed.
Maintaining museum excellence in the time of COVID-19
In times of crisis and aftermath, the museum field's core standards and ethics are more important than ever. They foster transparent, smart, and consistent decision-making; help manage risk and safeguard collections; and ensure the publics' trust in the museum is sustained, which translates into financial support.
Managing your museum career
The COVID-19 crisis has had a broad impact on the museum profession and has affected thousands of museum careers. In this section, find information specifically related to professional growth during the crisis, as well as comprehensive links to the Alliance's evergreen museum career content. Whether you're searching for a museum job, seeking a digital internship, thinking about a degree in museum studies, or building your network, you've come to the right place!
Preparing for closures or re-closures
This section includes information for consideration should your museum need to close or re-close, whether due to staff illness or a mandated closure.
Preparing to reopen 
The decision of when and how to reopen is perhaps one of the most significant museums face during this crisis. The American Alliance of Museums recommends that museums build flexible plans for reopening that are regularly reviewed and refined based on the latest science. This guidance is based on the best available information as of publication and is not intended to supersede guidance from public health officials, medical experts, and federal/state/local governments. Museums are encouraged to seek legal and other expert advice on their specific circumstances.
Resources for companies that serve museums
The American Alliance of Museums has compiled this guide to help Industry Members, corporate partners, and all companies that serve museums navigate the broad impact of COVID-19 and the resulting economic crisis, and prepare for recovery (and reopenings!). With all of the museum closures, companies are challenged to stay in business without predictable income and cash flow. We asked ourselves, what can AAM do to help? The result is a compilation of resources covering topics like financial relief, providing solutions, and communicating with museums.
Reviewing staff and administrative policies
These unprecedented times require close and careful review of existing staff and administrative policies. In this section, find strategies for employers, including human resources-related considerations, as well as information designed to help support the mental health of staff during closures and when returning to work.
Staying connected with your audiences
In the wake of myriad museum closures related to COVID-19, it is more important than ever for museums and cultural attractions to explore new digital and remote ways to reach audiences. Online collections, virtual reality, 360-degree video, and live streams have the potential to play critical roles in engaging the public. In this section, find this information plus examples of what other museums are doing to remain connected to their audiences.